10 St Patrick's Day Writing Prompts (free printables)
Have fun writing this March with these St Patrick's Day writing prompts.
These St Patrick's Day activities for kids are perfect for both elementary and middle school-aged children.
Encourage young writers to explore the magic of the holiday through their creative expressions and written narratives.
These prompts not only ignite imaginative storytelling but also encourage critical thinking and language development in kids. Providing a wonderful opportunity for them to explore St. Patrick's Day themes while enhancing their writing skills.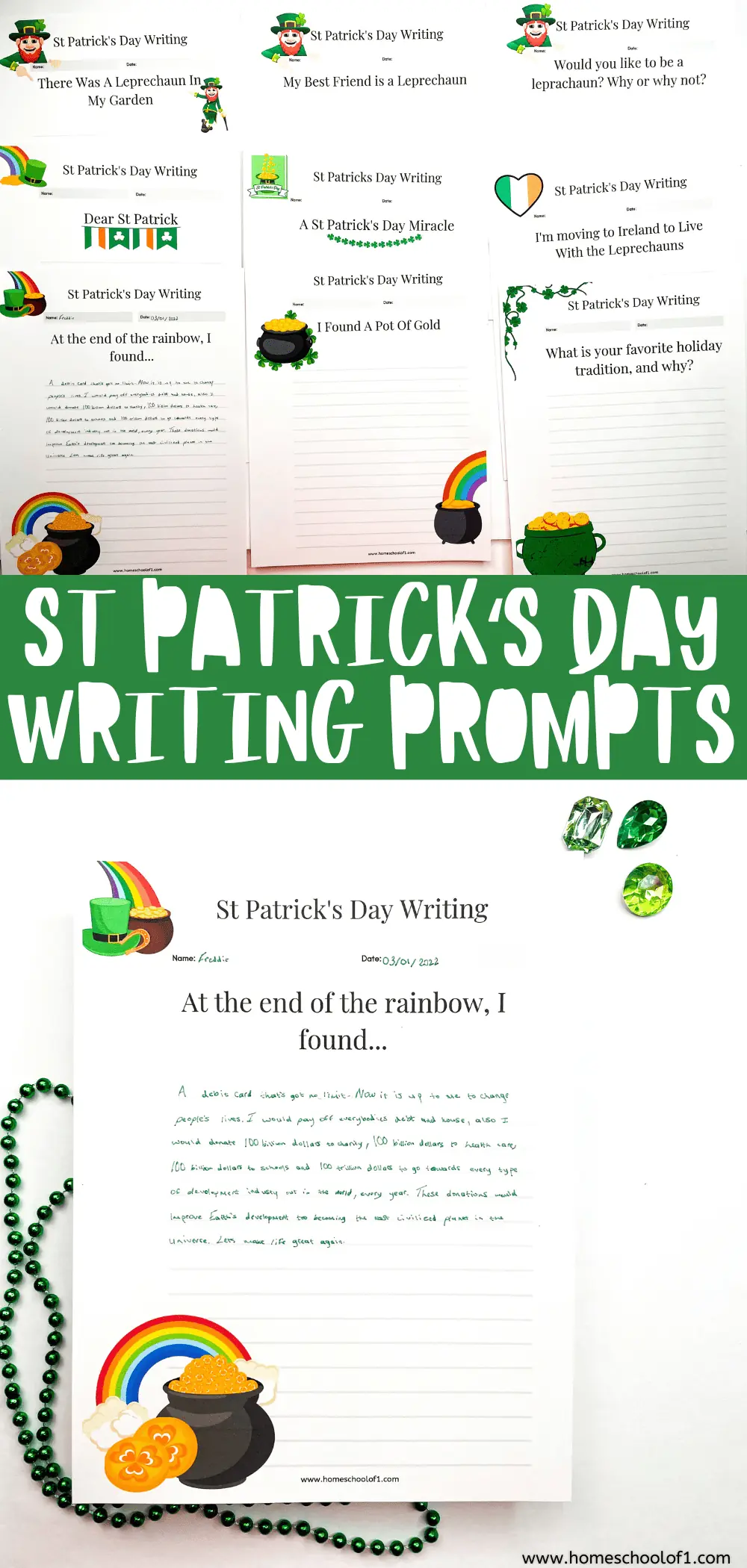 **There may be affiliate links in this post. You can read my full disclosure at the bottom of the page.**
These St Patrick's Day writing prompts for kids can be used with all age groups.
St Patrick's Day story starters
These St Patrick's Day writing prompts are a little bit silly, but will definitely encourage them to write.
A St. Patrick's Day Miracle. Inspires storytelling about an extraordinary or magical event that occurs on St. Patrick's Day, encouraging imaginative narratives filled with wonder.
I Found a Pot of Gold. Invites children to create stories about stumbling upon a pot of gold and the adventures that follow this fortunate discovery.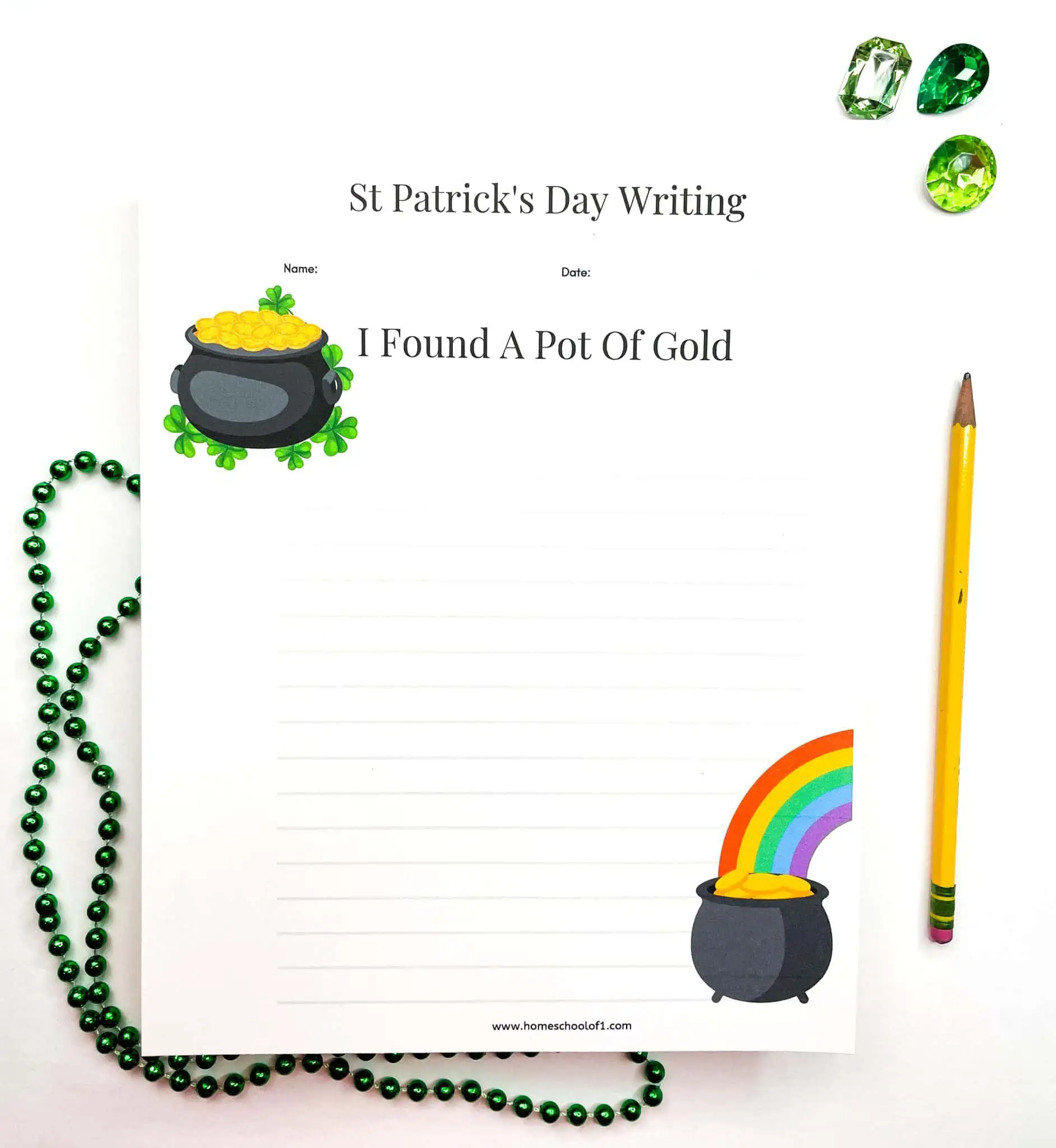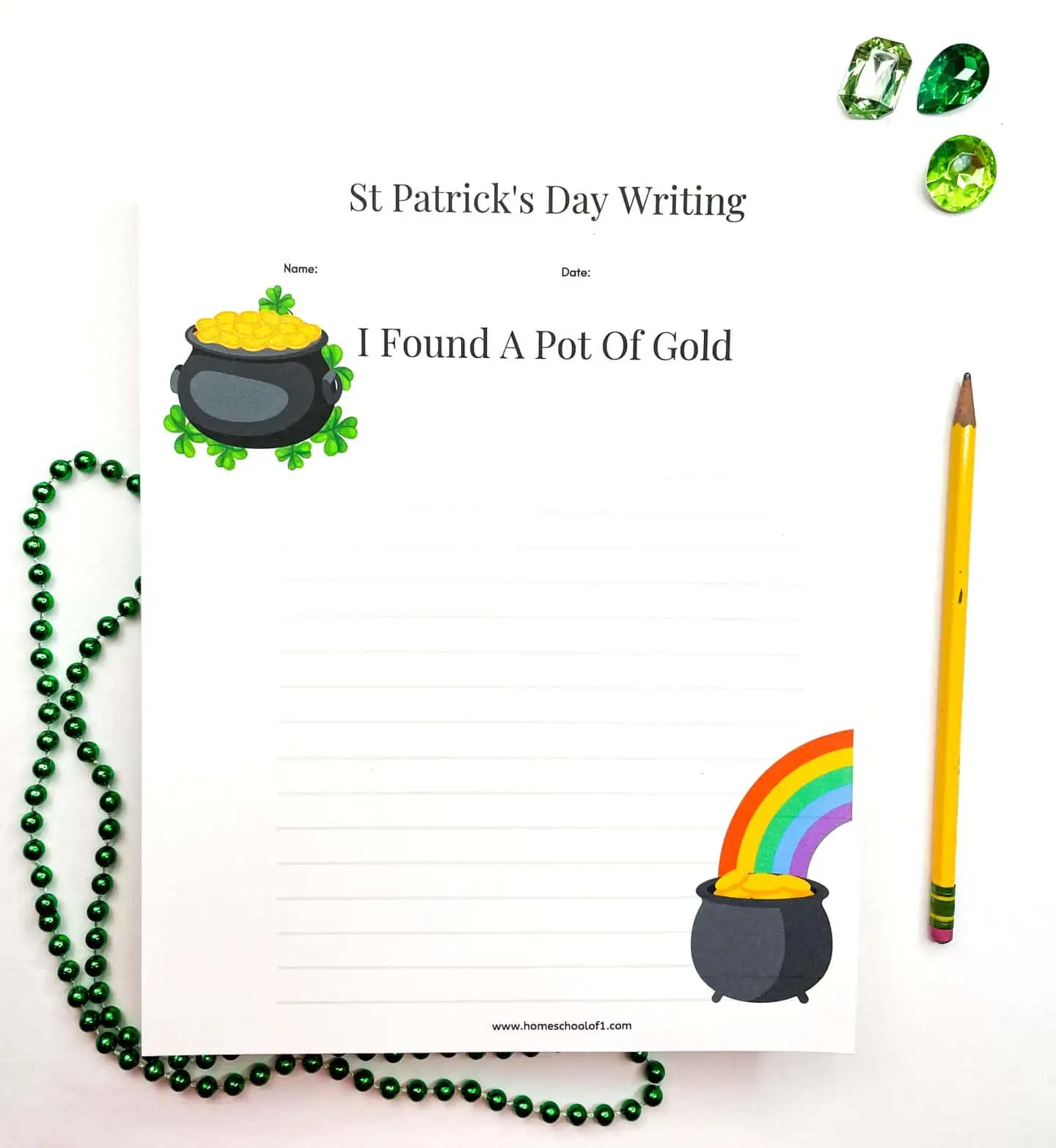 Dear St. Patrick. Encourages kids to write a letter to St. Patrick, sharing their thoughts, wishes, or questions about the holiday or its traditions.
What is your favorite holiday tradition and why? Prompts children to reflect on their favorite St. Patrick's Day tradition and articulate why it holds significance for them.
I'm Moving to Ireland to Live with the Leprechauns. Prompts imaginative storytelling where a child decides to move to Ireland to live amongst the mythical leprechauns, detailing their adventures and experiences.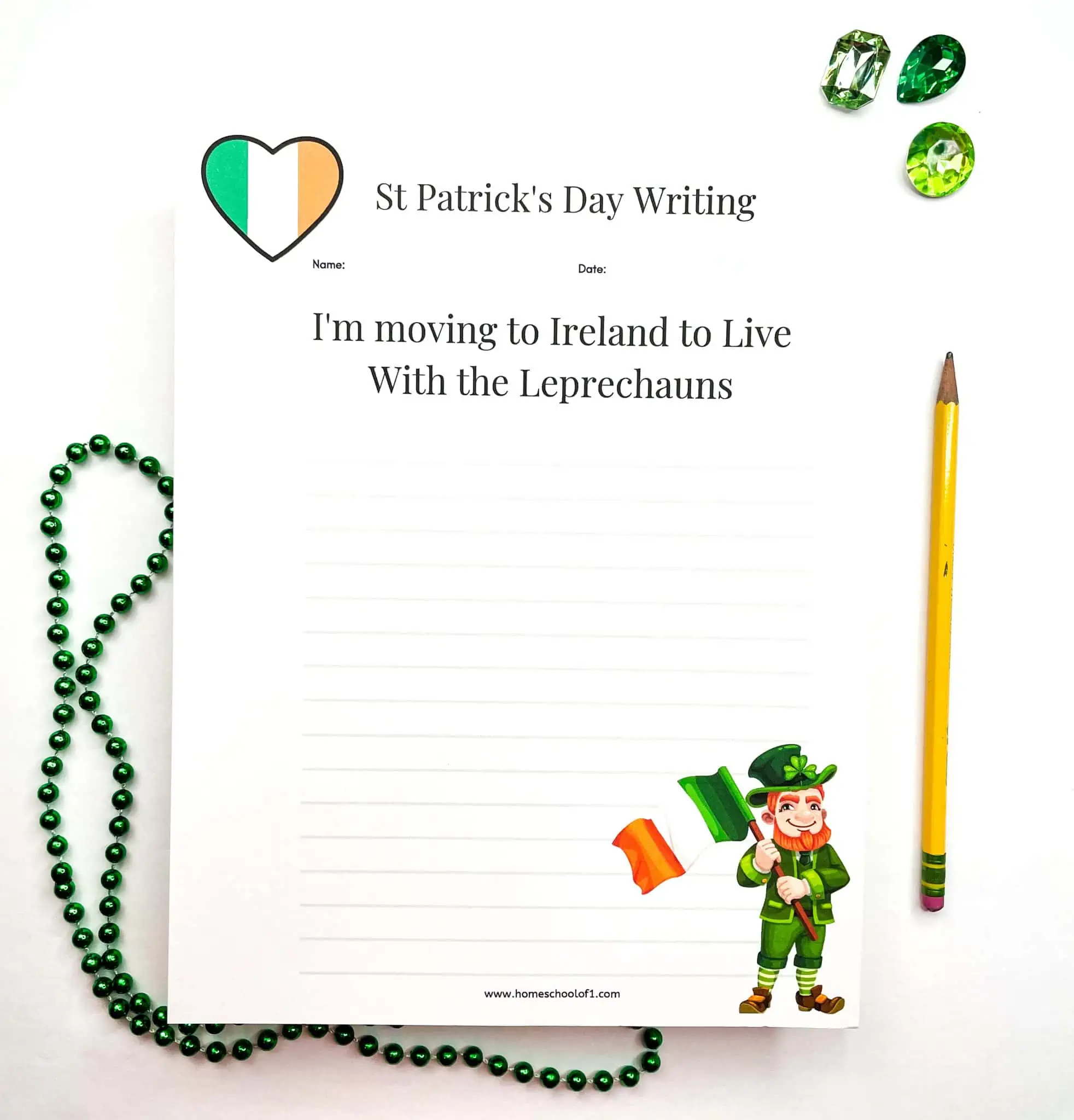 I Found a 4-Leaf Clover. Encourages kids to craft a story about discovering a rare four-leaf clover and the magical events that unfold as a result.
There Was a Leprechaun in My Garden. Sparks creative writing by imagining an encounter with a mischievous leprechaun in their garden, leading to an unexpected adventure.
At the End of the Rainbow, I Found… Encourages kids to use their imagination to describe what they would find at the end of a rainbow on St. Patrick's Day.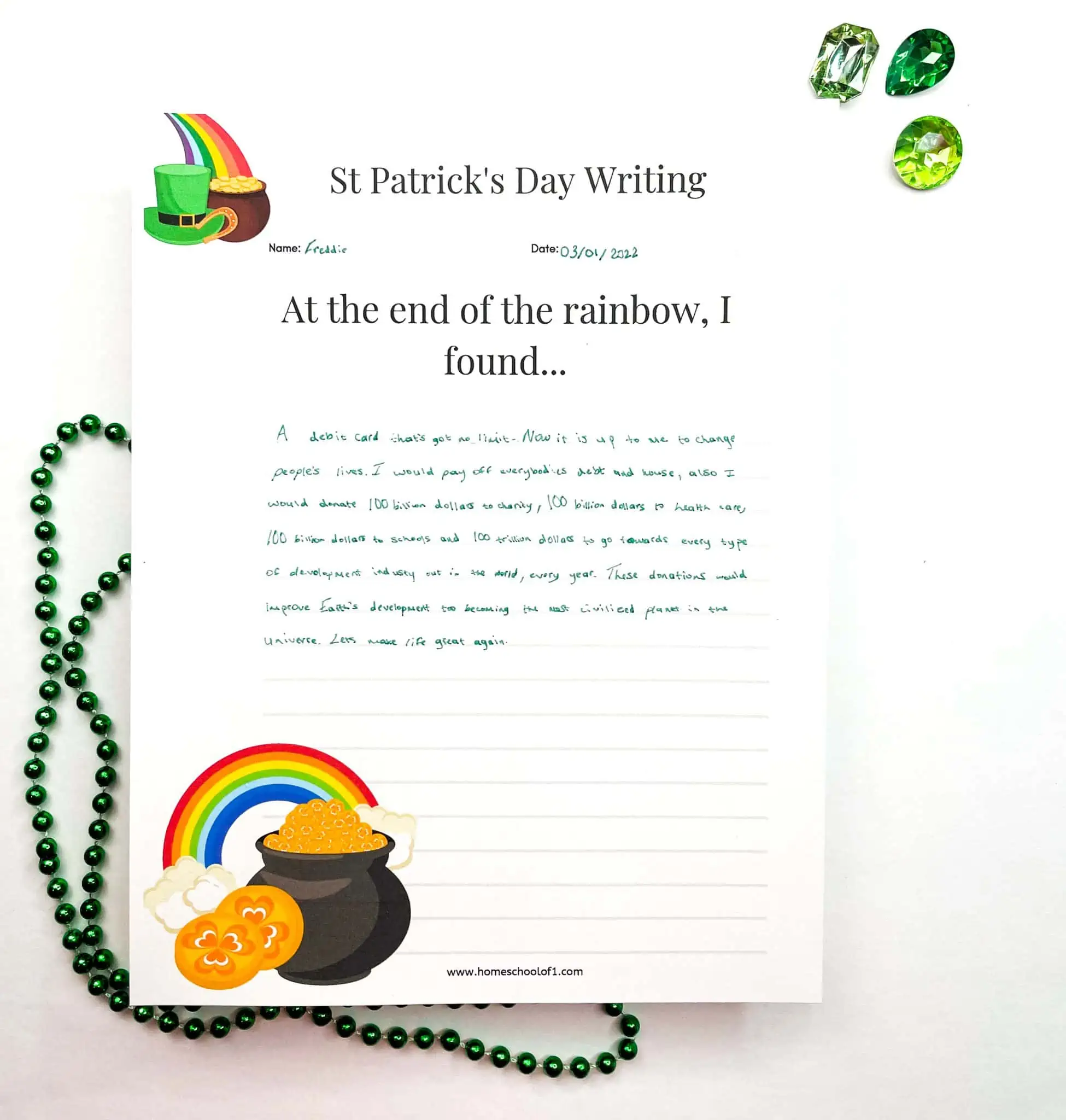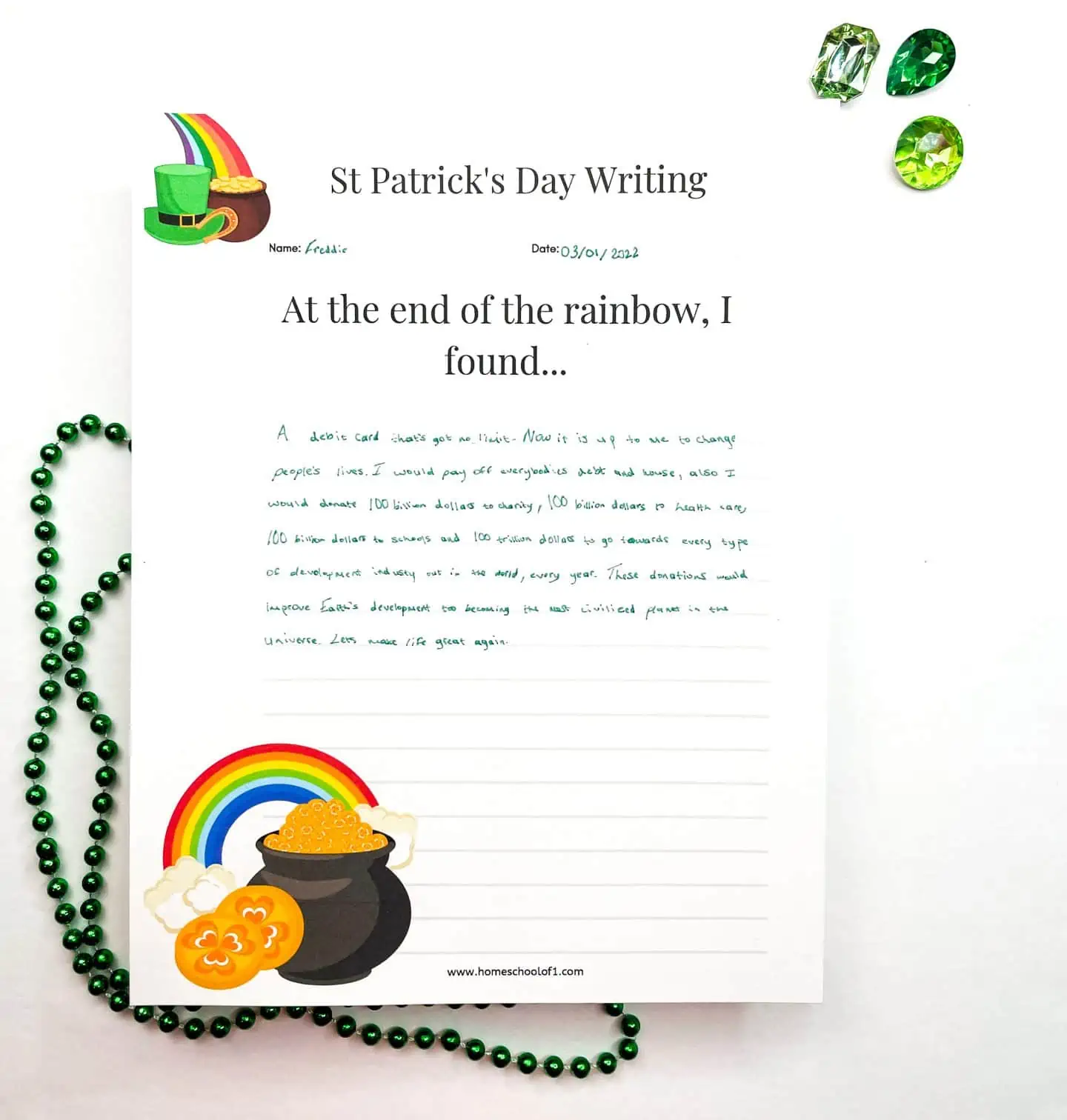 Would You Like to Be a Leprechaun? Why or Why Not?: Encourages thoughtful writing where children explore the pros and cons of being a leprechaun.
My Best Friend is a Leprechaun. Invites creative storytelling about a friendship with a leprechaun and the adventures they share together.
There are also 5 St Patrick's Day-themed writing sheets for you to add whatever writing prompt you like.
Free St Patrick's Day worksheets for the classroom
You will also enjoy our free if I were a leprechaun writing prompt.
When you have had fun writing why not download our free St Patrick's Day word scramble printable?
If you are looking for even more educational fun check out our new St Patrick's Day word search printable and our St Patrick's Day history worksheets.
Encourage the kids to write poetry with our fun St Patrick's Day acrostic poem templates. There are 3 to print out including the words St Patrick's Day, leprechaun, and shamrock.
Additional writing prompt ideas
Tips for downloading the free files
Below you will see a large sign-up box where you need to add your name and email address, and press I NEED THIS NOW!
Within minutes you will be sent the free PDF directly to your email address, so you can print it out and start using it immediately.
Sometimes emails get a little wonky, so if you can't see it, please check your spam folder where I am sure it is hiding.
Download the free St Patrick's Day journal prompts
Make sure you choose the correct paper size and click on the shrink to fit button. All of our free printables for kids work better when printed on cardstock (this is the one we use and love.)
Last Updated on 16 November 2023 by homeschoolof1