22 Best Subscription Boxes in the UK (Tried & Tested) 2023
We love subscription boxes and have been getting them for years. We tend to take it in turns, one month it will be for me, the next month for my husband, and the next for our son. So we really know all of the best subscription boxes the UK has to offer.
This post is updated regularly as this is a very quick market, with lots of subscription box companies going out of business in the first couple of years. But these are ALL available in 2023 and are the best on the market.
Included in this post we have only included subscription boxes for men, women, and geeks that are food, coffee, and alcohol lovers.
We have included our favourite kid's subscription boxes in a new post that can be found here and the best subscription boxes for teen boys here.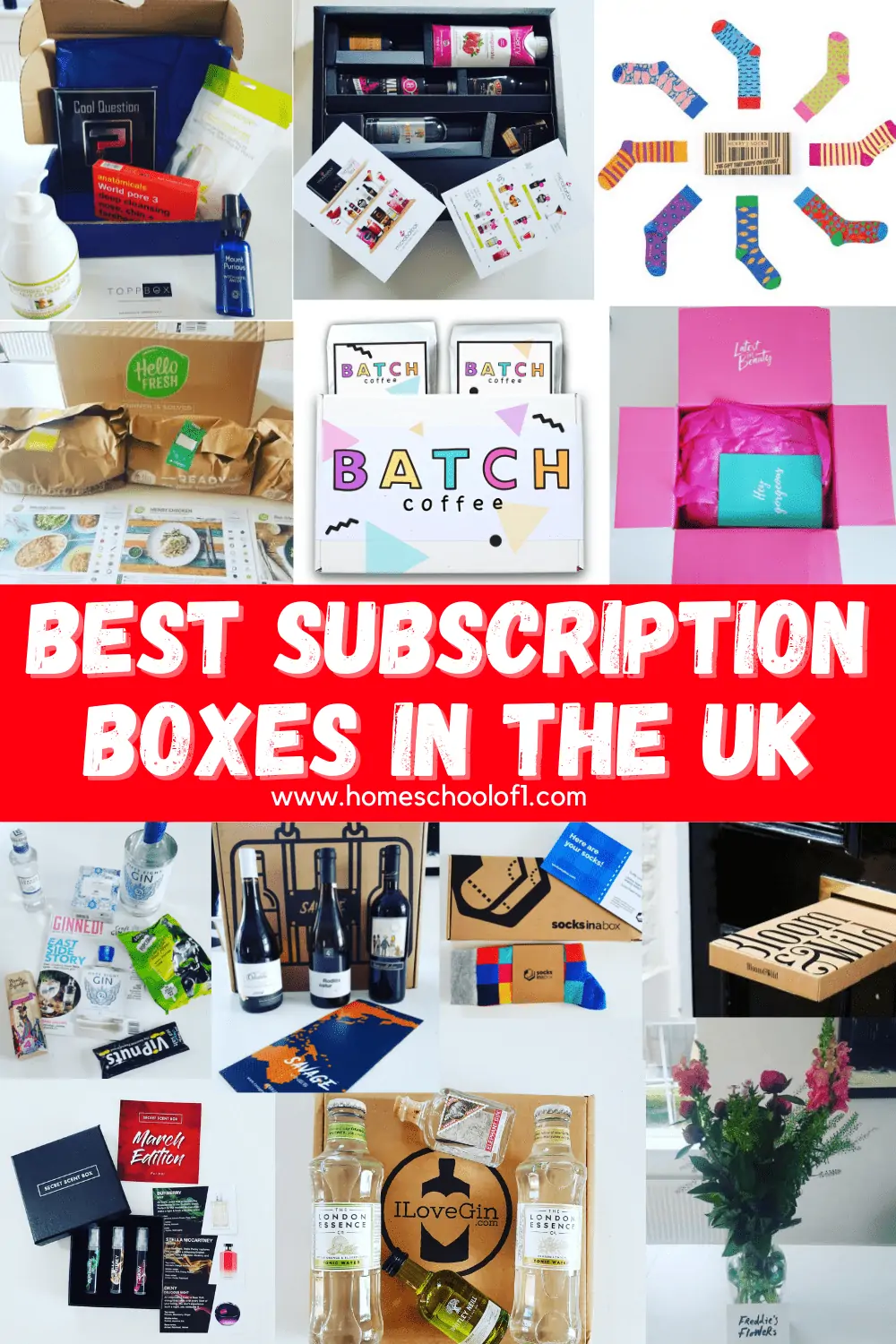 **There may be affiliate links in this post. You can read my full disclosure at the bottom of the page.**
Best UK Subscription Boxes
Listed below are the very best subscription boxes available in the UK in 2023. Subscription boxes have been super popular over the last couple of years, and it is a very fast-changing market.
This post is updated very regularly so you can get to see only the subscription boxes that not only will deliver each month but will impress both you and the person receiving the box.
All of these subscription boxes are from the UK and are all the very best of the best in their own category.
They are broken down further into the following:
Beauty boxes
Subscription boxes for men
Geek subscription boxes
Food subscription boxes
Coffee subscription boxes
Alcohol boxes
Socks subscription boxes
Beauty Subscription Boxes UK
I absolutely love makeup, if you are slightly older, check out my favorite makeup products for women over 40.
Latest in Beauty
There are a number of beauty subscription boxes available however my absolute favourite is Latest in Beauty. The reason I prefer this one is there is no end of options and you get to pick what is in the box. You can order between 3 and 9 products in your box and you can choose from hundreds of different products (with new products added all the time.)
This is my second box from them and I absolutely love it. In fact, the second subscription box I think was even better than the first. I opted for the beauty guru box which has 9 items and only costs £18, which is incredible. In my second box the value of the products was a staggering £77.94:
Sally Hansen Miracle Gel Duo £14.99 from Superdrug (I ordered 3 of these)
MUA Twelfth Night Winter Shades £4 from MUA
Speedy Blush £3.99 Boots
Dirty Works Pucker Up Lip Gloss £4 Sainsburys
St Tropez Gradual Tan in Shower 50ml £5.99 Look Incredible
Nude by Nature Loose Powder 2g. I couldn't find this size but the 10g is £25 from Debenhams (so assume £5)
Burt Bees Lipstick £9.99 John Lewis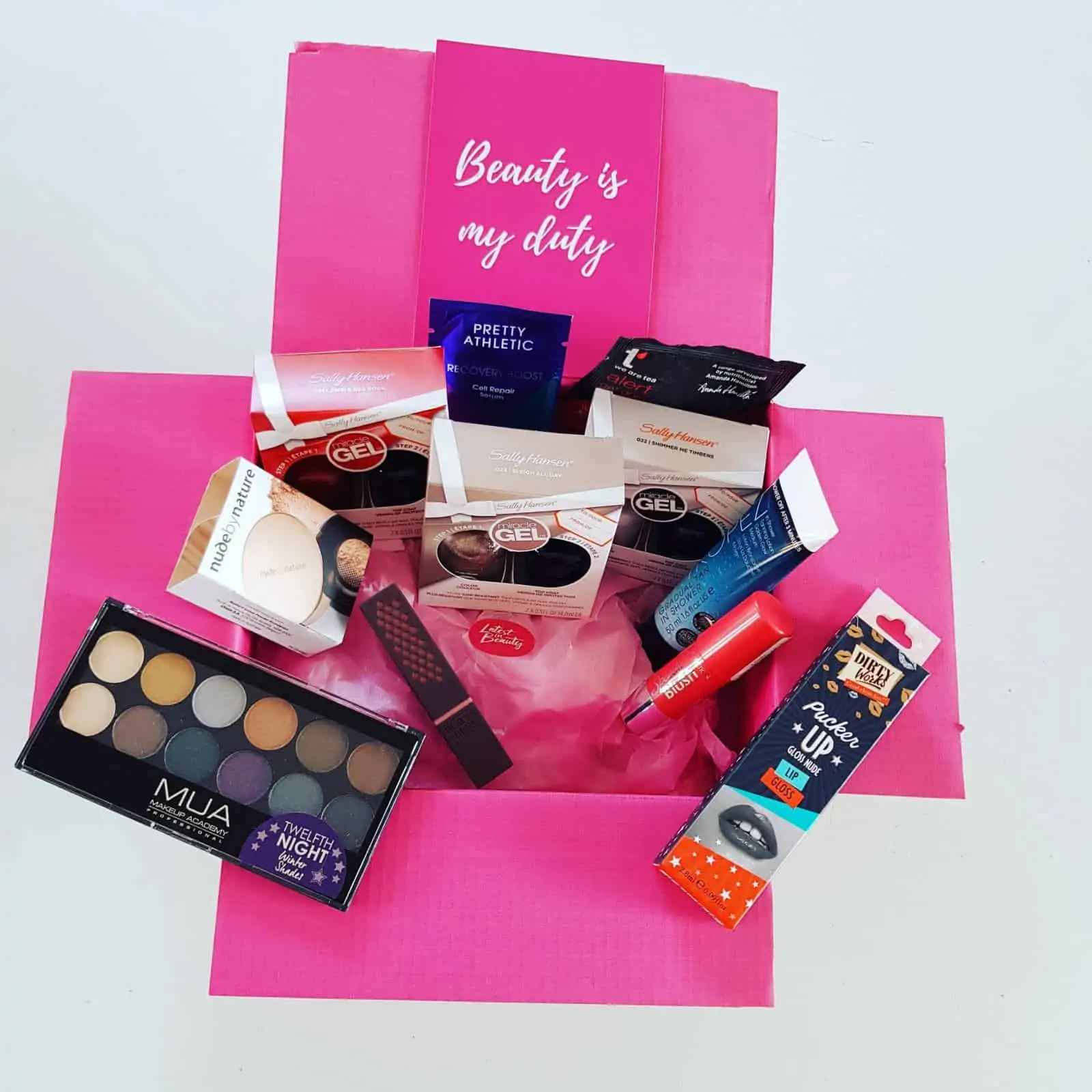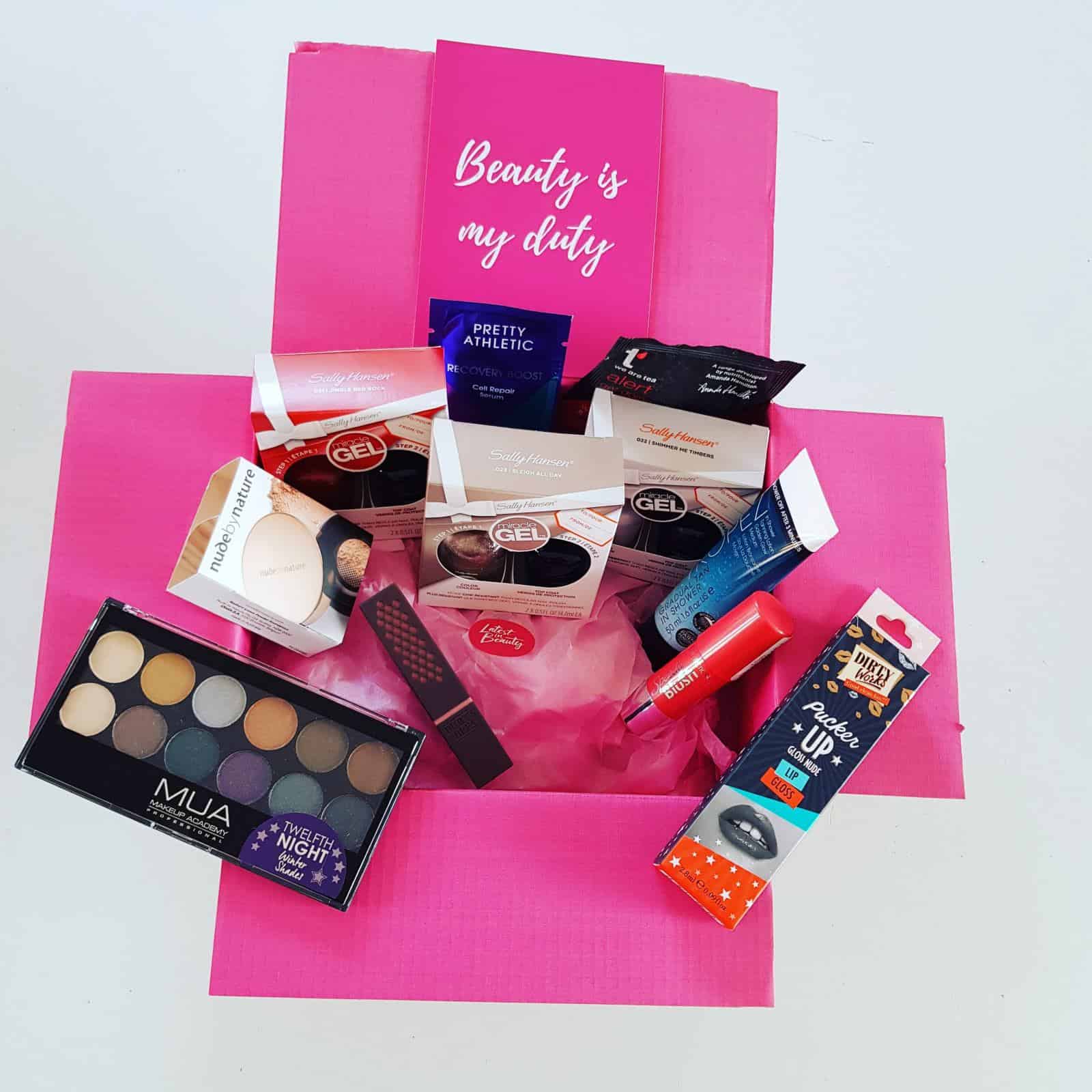 Glossy Box
GLOSSYBOX is the UK's first online beauty box subscription service, offering beauty discovery to modern-day women living in the UK and Ireland. It is a monthly beauty box subscription service, where subscribers receive 5 beauty products wrapped in a gorgeous pink box.
The products are carefully selected to include niche and cult beauty brands such as OPI, Clarins, Dermalogica, Burberry, Stila, and many more.
Secret Scent Box
This is a perfume subscription box sending 3 different perfumes (or aftershaves) each month. They are miniature bottles but there are enough for a whole month. It is a very small box which is perfect for fitting through your letterbox.
In the March box, there were 3 perfumes I had never tried before, which I loved about it. I received the DKNY Delicious Night, Stella Mccartney Peony, and Burberry Brit. They are all nice strong smells again something I love and they all last a long time.
I always wear perfume, but I often stick to one bottle at a time. The downside of that though is you get so used to the smell it doesn't smell like you are wearing any by the time the bottle has finished. This is a great alternative.
The price is very reasonable from £13 per month with free postage, check out Secret Scent Box today.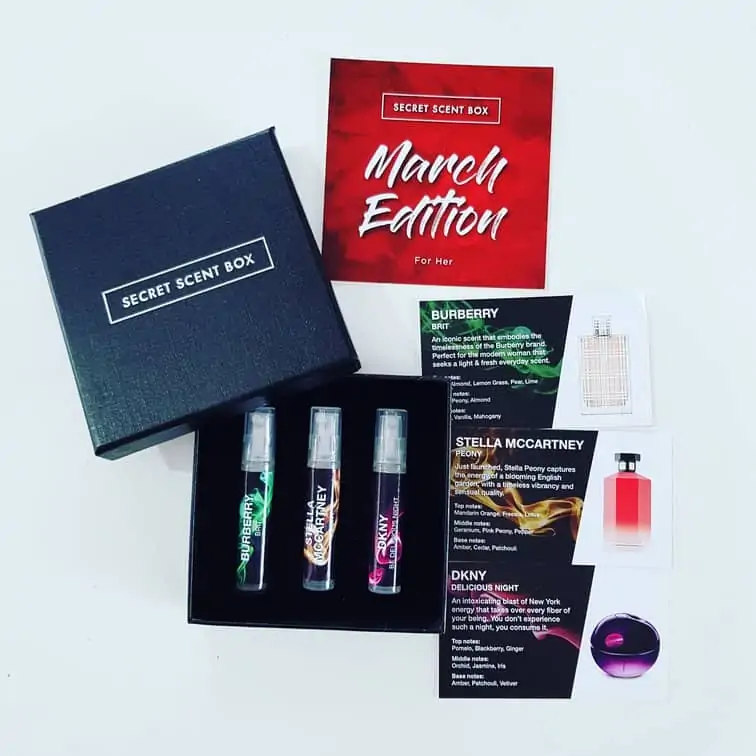 If you are looking for subscription boxes for older women you are going to love these suggestions.
Subscription Boxes For Men UK
If you are looking for other gift ideas for men who have everything I have put together our favorites.
ShaveKit
Get your first Shavekit delivery for £3 or £5. Try a better way to shave for just £3 for the 3 blade razor or £5 for the 5 blade razor. Both include a free handle and 1 replacement cartridge plus free delivery.
Topp Box
This is a monthly subscription box filled with the essentials for every modern man. Every month they select between 4 and 5 mystery products that are tailored to you. Before you subscribe you fill out your grooming profile, with age, style, skin type, facial hair, hair length, and texture.
The cost of the box is £19 and the RRP of the contents is worth over £50. In the first subscription box we received the contents amounted to £50.
In our box we received:
Moo Goo Skin Care Soothing Body Cream
Pure Konjac Wave Bath Sponge
Anatomicals World Pore 3 Strips
Good Day Organics Witch Hazel Water
Cool Question Deodorising Face & Body Wipes
I have to say if I was to purchase them all separately that really would be the cost, as I checked! They tell you what you have received in your box and where you can buy them from, and for how much.
This is a great touch and perfect if you fall in love with a product as you know where to actually buy it from. You can order Topp Box box bi-monthly if you prefer at the same price.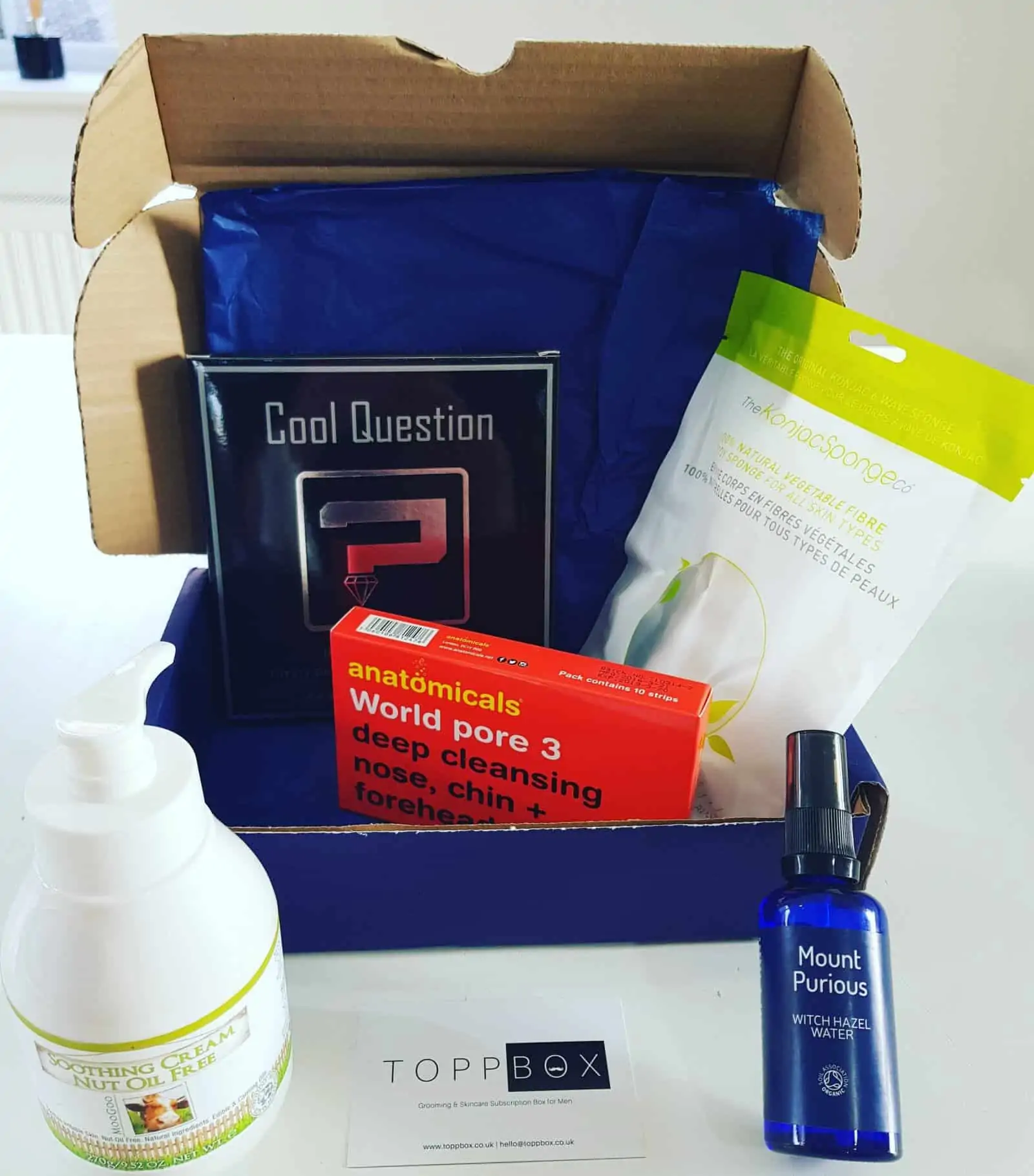 Geek Subscription Box UK
Pop In A Box UK
Pop In A Box is now the largest dedicated Funko POP! retailer in the world, offering both a collection tracker to keep check of all your Funko Pop Vinyls and a unique monthly subscription, try Pop In A Box today.
My Geek Box UK
Each month customers will receive a different themed box which will be full of a variety of merchandise and geek gear, as well as a T-shirt. Check out My Geek Box now.
Food Subscription Box UK
Degusta Box
Degusta Box offers monthly meal delivery services, containing some of the latest food and drinks products in the market. Customers receive a delicious surprise each month, containing up to 15 gorgeous and full-size treats.
Mindful Chef
Rated the number one UK recipe box company according to Trust Pilot. Also offering vegan recipe boxes, try Mindful Chef today.
Hello Fresh
Hello Fresh is a very customisable food subscription box, check out this super detailed Hello Fresh review to see why you should try it today.
Coffee Subscription Box
I have been on the hunt for the best coffee subscription boxes in the UK I could find, and I have found it.
Batch Coffee
Batch Coffee is a new kid on the block, and I have to say with 2 new coffees to try each month it is a blessing in any home!
The highest scoring quality coffees from around the world.
Experience two new coffees in each box.
Roasted by the best independent coffee roasters in the UK.
They will either deliver every fortnight or monthly (if you love coffee I highly recommend twice monthly). If you subscribe to Batch Coffee they will also give you a whopping 25% discount on your first order.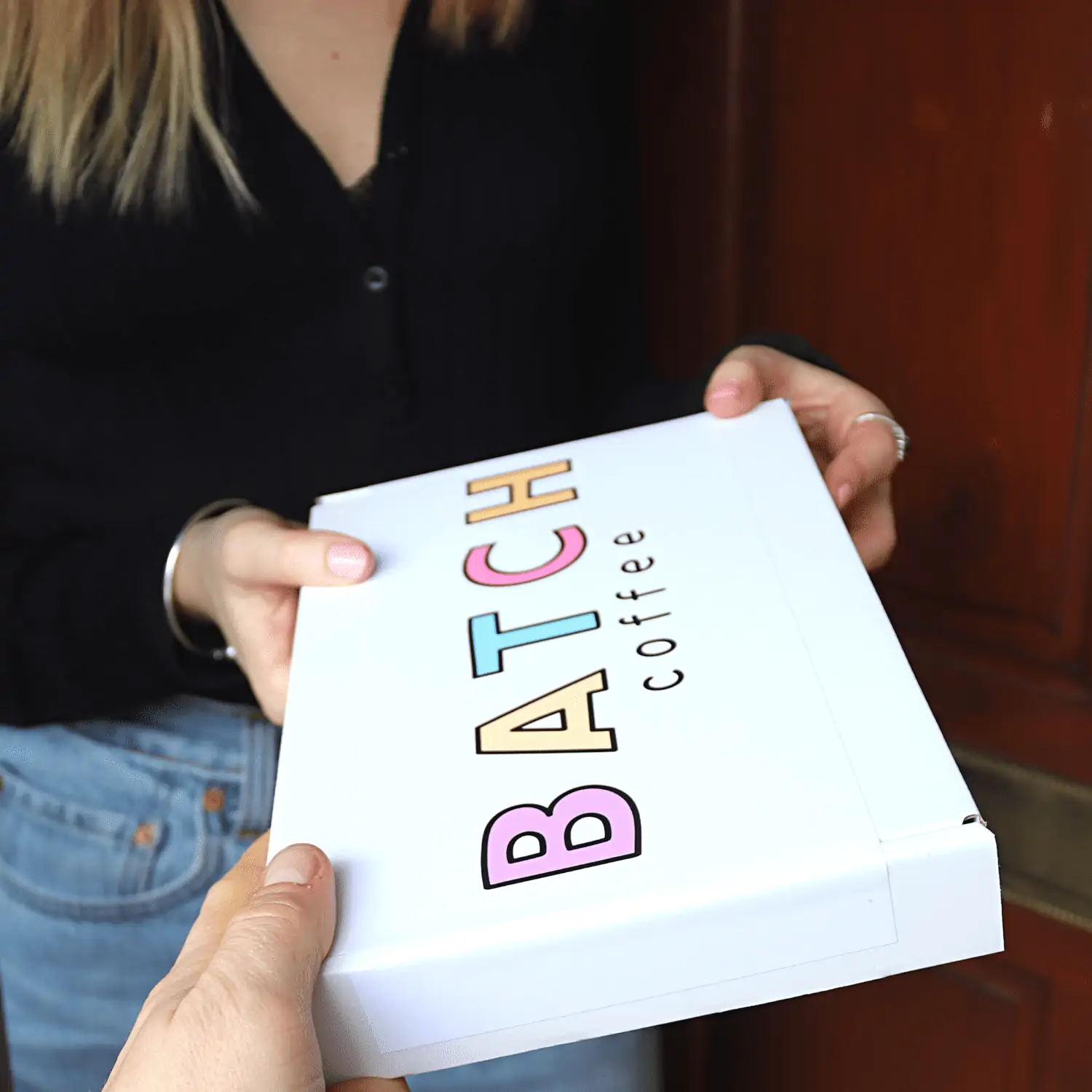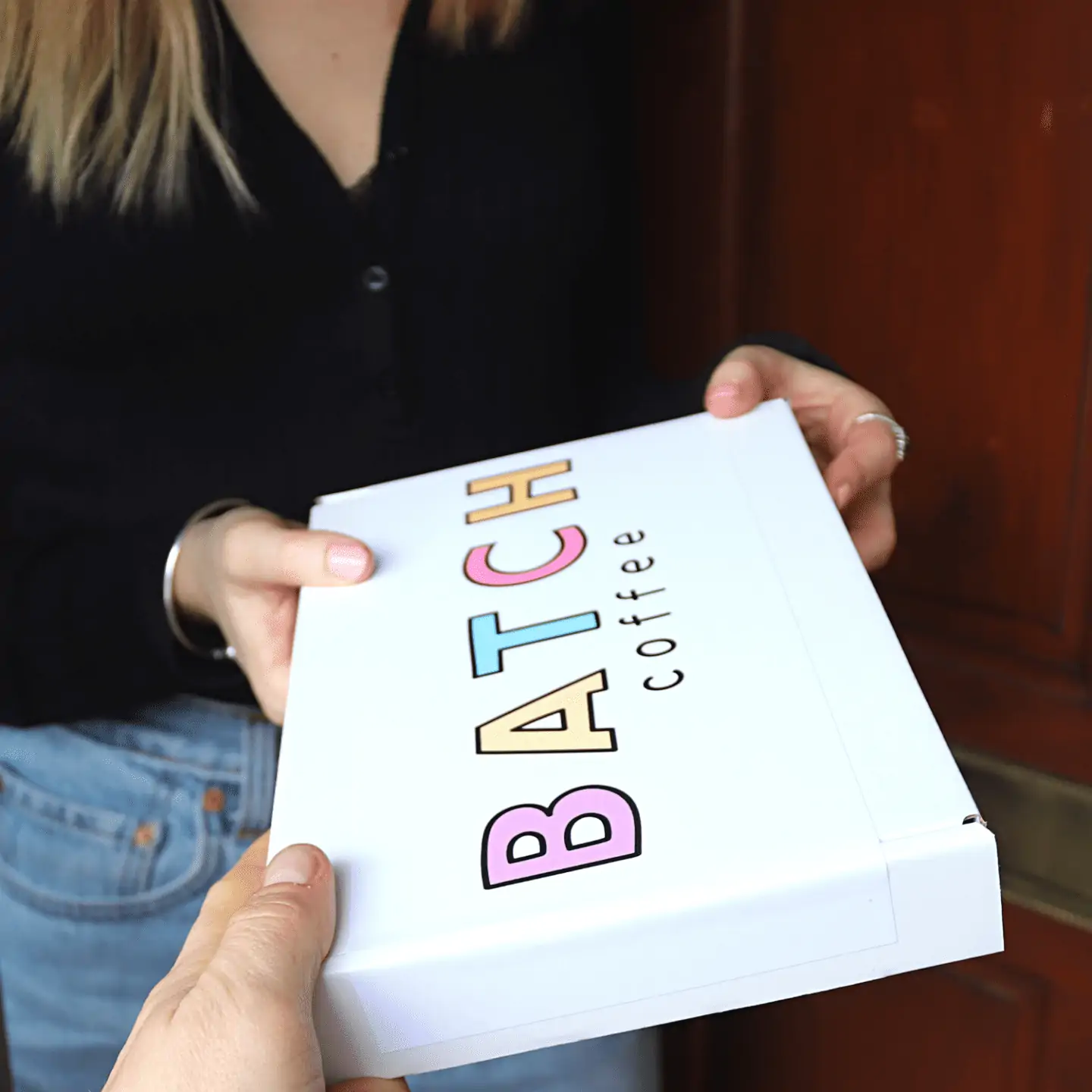 Alcohol Subscription Box
As we love alcohol in this house I have not been able to choose just one box! But here are the best subscription boxes, and at budgets for all.
Flavourly
Flavourly wants to make drinking the best craft beer at home more convenient and affordable than ever before! They do this by collaborating directly with the top craft brewers to bring their customers exclusive, high-quality, and great-tasting craft beers that will satisfy all beer drinker tastes!
These beers are made to order just for the Flavourly community; that means they're super fresh and delivered right to the customer's door, by the case, at unbeatable prices.
Summerton Club
Summerton Club is a monthly subscription box sending out different spirits. The box we received included a Swedish Single Malt Whisky, Mackmyra Gruvguld Swedish Single Malt Whisky. We had some friends over on Halloween and decided to crack it open, it was certainly a hit.
Well, you know it's good when it all gets finished in one sitting!!!
There were 6 men drinking it I might add!
All of them agreed it was delicious and nothing like they had tasted before. This is exactly what is great about this subscription club. All of the spirits sent are not something you could find in the supermarket. In fact, I have just done a google search for this whisky and I can't find it anywhere yet.
We have a lot of parties so we don't keep alcohol long in our house, BUT this is a great subscription box to stock up your drinks cabinet.
Craft Gin Club
This is our second craft gin club subscription box and I absolutely love it. It is only £40 a month and includes a full-size bottle of the most fantastic gin along with tonics plus nibbles.
There is a magazine telling you all about the gin plus some ideas of how to drink it. In this box we received a full-sized bottle of Salcombe gin which we have not tried before, I love trying new gins, especially as there are so many out there.
Along with this, we received tonic water which is infused with grapefruit (we have been experimenting recently and our favourite thing to mix with gin is grapefruit so this was just perfect.)
The fudge we received is infused with gin and tasted absolutely delicious. The choco moments, of course, were eaten the minute I had taken this photo and Freddie has eaten his favourite popcorn. As always this box is excellent value for money, the bottle of gin alone costs £36.40 and with the other goodies, it is well over the £40.
What I especially love though is the fact we are trying new gins each month which we wouldn't normally have. Before this subscription box, our favourite was probably Tanqueray (which we still love) but we just stuck to this. I also love the magazine that gives some great tips as to how to drink gin and what it tastes nice with.
Savage Vines
Here is yet another awesome alcohol subscription box, this one sending wine!!! Yes, I know you all know by now I am a big wine fan, and this box didn't disappoint. I received the 3 wine box and what I love about this subscription box is I can choose what colour I get.
I opted for 2 white (my preference) and 1 red (Stuart's preferred choice). You can also choose to receive 2 bottles or 3 bottles per month. The in house sommelier for this box is Raul Diaz who is the wine presenter for Chanel 4's Sunday Brunch. They select wines from all over the world, and in my box, I got a French, a Greek and an Italian.
Now the French wine was a chablis which I have had before, although not this production. My least favourite grape is a Chardonnay, however, this was not like any other I had had before it was delicious. I only had a glass, as it was a school night and I needed to try all (not the red though I left that to Stuart!) but it was really tasty.
I'm looking forward to drinking the rest with friends on Friday night. I had never drunk Greek wine before and out of the two white wines, this was my favourite. Stuart really enjoyed the red wine, in fact, he finished the bottle. All I can say about it is though that I absolutely loved the label (sorry I know that is a very girly thing to say!). It was called Never Walk Alone and had a picture of a family on it.
The price of the box is £29.95 for 2 bottles or £42 for 3, at £14 per bottle I think Savage Vines are well worth it.
I Love Gin
I Love Gin is my favourite budget gin subscription box at only £14 per month. For this, you receive 2 small bottles of gin plus 2 full-size tonics which makes 4 gin and tonics (well actually only 2 in my house, but you get the point!).
The price is very reasonable as I am not sure where you could purchase a double gin and tonic for only £7! I had not tried either of these gins before but they were really nice, and the tonic is one of our favourites. I prefer the classic tonic but Stuart really enjoyed the orange and elderflower.
Micro Bar Box
It is not a secret that we enjoy socialising with friends, so this was right down our street. We took it to friends on Saturday night and had lots of fun making the 6 cocktails. We all tried a sip of each cocktail, and although some were a little sweet for my liking (I am a usual wine and gin drinker) they were delicious.
I think the most surprising for us all was the Chambord Kiss which was Baileys with a shot of Chambord. We were all convinced it would taste disgusting as we didn't think it would mix well, but I think that was all of our favourites!
I loved the fact that the box came with everything needed (well except the ice!) and also had some nuts which we enjoyed with the drinks. I am obsessed with the quality of the packaging (as personally, I think it makes a big difference) but this was excellent. In fact easily in the top 3 of all of the ones we have tried.
The price of the subscription box is £29 which makes 6 cocktails. I think this is great value for money and also we all enjoyed making the cocktails, as it was a bit of fun.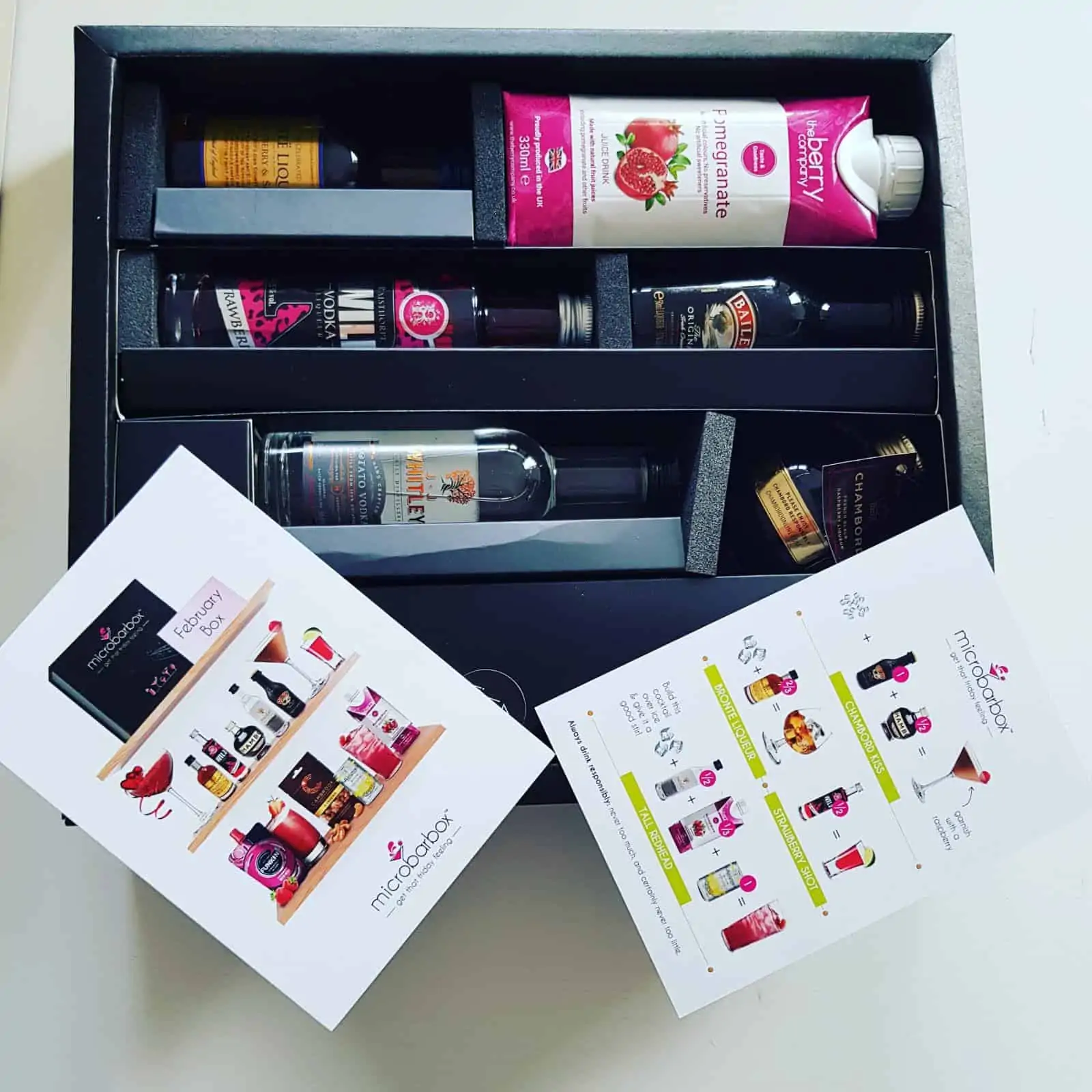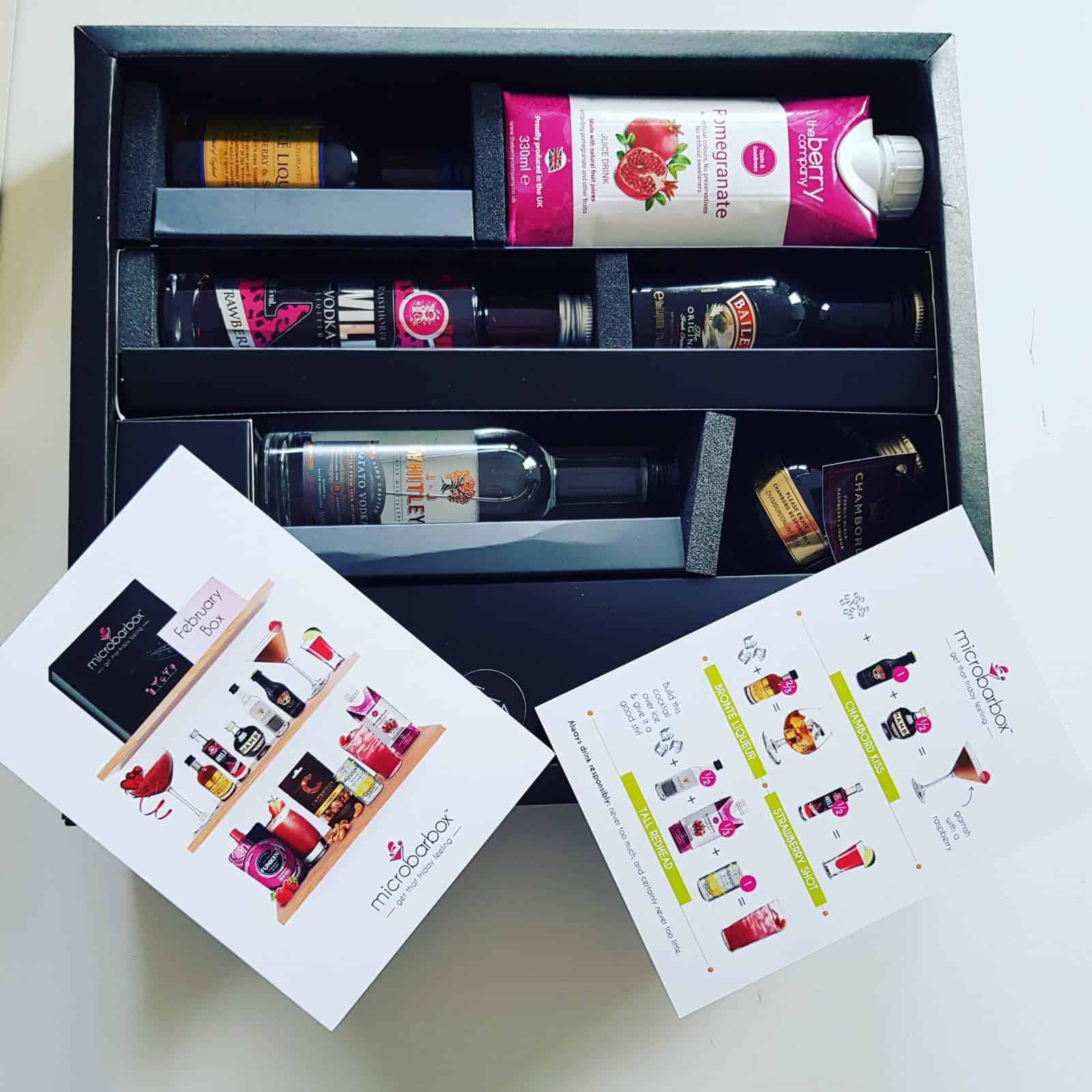 Socks Subscription UK
Again I have struggled to choose a favourite sock subscription box, but here are the top 2 (in my opinion!)
Socks in a Box
With this sock subscription, you can order either for three months or 6 months, and these are available for both men and women. I also like the fact that you can choose traditional socks or snazzy socks!
My husband only wears snazzy socks, it is his own way of rebelling under his business man attire!! In the first box, you receive a personalised message which is a nice touch.
The quality of the socks is very good and they are very nicely packaged. The price of these is either £19.99 for 3 months or £34.99 per box for 6 months so it is cheaper to order for longer. But I think £6.66 for a pair of socks is great value for money, of course, I know you can buy packs of socks for cheaper than this, but this is not comparable in my opinion. Check out Socks in a Box today.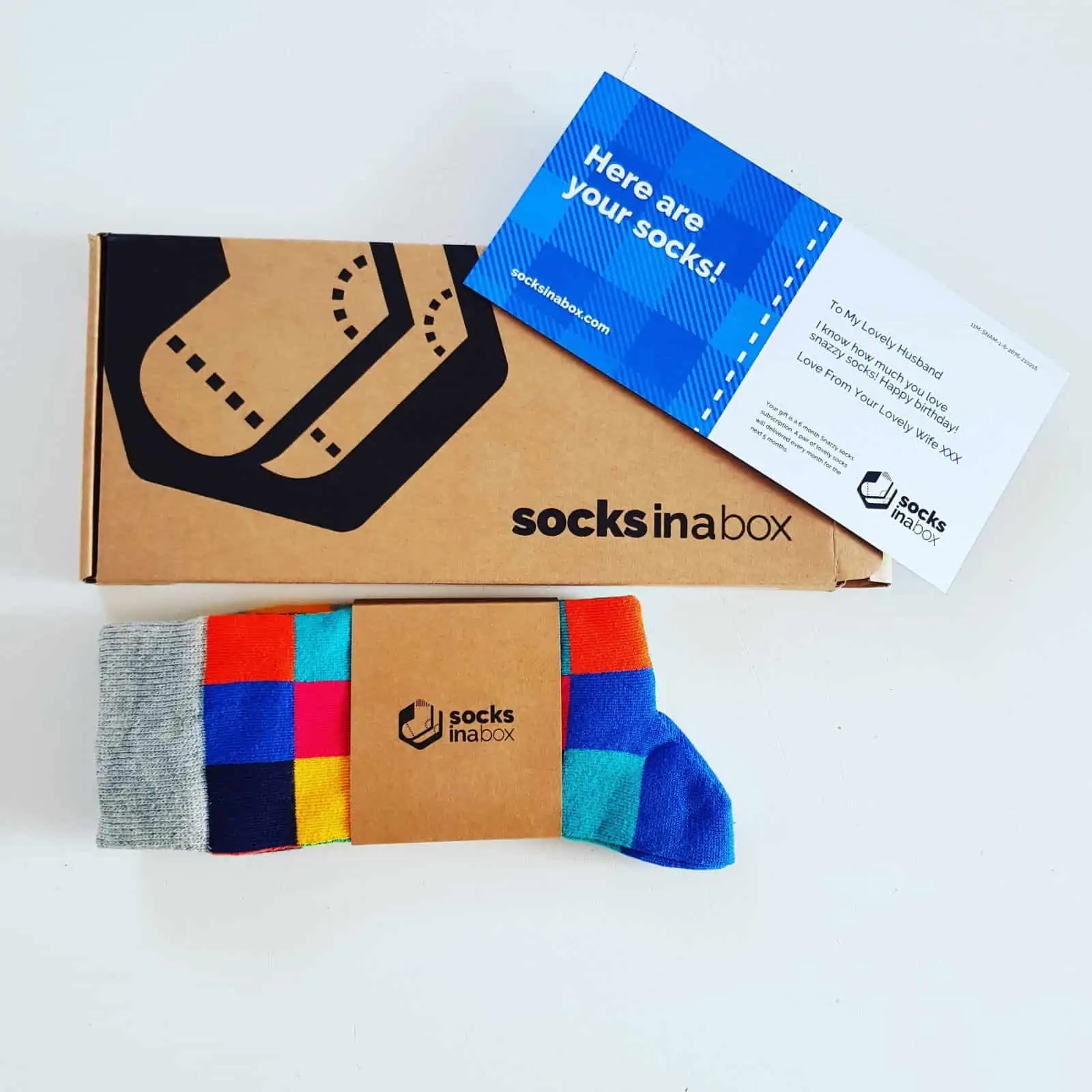 Henry J Socks
Who doesn't love wearing funky socks? Well, Stuart certainly does, and this is such a great subscription box. Each month they send you a new pair of bold and beautiful socks, fresh from the needle and thread straight to your door.
You will never have to buy another pair of socks again. Henry J Socks are only £4.99 per month which in my opinion is excellent value.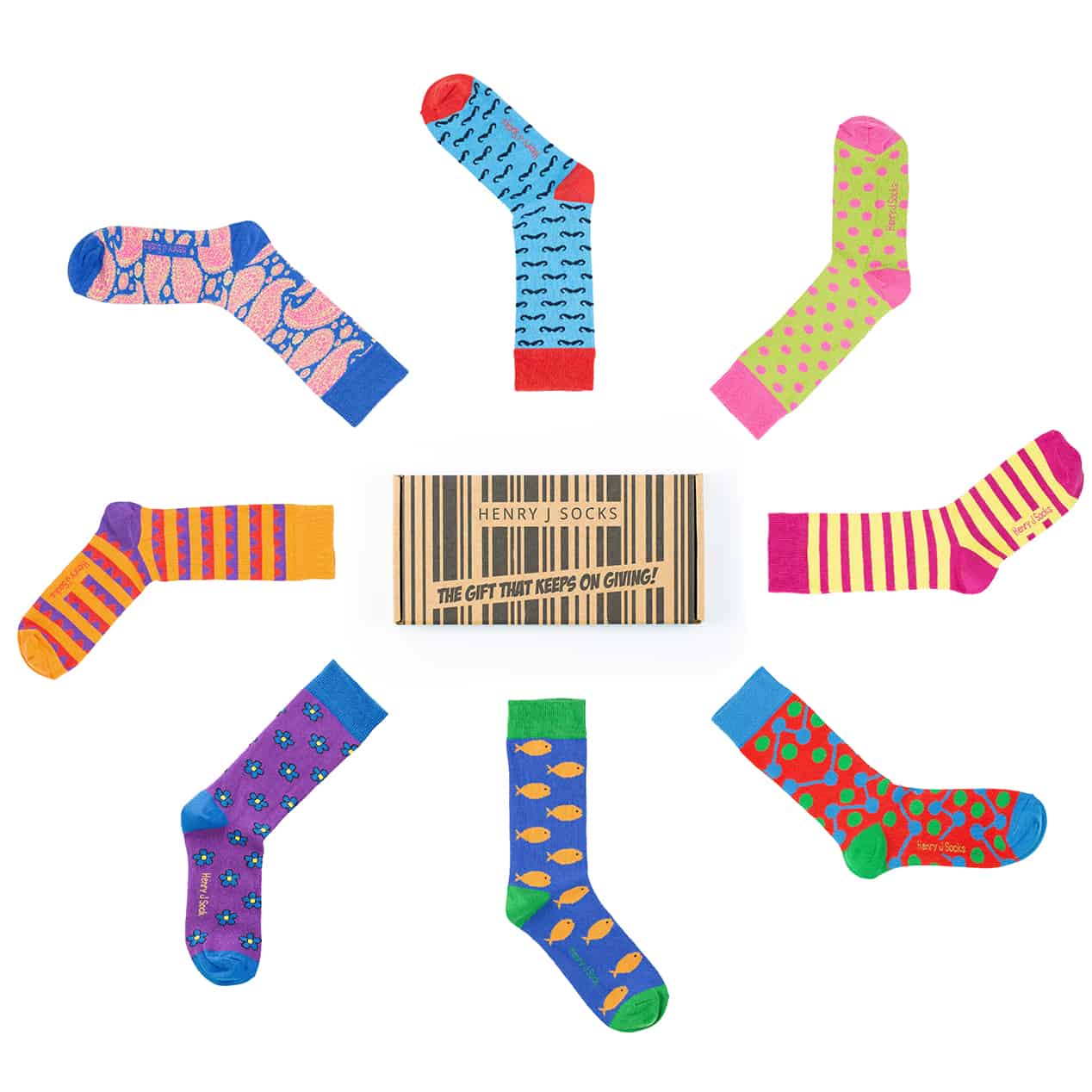 I think you will also enjoy our Freddies Flowers review.
So this is a list of the best subscription boxes in the UK. Which ones are your favourites? Am I missing any?
Last Updated on 9 September 2023 by homeschoolof1