23 Best Kids Subscription Boxes That Are Awesome!
As we are now homeschooling we thought we would share some of the best kids subscription boxes available in the UK that we think are great.
This huge list is broken down into sections for easy viewing. We have either tried the kid's subscription box or, we have heard excellent reviews.
If you are looking for subscription boxes for teen boys check out our recent post, although most of these will be shipped from America.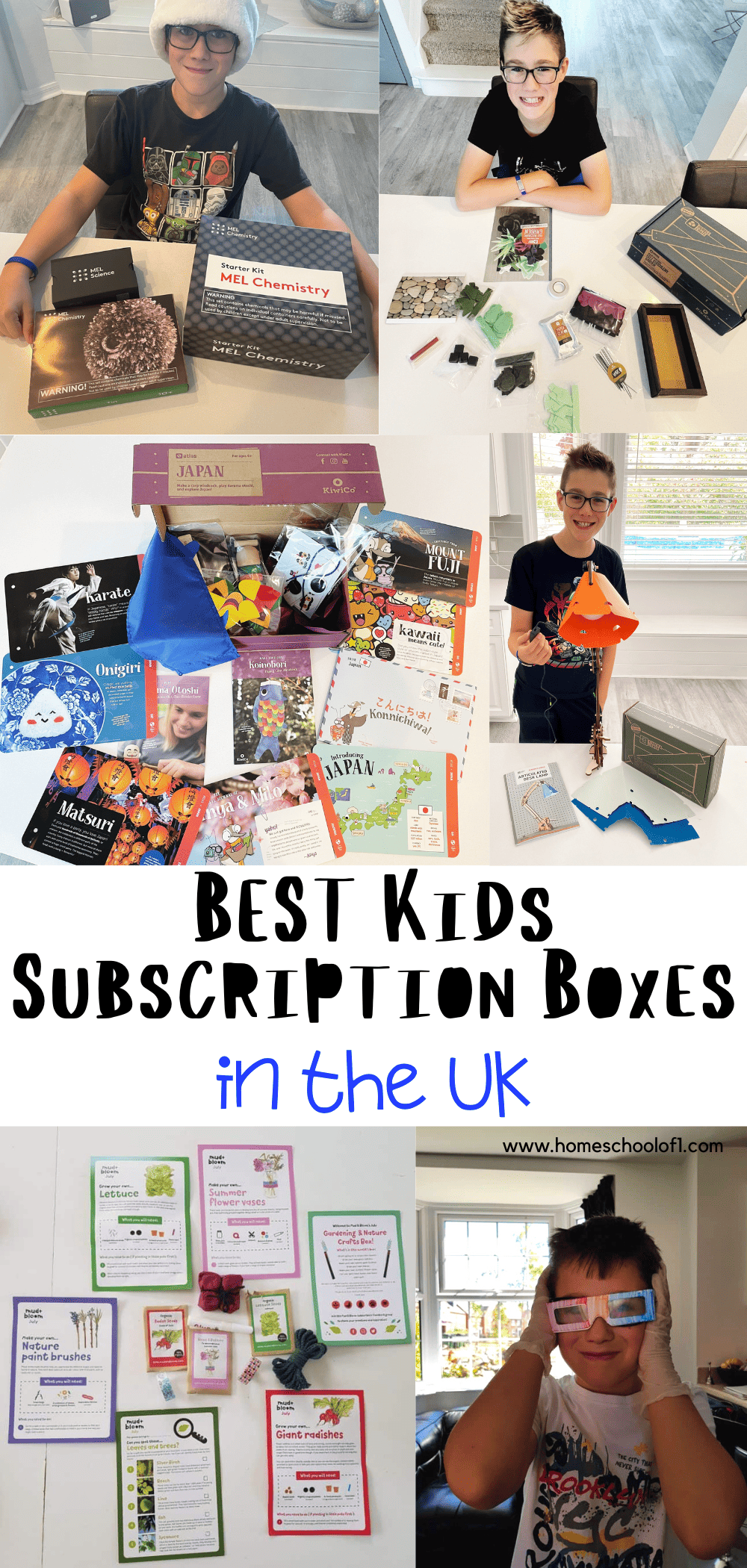 All of these kid's subscription boxes are available to you in the UK and this post is updated regularly. If you are looking for adults boxes check out my subscription boxes UK post.
**There may be affiliate links in this post. You can read my full disclosure at the bottom of the page.**
Science Subscription Box
There are some absolutely awesome science subscription boxes thankfully! I love being a homeschool mum, but, getting science experiments ready in advance is certainly not my forte! These are a great supplement to our homeschool science curriculum.
That is why we always have a running science subscription that is delivered monthly. The current one we are using is Mel Science and so far we are loving it, check out our Mel Science review to see what exclusive promo codes we have available.
For other homeschool science kits check out our favourites here.
Mel Science UK
The first Mel Science subscription comes with a VR headset and starter kit!
Check out our honest Mel Science review. (Use code 5BOXES to get 5 boxes free on the annual subscription. Or use code YEAR50 for 50% off an annual subscription. Or use code BOGO to get one box free with the first box ordered.)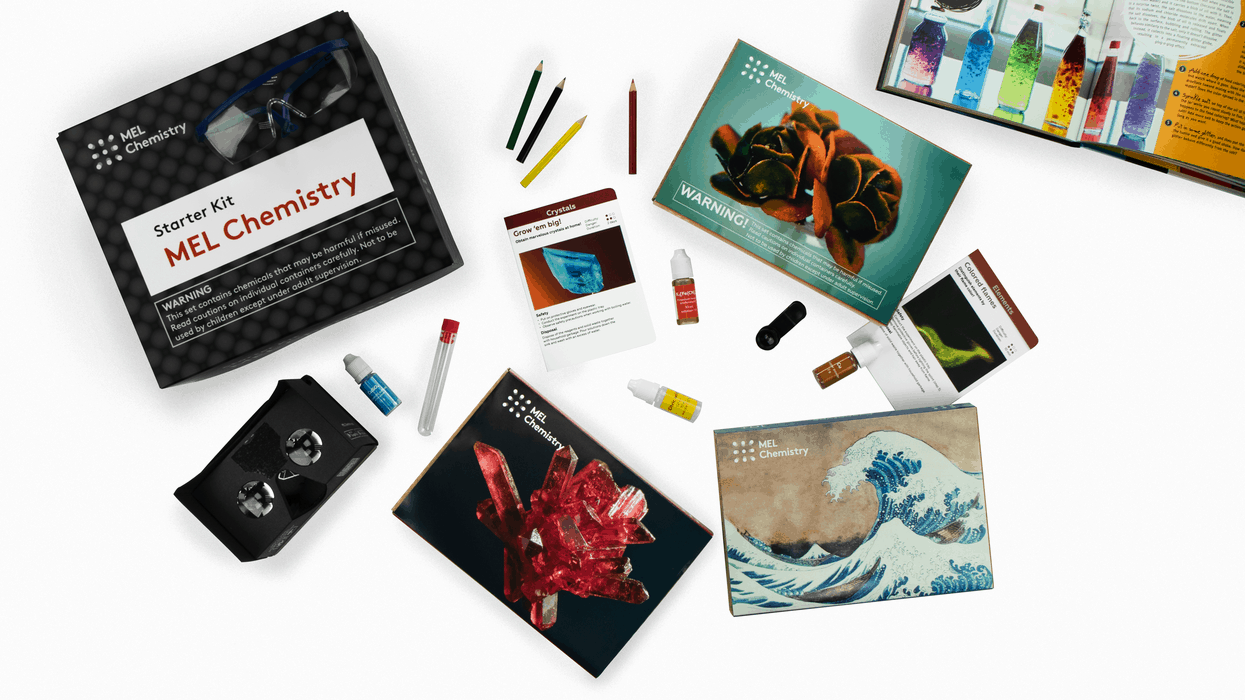 KiwiCo
KiwiCo (use code HOMESCHOOL for an exclusive 50% off your first box) offers an impressive 5 different science and stem boxes for kids aged from 2-100 (big kids!). Check out our Kiwico Eureka Crate review (with an exclusive 40% coupon code).
You can also read our KiwiCo Doodle Crate review and the KiwiCo Maker Crate review which are more creative for teens and tweens.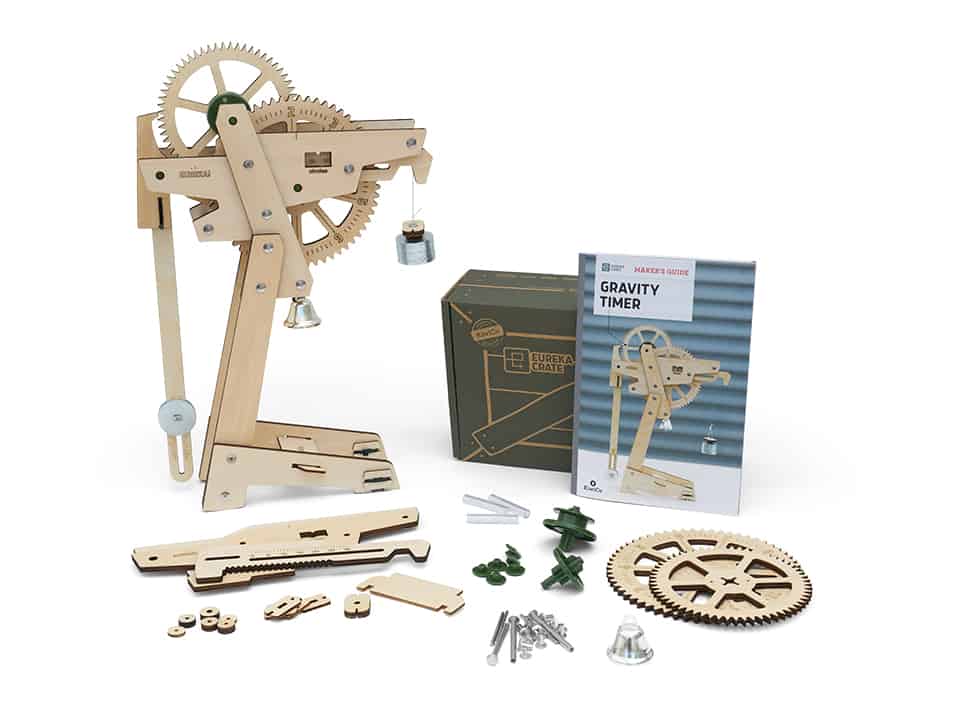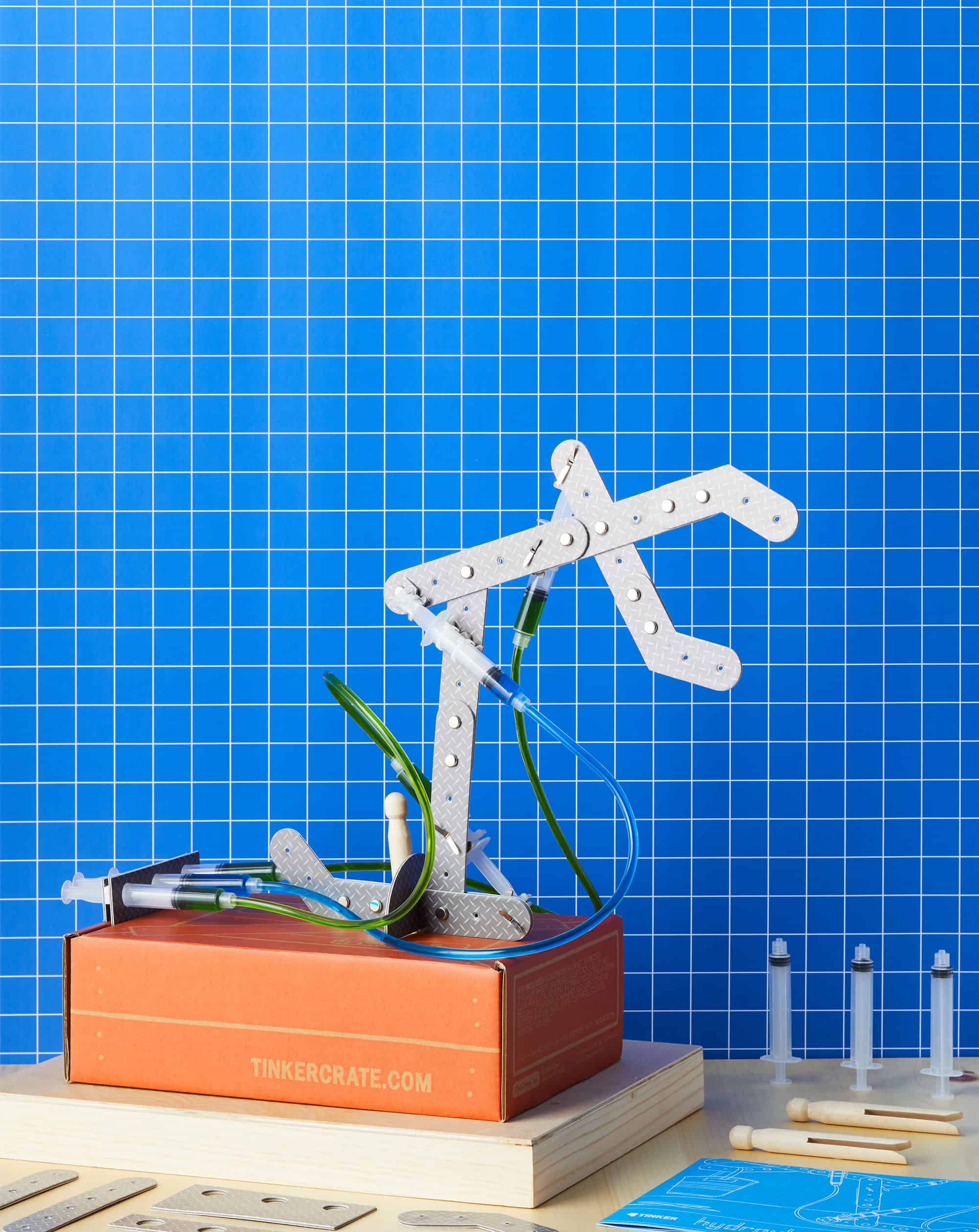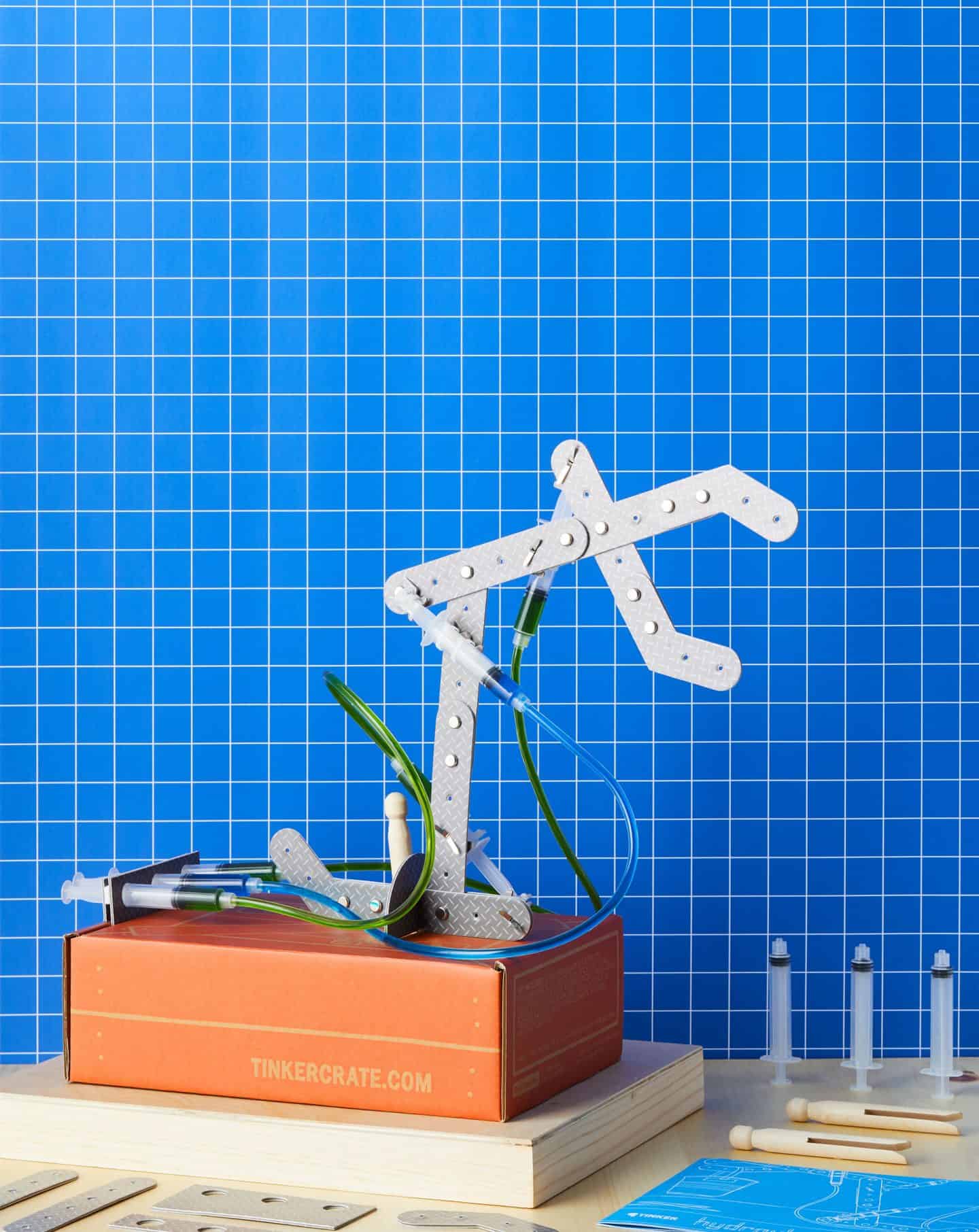 Green Kids Craft
Green Kids Craft is an award-winning hands-on science learning and crafts subscription box. Aimed at children 2-10+. 4-6 activities in every box.
Mud and Bloom
This is a gardening and craft kids monthly subscription box aimed at children aged 3-8 years old. Although I think this is great for any children who love being outside (or even those who need a bit of encouragement!).
In the box, we received some seeds for radishes and lettuce seeds. Plus some crafty items to decorate a vase, and a worksheet to find certain types of leaves and what trees they come from. Plus it showed you how to create your own paintbrushes with certain flowers in the garden.
I really love this box, as does Freddie. It told you exactly how to plant the seeds in a really colourful and easy-to-understand sheet. We planted the seeds in the garden and can not wait to see them grow. Get your Mud and Bloom box here.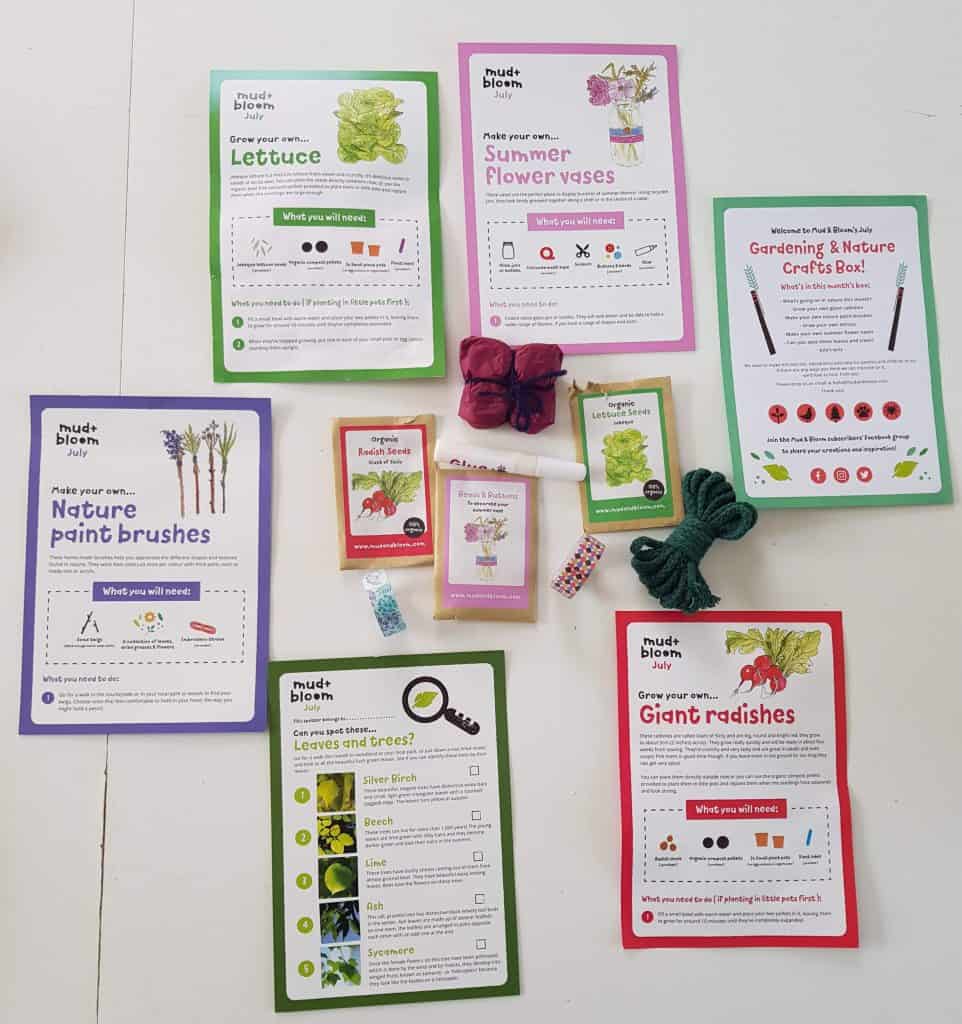 The price is also excellent at only £7.95 including free delivery! Absolutely fantastic value for money.
Groovy Lab in a Box
Groovy Lab in a Box. You will receive boxes full of everything you need to do hands-on STEM experiments for ages 8+.
Letterbox Lab
This is a monthly subscription box full of science experiments aged at children over the age of 6. We received the investigate box which is for children over the age of 8. This box is £22.50 which I think is great value for money. The first box comes with all this:
The first Investigate Box is called Marvellous Mixtures. In this introductory science kit you will do six marvelous investigations:
Incredible Inks – find the hidden colours in simple inks and create stunning artwork with science.
Rainbow Glasses – make a pair of glasses that turn every light you can see into a rainbow.
Rainbow Spinners – you've taken a rainbow apart, now you have to put it back together with a twirl.
Liquid Rainbow – make a multi-coloured layered liquid.
Brilliant Breathless Balloon – everyone's amazed when the balloon seems to inflate by itself, thanks to the power of chemistry.
Squirmy Worms – mix two liquids together and watch as they turn into gooey worms.
You will also start your collection of lab equipment with your pair of safety goggles, measuring cylinder, and petri dish.
The instructions were really brightly coloured and full of detail. It not only shows you what to do but explains exactly what has happened in each experiment. Freddie absolutely loved it and kept saying that science is amazing!
They also have Exclusive Home Educator Discount Codes available. With an impressive 25% off their first box, plus 10% off all future discounts. To get this all you need to do is chat with them online or email them.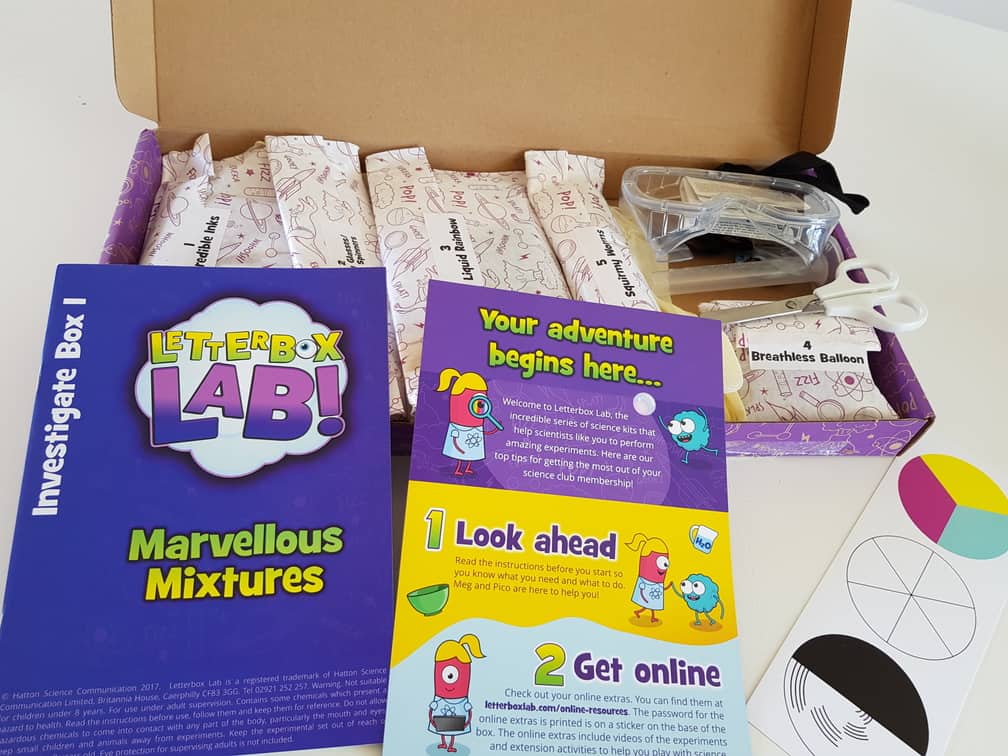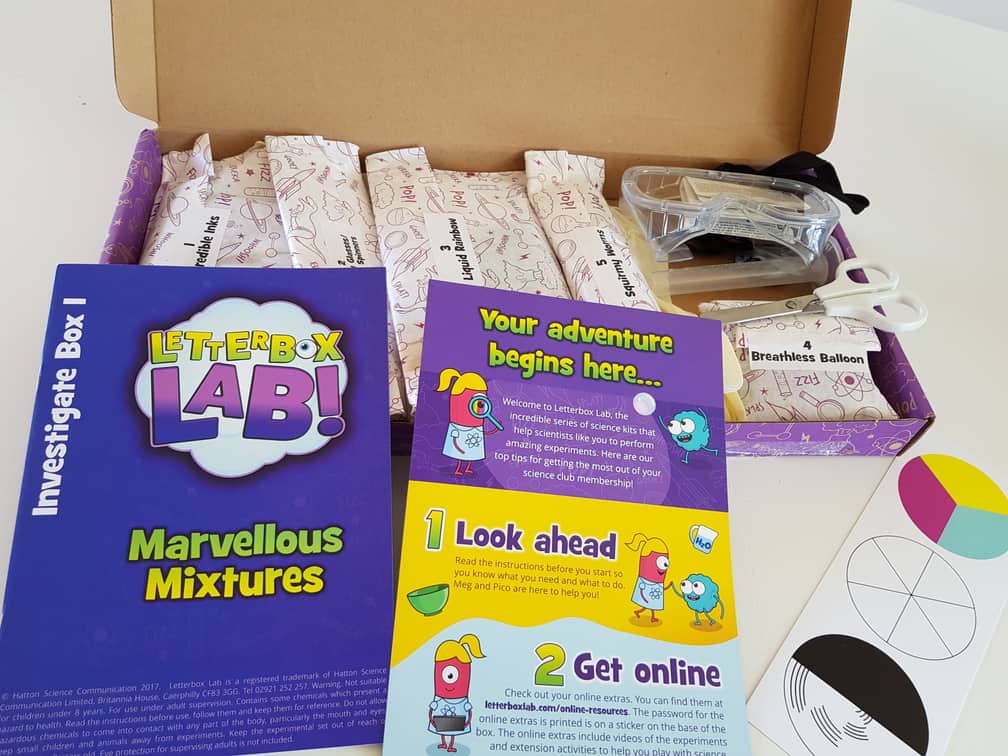 I would absolutely recommend this box to anyone and not only homeschooling children. It is really fun to do and has so many cool science experiments in it, both parents and kids will love this box.
STEM Subscription Box
Tinker Crate
Tinker Crate is a great STEM subscription box for kids aged 9-14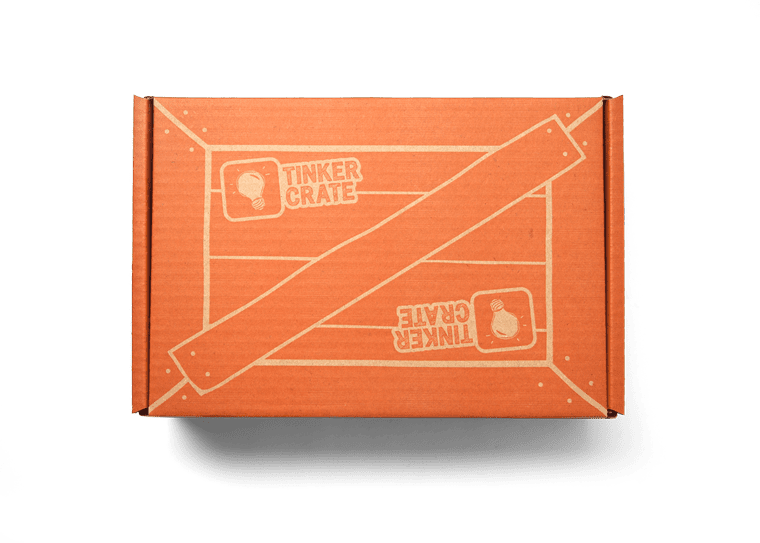 Creation Crate
Creation Crate stem boxes are aimed at children over the age of 12. They deliver all the components you will need to build and program a new electronic project.
Stem Discovery Boxes
Stem Discovery Boxes science kits for kids aged 7-12. Each box contains 3 projects /experiments with all supplies included.
If you are looking for even more options on how to introduce STEM in your homeschool. I highly recommend these stem subscription boxes from OysterKit.
Geography Subscription Box
We love to supplement our homeschool geography curriculum with a fun geography subscription box. These are our absolute favorites.
Atlas Crate
Atlas Crate is a fantastic subscription for kids aged 6-11. Through immersive, hands-on STEAM activities, they hope to connect kids with communities and customs beyond their own experience. Read our detailed review of our favorite geography subscription box.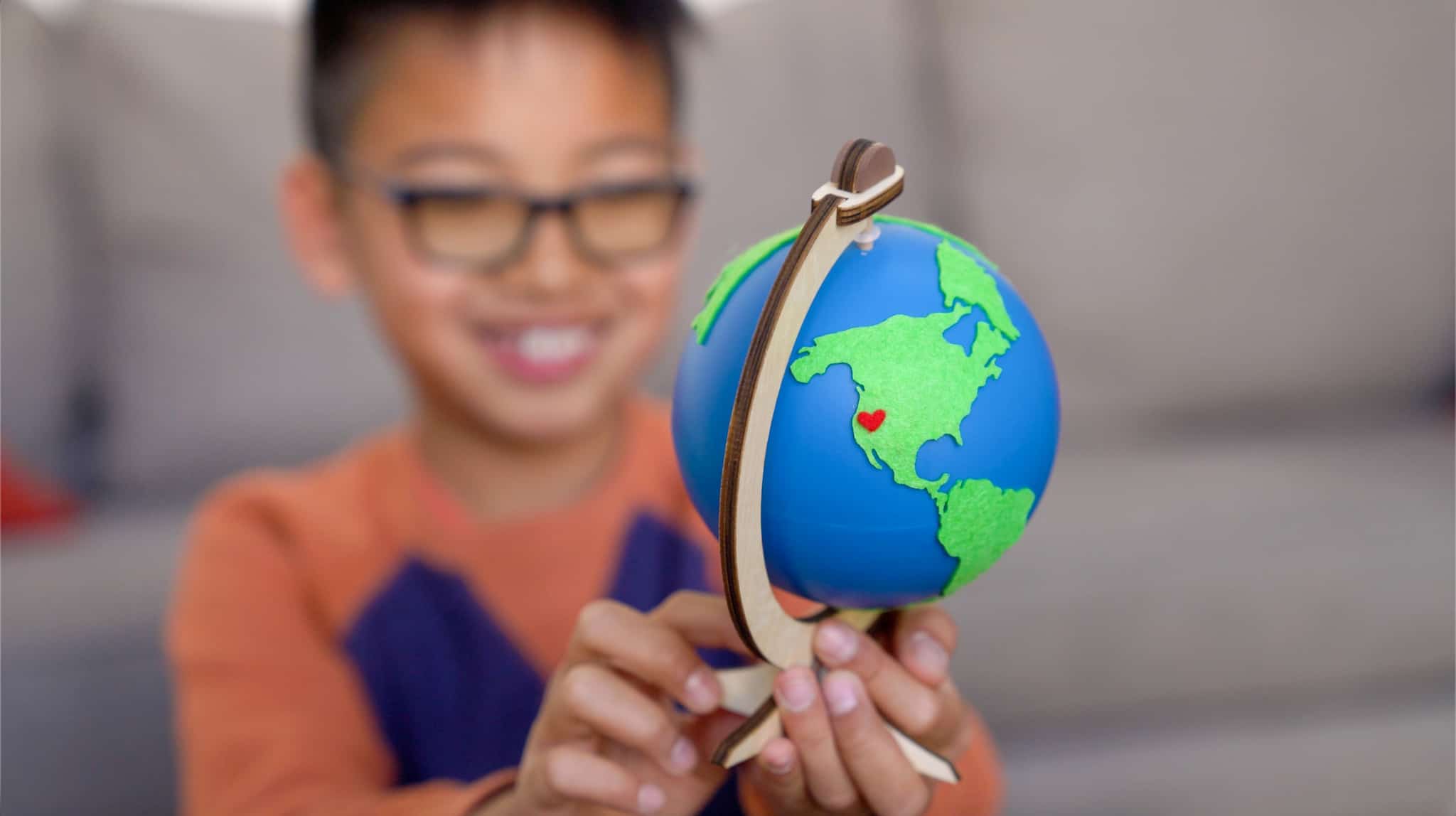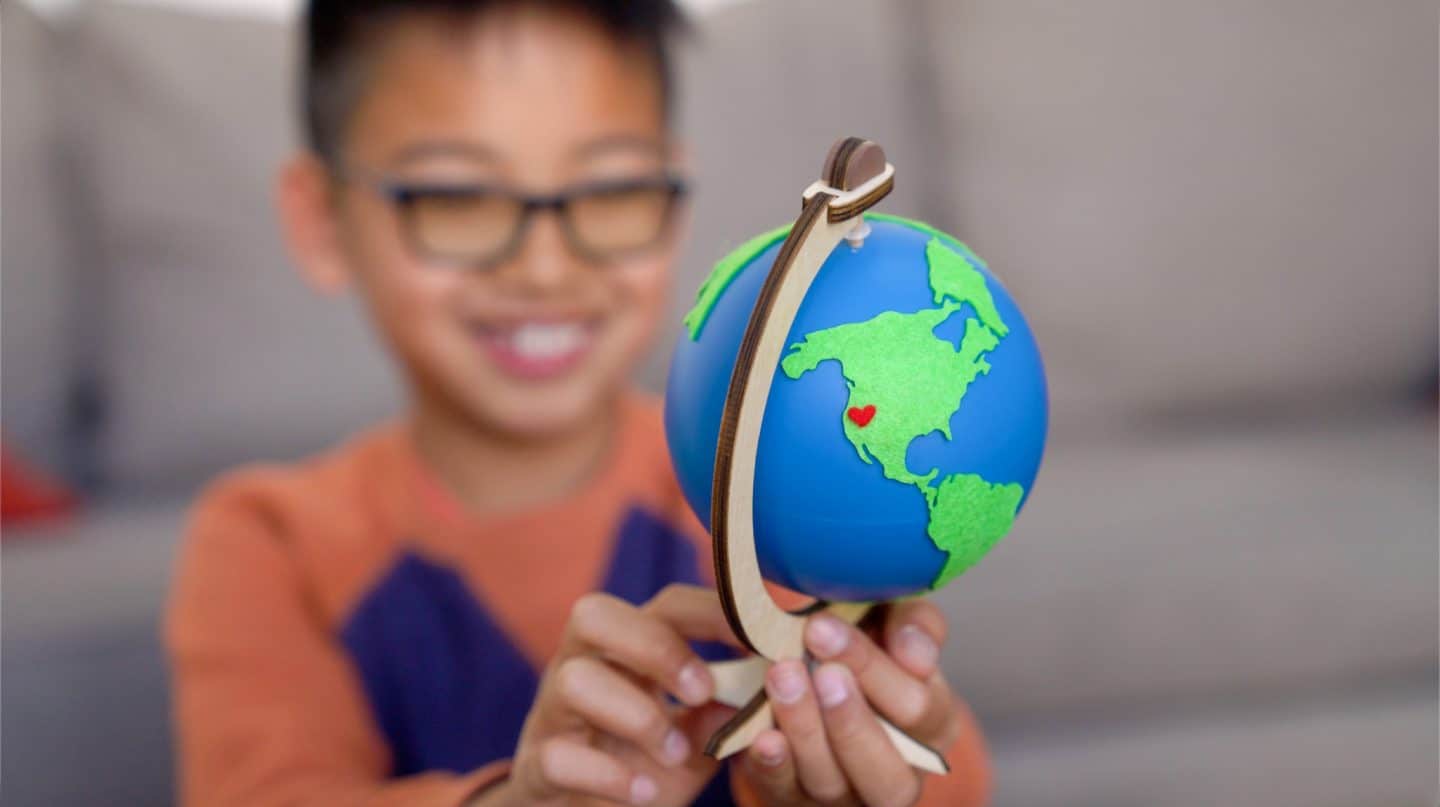 Our Little Globe
We love travelling as a family so this is a perfect subscription for us.
The first subscription box you receive will include a suitcase and a passport and a world map. In every box there is a pen letter from a child from the country of the month. Plus some arts and crafts, stickers, two recipe cards with a spice pouch to make something from that country.
Our first country was Spain, which is nice as we have been there. There was a lovely letter from a child explaining what their country is like. The arts and crafts were just fantastic, Freddie has never really enjoyed arts and crafts but he couldn't wait to decorate the picture.
The price is also amazing at only £9.95 plus postage, and I have to say I think it is definitely worth it. Get your Our Little Globe box now.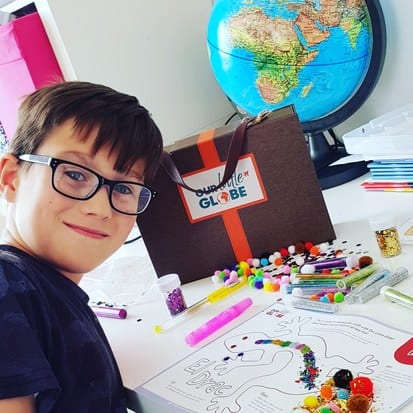 Geo Journey Subscription
This is another subscription box actually from the UK. Geo Journey subscription is aimed at children aged 4-10.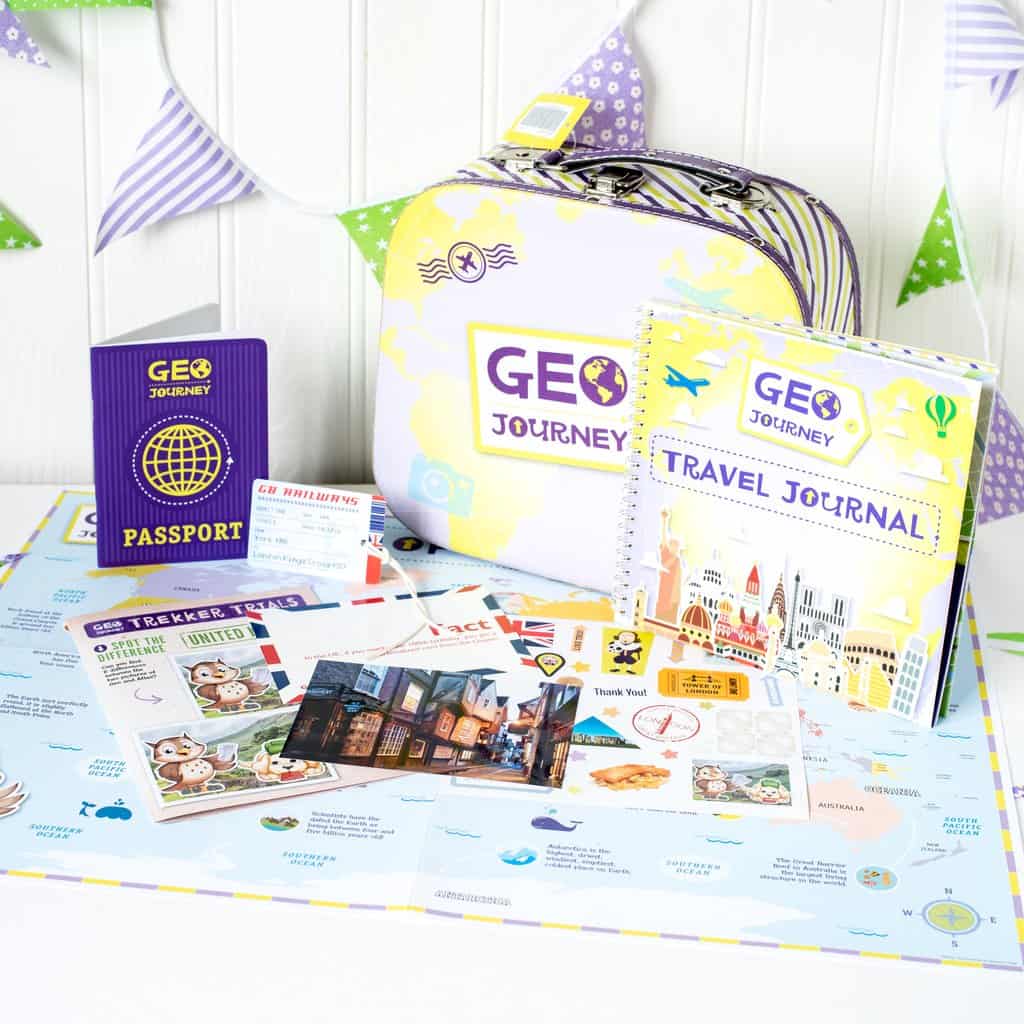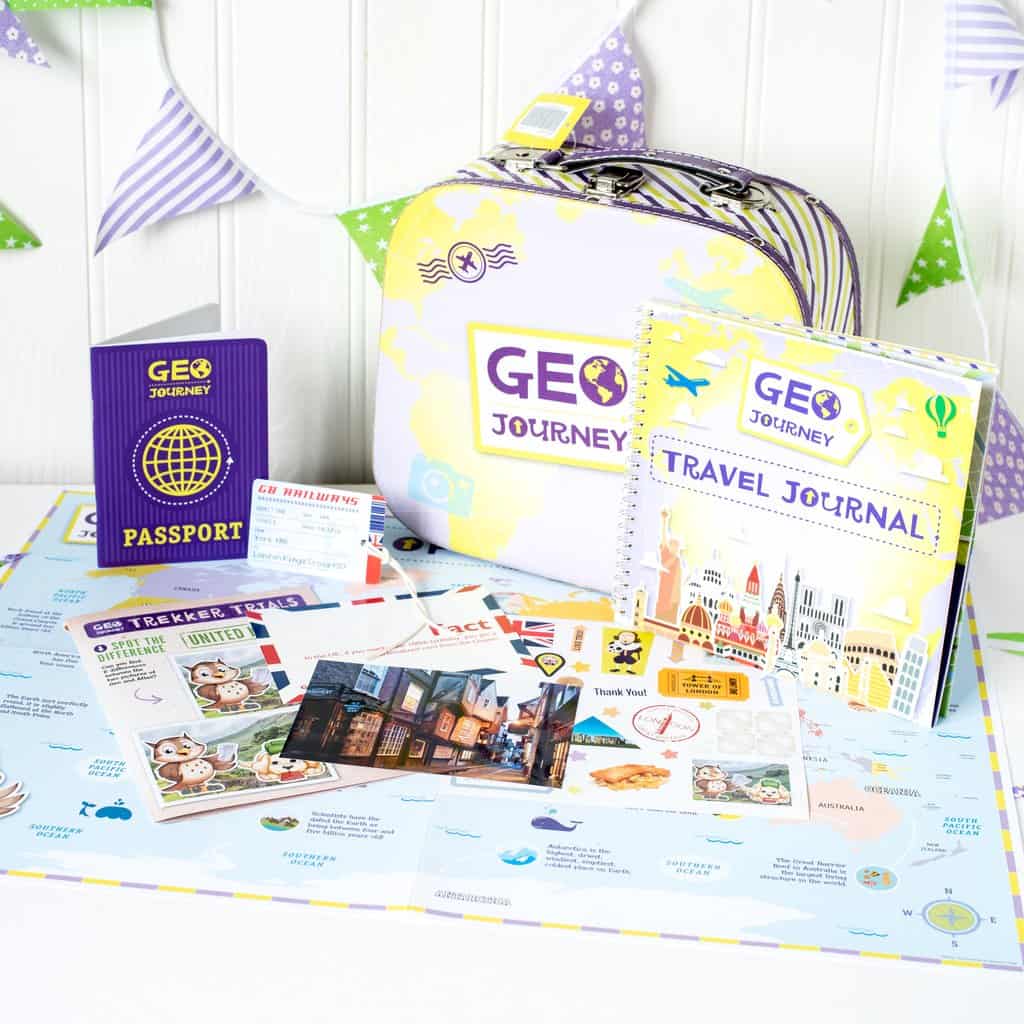 Little Passports
Little Passports subscription boxes are perfect for kids aged 3-12 who enjoy travel and adventure. Despite this being a subscription box you can also easily order one-off boxes.
I also LOVE that they have free homeschool resources for us homeschool moms. We especially loved the Discover Japan worksheet as this is somewhere we would love to travel to.
History Subscription Box
We absolutely love supplementing our homeschool history curriculum with this subscription. Learning history shouldn't be just about books.
Mysteries in Time
This is a really fun history subscription box for kids aged 7-11. We have done this one a few times and highly recommend it. Grab your Mysteries in Time box here.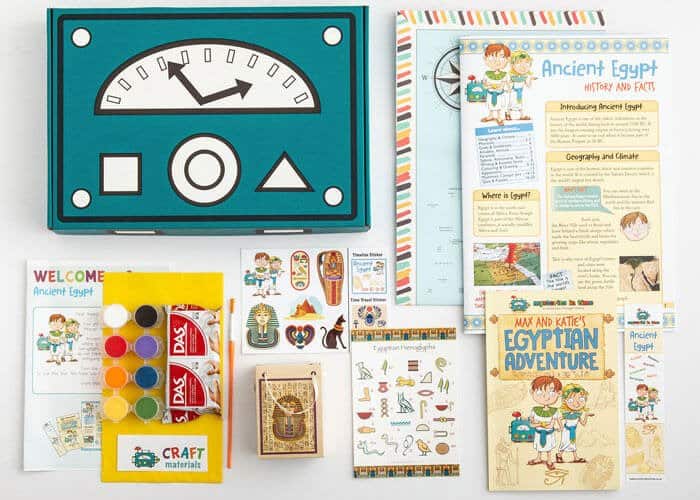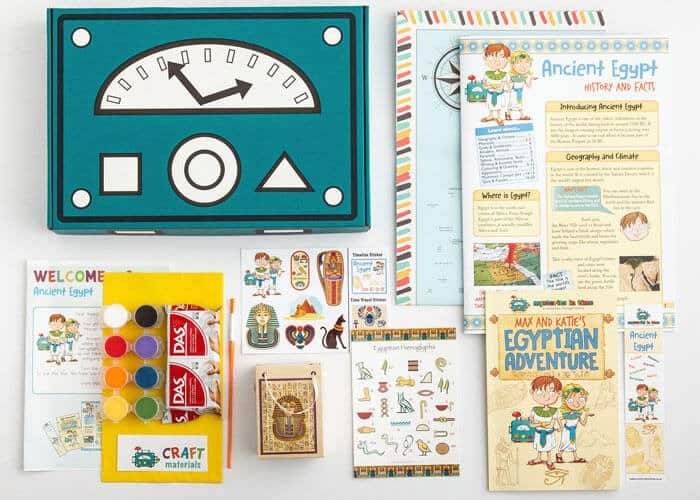 Children's Book Subscription Box UK
These are the best monthly children's book subscription boxes:
The Junior Travelling Reader Box
This UK subscription box is full of British fiction books and treats from around Britain for young readers (ages 9-12). Grab the Junior Travelling reader box here.
Bookabees
This is a book club subscription, each month they will send between 1, 3, and 5 different books suitable for your children's age.
This is for children aged 0-11 years old. There is a small monthly fee and all you have to do is return the books (free return postage) or buy them at half RRP. You can tell them what books you don't want, just in case like us you already have a library at home!
We received 3 books for a 9-year-old. Stig of the Dump, How to Train your Dragon and Arabel, Mortimer, and the Escaped Black Mamba. Get your Bookabees box here.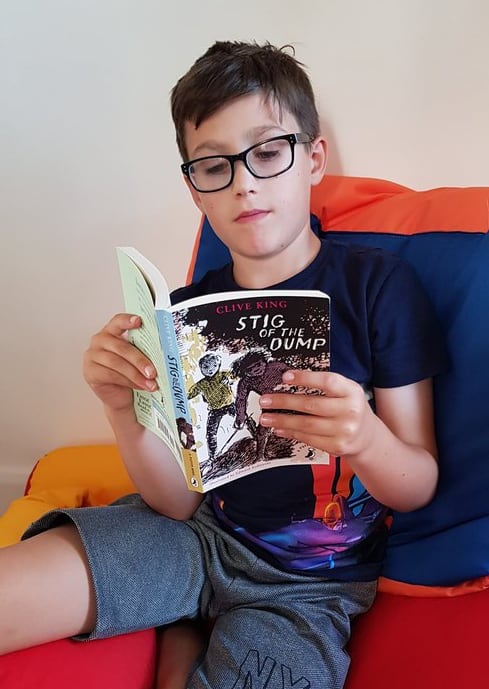 Craft Subscription Box UK
Toucan Box
This craft subscription box is perfect for kids aged 3-8. You get 50% off your first box (use code awbox22), and it is so much fun. We used to love getting ours in the post. My son is too old now, unfortunately. Get your Toucan box here.
Kids Cooking Subscription Box
Raddish Kids Cooking Classes
A cooking class for kids. Raddish kids is a subscription service that allows parents to teach their kids cooking. While learning chemistry and math while having a fun experience.
Kiwi Co Yummy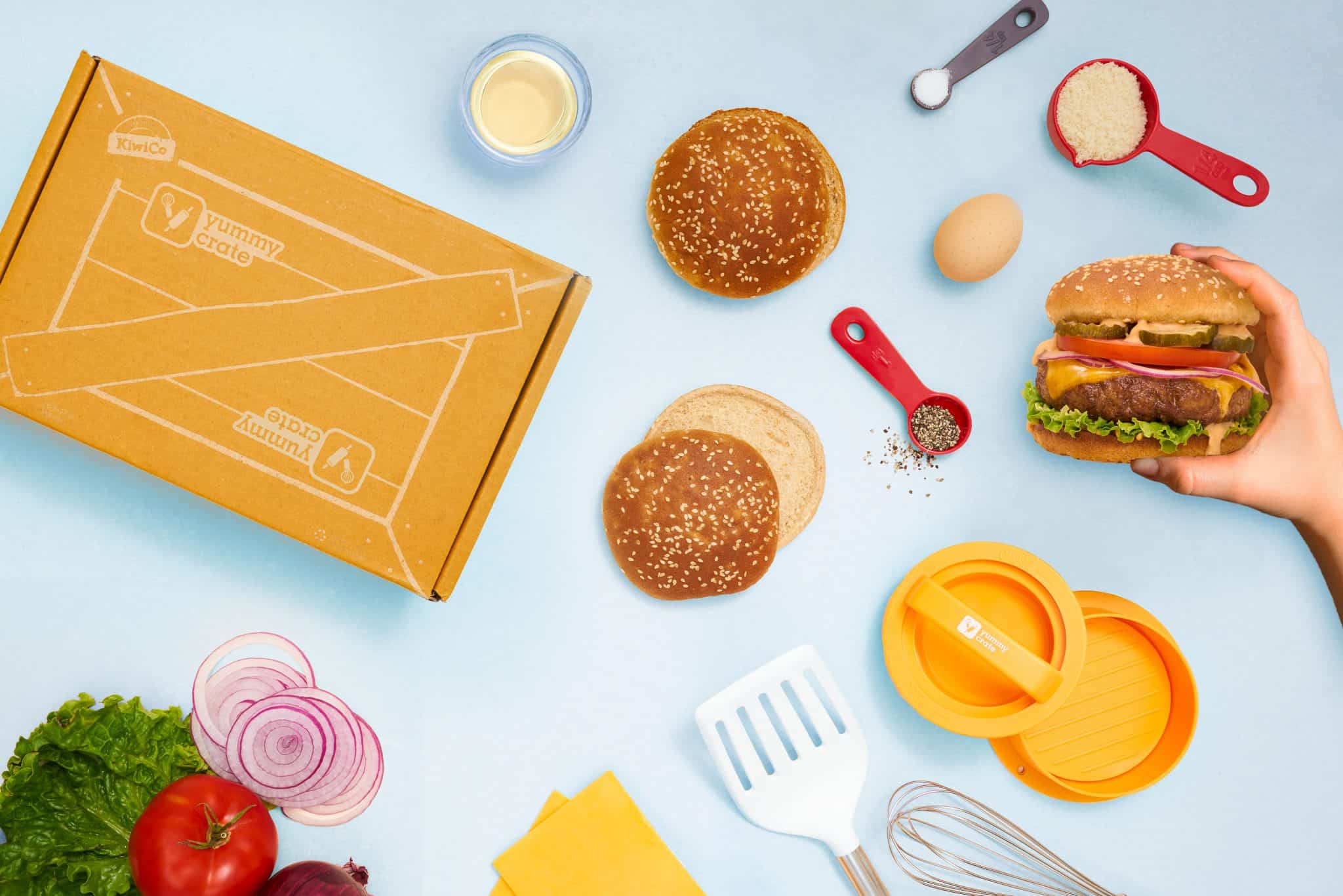 The super-popular Kiwi Co has also got an award-winning cooking subscription box for kids, called Yummy for kids aged 6-14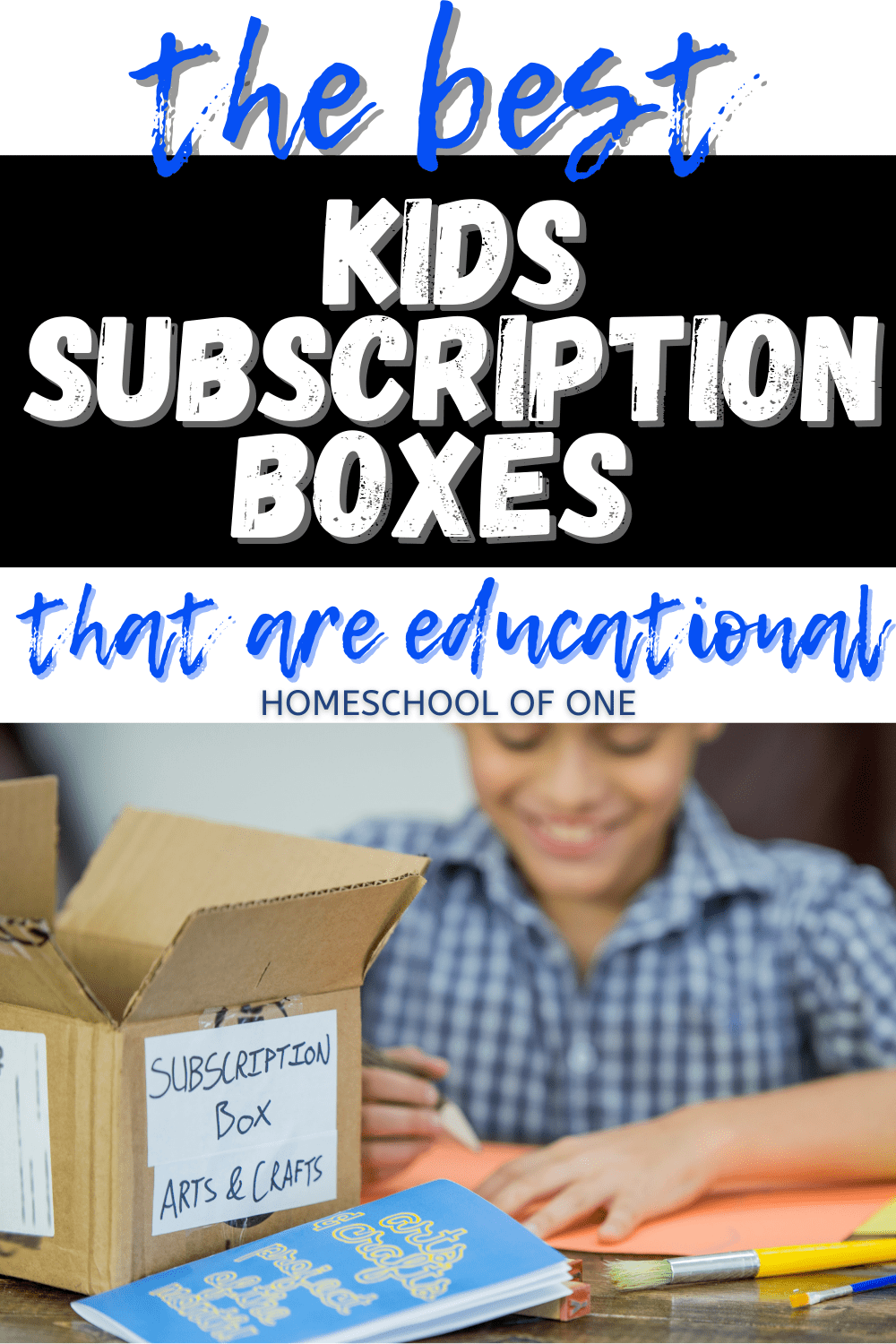 Geek Subscription Box UK
If you are looking for the best geek subscription box look no further!!
Brick Loot
Brick Loot is a monthly subscription box company for LEGO and Brick fanatics!
Subscribers will receive a monthly box filled with unique, custom, and never-before-seen items that work with LEGO bricks and custom building. This is one of the best gifts for Lego lovers.
Each month your Brick Loot box is filled with 4-8 items that were hand-picked by Brick specialists who scour the world for the newest and coolest products for you to collect.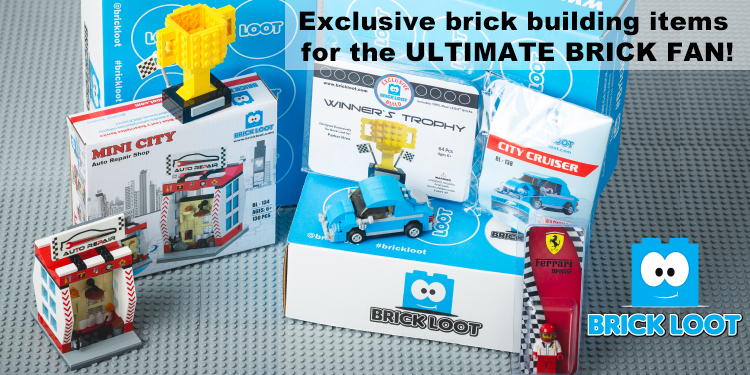 My Geek Box
My Geek Box. Each month customers will receive a different themed box which will be full of a variety of merchandise and geek gear, as well as a T-shirt.

Pop In A Box UK
Pop In A Box is now the largest dedicated Funko POP! retailer in the world. Offering both a collection tracker to keep check of all your Funko Pop Vinyls and a unique monthly subscription.
In addition to this, they have an online shop offering over 500 lines of POP! from Disney to Marvel and more.
Kids Magazine Subscription
Whizz Pop Bang Magazine
This is an award-winning science magazine for children aged between 6 and 12 years old. We were sent the Spy Science Magazine (issue 13) and it is absolutely brilliant. There is a find the science equipment challenge on each page, which is great and Freddie loved finding them.
In the middle of the magazine is a pull-out star map which is great and shows the constellations in the sky. This is great and we loved stargazing.
The only problem was the spy gadgets page!! Only because Freddie now wants all of them!! Such as the self-destructing computer chips and the envelope x-ray spray!!
There are stories, loads of facts, things to make, and plenty of fun things to do.
I really recommend this magazine, and Freddie really enjoyed reading it.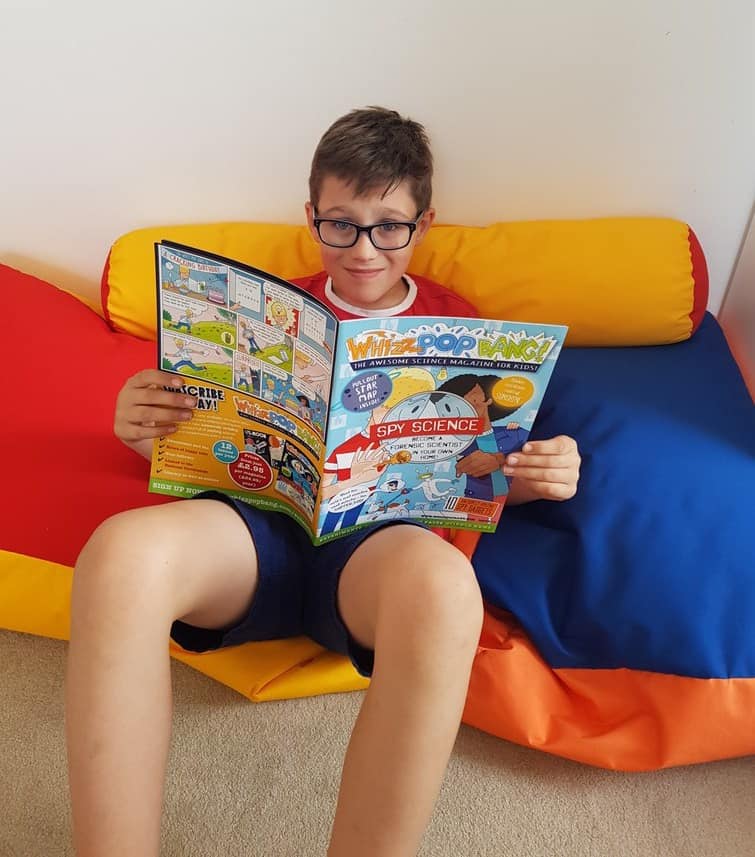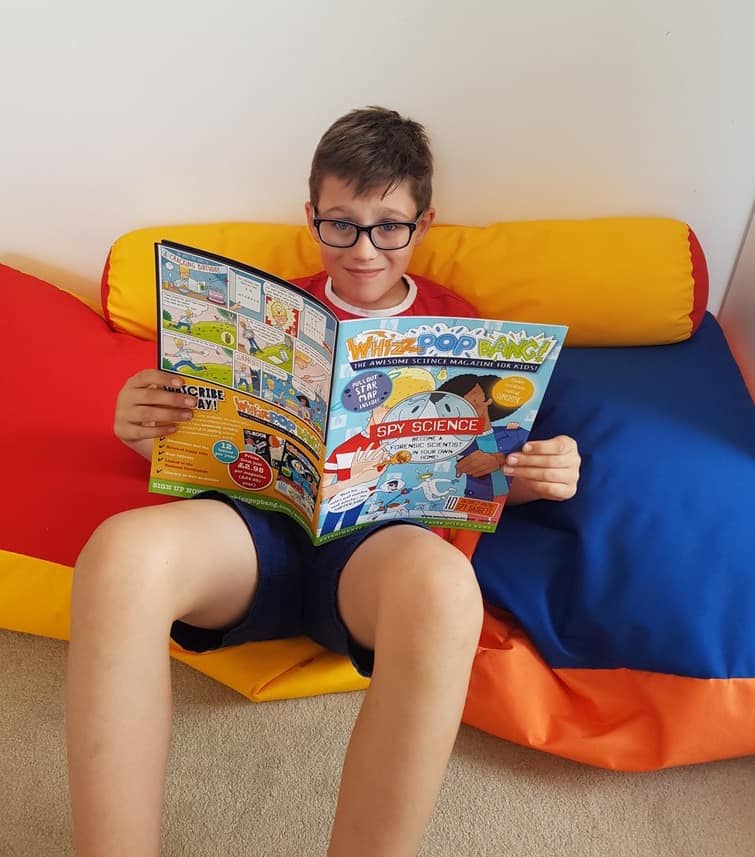 Aquila Magazine
This is a great educational magazine for children aged between 8 and 12 years old. We received the January edition which was rocket science.
It is really educational and even told you how to make your very own bottle rocket! We haven't done this yet, but it is definitely on the timetable for next week.
There is absolutely loads to do and make in this magazine and lots of facts, which was great. Get your Aquila magazine subscription here.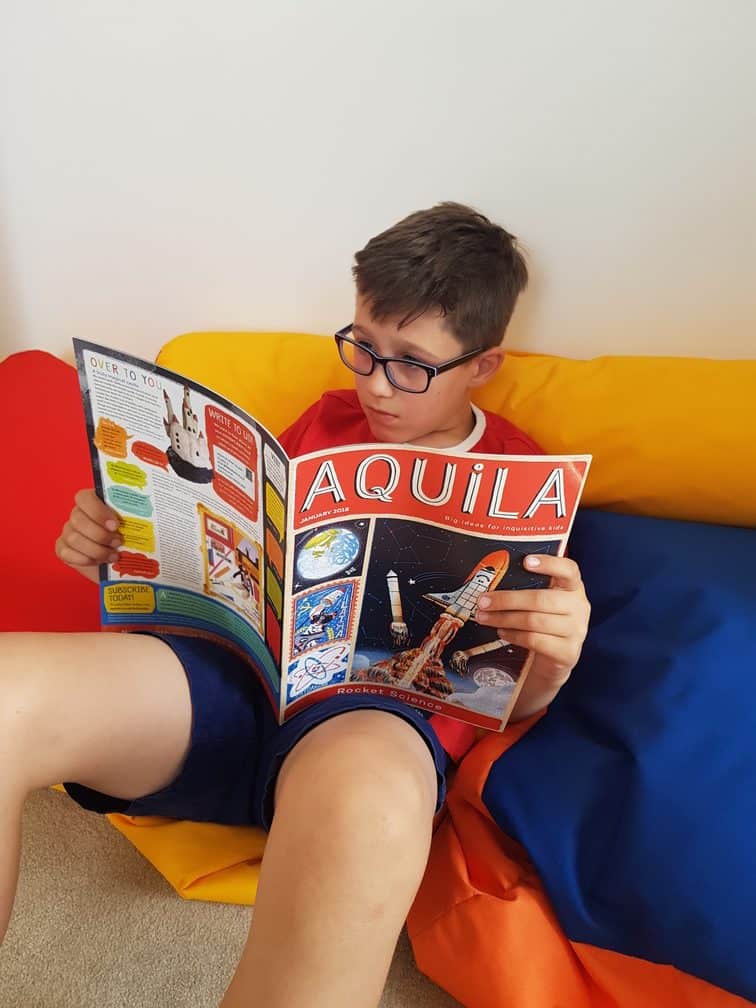 The Week Junior Magazine
A current affairs magazine for children aged between 8 and 14 years old.
This is very topical and written with children in mind. For example, when talking about football, there is a silly fact about the end of the Japan vs Colombia game. The water use rose by 50% in Tokyo as viewers rushed to use the toilet!
A great way of introducing current affairs to children, there are loads of relevant stories and my son enjoyed reading through it.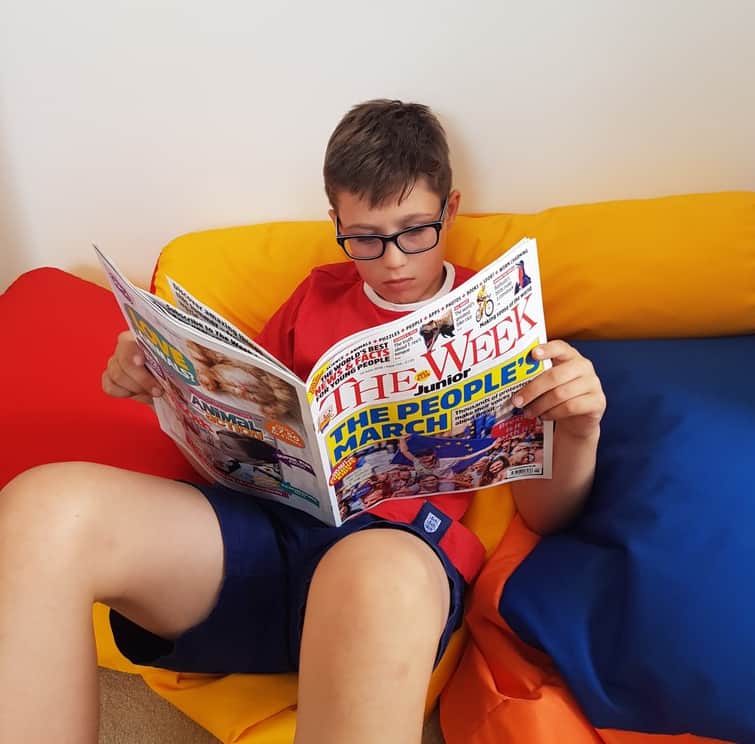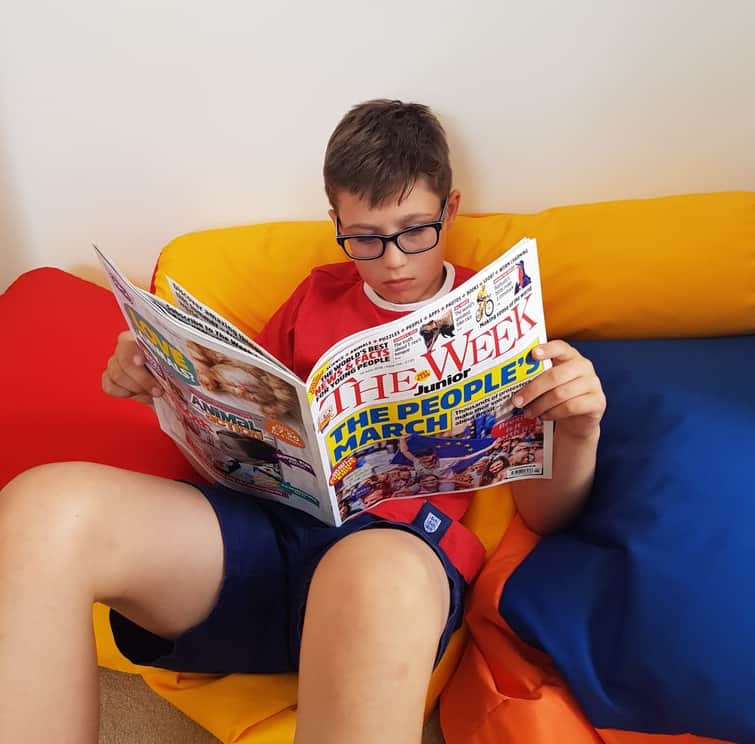 If you are looking for the best homeschooling programs UK check out my blog post.
Are you homeschooling your children? Which educational kids subscription box UK do you subscribe to?
Last Updated on 22 November 2023 by homeschoolof1