31 Best Gifts for 6 Year Old Boys In 2023
Searching for the best gifts for 6 year old boys? Look no further!
I always struggle to find Christmas gifts for boys of this age group with their ever changing interests.
One minute they love Lego, the next everything is Teenage Mutant Ninja Turtles!
Whether it's action packed toys, engaging games, or educational kits, we've got a collection of Christmas gifts for boys that will spark their joy, foster growth, and create unforgettable moments of fun and learning.
From superheroes to science experiments, outdoor adventures to indoor creativity, these gifts are tailored to delight every young boy's unique interests and passions.
Get ready to make this holiday season unforgettable!
**There may be affiliate links in this post. You can read my full disclosure at the bottom of the page.**
Top Gifts for 6 Year Old Boys
Before I go into the long post as I know you are short on time, these are the top 10 best toys for 6 year old boys in 2023:
Explore the best books for 6 year old boys too!
What do 6 year old boys like?
Six year old boys often enjoy a variety of activities, toys, and interests. Here are some things that are commonly liked by many 6 year old boys:
Toys and Games: Remote control cars, action figures, building blocks (like LEGO), puzzles, board games, and interactive video games are popular choices.
Outdoor Activities: Bikes, scooters, sports equipment, and outdoor games like soccer, basketball, or tag can be exciting for active boys.
Science and Exploration: Kits that encourage them to explore and learn about the natural world, such as dinosaur figures, science experiment kits, and telescopes.
Arts and Crafts: Crayons, markers, colored pencils, and craft kits that let them express their creativity.
Books: Engaging storybooks, comic books, and books about their interests (dinosaurs, animals, space) can foster a love for reading.
Puzzles and Brain Games: Logic puzzles, memory games, and educational games that challenge their minds in a fun way.
Remote-Controlled Toys: Besides cars, drones or robots they can control can be quite exciting for boys of this age.
Building and Construction: Building sets like magnetic tiles, marble runs, or train sets can engage their engineering and problem-solving skills.
Superheroes and Action Characters: Many 6-year-old boys are drawn to superheroes like Spider-Man, Batman, or characters from movies and TV shows.
Animals and Nature: Animal figurines, nature exploration kits, and even trips to the zoo or nature centers can be appealing.
Remember that every child is unique, so their interests can vary widely. Pay attention to their preferences and hobbies to find the best gifts or activities that align with their individual tastes.
Explore the best Christmas gifts for 6 year old girl!
Gift ideas for 6 year old boy
Other Christmas Gift Guides for Boys
Check out our awesome gift guides for boys of all ages: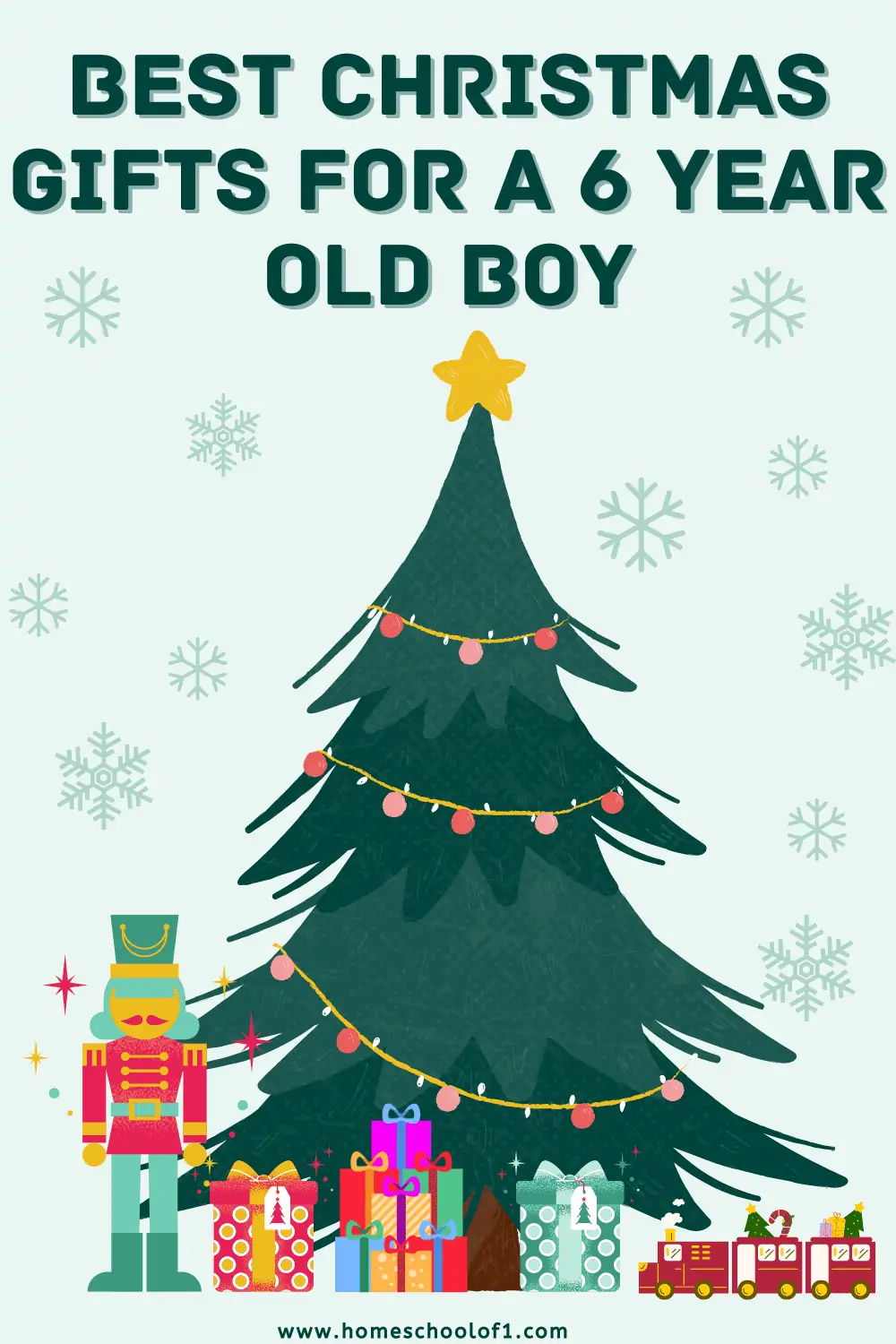 Last Updated on 6 December 2023 by homeschoolof1