Best Thanksgiving Word Games for the Whole Family
Get ready for the best Thanksgiving word games to add a festive flair to your holiday celebrations.
These word games are not only delightful but also educational, making them an ideal choice for keeping children and adults engaged while strengthening language and vocabulary skills.
Make this November memorable with these engaging word games and Thanksgiving activities for kids.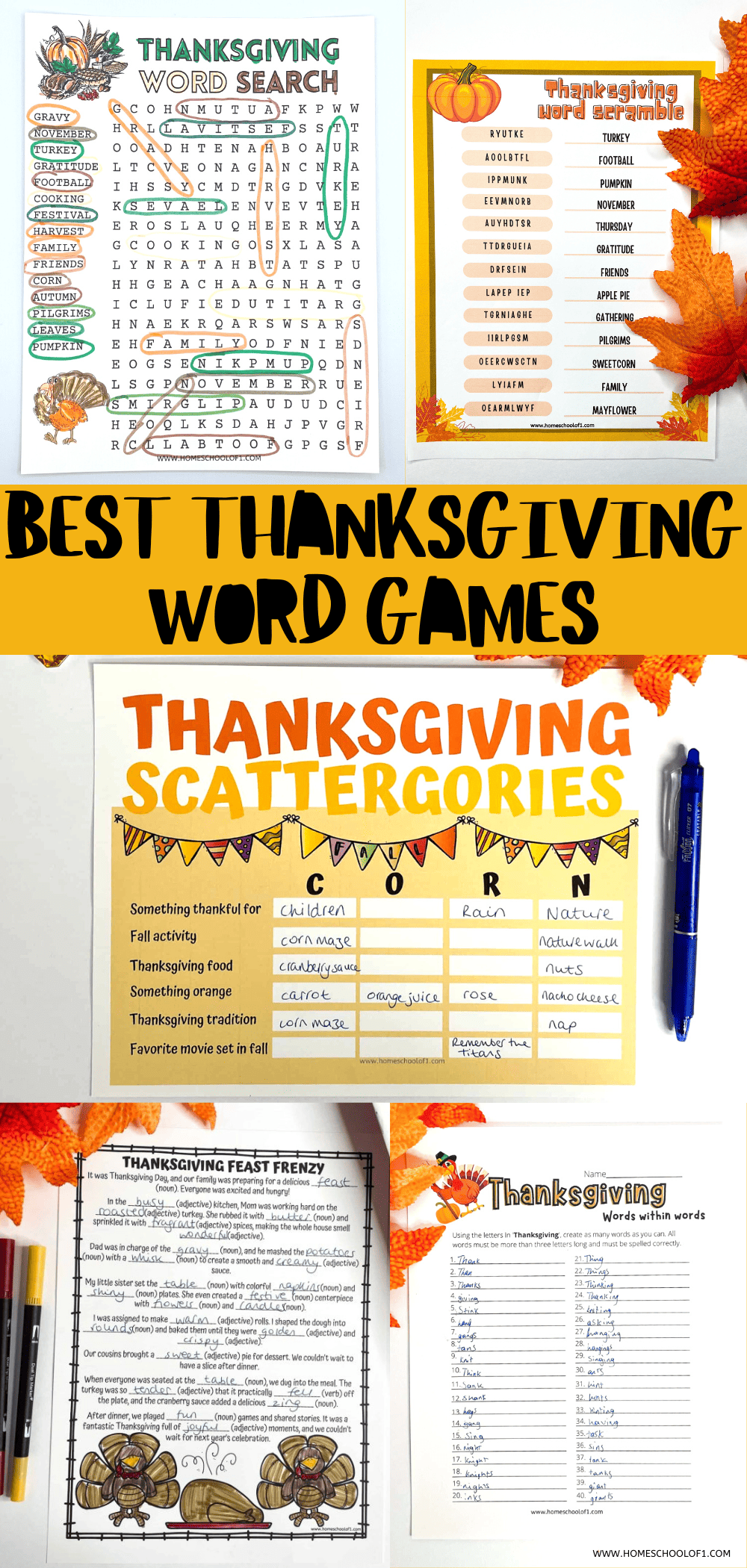 **There may be affiliate links in this post. You can read my full disclosure at the bottom of the page.**
Free printable Thanksgiving games
Free Thanksgiving printable games are a delightful and educational way to infuse some festive fun into your holiday celebrations.
As Thanksgiving approaches, these word games serve as a fantastic resource to keep children, and even adults, engaged and entertained while reinforcing vocabulary and language skills.
Whether you're hosting a family gathering, a school event, or simply looking for a quiet activity at home, these free printables provide a versatile and enjoyable option for all ages.
They capture the essence of gratitude and merriment that defines the holiday while enhancing language skills in an entertaining manner.
These games can either be added to your lesson plans, or have Thanksgiving fun with the whole family on turkey day!
Gobble Gobble Mad Libs: World's Greatest Word Game
It's Laugh O'Clock: Would You Rather? Thanksgiving Edition: A Hilarious and Interactive Question Game Book for Boys and Girls – Thanksgiving Gift for Kids
Dolphin Hat Games Taco Cat Goat Cheese Pizza On Flip Side, Party Board Game
USAOPOLY TAPPLE® Word Game | Fast-Paced Family Board Game | Choose a Category & Race Against The Timer to be The Last Player | Learning Game Great for All Ages
BLANK SLATE™ – The Game Where Great Minds Think Alike | Fun Family Friendly Word Association Party Game, 3 to 8 players
P for Pizza Freshest Board Game You'll Taste All Year, for Adults, Families, and Kids ages 8 and up
Check out even more free Thanksgiving printable games!
Thanksgiving word scramble game
The Thanksgiving word scramble printable is a fun and educational activity for kids during the holiday season.
This free printable features a list of jumbled Thanksgiving-themed words that children must unscramble to reveal the correct words.
It's a perfect way for kids to expand their vocabulary while having the best time. The puzzle encourages critical thinking and problem-solving skills while reinforcing Thanksgiving-related terms.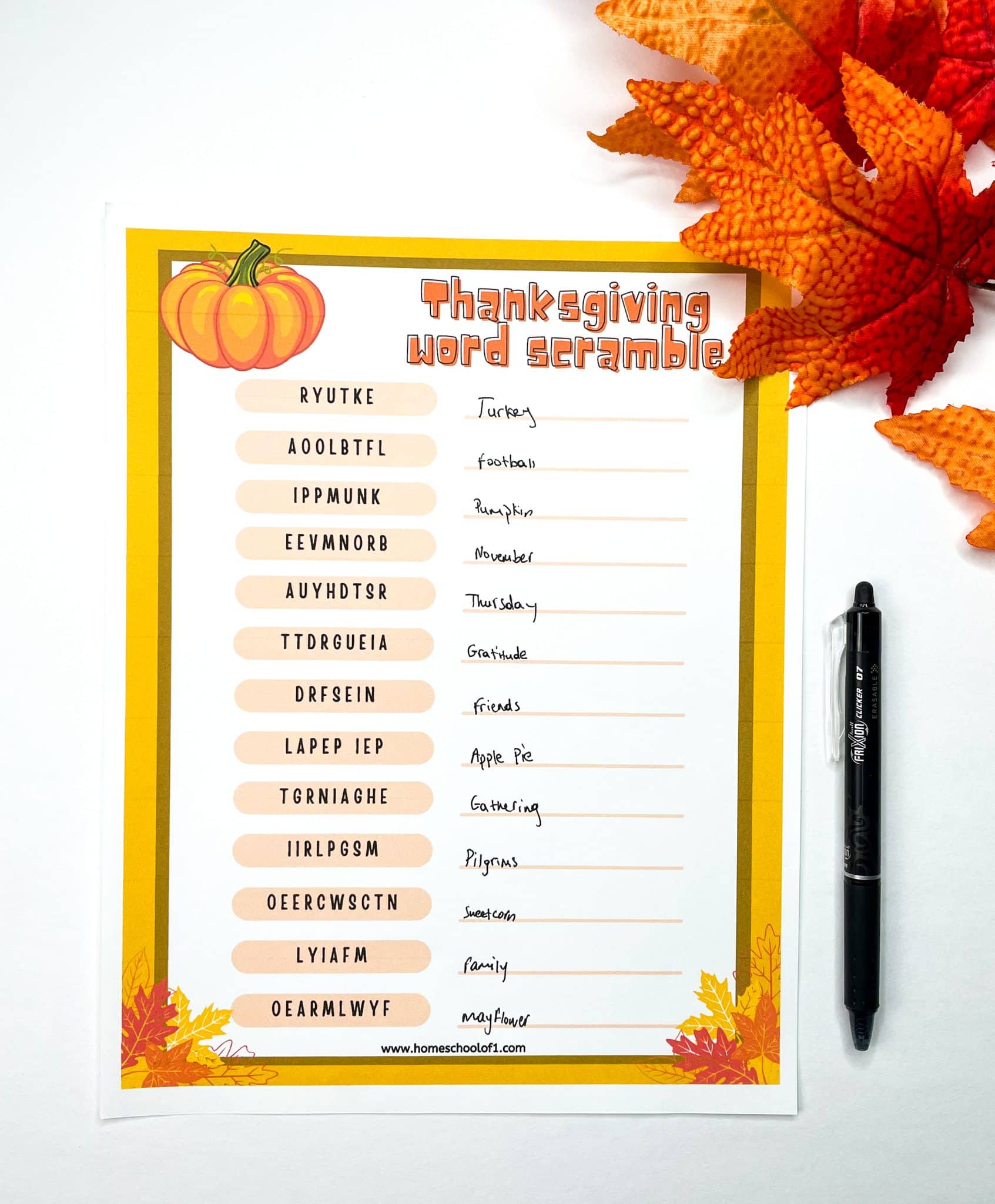 Thanksgiving word search puzzle
The Thanksgiving word search printable is a classic word hunt game with a holiday twist.
It includes a grid filled with Thanksgiving-themed words hidden in all directions.
Children can use this printable to improve their word recognition, spelling, and attention to detail as they search for words like "turkey," "pumpkin," and "gratitude." It's an enjoyable and educational activity for kids of all ages.
Add a copy of this to the dinner table and see who can finish first for some friendly competition.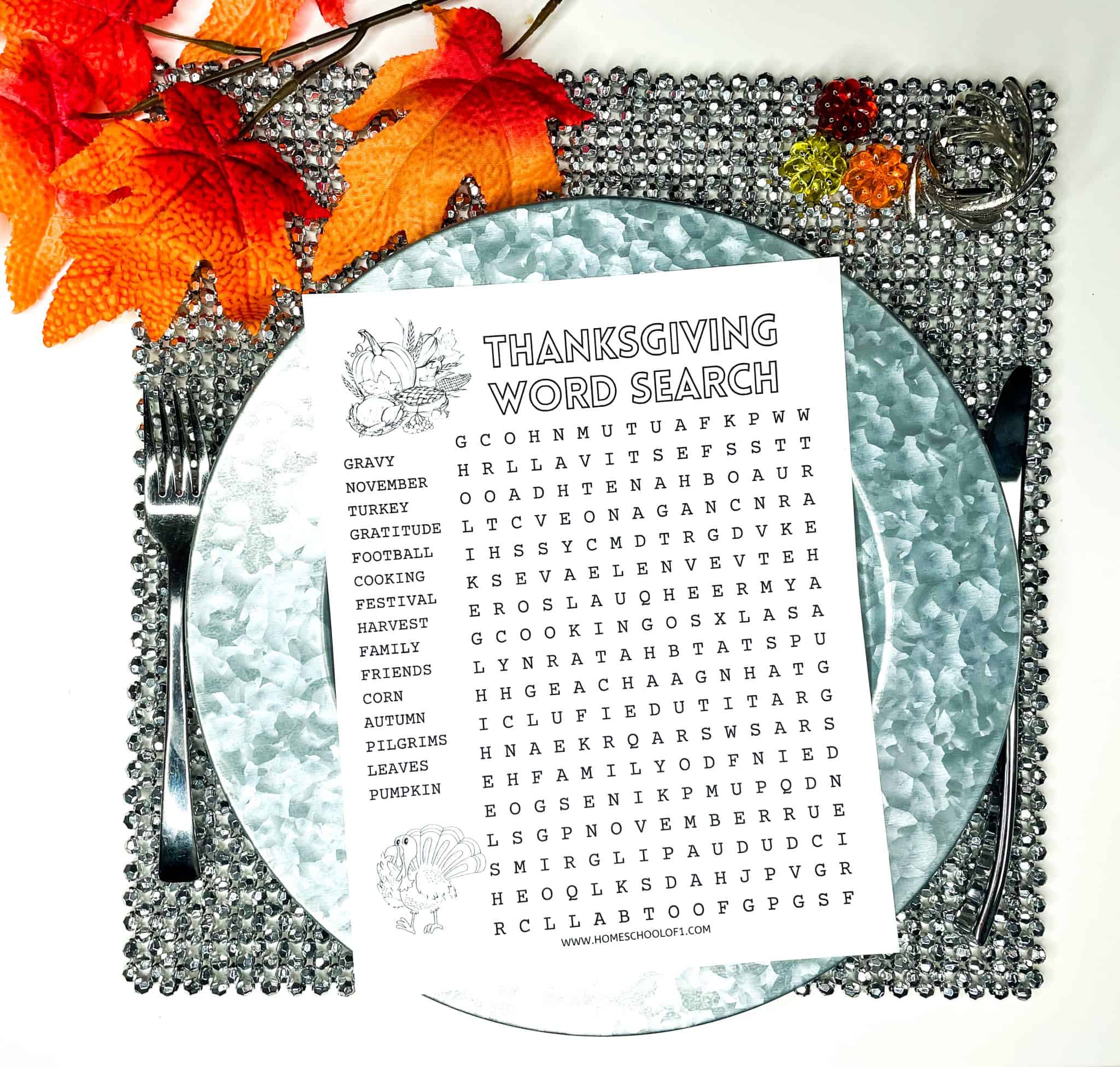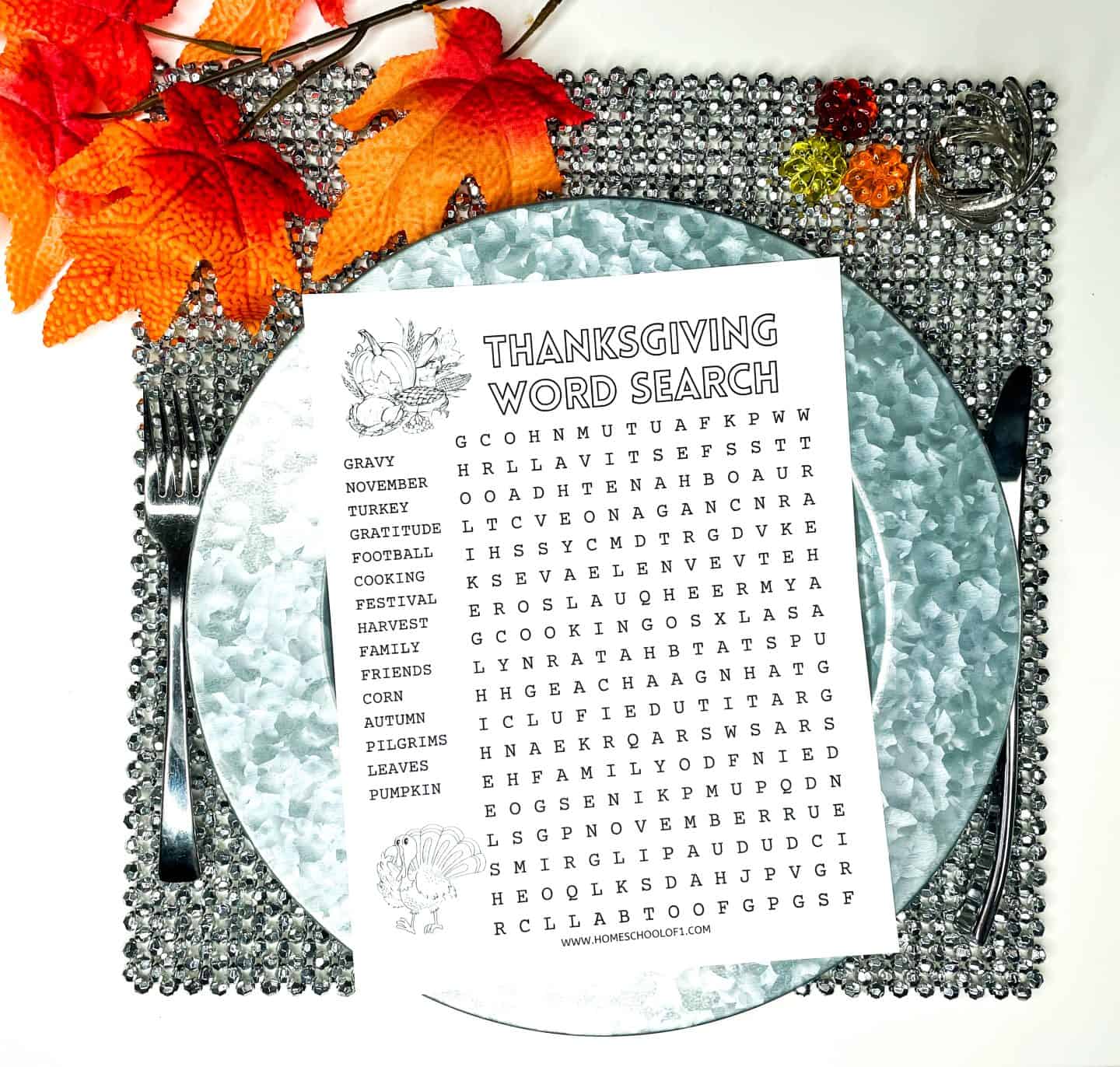 Thanksgiving Mad Libs
Thanksgiving mad libs are a humorous and creative way for kids to enjoy the holiday spirit.
This free printable provides a short story with blank spaces where kids can insert various parts of speech like nouns, verbs, and adjectives.
After filling in the blanks, they reveal a hilarious and often nonsensical Thanksgiving tale. Mad Libs are fantastic for boosting grammar and language skills while delivering lots of laughter.
Embrace the fall spirit with our pumpkin mad libs printable. Perfect for all ages, fill in blanks with adjectives, nouns, and verbs for a creative pumpkin adventure.
Thanksgiving word game
Enjoy 14 free finding words within words worksheets.
A fantastic holiday activity for all ages. Challenge yourself to discover hidden words in the word THANKSGIVING.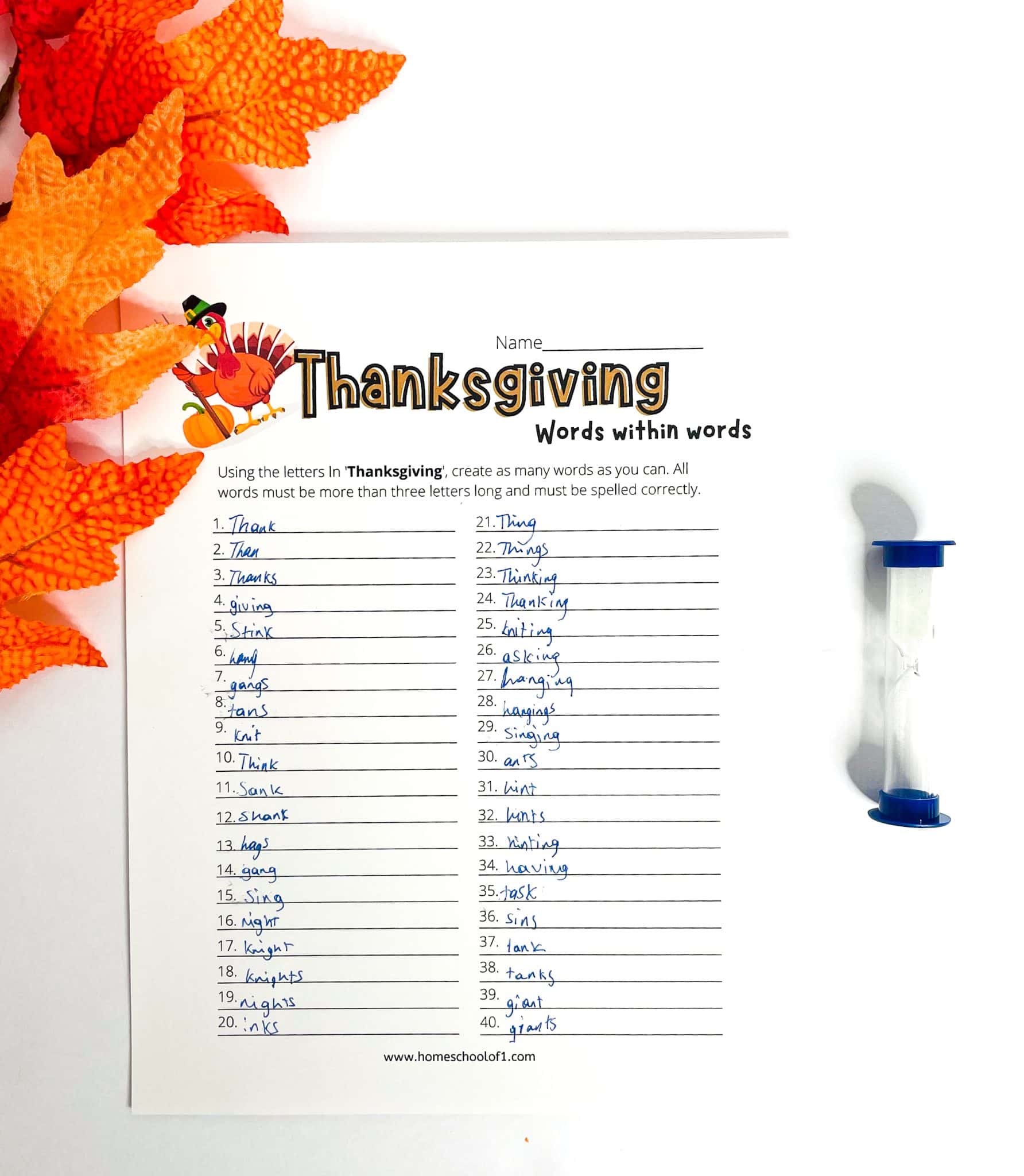 Printable scattergories
Thanksgiving scattergories is a fantastic game for kids that encourages quick thinking and creativity.
This free printable provides a list of different categories (e.g., "Thanksgiving foods," "Things to be thankful for") and a letter.
Players have to come up with words or phrases that fit each category, starting with the given letter.
It's a fantastic way for children to express their thoughts, learn new vocabulary, and appreciate the diversity of Thanksgiving topics.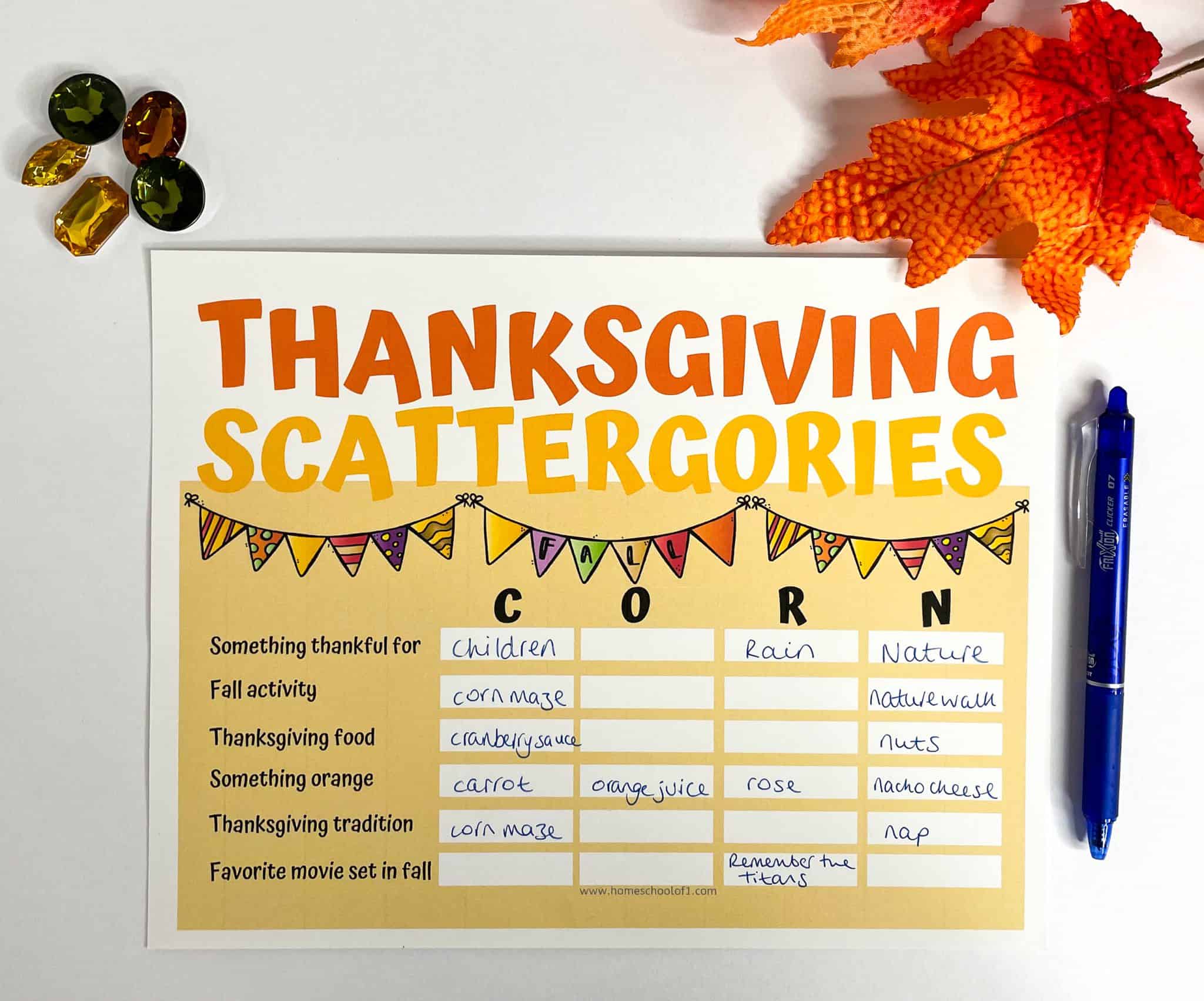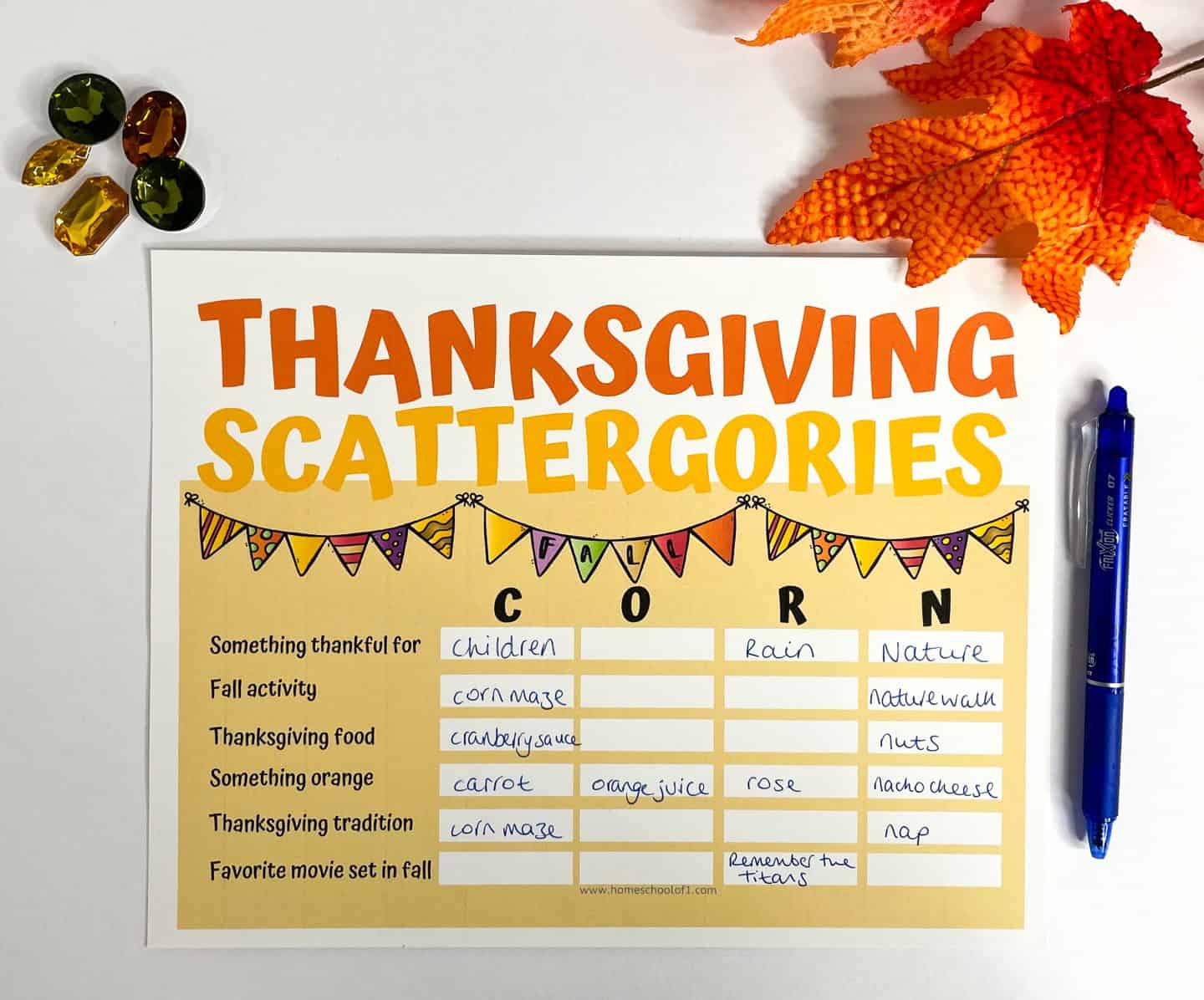 Thanksgiving trivia
The Thanksgiving trivia game free printable is an engaging way for kids to learn more about the history and traditions of Thanksgiving.
This free printable includes a set of fun and educational questions related to the holiday.
Children can test their knowledge and discover fascinating facts about Thanksgiving while enjoying friendly competition with family and friends.
It's a great way to spark conversations about the holiday's significance and have a blast while doing so.
The answer key is included.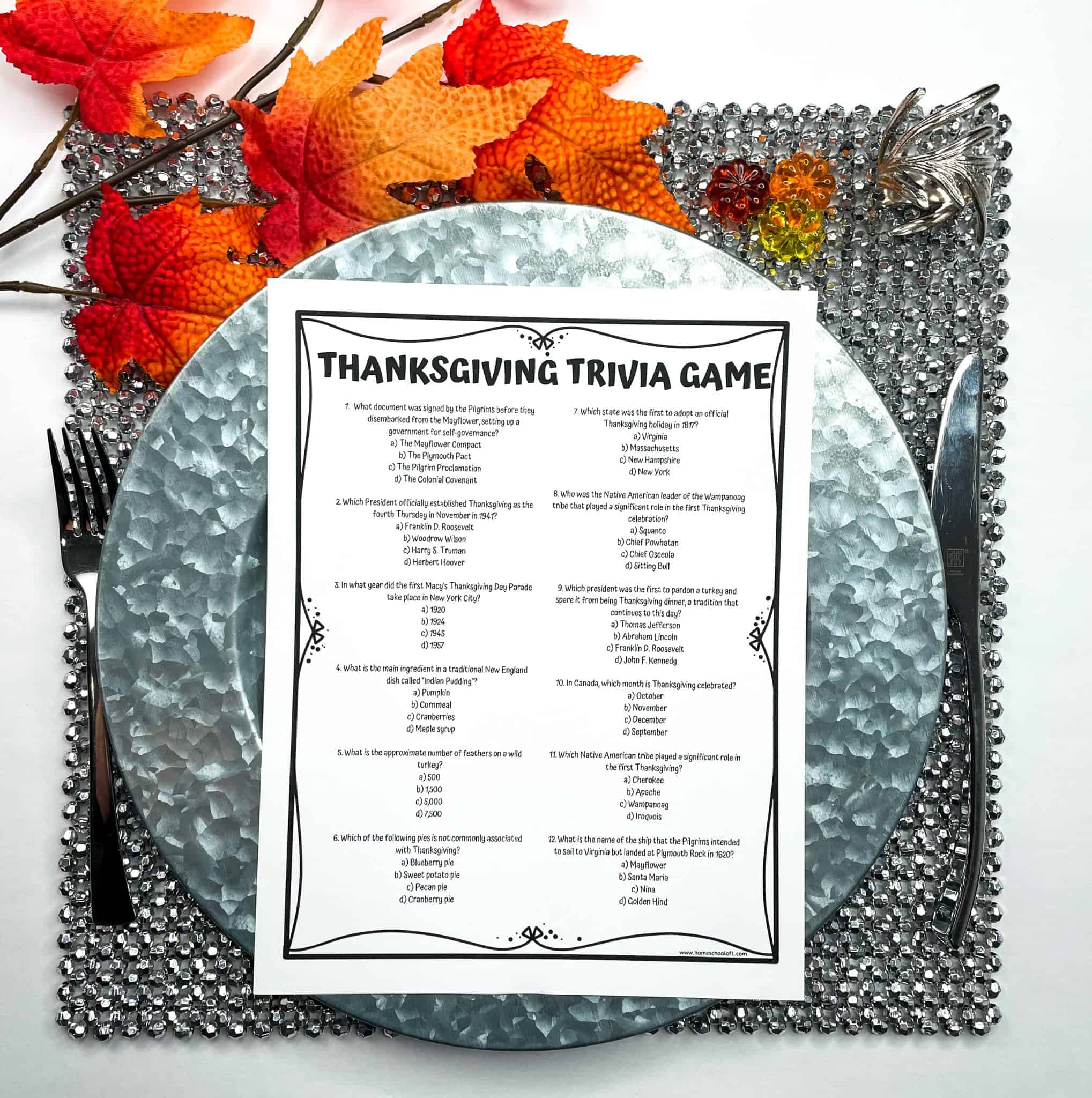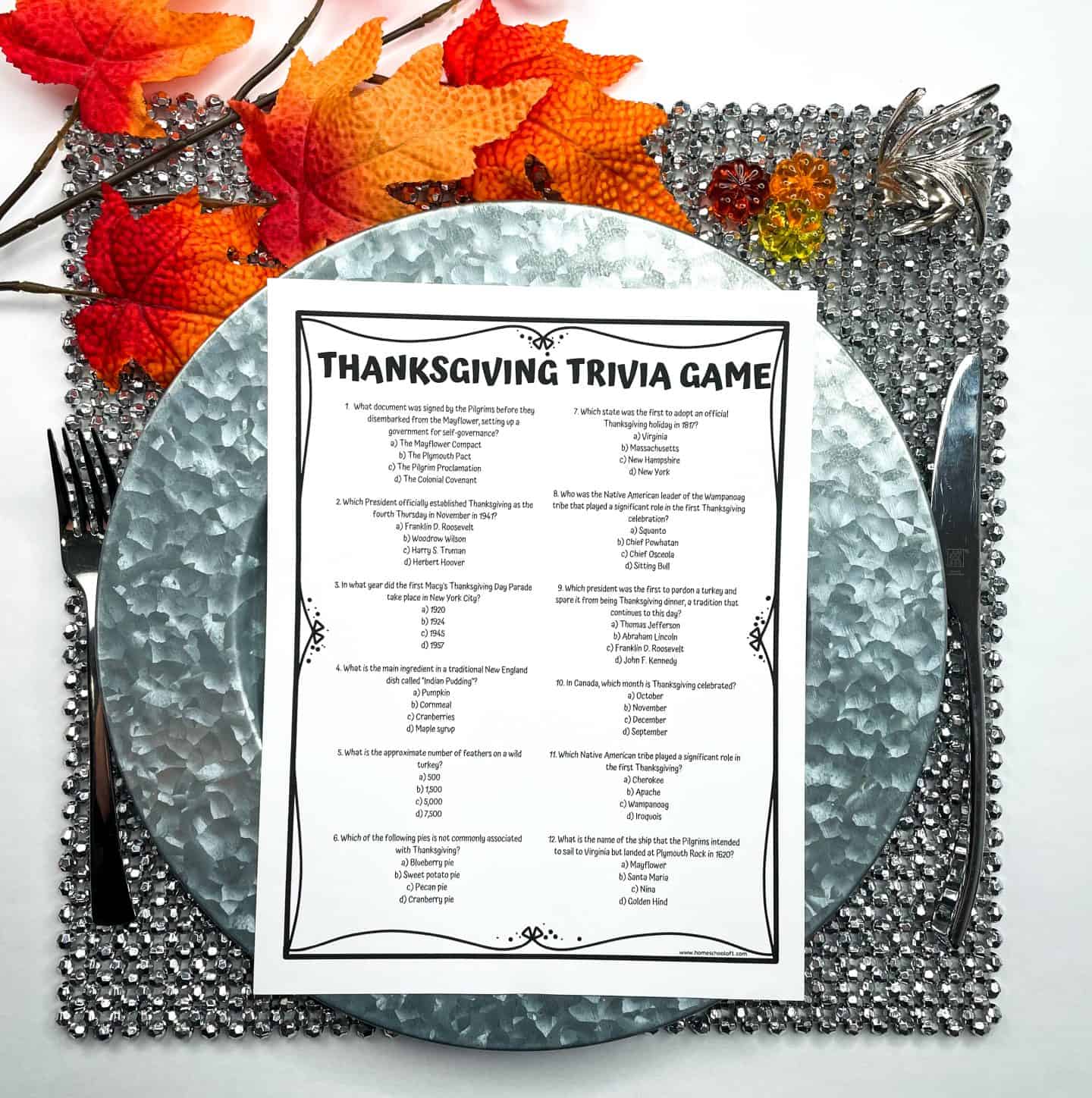 Additional Thanksgiving word games
These Thanksgiving word games are some of the best options to infuse fun and education into your holiday celebration.
They offer a perfect blend of entertainment and skill-building, making them a valuable addition to your Thanksgiving gathering.
Incorporating them is simple; you can set up a dedicated game station or table, encouraging guests to participate during downtime or as part of a friendly competition.
These holiday games can serve as icebreakers, educational activities for kids, or even humorous challenges for adults, adding an extra layer of enjoyment to your Thanksgiving festivities.
Whether played in teams or individually, they are sure to create memorable moments and promote engaging conversations.
Including the best word board games in your Thanksgiving celebration can elevate the festivities. Offering both entertainment and a chance to showcase your vocabulary prowess.
An entertaining Thanksgiving-themed word game that allows players to fill in the blanks with hilarious words to create wacky and customized stories, making it perfect for family fun during the holiday.offers a trivia-filled experience for Thanksgiving enthusiasts, challenging players with holiday-themed questions in a PowerPoint format, adding an educational twist to the festive celebration.
Offers a trivia-filled experience for Thanksgiving enthusiasts, challenging players with holiday-themed questions in a PowerPoint format, adding an educational twist to the festive celebration. This editable pdf template is so much fun and perfect to play with large groups.
A delightful twist on the classic game show, Family Feud, tailored for a fun Thanksgiving Day.
Families and friends compete to guess the most popular Thanksgiving-related answers, creating a friendly competition for all to enjoy.
A word-guessing game where players must describe Thanksgiving-related words without using certain forbidden terms, making it a hilarious and challenging option for the holiday.
Adds a festive spin to the traditional Friendsgiving dinner with a fun game designed for teenagers, ensuring laughter and memorable moments at your holiday gathering.
Looking to add some fun to your Thanksgiving dinner?
Try the Thanksgiving crossword puzzle - ideal for school parties, family nights, Friendsgiving, and more.
Get it as part of a 5-game bundle and enjoy a high-quality printable digital file, complete with an answer key, making it a budget-friendly and convenient choice for holiday entertainment.
Provides a great way to spark amusing and thought-provoking conversations with friends and family during Thanksgiving.
As players answer quirky questions and explore unique scenarios, making it an ideal addition to holiday parties, travel, or gatherings.
Additional fun activities to play on Thanksgiving
Add these fun party games for younger kids and have a great time this November:
Last Updated on 22 November 2023 by homeschoolof1