KiwiCo Eureka Crate Review: With Exclusive Promo Code
Summer is coming and now is the perfect time to start planning out a few activities for the kids. I have the solution (well part of the solution!) for kids aged 12 and above. Carry on reading for our KiwiCo Eureka crate review and see why it is the answer.
Think of the KiwiCo crate as your new best friend.
It is educational, fun, and of excellent quality, just like your actual friends.
But better than one of your friends who struggles to know how to occupy a teenager, this KiwiCo Eureka Crate will keep them entertained for hours.
Fed up with the kids just wanting to play on their electronics all day? I know, I hear you, and summer hasn't even started yet!
Now don't get me wrong this isn't a miracle cure, but this will get them off their electronics for at least a day a month.
You are also going to love our KiwiCo Doodle Crate review too, and our KiwiCo Maker Crate review.
Carry on reading for our detailed review and get an exclusive 40% off your first box.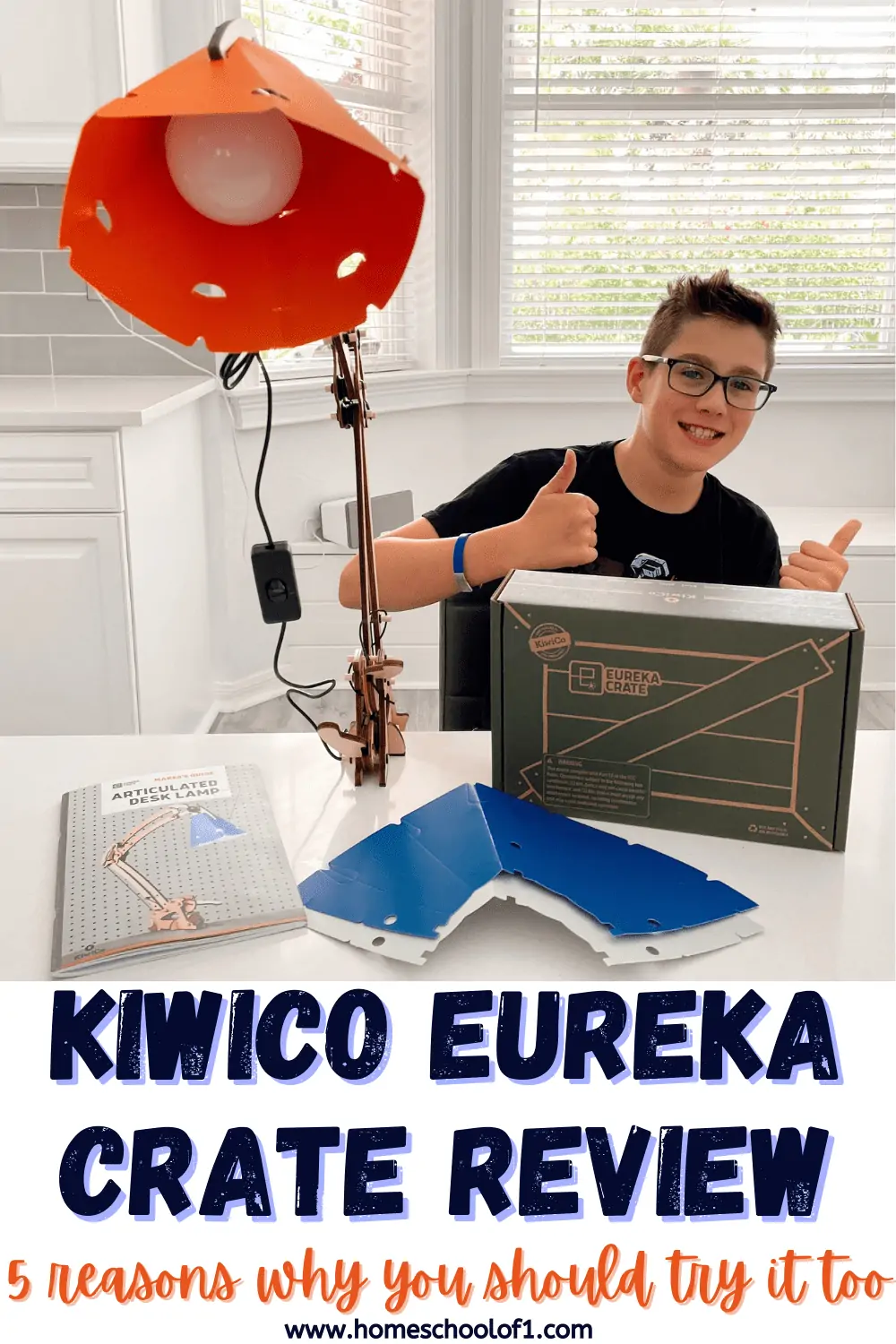 **Disclosure: I was compensated for my time to write this post. As always, all thoughts and opinions are my own. I only share resources that I would use with my own family and those that I believe other homeschool families will enjoy. There may be affiliate links in this post.**
Eureka Crate from KiwiCo
This KiwiCo Eureka crate is aimed at middle schoolers and above, and today I am showing you the articulated desk lamp.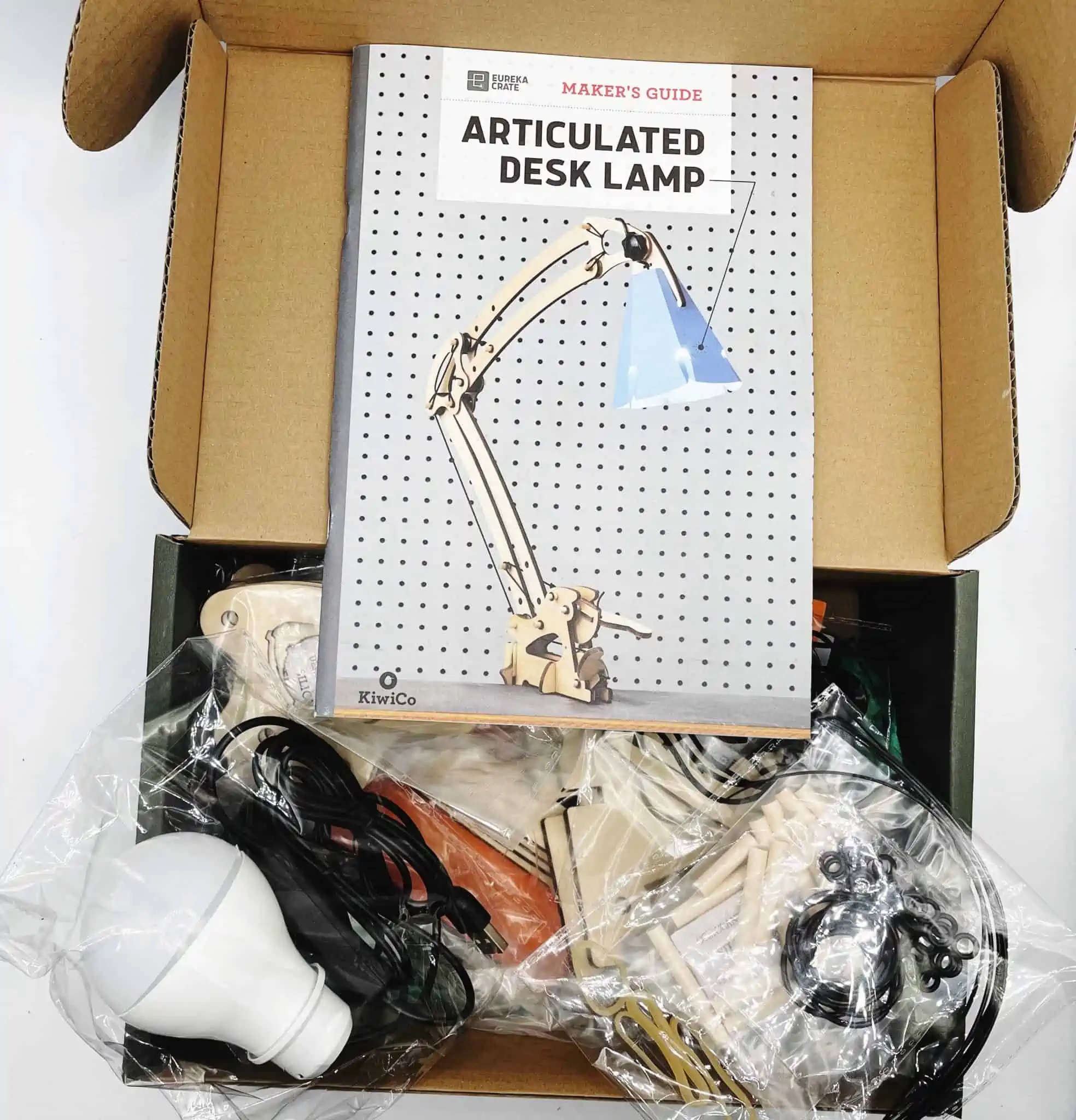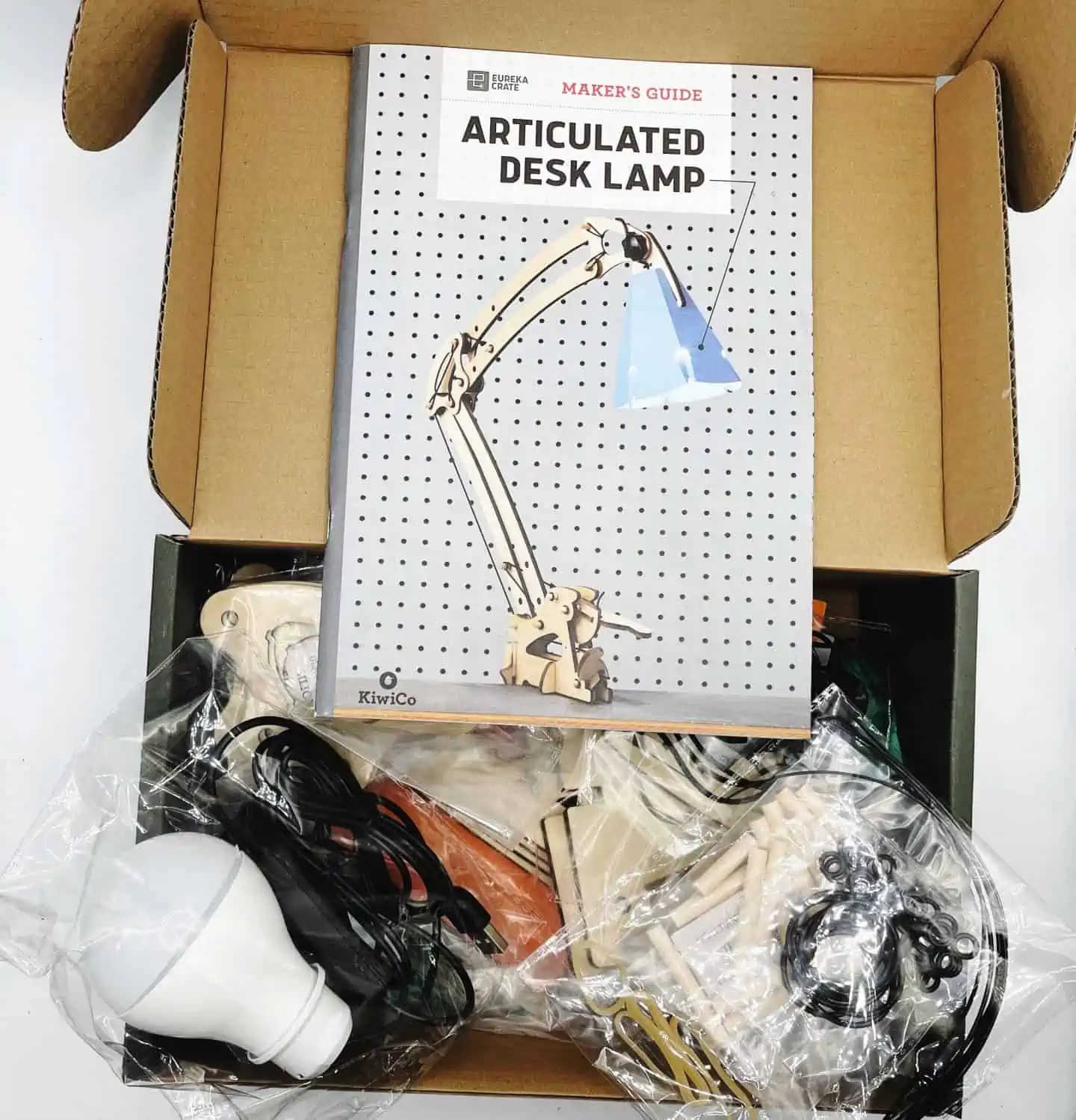 Before I even opened the box I knew I was going to love it.
Why?
It includes everything you need.
Do you know how many times I see that on subscription boxes, and it means everything you need apart from batteries, or everything you need apart from tools! But this KiwiCo Eureka crate really does contain everything you need.
LED light
3 lampshades
4 rubber bands
wood set (21 pieces)
6 pulleys
3 springs
2 cords
5 screws
9 spacers
knob
bolt
screwdriver
6 zip ties
O-ring set
Dowel set (19 pieces)
15 silicone stickers
PLUS – 57-page makers guide
The maker's guide was even better than I expected too. Of course, it told you how to construct the lamp, but what I wasn't expecting were history lessons, scientific explanations and so much more.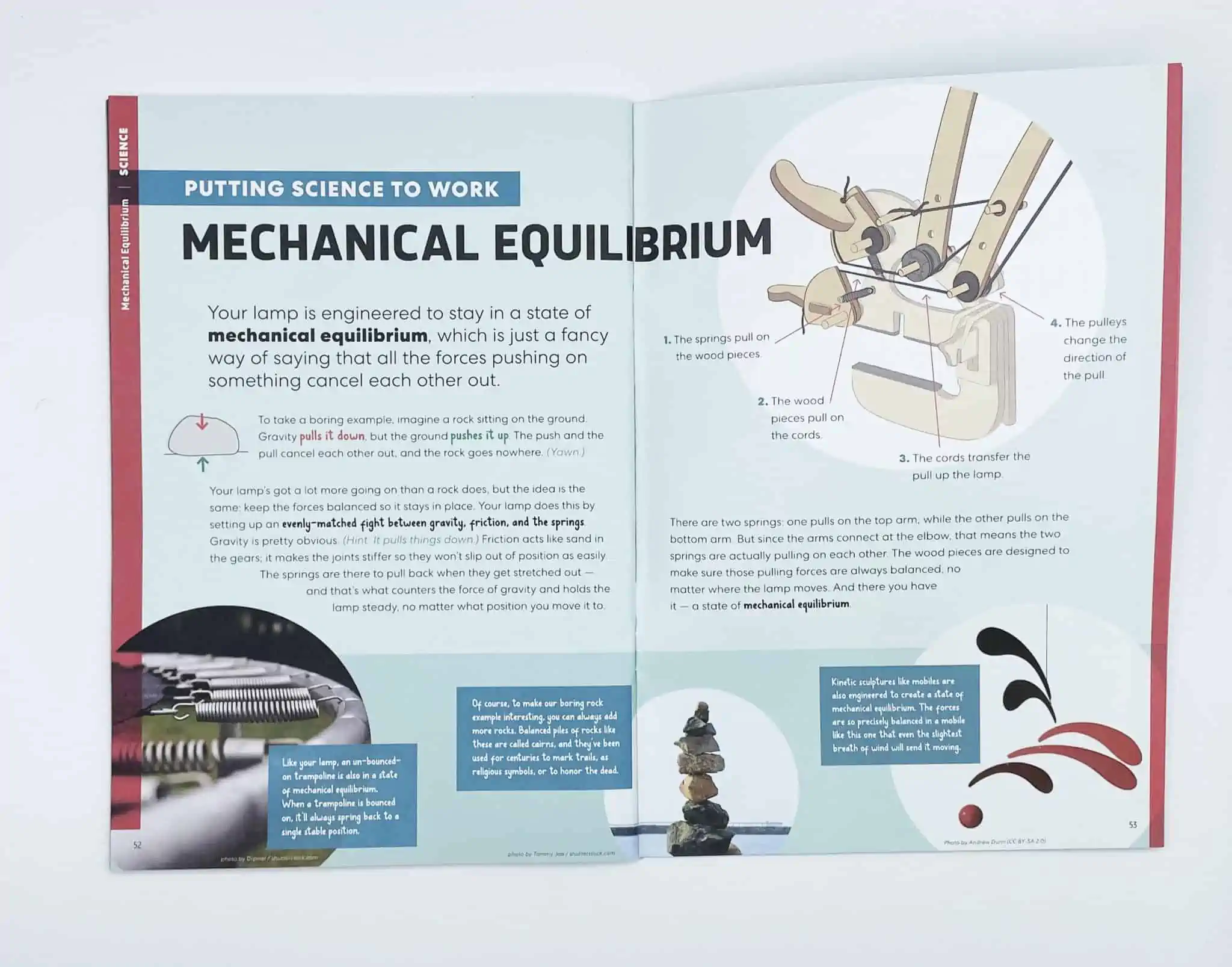 Building the Articulated Desk Lamp
Open the box and go.
There is no running around the house finding a screwdriver or batteries, or indeed anything. You have everything you need in the box.
The maker's guide was excellently written and not at all condescending. It reminded us somewhat of the Lego instructions with images for every step.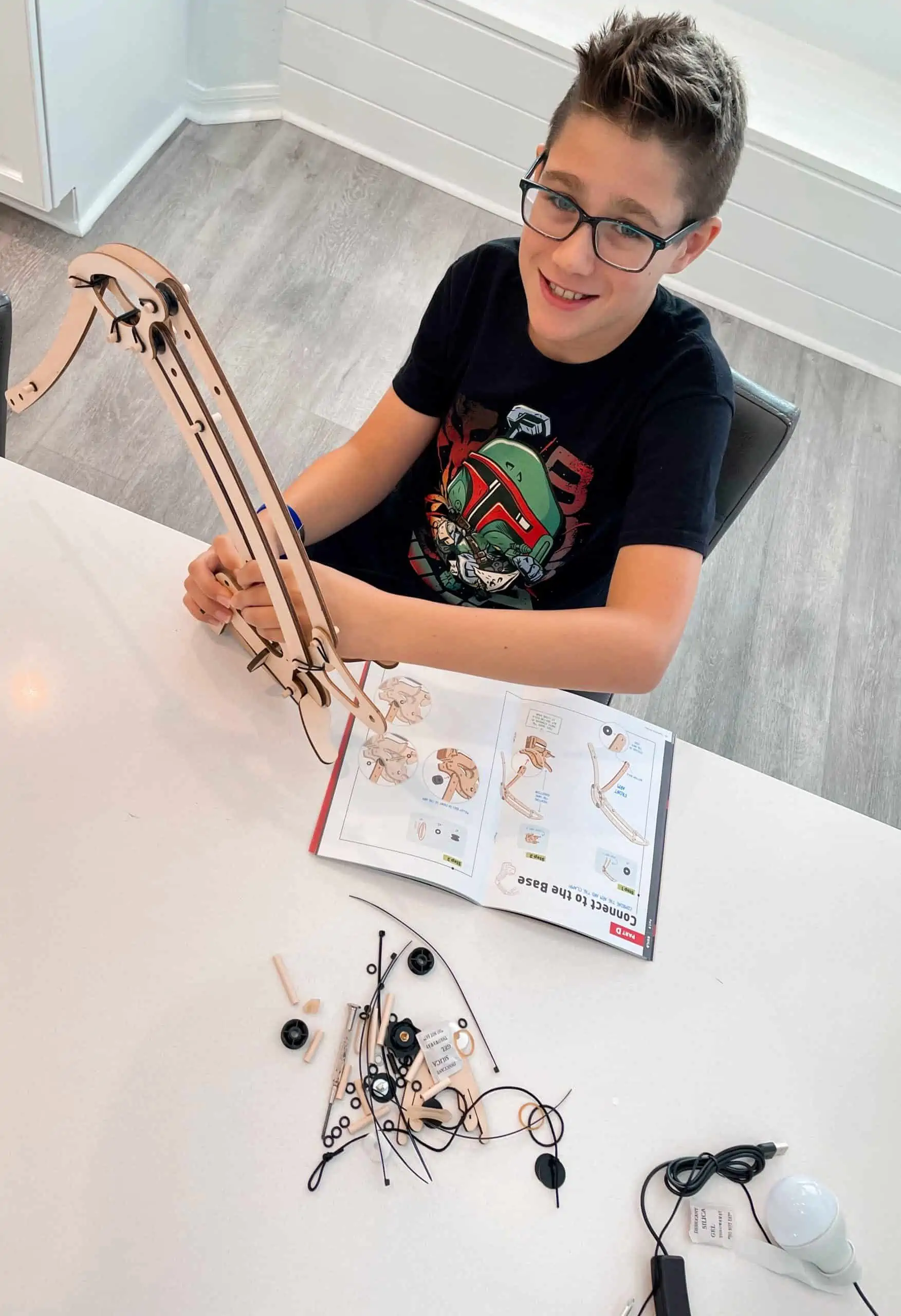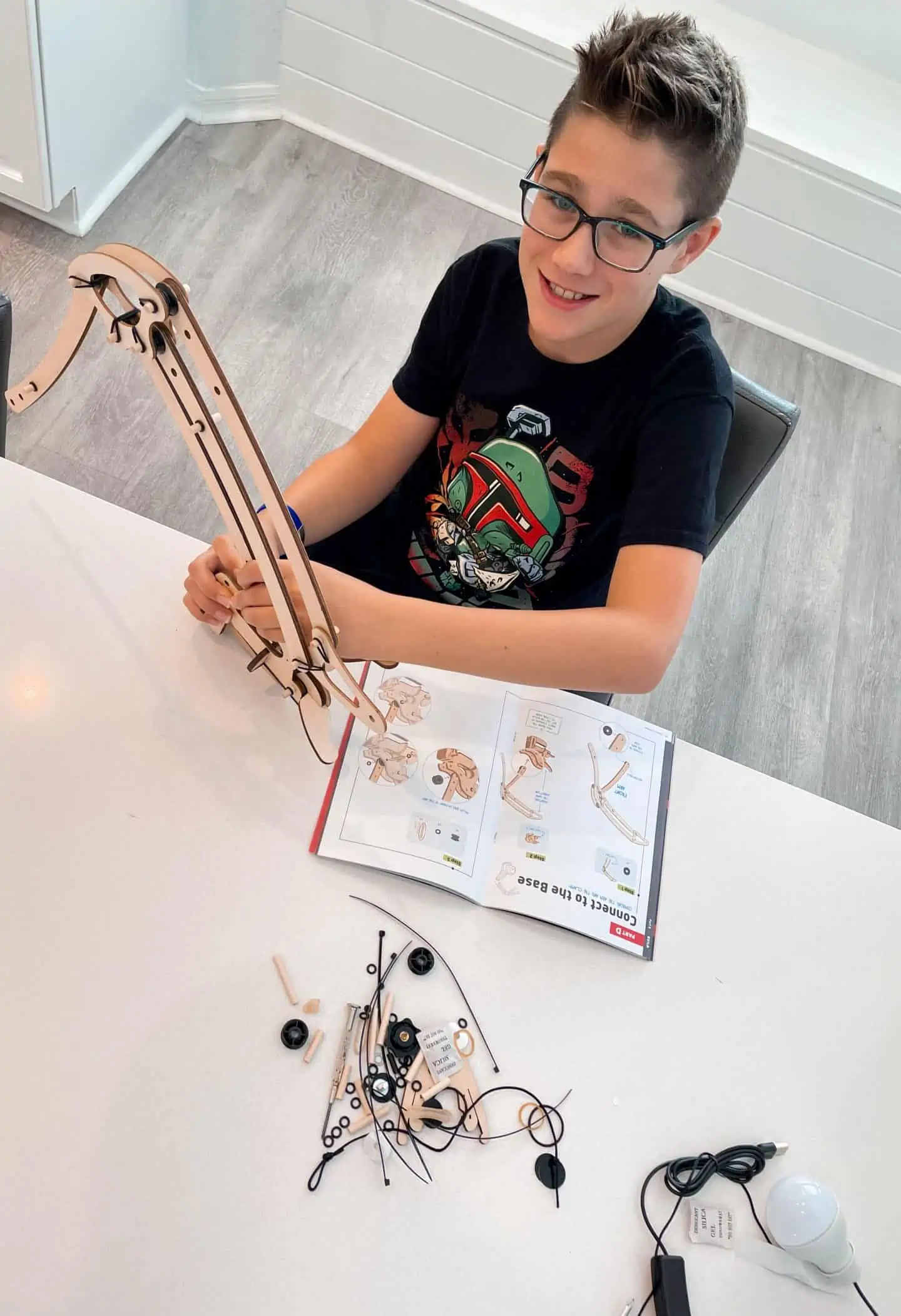 This KiwiCo Eureka crate kept him genuinely engaged for about 4 hours (over 2 days as we did it instead of science in our homeschool.) But this would make a fantastic activity over the summer holidays rather than them playing on electronics.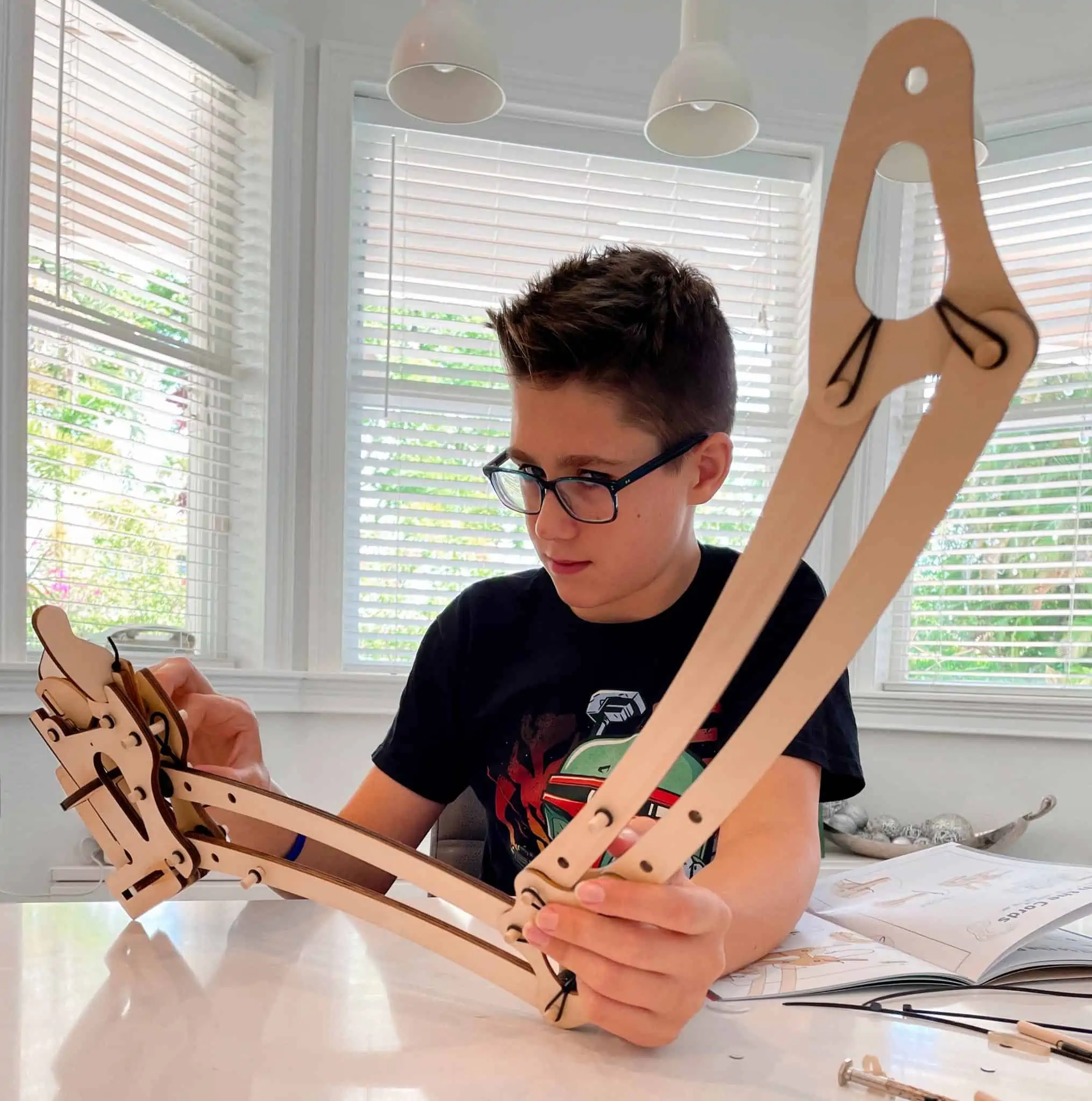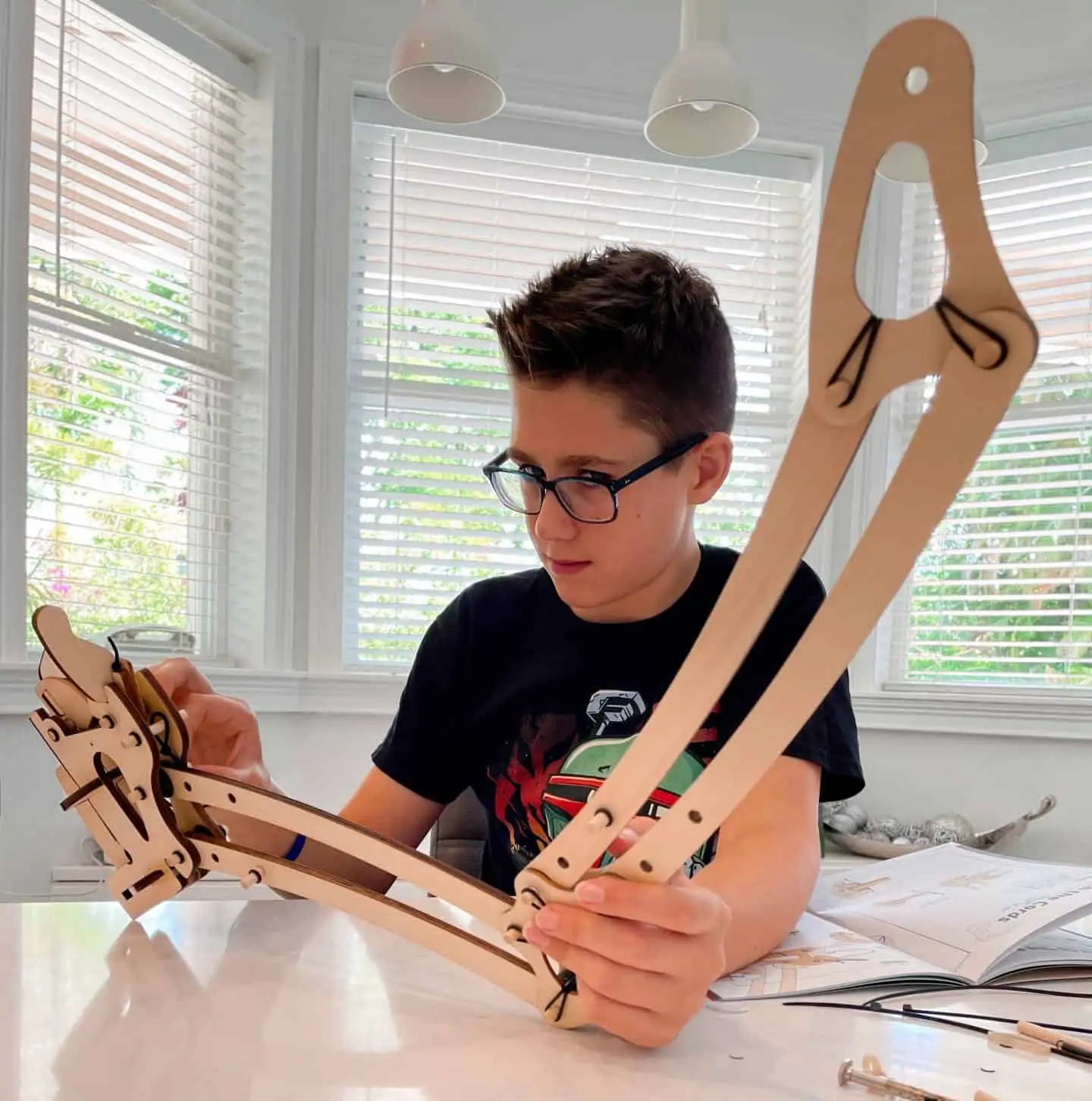 The completed product.
I can't tell you how proud of himself he was. It is now living on his desk in his bedroom, This is such an excellent STEM subscription box that we are now hooked. He can't wait for the next one to arrive.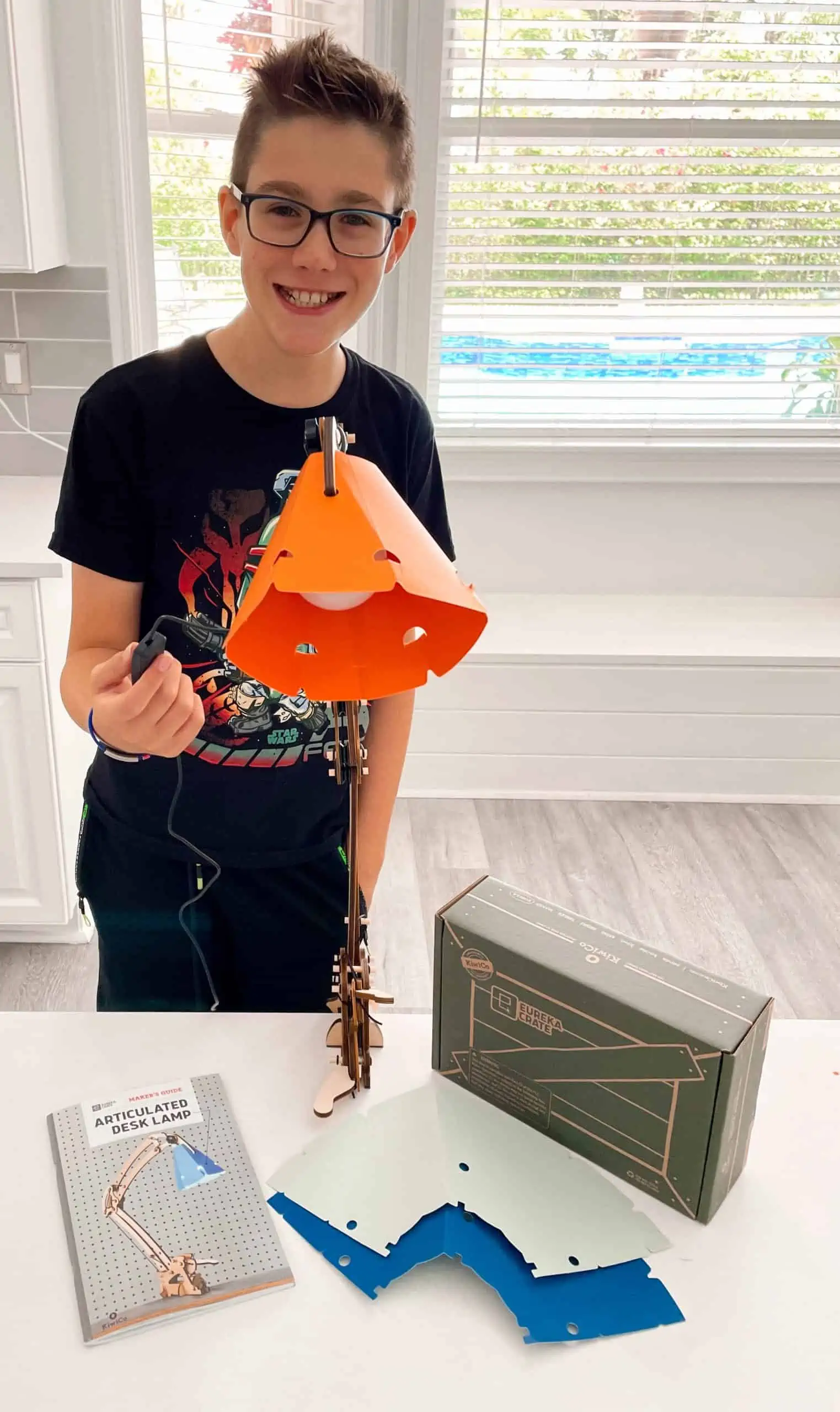 KiwiCo Review
If you are looking for a subscription box that teenagers will actually enjoy, then the KiwiCo Eureka Crate is the one for you. It is hard enough that they will be challenged, but so much fun that they will want to complete it.
Get them off their electronics for a couple of hours (Freddie spent a couple of hours the first day and a couple more the second) and see how proud of themselves they are after building a Eureka crate. Whether it is this articulated lamp that we built, the headphones, or something else. I promise that they will love it.
What we both loved about it the most was he was building something that worked. It wasn't just building for the sake of building, he created a lamp that he actually uses.
You won't need to rummage around the house finding objects they need to complete the project, everything they need is in the box.
We were both so impressed with this KiwiCo Eureka crate. Here are our top 5 reasons why you should give it a go too:
The quality is excellent;
The value is excellent (from $24.95 per month);
Everything really is included in the box (even a screwdriver!);
They are useful projects that you can actually use;
More importantly, it will get the kids off their electronics for a day.
This is the perfect time to try this box as the summer is nearly here, and it will certainly keep them entertained. It is about the cost of a movie ticket and snacks, but more than that, it is also educational.
We have had so many subscription boxes over the years, and the age rating is often off. However, this KiwiCo box is spot on. My son is 12 years old and completed this articulated desk lamp completely on his own, and I can honestly see him having fun with these for years to come.
Grab your first box today with 40% off with code BRIGHT, perfect for the summer holidays.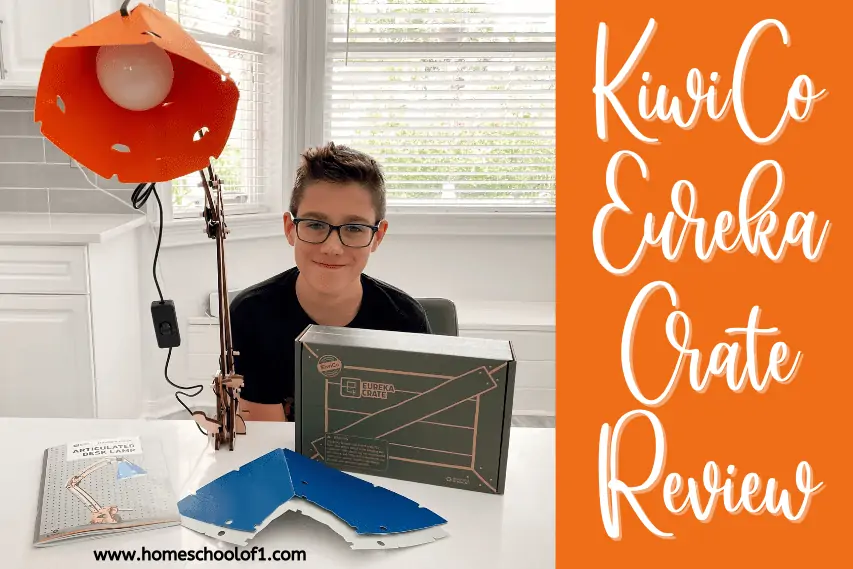 Stem Homeschool Curriculum
Science is possibly my least favorite subject to teach in homeschool, so I am always on the lookout for new and exciting ways to add it. KiwiCo thankfully has us covered.
Do you know what my number 1 homeschool tip is? Outsource what you are not very good at!
I'm a fantastic homeschool mom (even if I do say so myself!!) but I know my limitations. I am not that cool mom that likes to make a mess and do crazy experiments in my nice clean house!
This is not aimed at homeschool families though, any child 12 and above would love the KiwiCo Eureka crate. But we absolutely love supplementing our homeschool science curriculum with this subscription box.
Grab your first box today with 40% off with code BRIGHT, perfect for homeschool families.
Love the look of this KiwiCo crate but have a child who is too young? No problem carry on reading to find all nine different subscription boxes they have to offer for as young as 0!
KiwiCo Crates
No matter the age of your children KiwiCo has you covered. They have engaging subscription boxes for babies all the way through to adulthood.
Panda Crate
Panda Crate (ages 0-24 months) was developed in partnership with Seattle Children's Hospital. Each crate helps babies learn by doing what they do best — playing, exploring, and most importantly, interacting with the adults in their lives. Crates arrive every other month and are filled with two months' worth of content!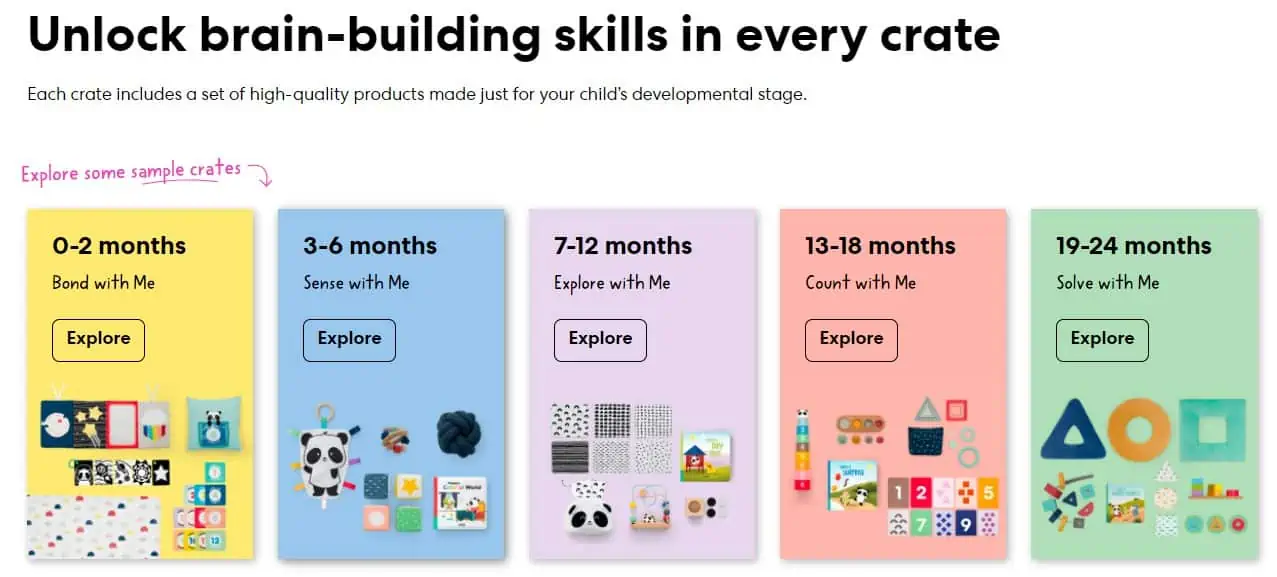 Koala Crate
Koala Crate (Ages 2-4) delivers fun hands-on activities to engage the natural curiosity and creativity of preschoolers in play-based learning. See why we think it is the best preschool subscription box in our KiwiCo Koala Crate review.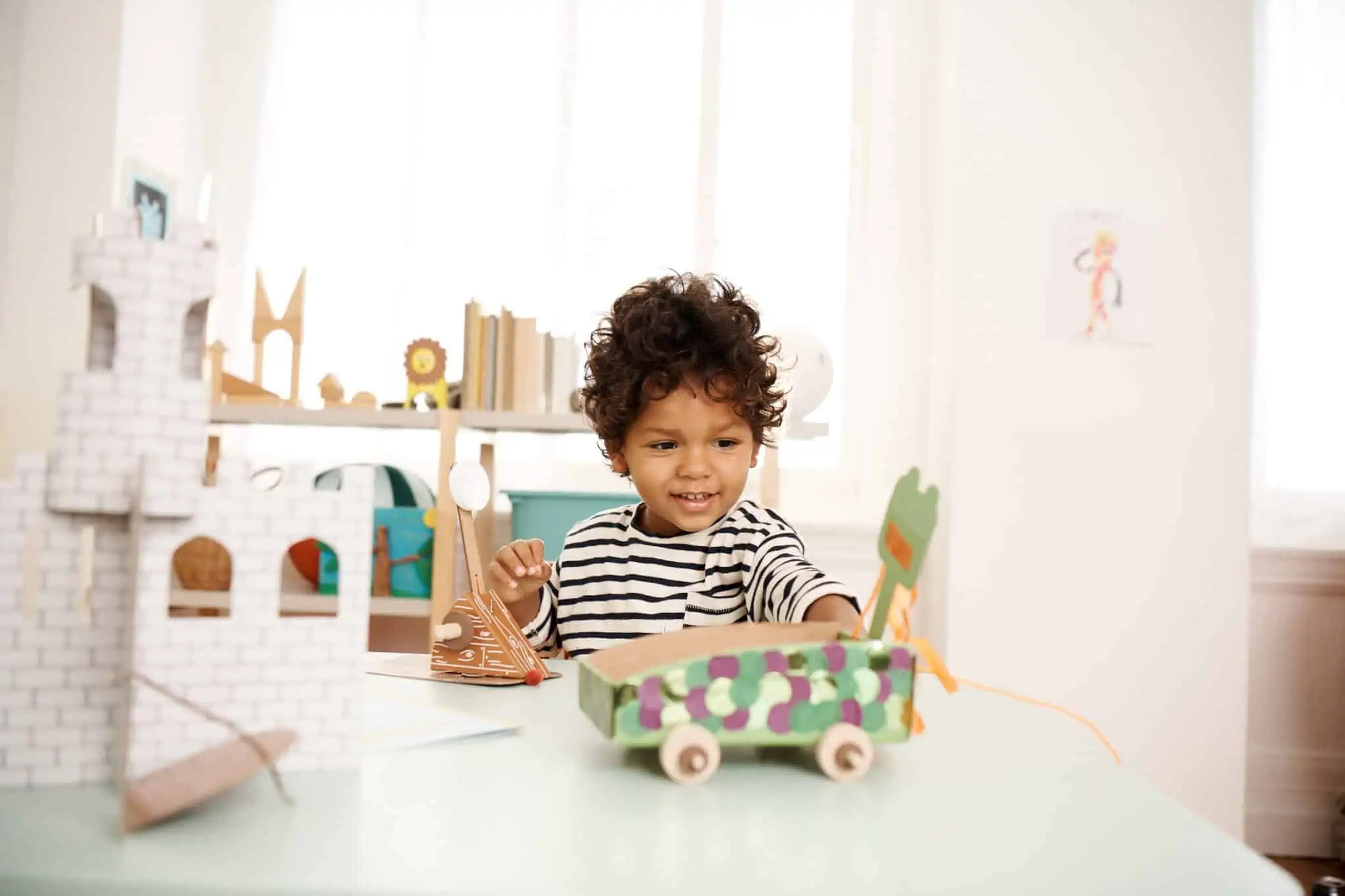 Kiwi Crate
Kiwi Crate (Ages 5-8) delivers young innovators all the materials and inspiration needed for fun hands-on projects that explore art, science, and engineering.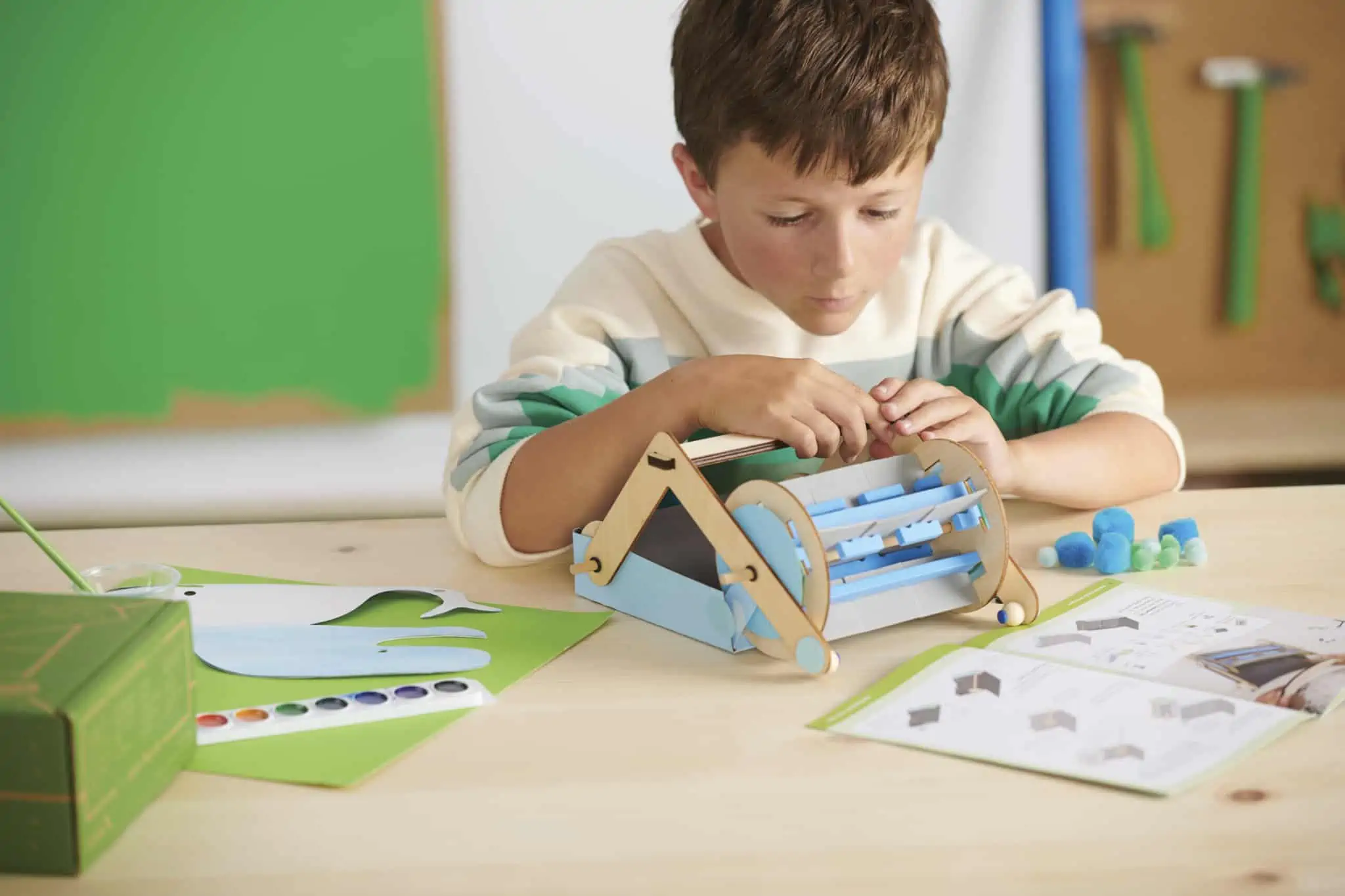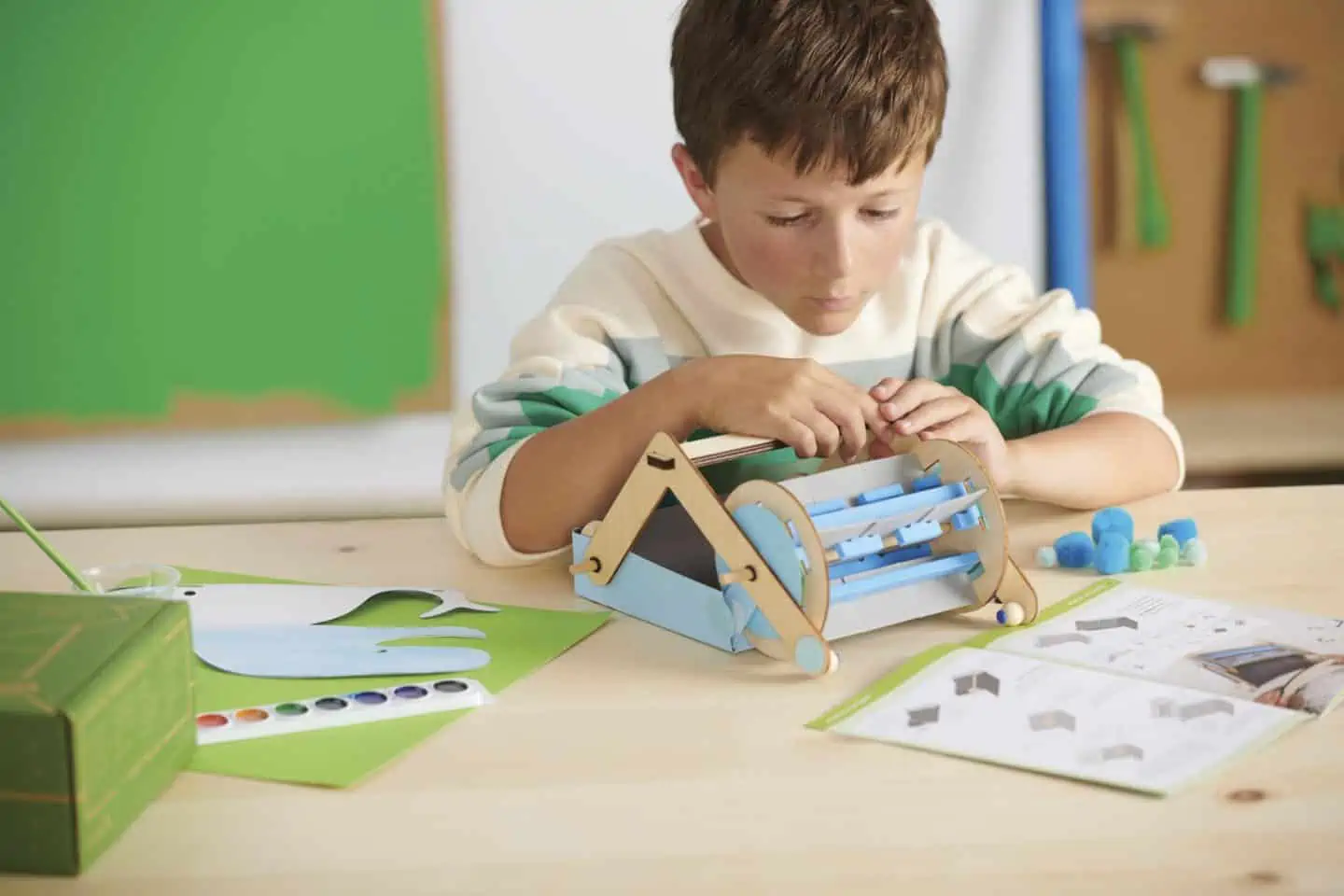 Atlas Crate
Atlas Crate (Ages 6-11) sparks kids' sense of adventure and curiosity, inspiring them to see themselves as citizens of the world. Read our review of our favorite geography subscription box.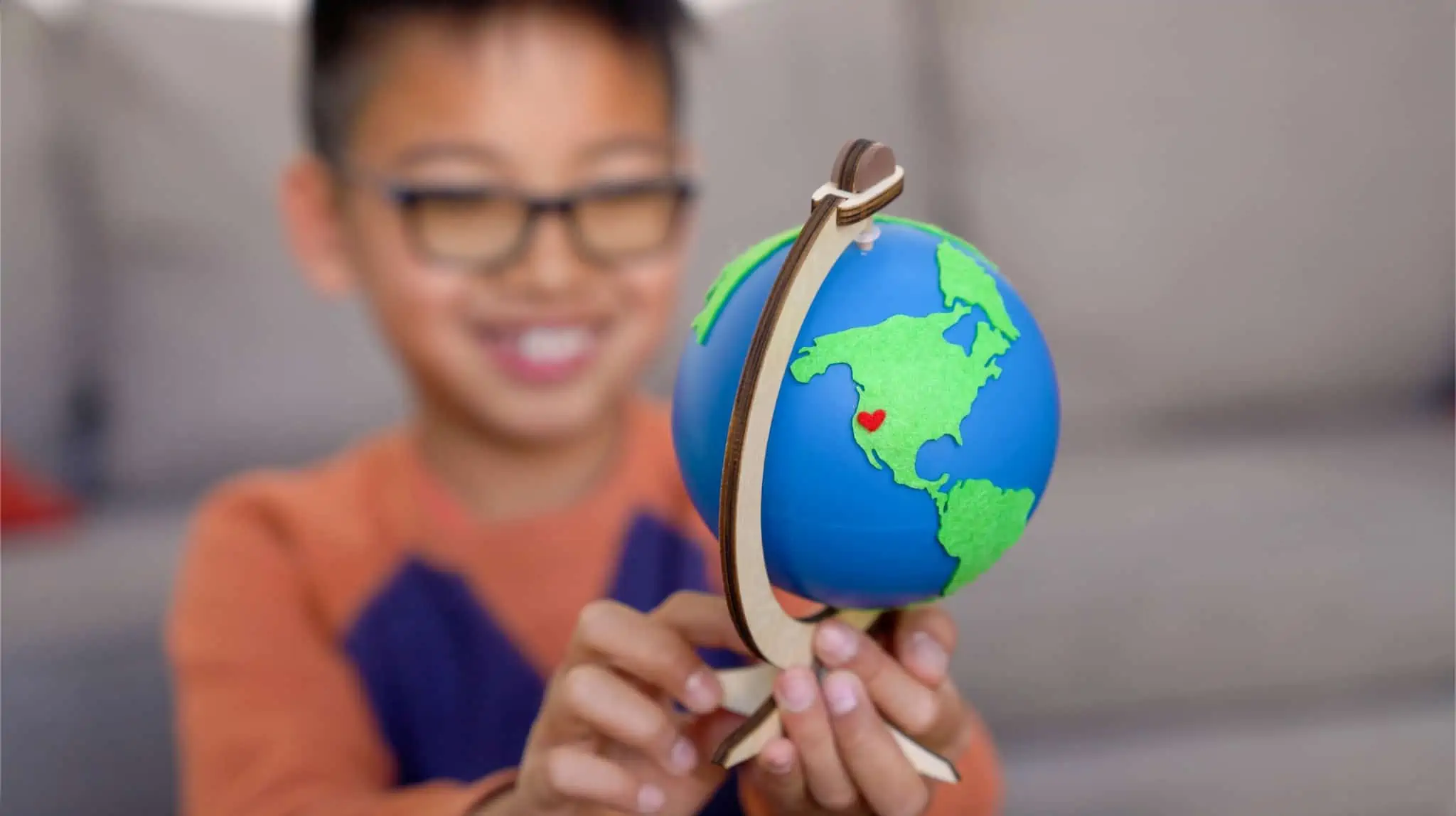 Yummy Crate
Yummy Crate (Ages 6-14) helps kids discover the science of cooking with recipes and activities that explore hands-on experimentation in and out of the kitchen.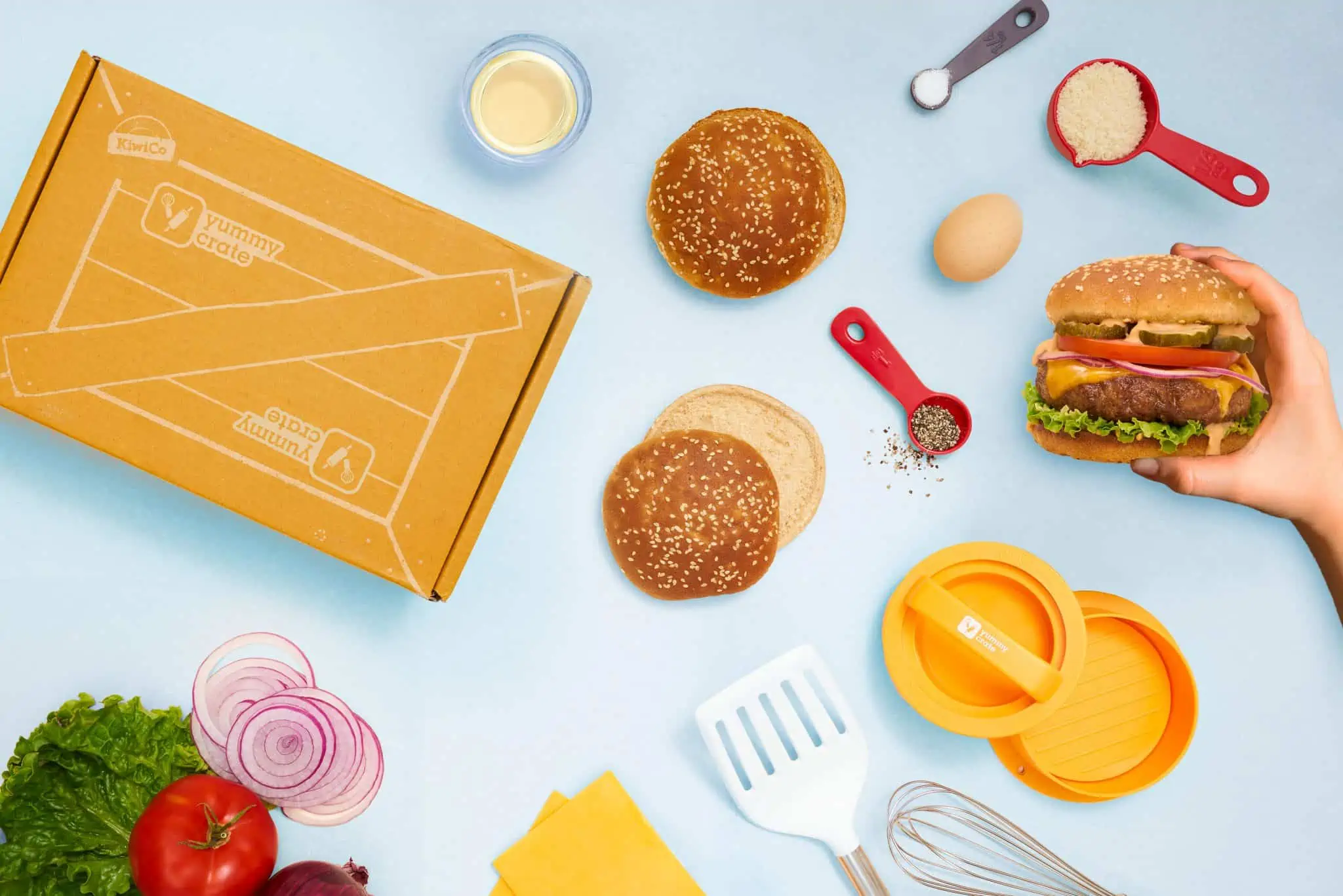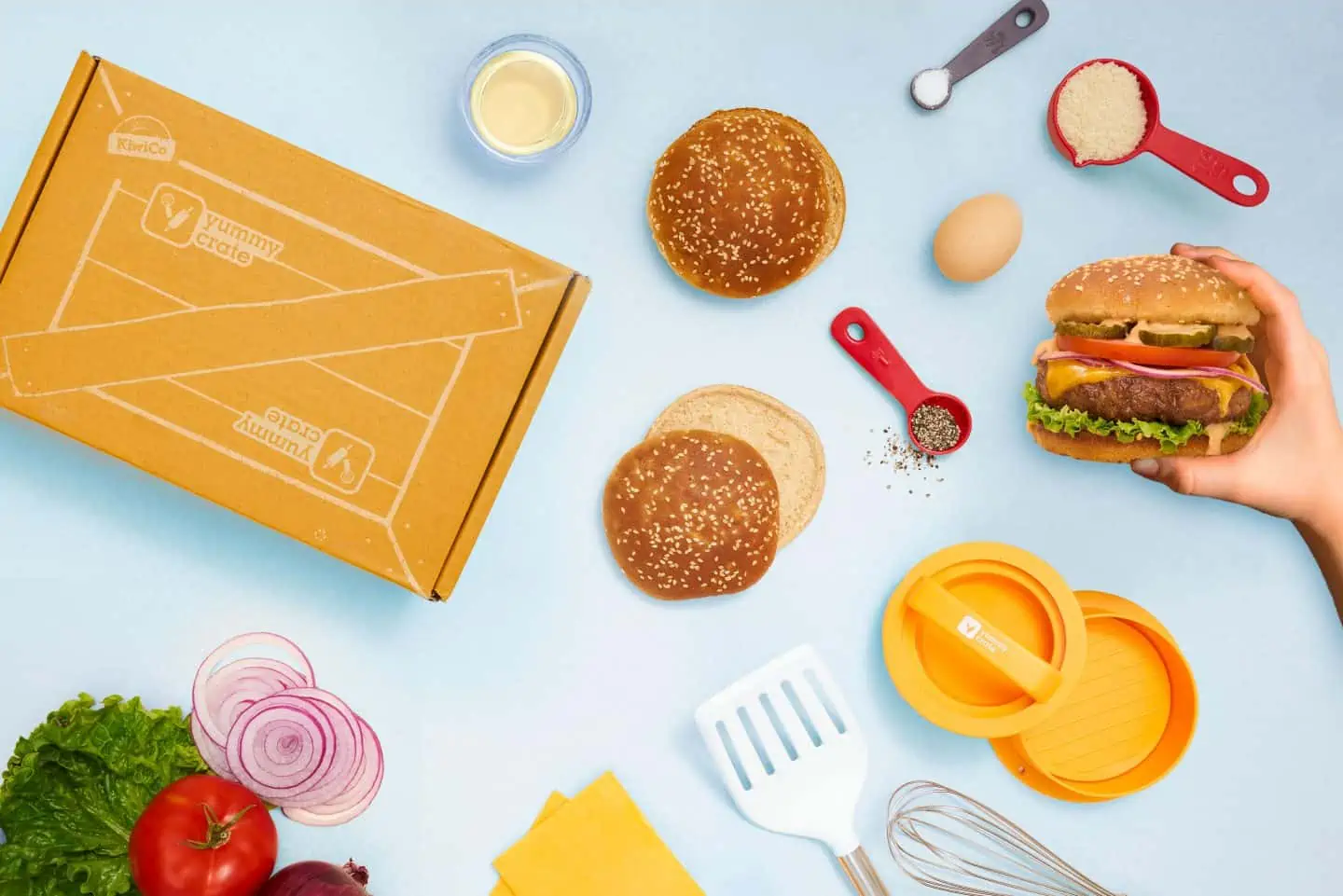 Doodle Crate
Doodle Crate (Ages 9-16) invites young designers to build creative confidence by experimenting with art & design techniques in monthly hands-on projects.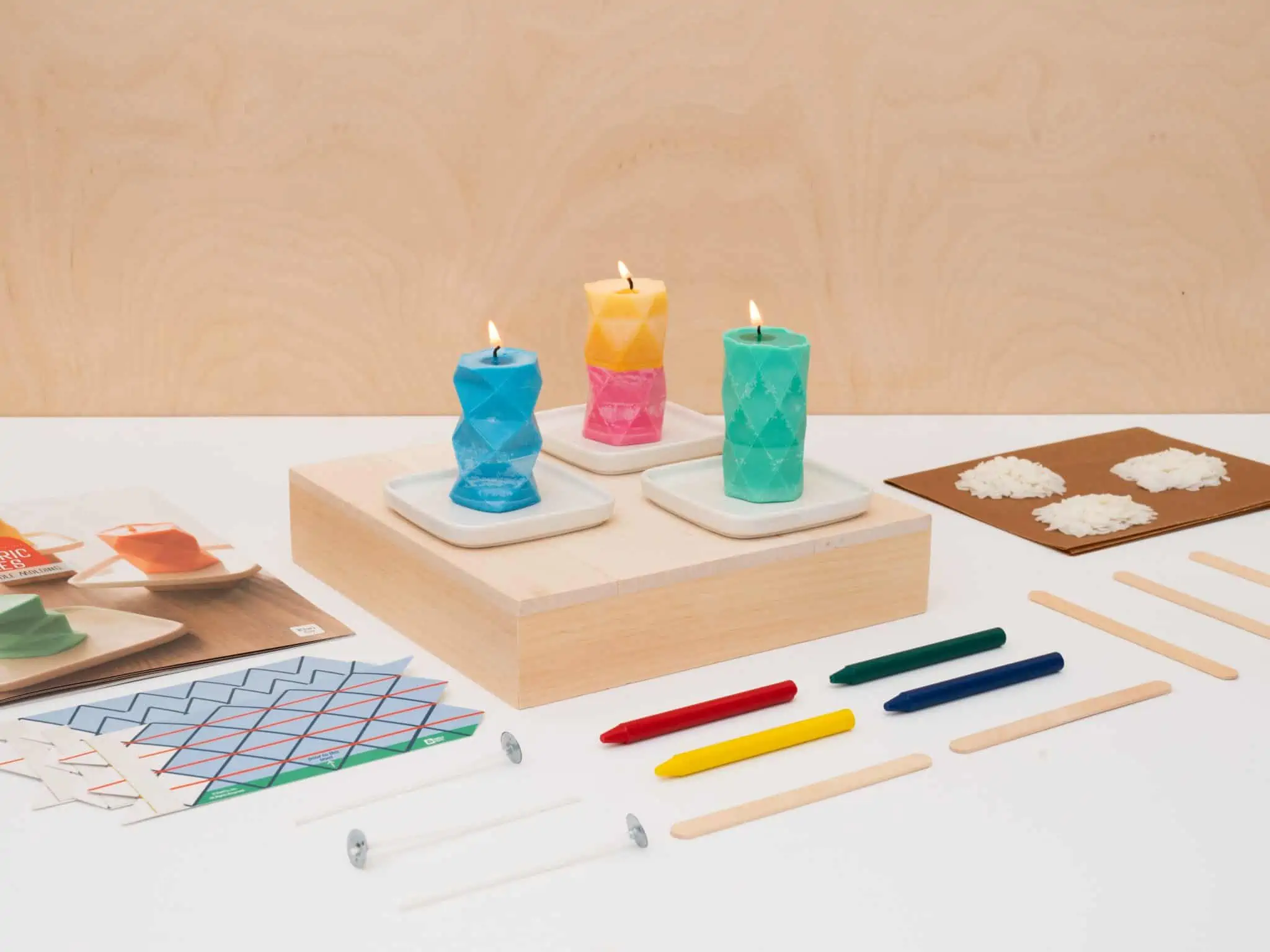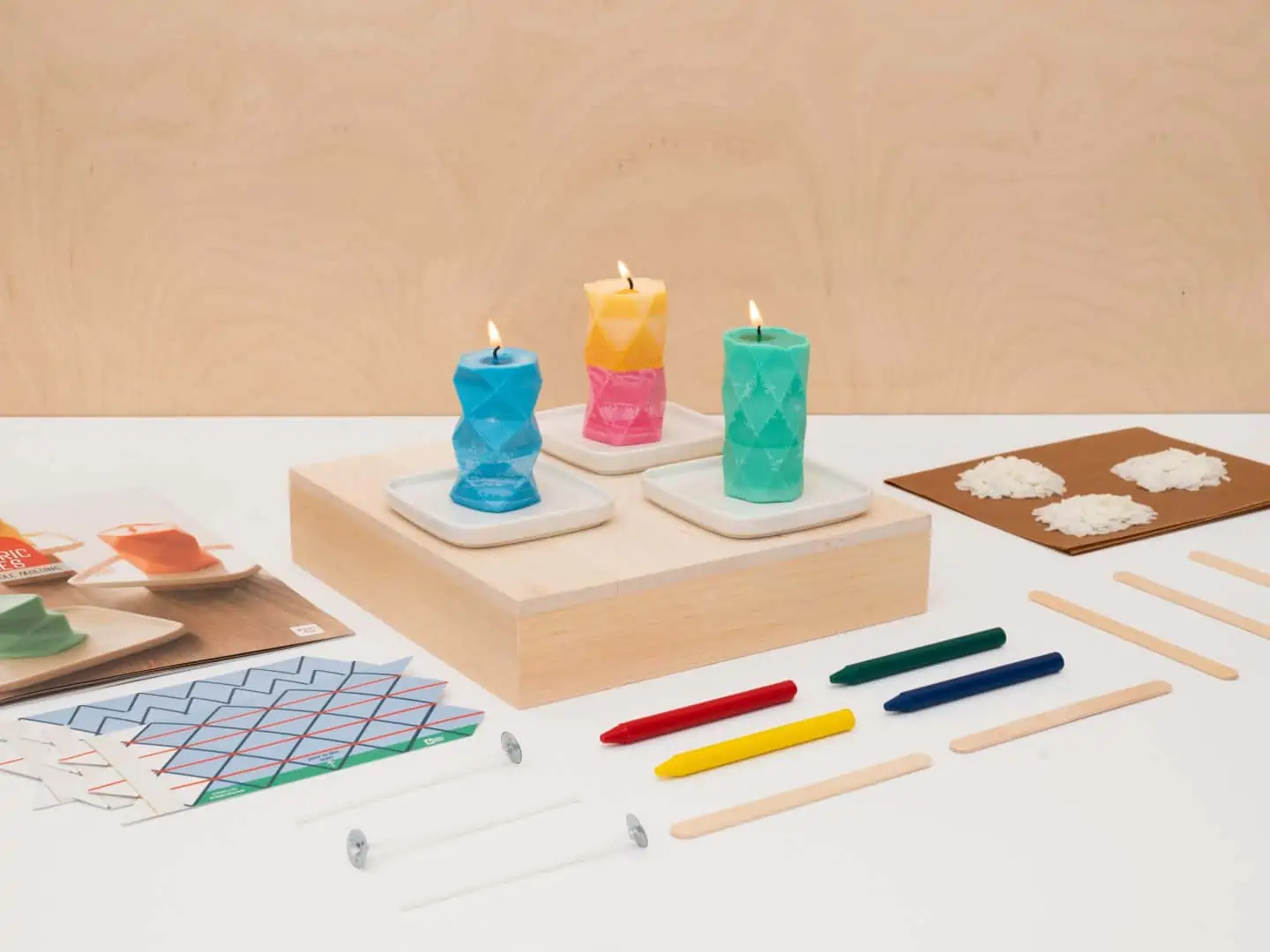 Tinker Crate
Tinker Crate (Ages 9-14) helps young innovators to discover and learn about science!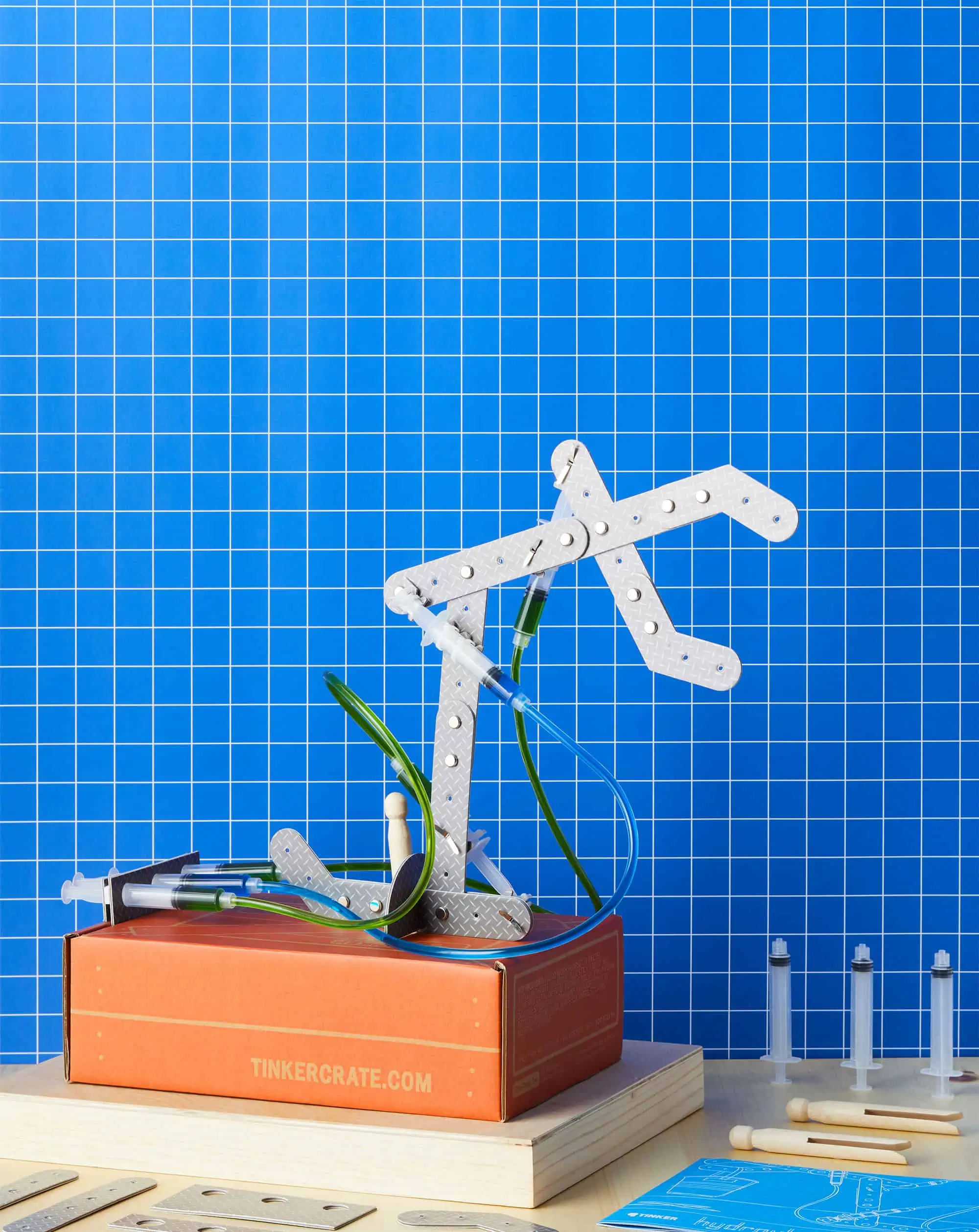 Eureka Crate
Eureka Crate (Ages 12-100) teaches kids (and kids at heart!) how to apply principles of science and math to engineer solutions and make awesome things they'll love using every day.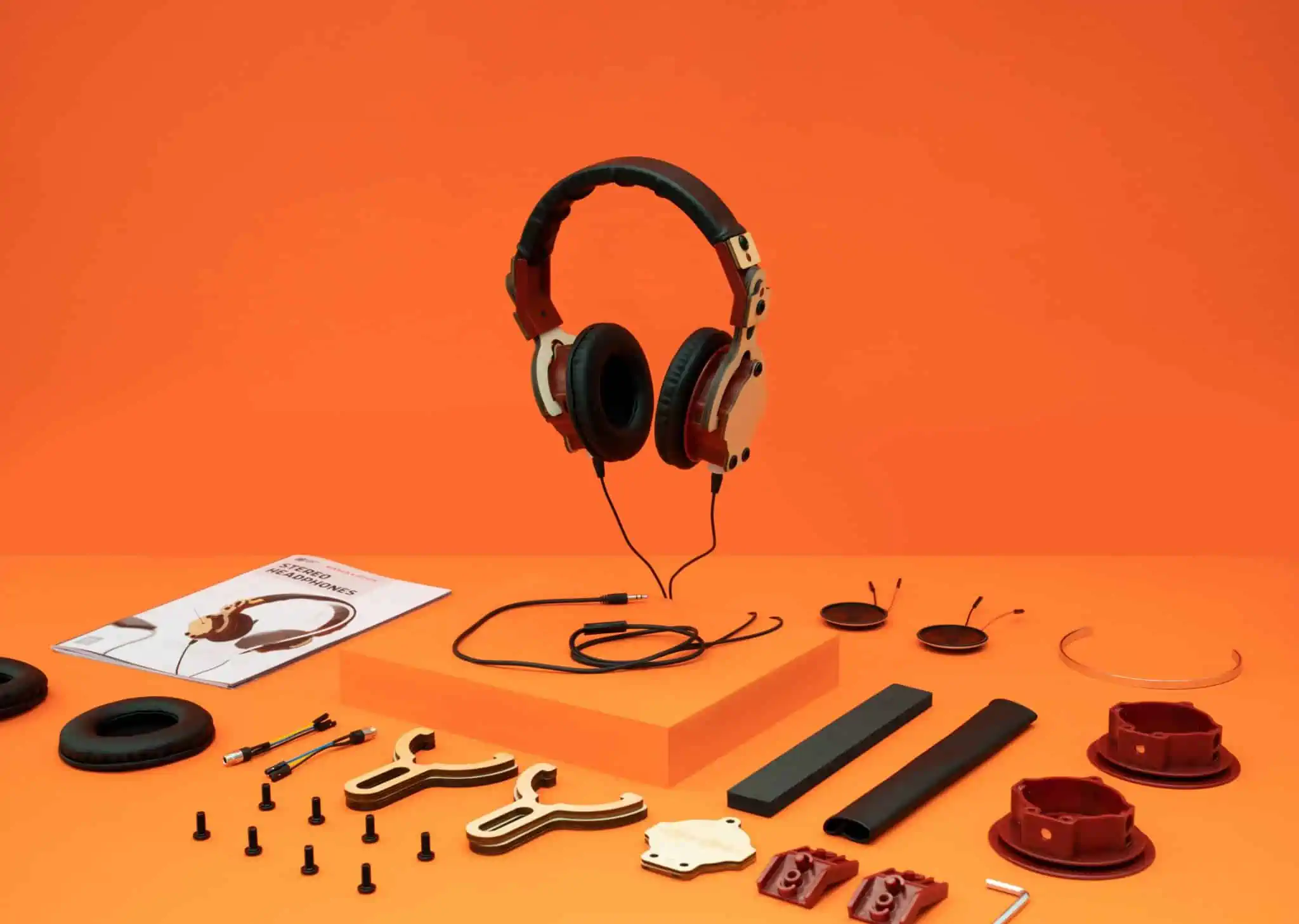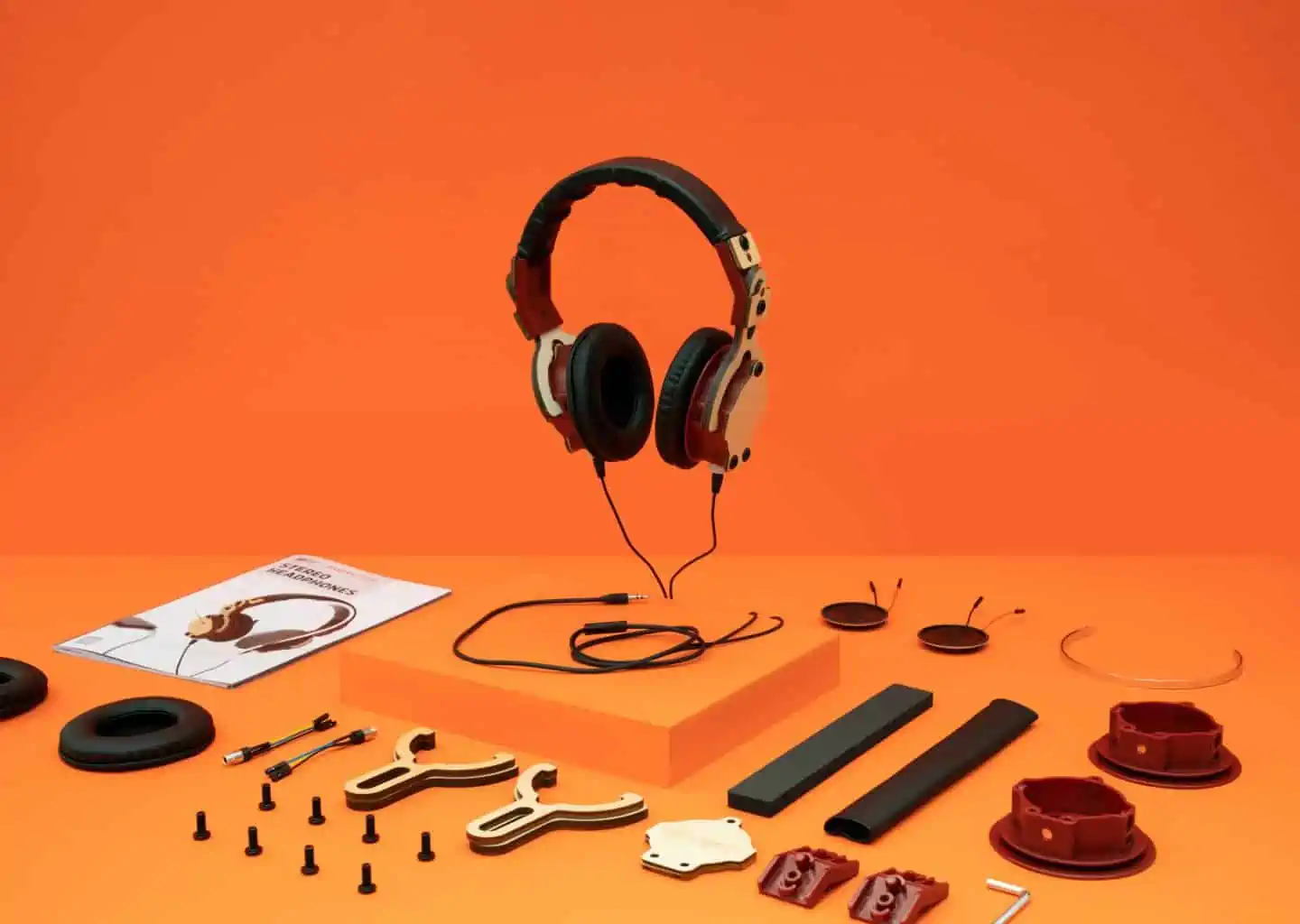 Maker Crate
Maker Crate (Ages 14-100) Whether you're 14 or 104, a first-time crafter, or an experienced maker, this is the box for you. A new art and design workshop in every box.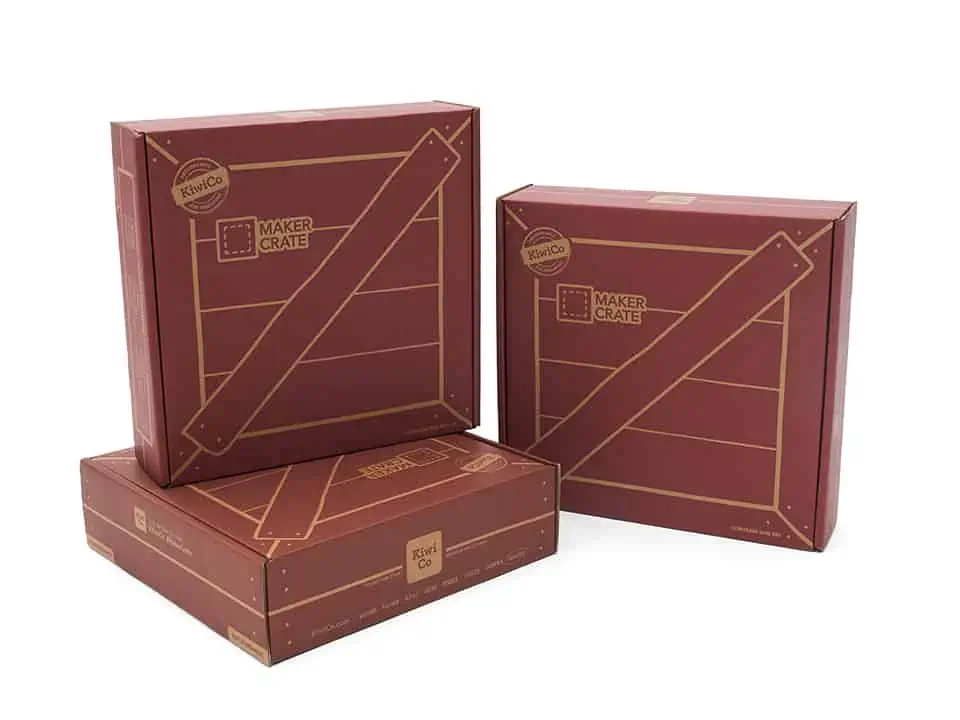 Check out the best subscription boxes for teen boys that we have either loved or continue to order. You will also enjoy our favorite science gifts for teenagers.
If you are looking for even more homeschool curriculum reviews check out all of the others we have reviewed over the years.
Last Updated on 9 September 2023 by homeschoolof1