Book Review Bookmark (free printable)
Discover the perfect companion for young bookworms – our delightful book review bookmark!
On one side, kids will find a charming bookshelf with books to color in, sparking their creativity. Navigate through a fun-filled book maze for added excitement!
Flip to the reverse side, and they'll encounter the same interactive book review layout as before. They can fill in the book title, author, and rating, sketch their favorite scene, and summarize the story.
These free printable bookmarks to color are the ideal tool to encourage reading, foster creativity, and develop essential reading comprehension skills.
**There may be affiliate links in this post. You can read my full disclosure at the bottom of the page.**
Why use a book review bookmark?
Using a book review bookmark offers numerous benefits for both kids and their teachers:
The interactive layout of the bookmark prompts readers to think critically about the book they've just finished.
Writing a book summary requires a deeper understanding of the story's key elements, characters, and plot twists.
The opportunity to sketch favorite scenes or characters nurtures creativity and artistic expression.
Having a dedicated space to record thoughts about each book read creates a sense of accomplishment and encourages kids to read more.
Assigning a rating to the book based on personal enjoyment encourages critical thinking. Readers learn to articulate their preferences and opinions, fostering analytical skills.
As readers complete the book review bookmarks, they have a collection of their favorite reads. This serves as a handy reference for future recommendations to friends, family, or their school community.
The completed book review bookmark becomes a cherished keepsake.
By noting down different titles and authors, kids are encouraged to explore a wide range of genres and authors.
The book review bookmark can become a conversation starter between parents and kids about the books they read.
Coloring the bookmarks and navigating through the book maze adds a tactile and playful element to the reading experience. It makes reading a multisensory adventure, enhancing overall engagement.
Roald Dahl Complete Collection [Paperback] by
Jeff Kinney Diary of a Wimpy Kid 16 Books Collection Set, Complete Series 1-16 Books of Boxed Set, Paperback (2022030012)
The Last Kids On Earth 6 Books Collection Set by Max Brallier (Last Kids On Earth, Zombie Parade, Nightmare King, Cosmic Beyond, Midnight Blade & Skeleton Road)
Middle School 7 Books Collection Set by James Patterson (Dogs Best Friend, Just My Rotten Luck, Save Rafe, My Brother Is A Big Fat Liar & MORE!)
Book review bookmark printable
There is one printable bookmark included.
On one side the kids need to fill out the following:
Book Title: Capture the title of the book they've recently completed.
Author: Acknowledge the talented author who brought the story to life.
Rating out of 5: Evaluate the book based on personal enjoyment.
Sketch of Favorite Scene or Character: Unleash creativity by illustrating a beloved scene or character.
Book Summary: Summarize the plot concisely, capturing the story's essence.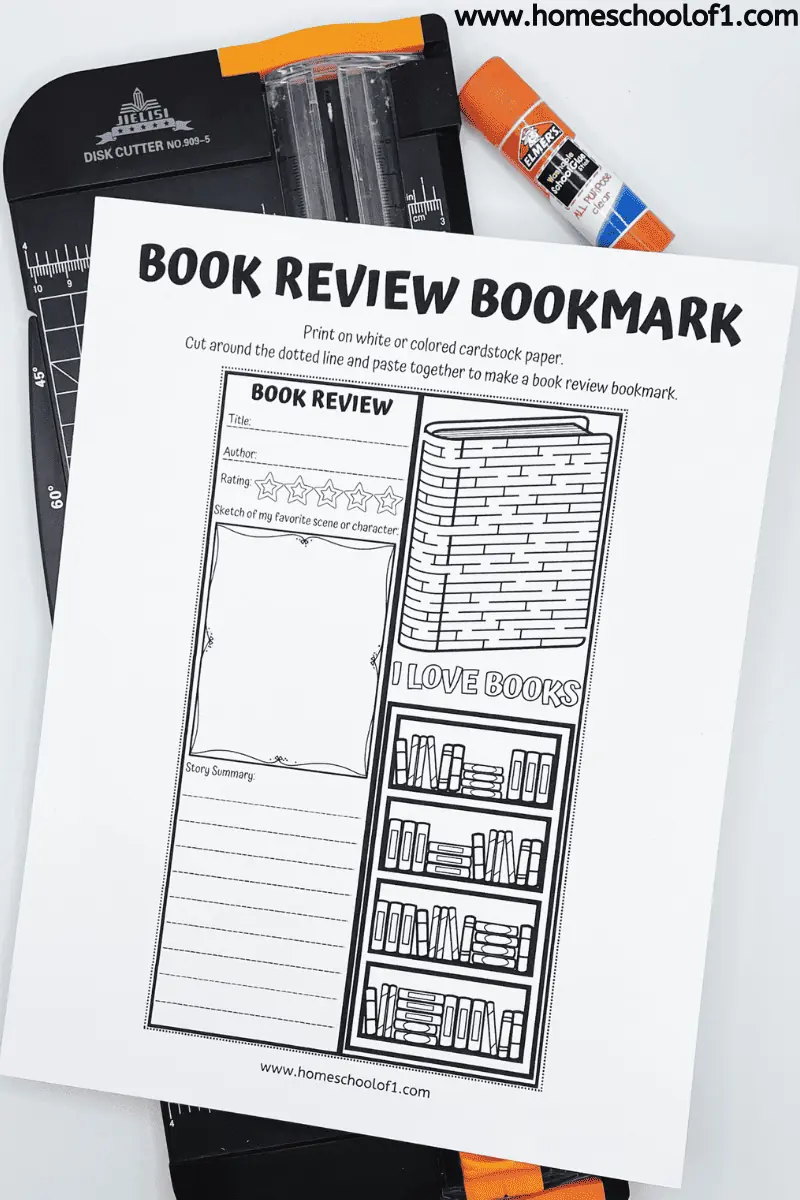 On the reverse side of the bookmark there is the following:
A bookshelf full of books
A book maze
I love books
How to use the printable bookmark book review?
Download the free bookmark at the bottom of the page.
For best results, print it on cardstock, but white paper or other colors work too. Cut along the dotted line, I prefer a paper cutter for time-saving, but scissors work just as well!
Fold the bookmark in half and glue it together with school glue.
Let the kids unleash their creativity and color in the books.
After finishing a book, it's time to complete the book review, honing artistic, reading, and critical thinking skills.
The bookmark measures 2.5 x 8.5 inches when folded in half.
It's the ideal size to mark your place in any book and serves as a wonderful reminder of the fantastic stories you've explored.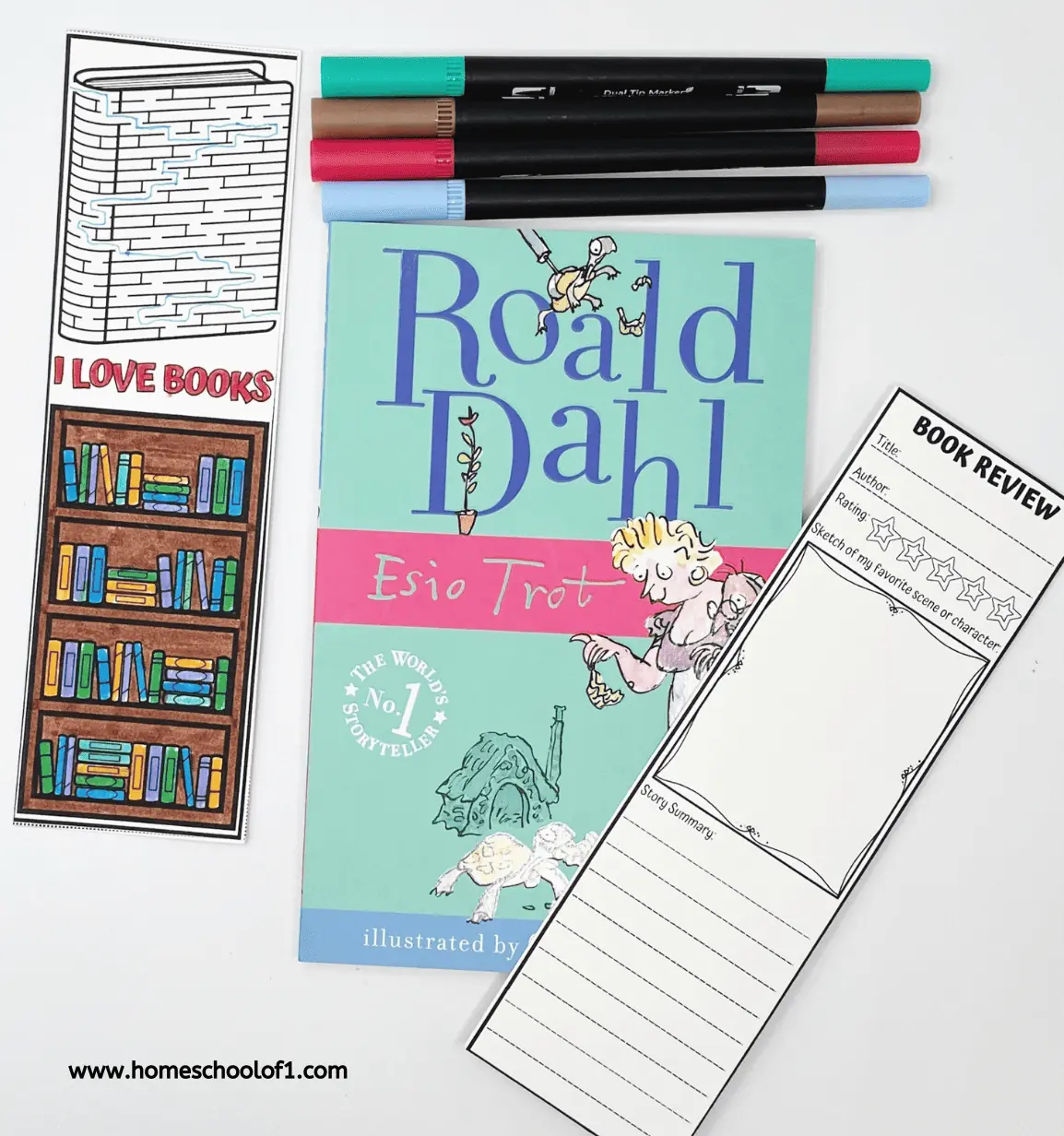 Favorite Books For Boys
Need some captivating books for your little readers? Here are some favorites across different age groups:
Tips for downloading the free files
Below is a blue cloud with an arrow pointing downward. Underneath that is a large sign-up box where you need to add your name and email address, and press I NEED THIS NOW!
Within minutes you will be sent the free PDF directly to your email address, so you can print it out and start using it immediately.
Sometimes emails get a little wonky, so if you can't see it, please check your spam folder where I am sure it is hiding.
Download the Free Printable Book Review Bookmark
Enjoy these color in review bookmarks in your homeschool, library, or classroom.
These worksheets are free to print but are for personal or classroom use only.
Make sure you choose the correct paper size and click on the shrink to fit button. All of our free printables for kids work better when printed on cardstock (this is the one we use and love.)
Last Updated on 2 October 2023 by homeschoolof1