Christmas Elf Name Generator Printable (free)
Add some Christmas cheer to the holiday season with our free Christmas elf name generator printable.
The elf name activity is one of my favorite Elf on the Shelf activities, and my new name for the Christmas season is Sparkle Everfrost!
This free printable elf name generator is perfect for a Christmas party, a holiday party in the classroom, or just a fun Christmas activity.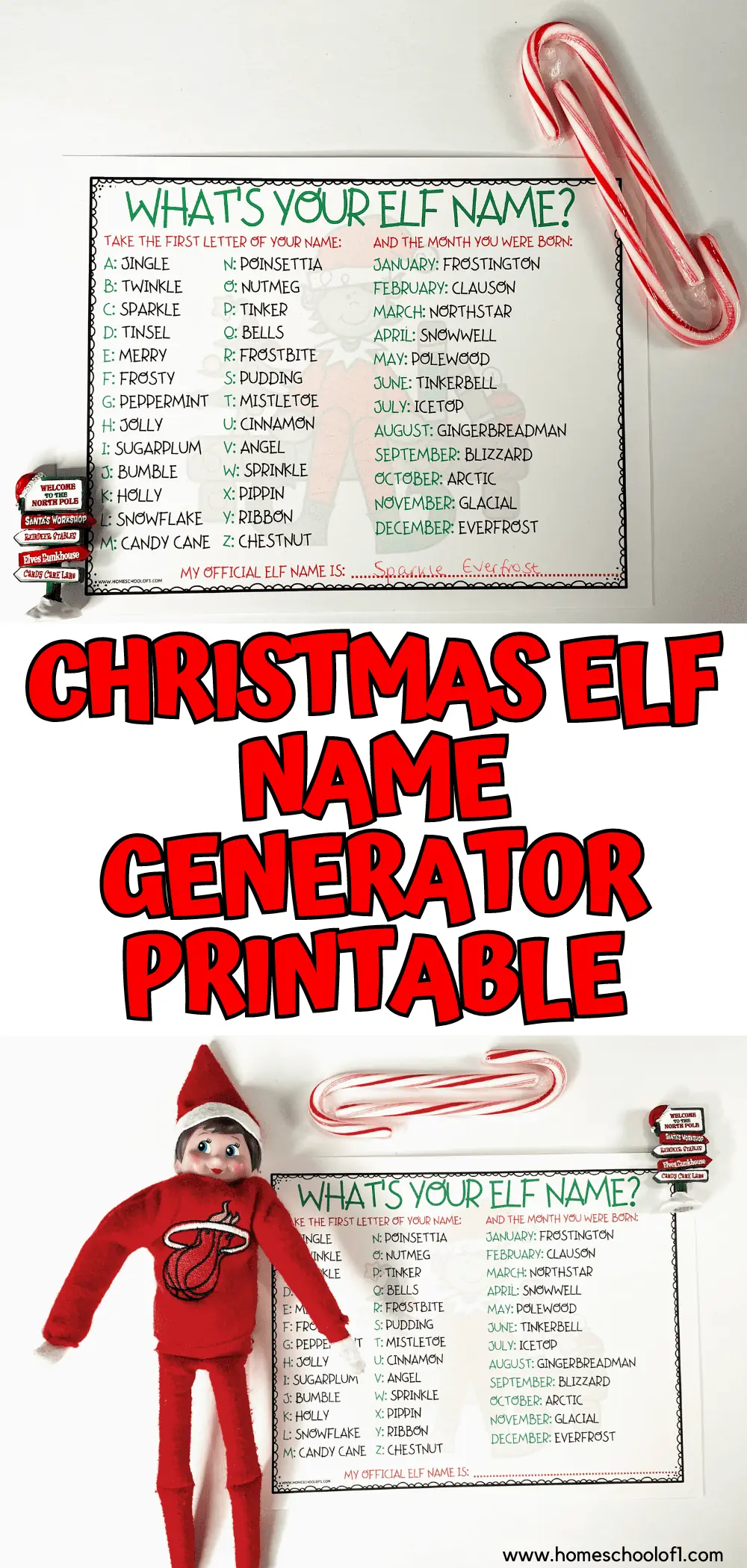 **There may be affiliate links in this post. You can read my full disclosure at the bottom of the page.**
Elf name sheet
The holiday season is just around the corner, and what better way to get into the Christmas spirit than with our free Christmas elf name generator printable?
Whether you're planning a festive get together, a classroom celebration, or simply looking for a fun activity to enjoy with your whole family. This elf name generator is sure to bring joy and laughter to your holiday season.
This free elf name game is for personal and classroom use only. Scroll to the bottom of the post and add your email address to get the pdf file.
Why We Love the Elf Name Activity
The Elf on the Shelf has been visiting our home for over a decade, and it is a beloved tradition during the Christmas season. One of our favorite activities is choosing our very own Christmas elf name.
When the elf arrives, normally around December 1st, we each take on an elf name too! We have been doing this for about 8 years, and each year we come up with new cute names. So this year I am sharing our what's your elf name printable that we will be using.
So this year my name is going to be Sparkle Everfrost! It is a perfect name, in fact, I prefer it, Clare is so boring in comparison!
Before we dive into the magical world of scout elf names, please note that this free elf name generator game is for personal and classroom use only. To get your hands on the PDF file, simply scroll to the bottom of this post and enter your email address to receive your very own copy.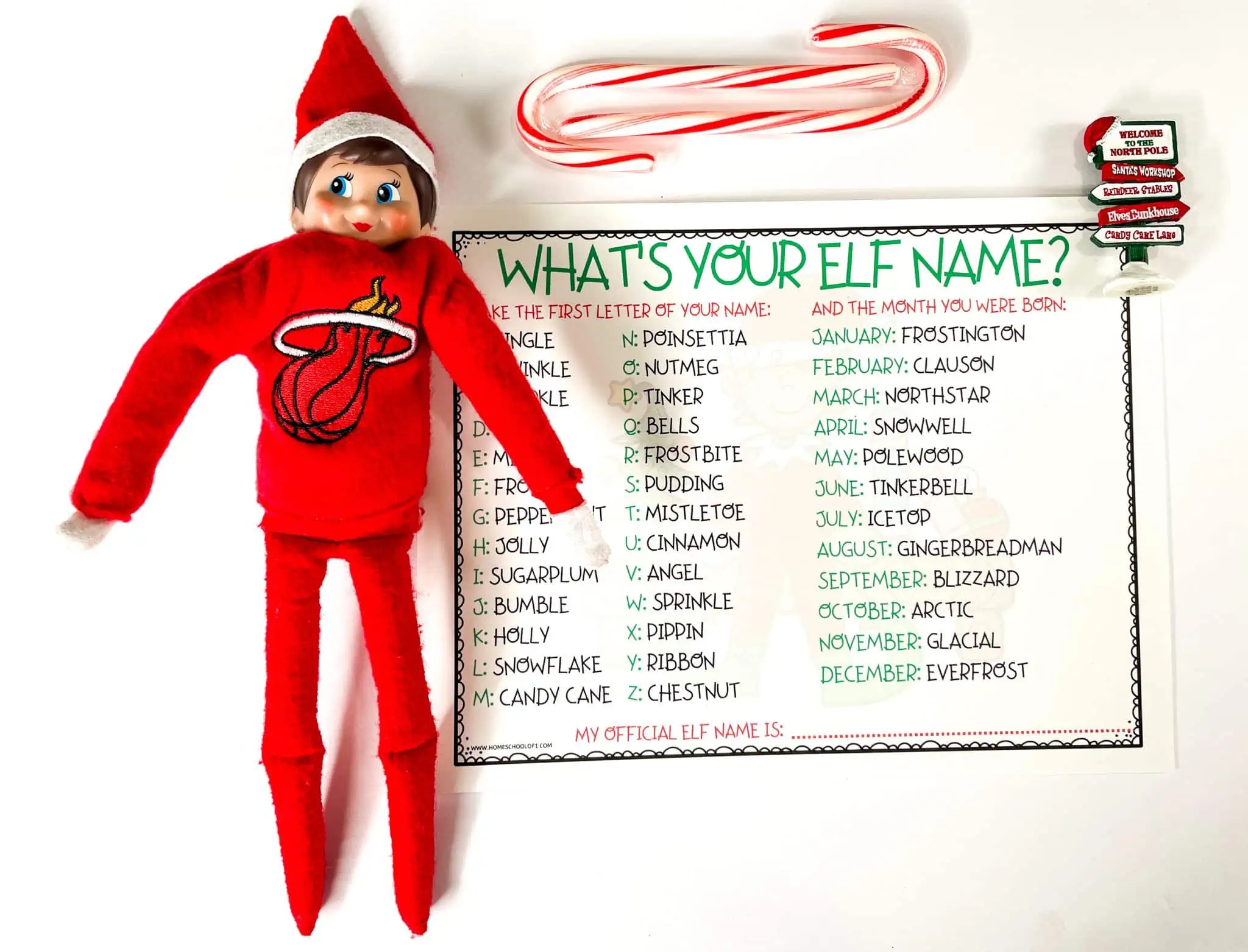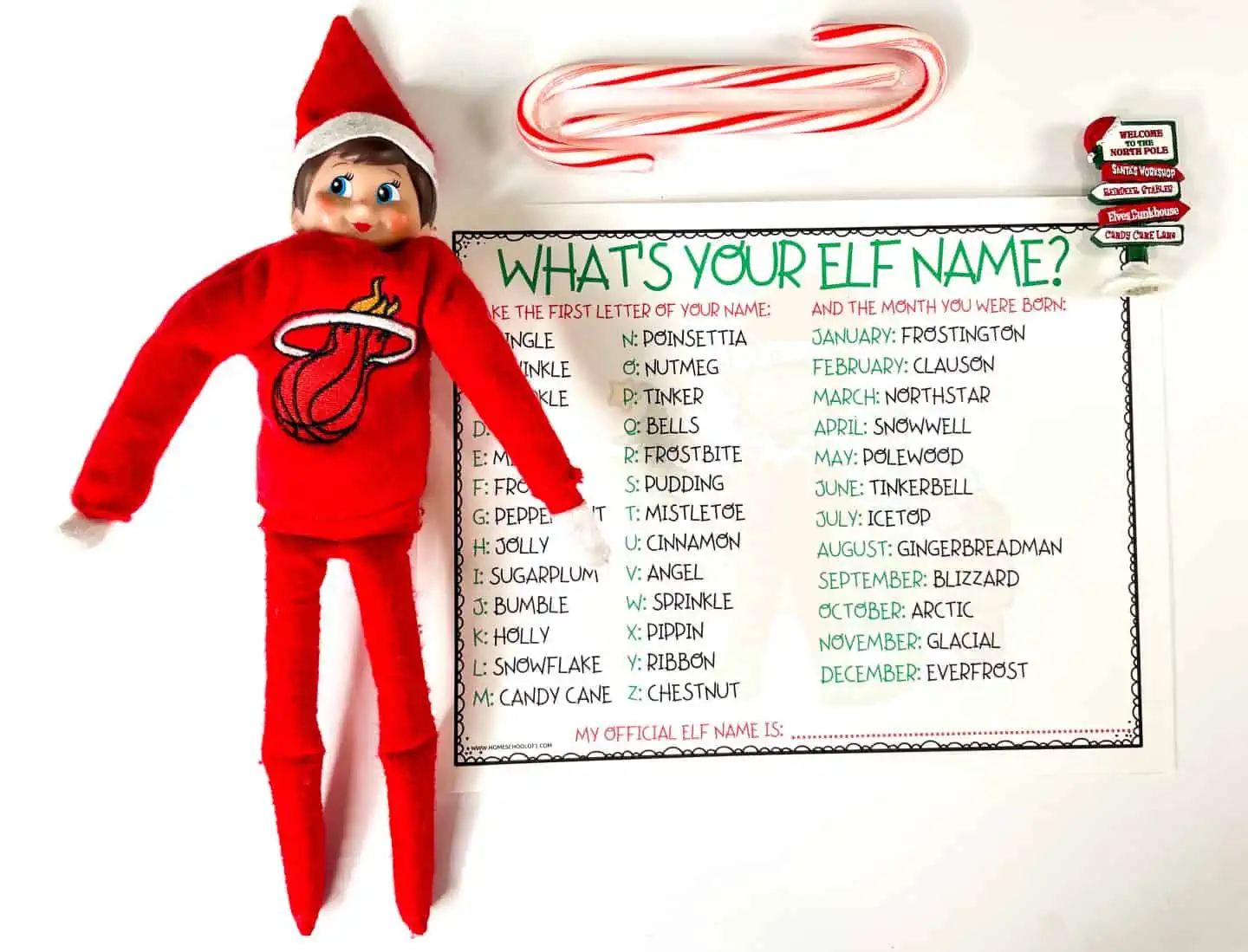 When can I use the printable elf name generator?
That is the best bit, you can use this fun printable name generator is so many settings this December, here are a few of our favorites:
Christmas Parties:

Host a Christmas party with family and friends, and set up an Elf Name Generator station. Let guests create their Elf on the Shelf names, and use them as a fun conversation starter or to address each other throughout the event.

School or Classroom Activities:

If you're a teacher, consider using the Elf Name Generator in your classroom. It's a great way to add a touch of holiday magic to the learning environment. Have your students create their Elf names and use them in various class activities and games.

Elf on the Shelf Tradition:

Incorporate the Elf Name Generator into your Elf on the Shelf tradition. Let your children or students give their scout elves unique names each year to keep the Christmas tradition exciting and fresh.

Holiday Workshops:

If you're organizing holiday workshops or events, such as a crafting or cookie decorating workshop, encourage participants to create funny Elf names. It adds a fun and imaginative element to the event.

Festive Name Tags:

Design festive name tags using the Elf names for your family members or guests during holiday dinners or gatherings. It's a unique and personal touch that can make your celebrations even more special.

Holiday Cards and Letters:

Use your Elf name when writing holiday cards, letters, or emails to friends and family. It's a fun way to add a personal and whimsical touch to your holiday greetings.

Elf Name Exchange:

Organize an Elf name exchange where participants draw Elf names and exchange small gifts or acts of kindness with the person they've selected.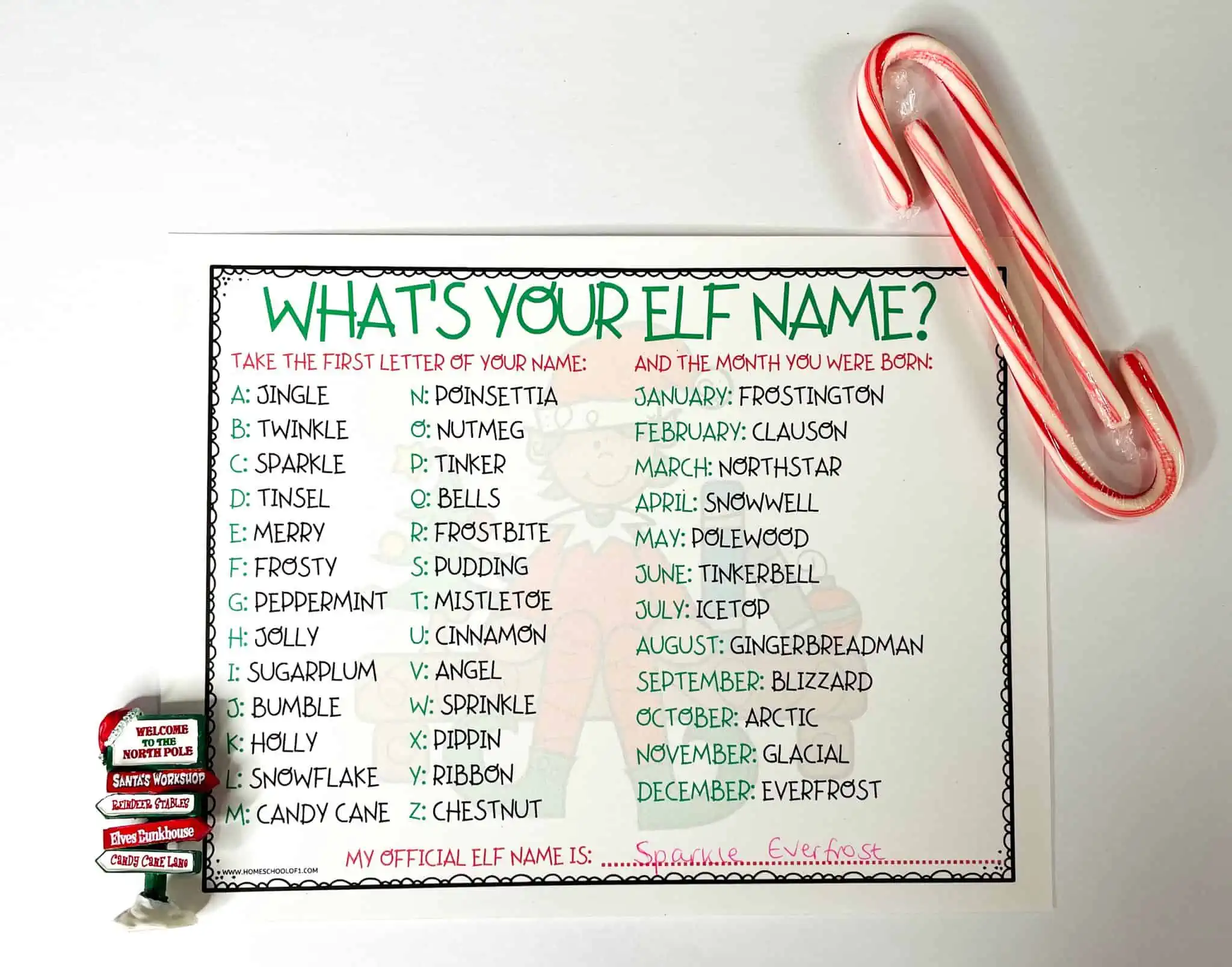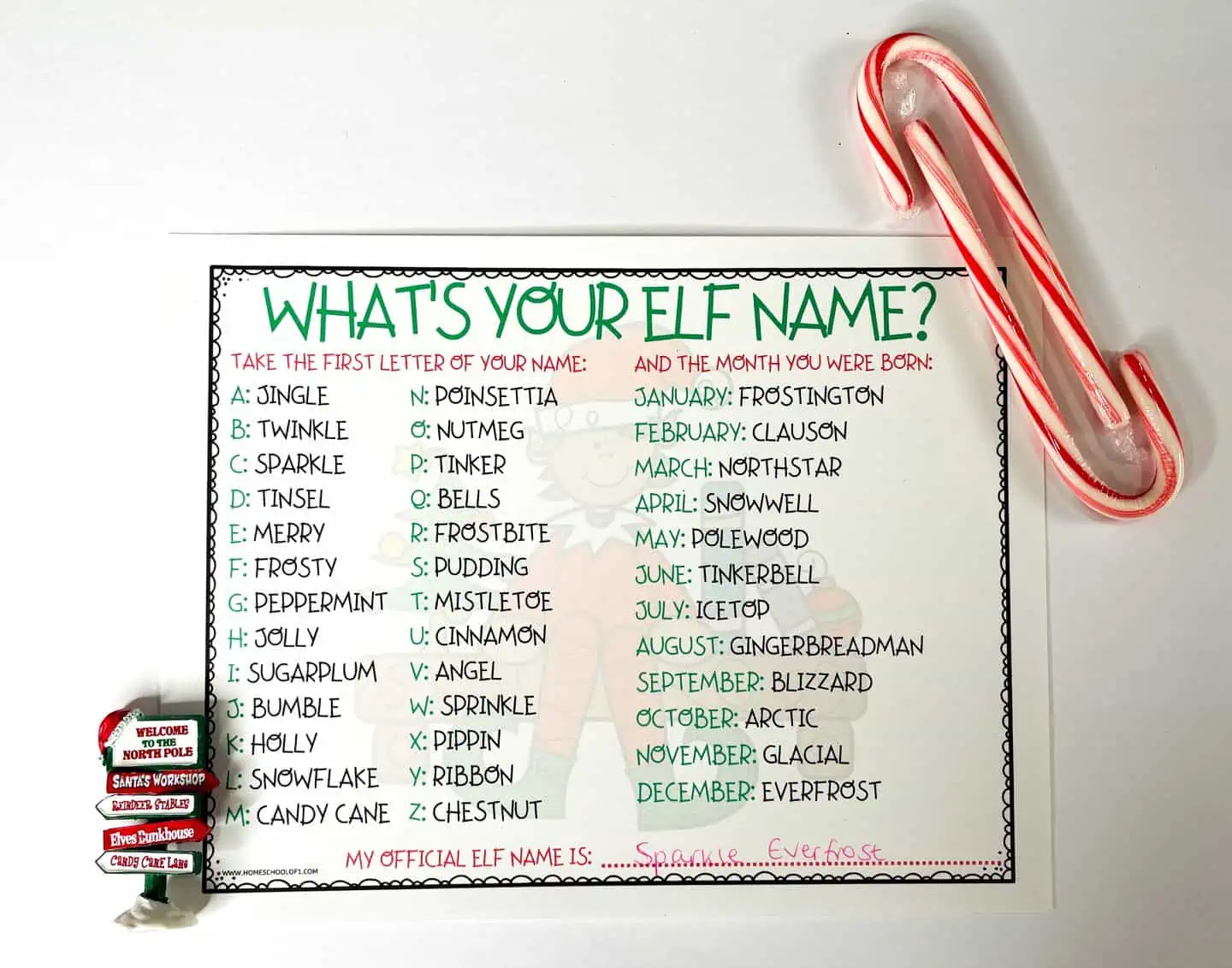 Christmas elf names
Here is a list of all of the unisex names.
Elf on the Shelf first name:
Jingle
Twinkle
Sparkle
Tinsel
Merry
Frosty
Peppermint
Jolly
Sugarplum
Gingerbread
Holly
Snowflake
Candy Cane
Poinsettia
Nutmeg
Tinker
Bells
Frostbite
Pudding
Mistletoe
Cinnamon
Angel
Sprinkle
Wreath
Ribbon
Chestnut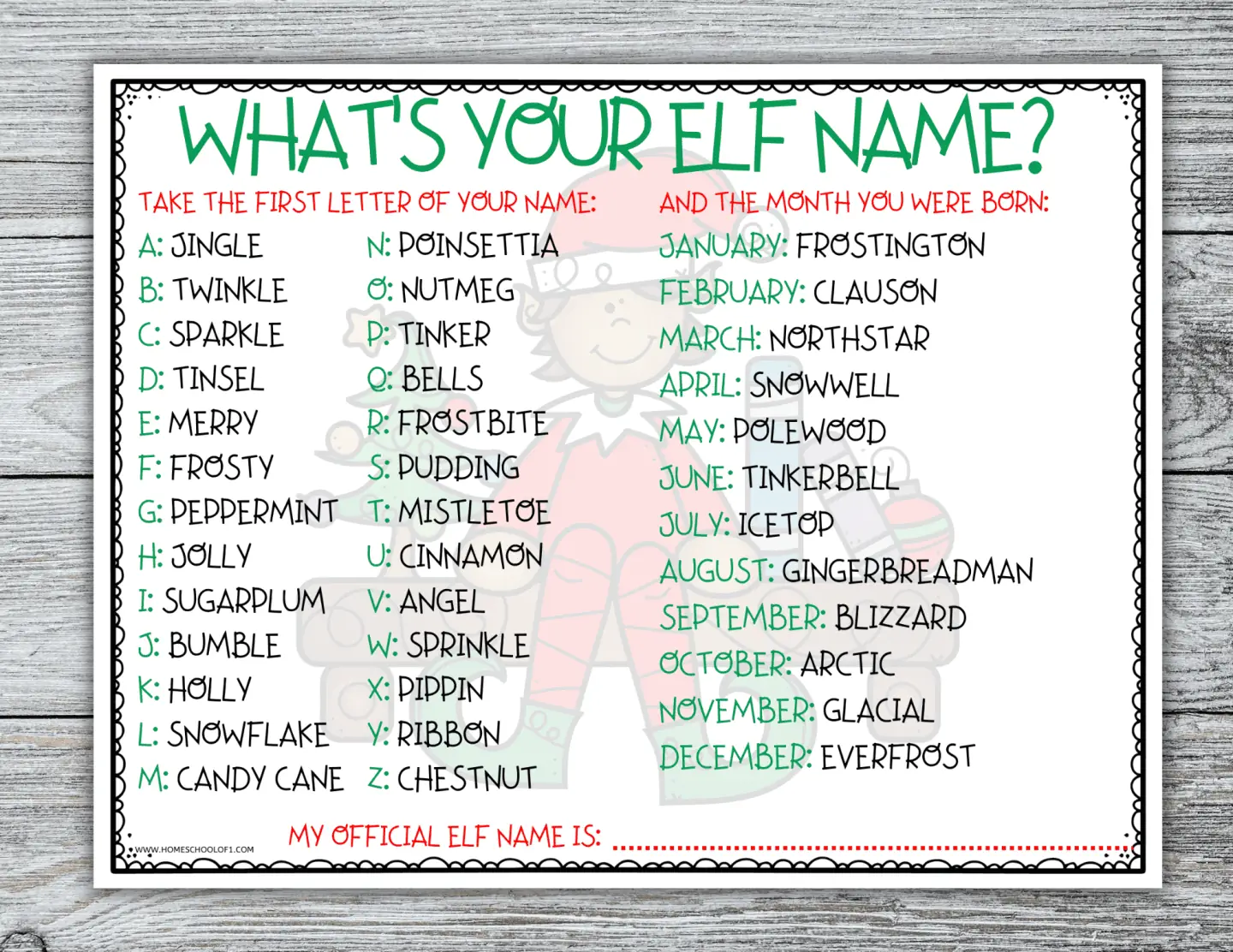 Elf on the Shelf last name:
Frostington
Clauson
Northstar
Snowwell
Polewood
Tinkerbell
Icetop
Gingerbreadman
Blizzard
Arctic
Glacial
Everfrost
Let me know in the comments, or tag me on social media with what your new elf name is.
Additional Elf on the Shelf ideas
For even more fun this Christmas activities you are going to love these free Elf on the Shelf printables:
Tips for downloading the free files
Below you will see a large sign-up box where you need to add your name and email address, and press I NEED THIS NOW!
Within minutes you will be sent the free PDF directly to your email address, so you can print it out and start using it immediately.
Sometimes emails get a little wonky, so if you can't see it, please check your spam folder where I am sure it is hiding.
Download the free elf name printable
Make sure you choose the correct paper size and click on the shrink to fit button. All of our free printables for kids work better when printed on cardstock (this is the one we use and love.)
Last Updated on 7 November 2023 by homeschoolof1