What is Elf on the Shelf? Unlocking the Magic
Wondering what is Elf on the Shelf?
I'm a mom who loves the holiday season, and for more than 10 years, we've had a super cool Christmas tradition in our family. We get not just one, but five tiny elves that Santa sends to hang out with us – it's called Elf on the Shelf.
These little elves bring a whole bunch of extra fun to our holiday preparations.
Every morning, my son has a blast looking around the house for Elf on the Shelf and the silly activities they're up to. It's not just about laughing and having fun, Elf on the Shelf activities have made our holiday times super special and made us feel even closer to the magic of Christmas!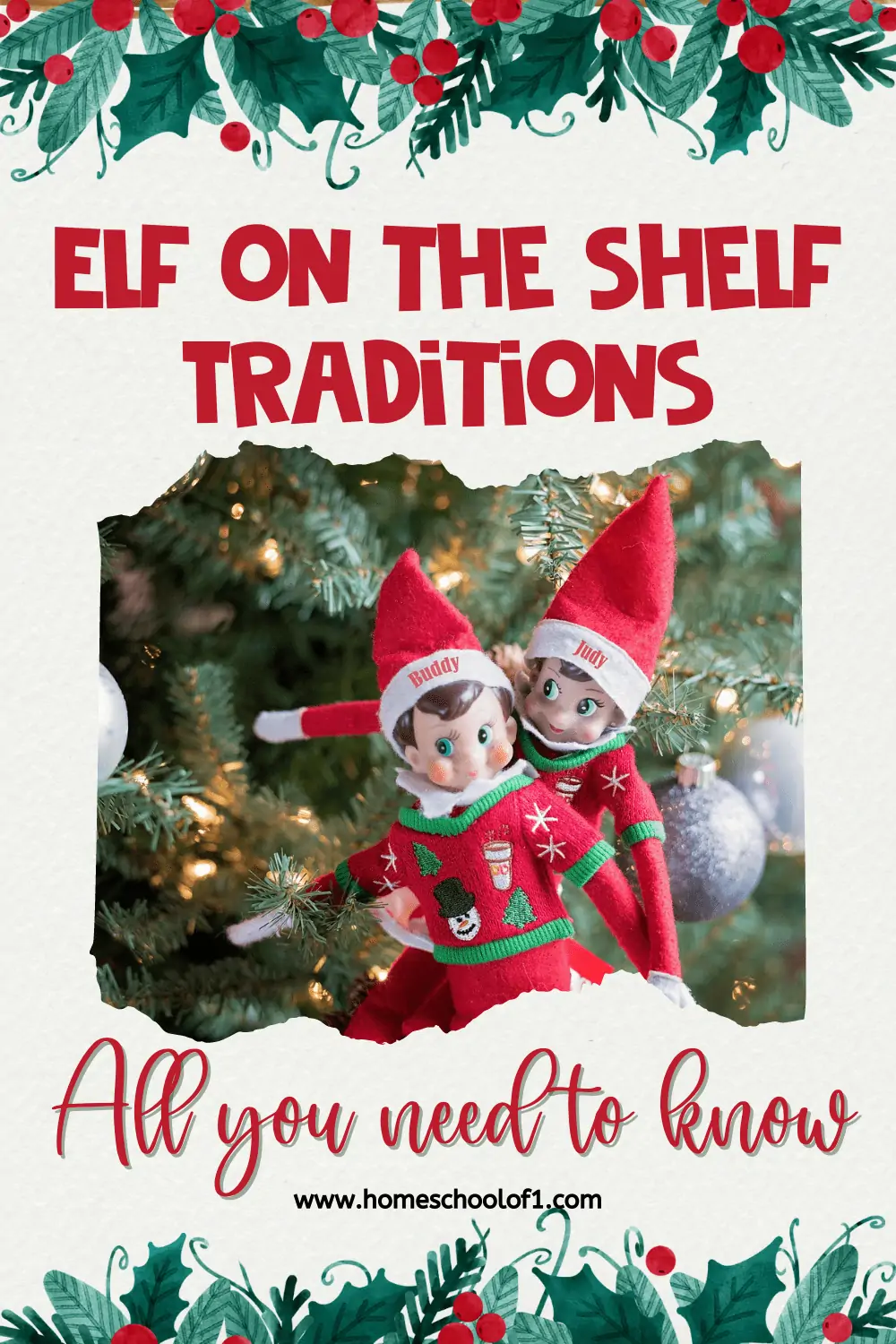 **There may be affiliate links in this post. You can read my full disclosure at the bottom of the page.**
Elf on the Shelf 101
Ever wondered about the magical helpers that make Christmas so amazing? Meet Santa's scout elves, famously known as Elf on the Shelf! These little elves have a big job, they're like Santa's eyes and ears, and they visit homes all around the world.
Starting from the 1st of December, the scout elf will keep a close watch on how kids are behaving. They hang out in different spots each day and night, flying back to Santa Claus to give him reports on the good deeds and not-so-good deeds they've seen. And guess what? Every morning, you get to have a fun adventure trying to find where they've landed next.
So, when you see those mischievous little elves during the holidays. You'll know that they're spreading Christmas cheer and helping Santa make sure everyone's on the nice list!
Elf on the Shelf Arrival Ideas
As I am a bit super crazy for Christmas we start the festivities around mid-November!! In fact, we have an Elf on the Shelf Halloween too!!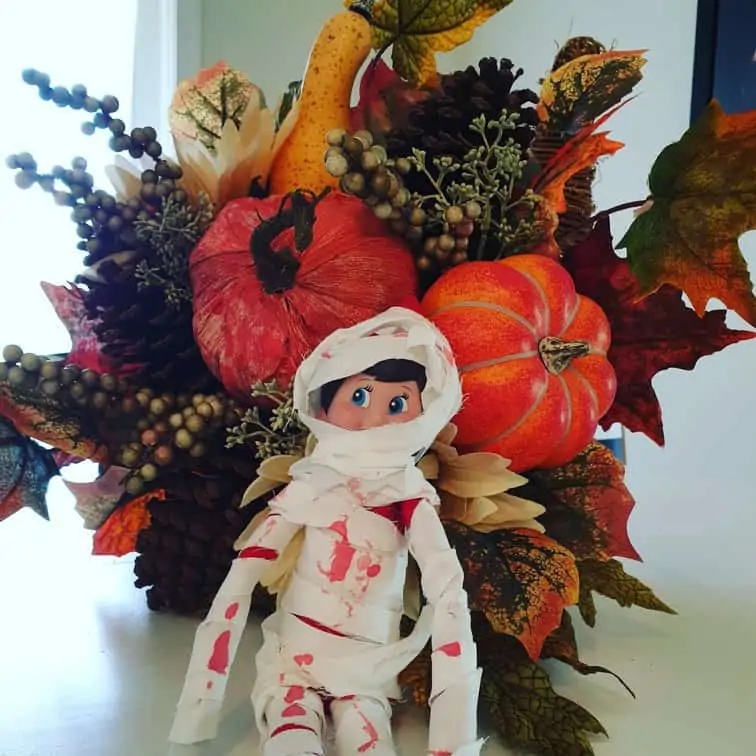 We create an Elf door under construction printable where there are workers getting the elf door ready! Below is last year's effort! As you can see we take it fairly seriously!!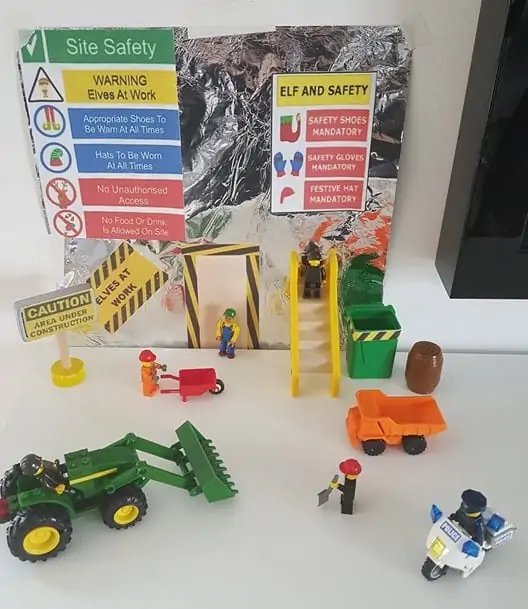 The Elf on the Shelf door then magically appears on the 1st of December with the arrival of the Elf for Christmas. Along with our Elf on the Shelf arrival letter printable!
Check out even more free printable elf props
Naming The Elf on the Shelf
The first year your elf on the shelf arrives you ask your child to name the Elf.
We have a number of different elves and we also have a traditional Elf on the Shelf. These are the top 20 scout elves' names.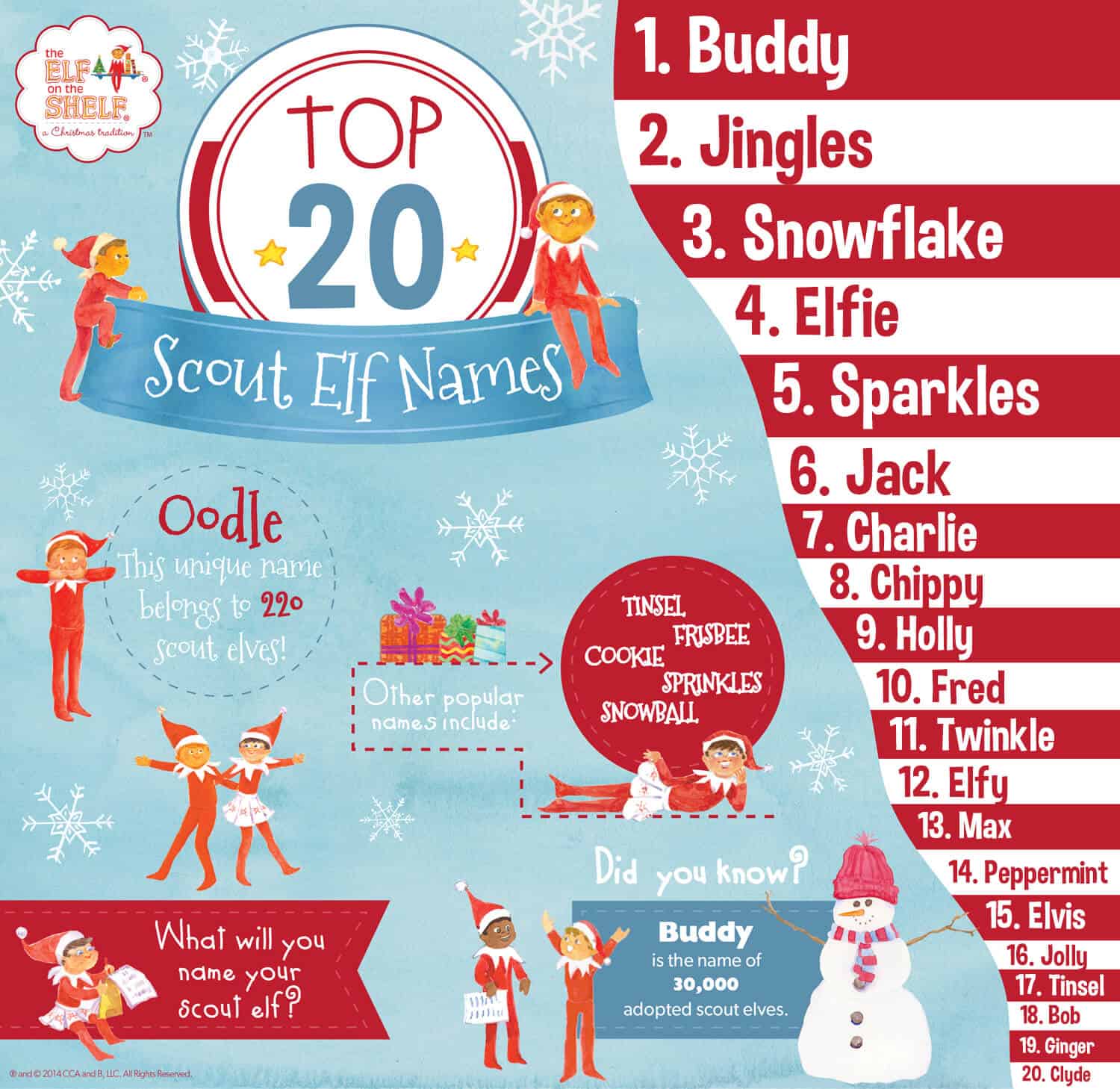 Our son decided on Twinkletoes for his first main Elf. But we also have Sparkles, Snowflake, and the others we have are not named! Thank God as it is so hard to keep remembering all the names of his invisible friends and teddy bears as it is!!!
What is the North Pole Breakfast?
With the arrival of the Elf for Christmas, we have a big celebration called a North Pole Breakfast.
This is where the elf creates a magical little party with lots of naughty Christmassy food.
He also invites some of my son's friends to join in the party! Before he started school we would do this on December 1st but now he is at school we do it on the nearest weekend before the 1st.
We use special straws and create lots of unhealthy and healthy treats.
Elf Behaviour Cards
With the arrival of the Elf for Christmas, we use an Elf report card printable. Each night we leave one of these notes by our son's bedside saying whether the Elf thought he had been a good boy or a naughty boy that day.
The Elf on the Shelf works really well. The thought of Santa thinking he had been naughty in the run-up to Christmas works really well! We believe that this daily reminder encourages great behavior and reminds him to be kind every day.
If he has been super good we might leave a little present from the elf such as a little chocolate bar. For even more suggestions check out our favorite Elf on the Shelf gift ideas.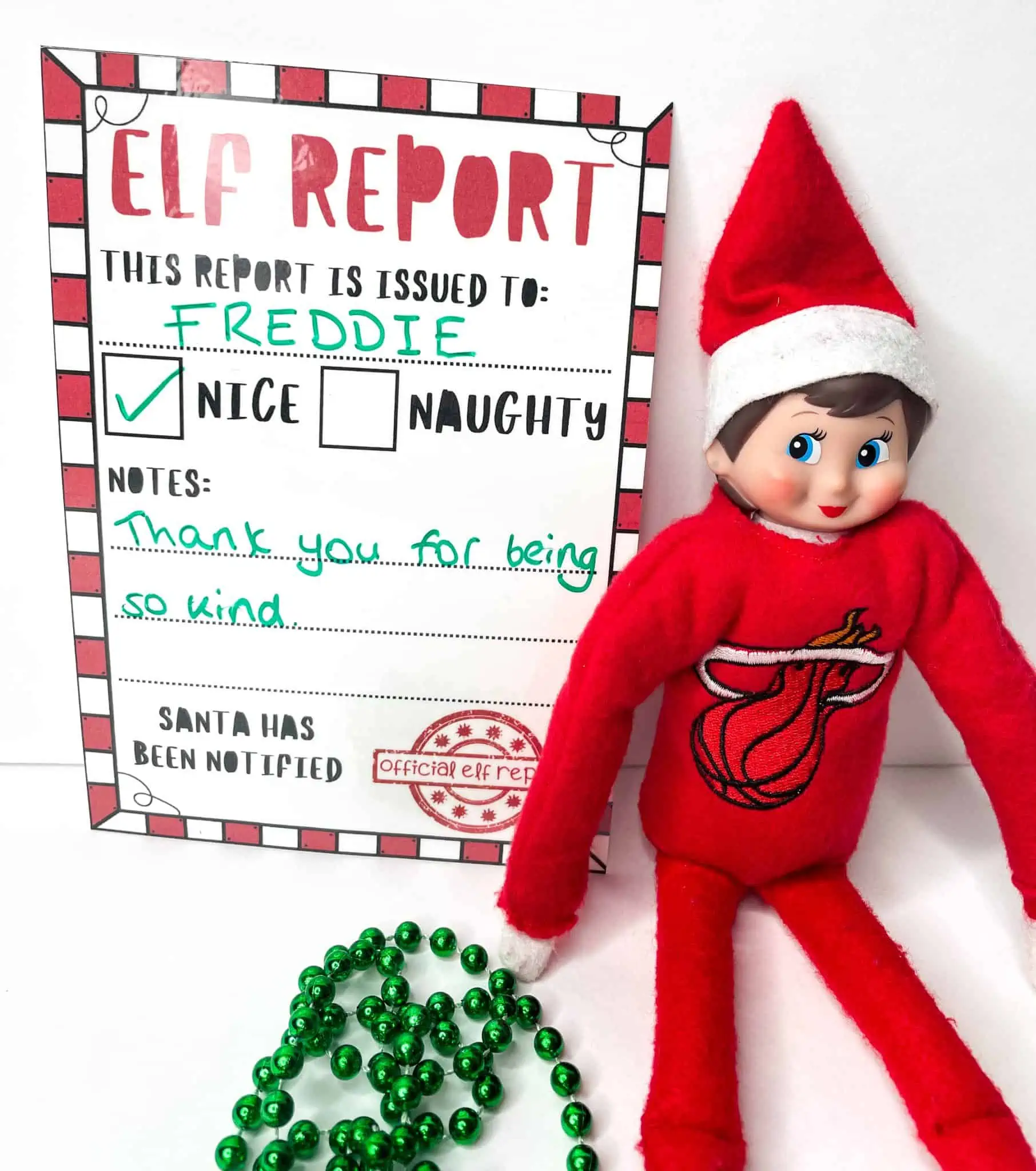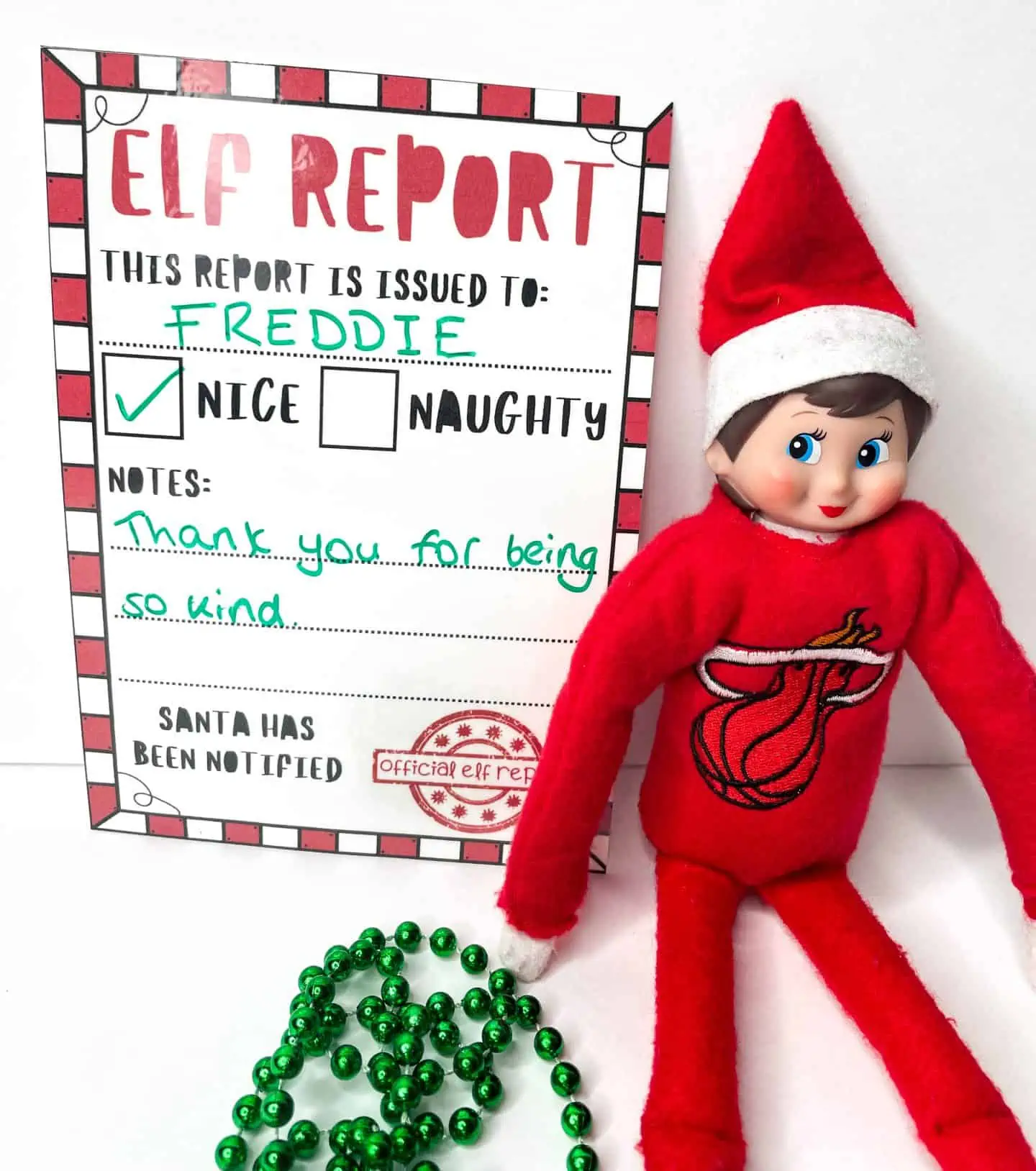 Elf on the Shelf antics
Our Elf for Christmas is a good elf and as such isn't naughty. We have lots of friends though who have a naughty elf who wraps the television up in wrapping paper, or rolls down the stairs in a toilet roll!!
On the last day of November while our son is sleeping we change his bedding to a Christmas duvet. We also change ours. This is one of my favorite Elf on the Shelf antics.
So when he gets into our bed in the morning his little face lights up as he knows it is time for the fun to begin!
Every year we decide to buy the best Elf on the Shelf accessories, depending on what our son loves at the time. Currently, we have a Harry Potter costume and a Miami Heat one!
What are the Elf on the Shelf rules?
The Elf on the Shelf tradition is that the Elf should not be touched or they will lose their magic. Which means they can't fly back to report to Santa each night. But this is your tradition, you can make whatever rule fits your family.
My son is now 13 and would still not touch Twinkletoes!! I mean of course he "knows", but it's just part of our tradition.
Now what this means for you as parents (or teachers) is every night you need to move the Elf to a new location!
How to introduce elf pets?
Introducing Elf Pets to your family is an exciting moment that can deepen your holiday traditions:
Begin by gathering everyone together for a special family discussion. Take the opportunity to explain that Elf Pets are magical helpers just like the scout elves, here to make Christmas even more enchanting.
Encourage each family member to choose a unique name for the Elf Pet, fostering a sense of connection and individuality. As you position the Elf Pet alongside the scout elf, you'll illustrate their shared role in spreading holiday cheer.
Highlight the significant role of Elf Pets in generating the festive atmosphere that brings Christmas to life. Engage your family in reading Elf Pets stories or crafting your own tales, integrating these furry companions into the heart of your celebrations.
With your scout elf and Elf Pet working together, you're in for double the excitement and wonder this holiday season. Embrace the joy of both enchanting traditions and create cherished memories for years to come.
Elf Pets: an Arctic Fox Tradition, White
Elf Pets Figures Multipack
The Elf on the Shelf Cabin Playset
Elf Pets: A Saint Bernard Tradition- Includes Beautifully Illustrated Hardbound Storybook, Huggable Elf Pet St. Bernard Stuffed Animal with Barrel Charm and Official Adoption Certificate
Elf Pets A Reindeer Tradition
The Elf on the Shelf Elf Mates Tri-Pack and Elf Pets Mini Mystery Figure
When does the Elf on the Shelf leave?
The elve's last day is Christmas Eve. On Christmas Eve night they fly off with Santa to help distribute the presents to all the boys and girls.
On Christmas morning when the children wake up expecting to see the elves we always leave an Elf on the Shelf goodbye letter explaining why they have gone.
Check out our top 10 Elf on the Shelf leaving ideas for our favorite suggestions, plus a free Elf yearbook cover.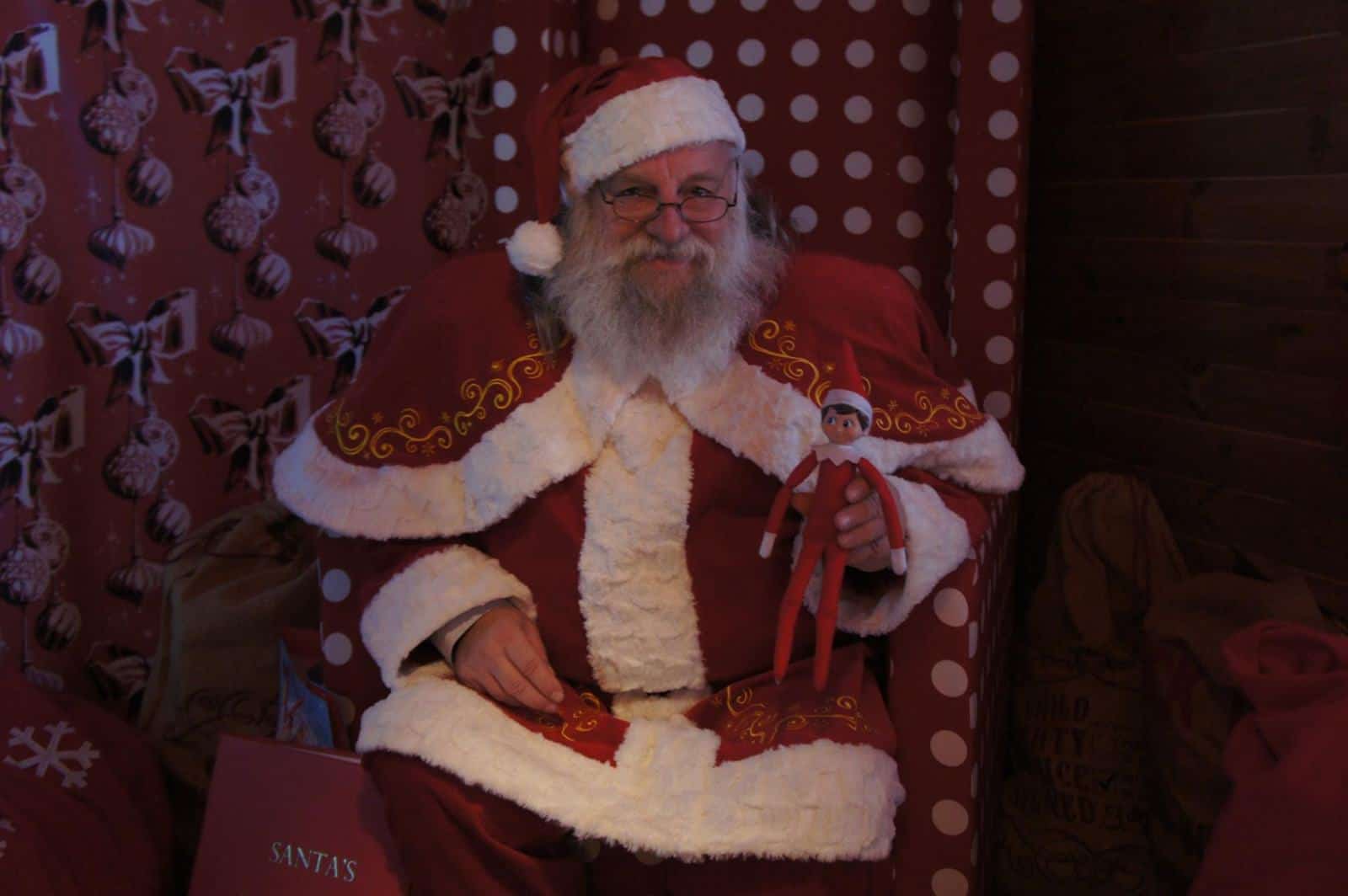 Additional Elf on the Shelf activities
Over the years we have created many free Elf on the Shelf printables that you can enjoy:
Last Updated on 7 November 2023 by homeschoolof1