Free Elf Door Under Construction Printable
We absolutely love the Elf on the Shelf, I mean super love him! He has been visiting us now for over 10 years. At the beginning of November is when the fun really starts, with our elf door under construction printable!
The Elf on the Shelf activities are going to get real any time now, but you can take a bit of time setting up the Elf fairy door.
Hold onto your elf hats, folks, because the beginning of November is like our personal launching pad into a world of pure holiday magic! And guess what? We've got our very own elf door under construction printable to kick-start the festivities!
It's like our very own North Pole construction zone, and we are all in!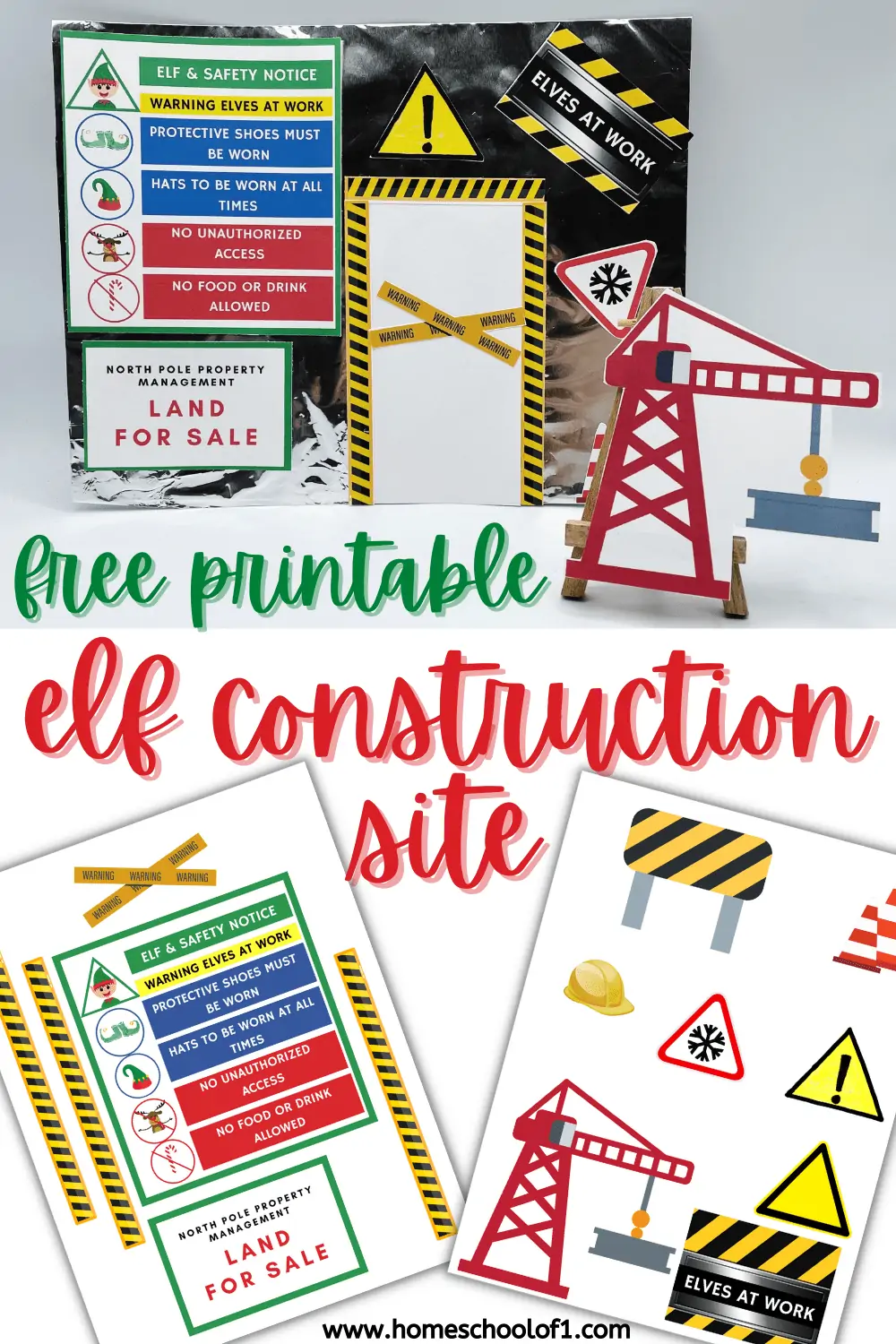 **There may be affiliate links in this post. You can read my full disclosure at the bottom of the page.**
Elf on the Shelf Construction
Are you feeling the anticipation building? Because it's about to get real in Elf Land, and the excitement is practically radiating from our elf door!
Now, I know you might be thinking, "Wait a second, isn't the Elf on the Shelf all about December?"
Well, my friend, let me tell you, we are breaking all the rules and making November the coolest prelude to December's awesomeness!
So, picture this: Twinkling lights, holiday music in the air, and a whole lot of elf-tastic energy!
Before the elf door swoops into action (cue the entrance music), we're setting up this elf construction site bonanza right where the magic will happen.
I know, I know – call me crazy, but I'm the kind of crazy who doesn't give a jingle bell about it!
Alright, let's get those creative juices flowing, shall we? Time to get those printables out into the world!
Here's a little insider elf tip: For the ultimate "pop," those elf props adore the VIP treatment – I'm talking cardstock vibes (yep, the good stuff). It's like giving them a red carpet experience, seriously. But hey, if you're rocking the regular printer paper, that's cool too, elf magic is a universal language, after all!
The Elf on the Shelf Plushee Pals – 17-inch The Elf on the Shelf Scout Elf Plush Toys Blue Eyed Boy- Huggable and Lovable Stuffed Elf Plush
World's Smallest The Elf On The Shelf, Multi
The Elf on the Shelf Search and Find
The Elf on the Shelf Insta-Moment Pop-Ups
The Elf on The Shelf: Letters to Santa – Send Shrinking Christmas Lists to Santa through your Elf- 20 Piece Gift Set Includes Magic X-mas Paper, Mrs Claus' Press, Ribbon Sashes, Markers, and Parchment
The Elf on the Shelf: Meet the Scout Elves (I Can Read Level 1)
Crafting Elf Magic
Hold up, it's about to get crafty up in here! Grab some aluminum foil – yes, you heard me right – and give your cardstock a snazzy makeover. You can totally channel your inner artist with an empty Amazon box or a sturdy sheet of cardstock – your choice, your creativity, your magic!
Now, precision is key, my friend. Armed with your trusty paper trimmer, slice and dice those printables like a holiday ninja. And remember, there's more to the party! With a bit of leftover cardstock, you can craft your very own door shape. It's like giving your elf setup an exclusive entrance – talk about swanky!
Are you ready to make some holiday memories? Because here's where the glue stick comes into play, and your creativity takes the spotlight. Let your imagination run wild as you bring the elf construction site to life.
Oh, and speaking of setting the stage, those trusty tripods are like the elves' best-kept secret. They're the real MVPs behind our epic elf setups – just check out that crane action!
So, my festive friend, it's time to roll up your sleeves, get your hands sticky with glue, and immerse yourself in the world of elf construction wonder.
The free elf construction site printable is waiting for you, and it's ready to take your holiday decorating game to legendary heights. Dive in, let your imagination soar, and let the magic unfold!
Miniature Yellow Outdoor Handpainted Garden Fairy and Elf Doors with Fairies Accessories Lamp Fairy Tiny Fence and Little Wooden Bike (Yellow)
Haooryx 16Pcs Christmas Magic Wooden Miniature Fairy Doors Accessories, Christmas Elf Magic Door for Wall Fairies Magical Door Decoration Christmas Party Outdoor Xmas Decor (Bevel Angle Doorframe)
21PCS Christmas Fairy Door Kit With Accessories Mini Wooden Fairy Door for Wall Elf Tooth Fairy Kit Stick on The Wall Tiny for Fairy Learning DIY Craft Activities Christmas Gift for Kid (C-Plus)
Fairy House Door Elf Door Albus Magical Tooth Fairy Door Handmade Wooden Fairy Door…
9 Pieces Christmas Red Elf Magic Girl Fairy Doors Decorative Set Miniature Tiny Wooden Tooth Fairy Door Mini Xmas Elves Decorations The Santa's Elves Door Decor for Party Accessories (Classic Style)
20 Pcs Christmas Elf Girl Fairy Doors Decorations Door Enchanted Fairy Doors Tiny Outdoor Xmas Decor Wooden Tiny Miniature for Child Xmas Accessories Fairy Tale (Red Door)
Grand Elf Transformation: Elf Door
Hold onto your candy canes because we've got a master plan for keeping the elf magic alive and kicking! Our enchanting elf construction site isn't just a one-night wonder – oh no, we're talking about weeks of festive fun.
Picture this: our dazzling elf construction site takes center stage, delighting young and old alike, from the moment we unveil it until the night before our jolly elf's big entrance.
That's right, we're not rushing this masterpiece – it's a holiday showstopper that deserves the spotlight for a good while.
But, as they say, all good things must come to an end – well, sort of. The night before our elf's grand debut, we sprinkle a little extra magic and replace the construction scene with something equally enchanting – just the Christmas elf door.
It's like transforming the set of a blockbuster movie into a cozy, magical nook, primed for our elf's spectacular arrival on December 1st.
Now, brace yourselves, because the ultimate grand finale is in the works. As Christmas Eve dawns, the magic elf door bids adieu.
But wait – we're not about to leave anyone hanging! We leave behind an Elf on the Shelf goodbye letter, a heartwarming note that gently guides the children through this transition. It's like wrapping up a magical chapter and opening the door to an even more magical future.
So, there you have it – our holiday playbook for keeping the enchantment alive, the giggles flowing, and the wonder blooming.
The elf construction site is our canvas for festive creativity, leading up to the grand reveal of the elf door. And when it's time for our magical friend to embark on his Christmas journey, that goodbye letter seals the deal, leaving hearts aglow with memories and excitement for the holiday magic yet to come.
Other Elf printables
Have even more fun with these elf on the shelf ideas:
Download the free printable elf door construction
Make sure you choose the correct paper size and click on the shrink to fit button. All of our free printables for kids work better when printed on cardstock (this is the one we use and love.)
Last Updated on 21 August 2023 by homeschoolof1