Free Printable Elf on the Shelf Hat
If you have the Elf on the Shelf visit you are going to need these Elf on the Shelf hat printables.
Why? Well if you are anything like us you struggle to know what to do every day, and their antics can be really expensive!
Take it from someone who knows! We have had the elf on the shelf visit now for about 9 years, and they will continue to come forever!
They are part of our tradition now, and they spend most of December with us! For more traditions and we incorporate the elf check out our Elf on the Shelf 101 post.
These Elf On The Shelf hat printables are probably the best trick we have done, and it was completely free! Download your free hat printables at the end of this post.
**There may be affiliate links in this post. You can read my full disclosure at the bottom of the page.**
Elf Hat Printable
The printout will have 8 red elf on the shelf hats and 4 green ones. As with all of our printables, they print out better on cardstock (otherwise they are a little flimsy).
These are definitely less messy than marker pens (we have tried it all trust me!)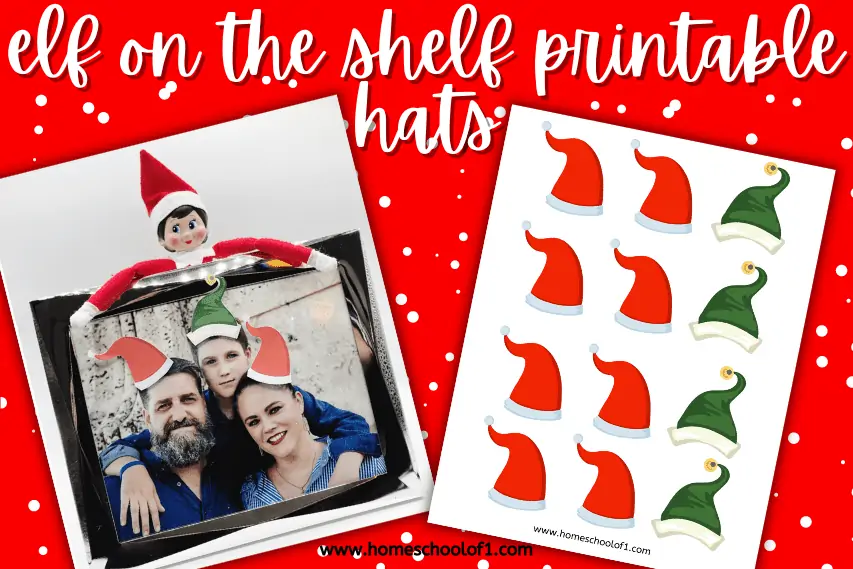 Add the elf hats to as many of your family photos as you can and leave the elf hiding there for the kids to find in the morning.
You can just add the hats to the kid's photos, or maybe as we did, give the kids the green hat so they stand out. But you can choose what works best.
However, I do promise the kids are absolutely going to love this one!
In fact one year we decided to spray paint the window, it was great fun. But definitely more clear up than the elf hats!
For more elf on the shelf antics check out some of our favorites.
I think you will also love these free Elf on the Shelf printables:
Even More Elf Printables?
If you are in a rush and are tired of searching for Elf on the Shelf printables you can purchase all of my printables for a small fee here. There are exclusive printables included not found anywhere else, and 41 pages to print!
41 pages are included in this download including:
North Pole Breakfast Menu (2 pages)
Elf construction zone (2 pages)
Snowman soup (exclusive)
Elf Kisses (exclusive)
Elf notes (3 pages)
Elf scavenger hunt (3 pages)
Elf memory game
Elf games
Elf hats
Elf on the Shelf word scramble (3 pages)
Elf names word search (2 pages)
Elf coloring page (8 pages)
Elf arrival letters (5 pages)
Elf goodbye letters (2 pages)
If I were an elf writing activity (1 page)
Elf yearbook cover (2 pages)
Download our Free Elf on a Shelf hat printables
Make sure you choose the correct paper size and click on the shrink to fit button. All of our free printables work better when printed on cardstock (this is the one we use and love.)
Last Updated on 28 November 2022 by homeschoolof1