15 Easy Elf On The Shelf Antics When You Have No Time!
We have had our Elf on the Shelf visiting us now since 2013. We all really look forward to his arrival as we know it must be nearly Christmas. Check out our all-time favorite free easy Elf on the Shelf antics.
If you're looking for delightful and engaging Elf on the Shelf activities, you'll love our collection of free and easy antics!
These hardly take any planning and are great for busy moms!
Our elf is a good elf, and after he has reported back to Santa every night he comes back in a different position in the house. Our son loves going to find him, and often he is doing something fun or bringing him something to do.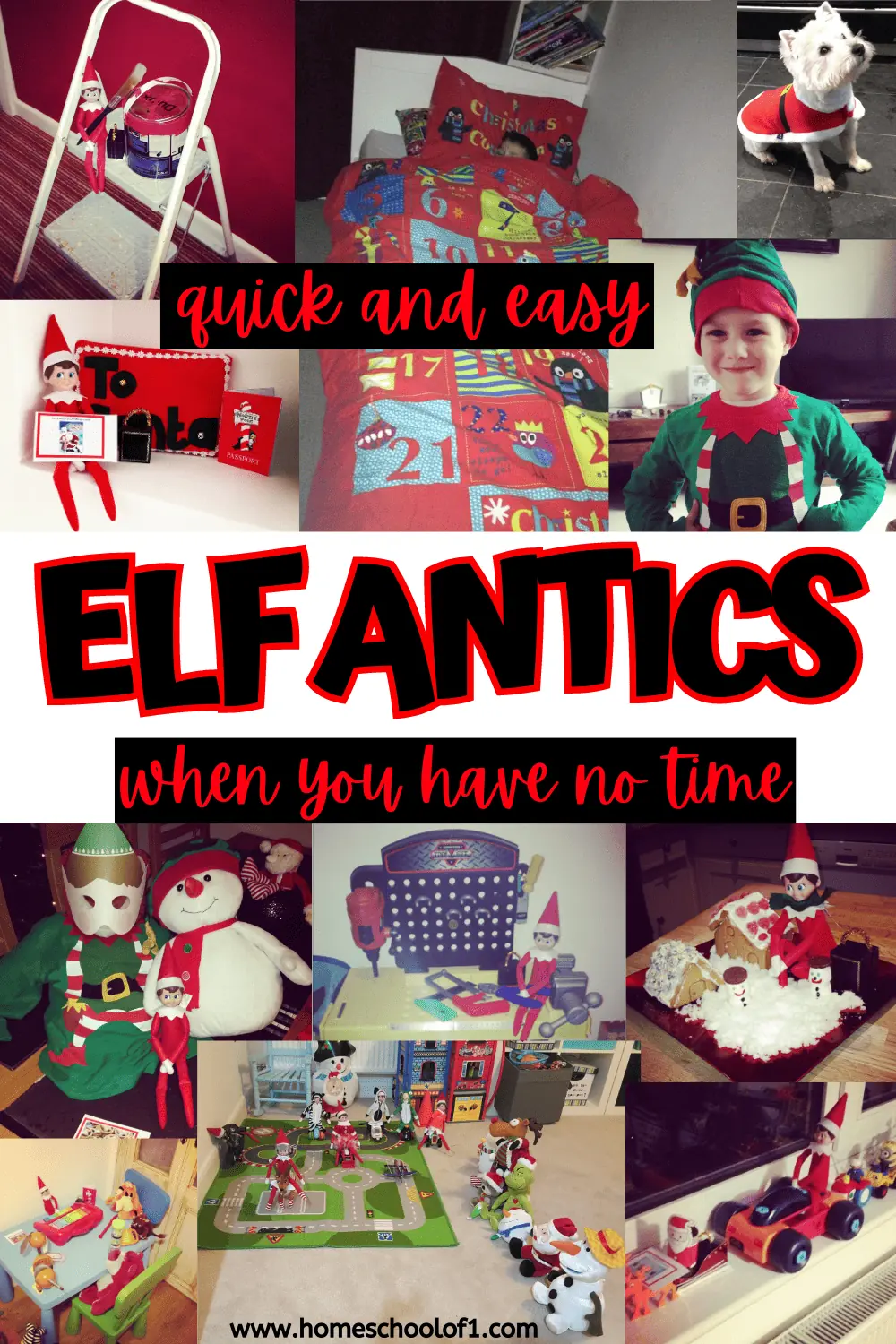 **There may be affiliate links in this post. You can read my full disclosure at the bottom of the page.**
Easy Elf On The Shelf Ideas
Coming up with creative and fun ideas for your Elf on the Shelf can be a challenge.
That's why we have compiled a list of easy Elf on the Shelf ideas to help you keep the tradition alive without adding any unnecessary stress to your holiday season.
With these simple ideas, your Elf on the Shelf will be sure to bring joy and laughter to your family this holiday season.
Elf on the Shelf Arrival Ideas
The party starts in mid-November with the elf door under construction printable popping up out of thin air! It's like a little Lego wonderland, and even though it takes some time to set up, it's totally worth the effort. But hey, the rest of our antics are a breeze!
We have also created an Elf on the Shelf arrival letter free printable to explain what is happening.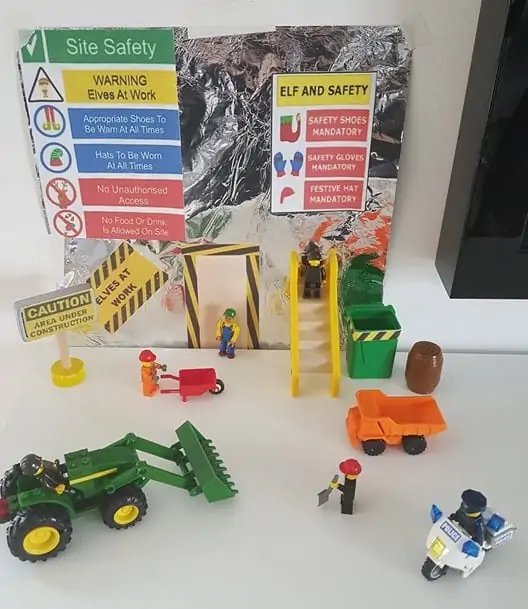 Elf on the Shelf Bedding
Imagine waking up on the first of December to find all your bedding magically transformed into Christmas wonderland goodness! Yeah, our Elf has some serious magic powers, and it makes our mornings so much more festive!
This is fairly difficult to pull off, but clearly, the elf has magical powers!
It's like sleeping in a cozy North Pole cottage!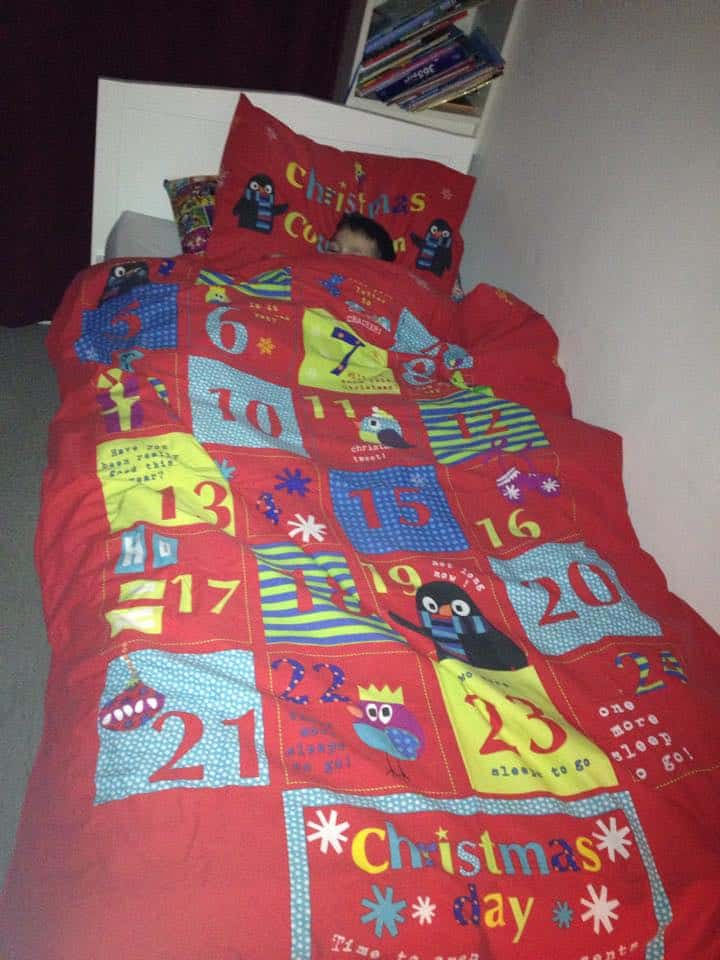 Elf on the Shelf Clothes
You think our Elf just hangs around looking cute? Nah, he's got a whole wardrobe that'll put ours to shame!
Last year, he rocked a Harry Potter sweater, and let me tell you, it was epic! This Elf is a true fashionista!
Pssst, check out our latest post on the best Elf on the Shelf accessories for some style inspo!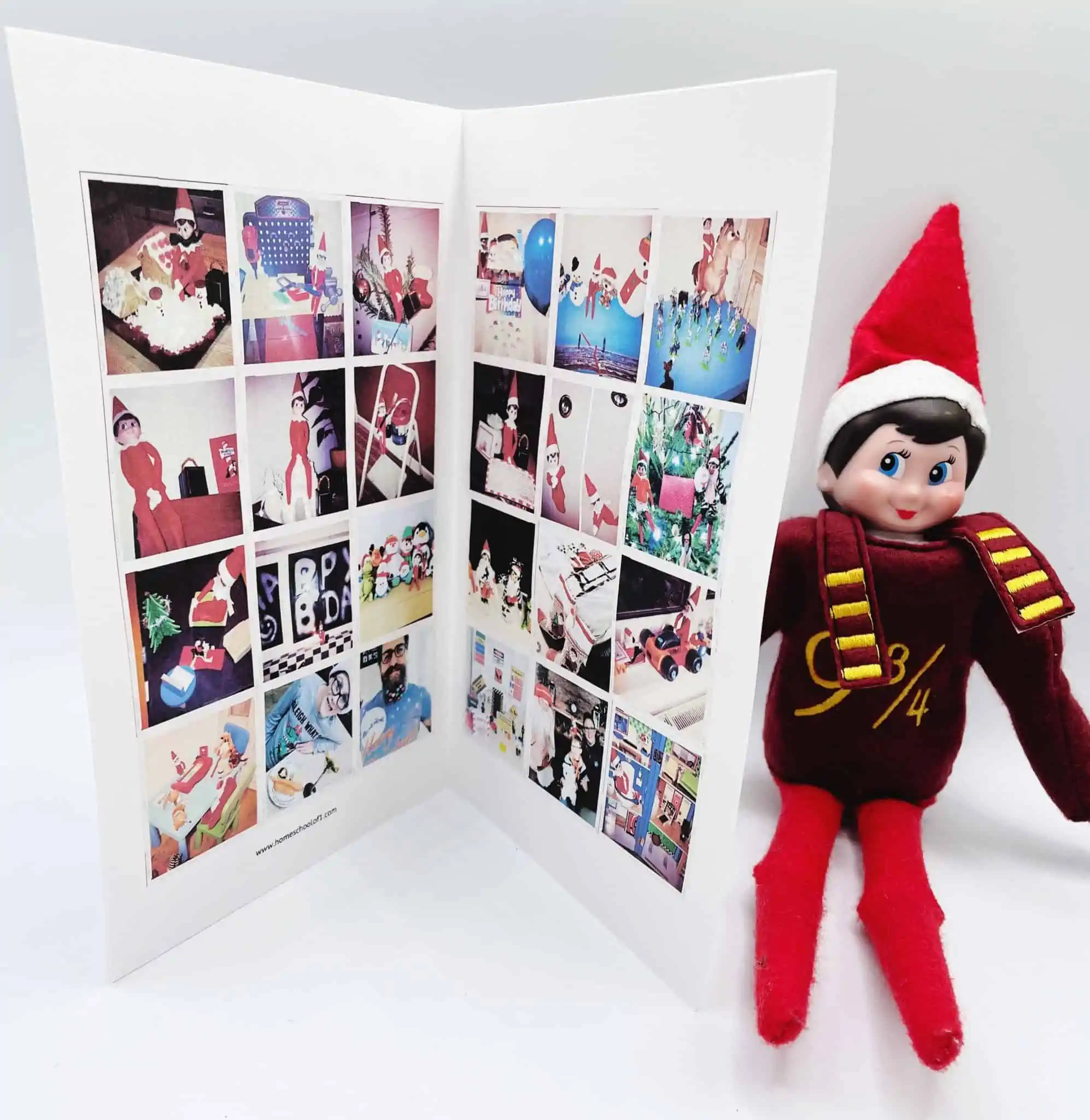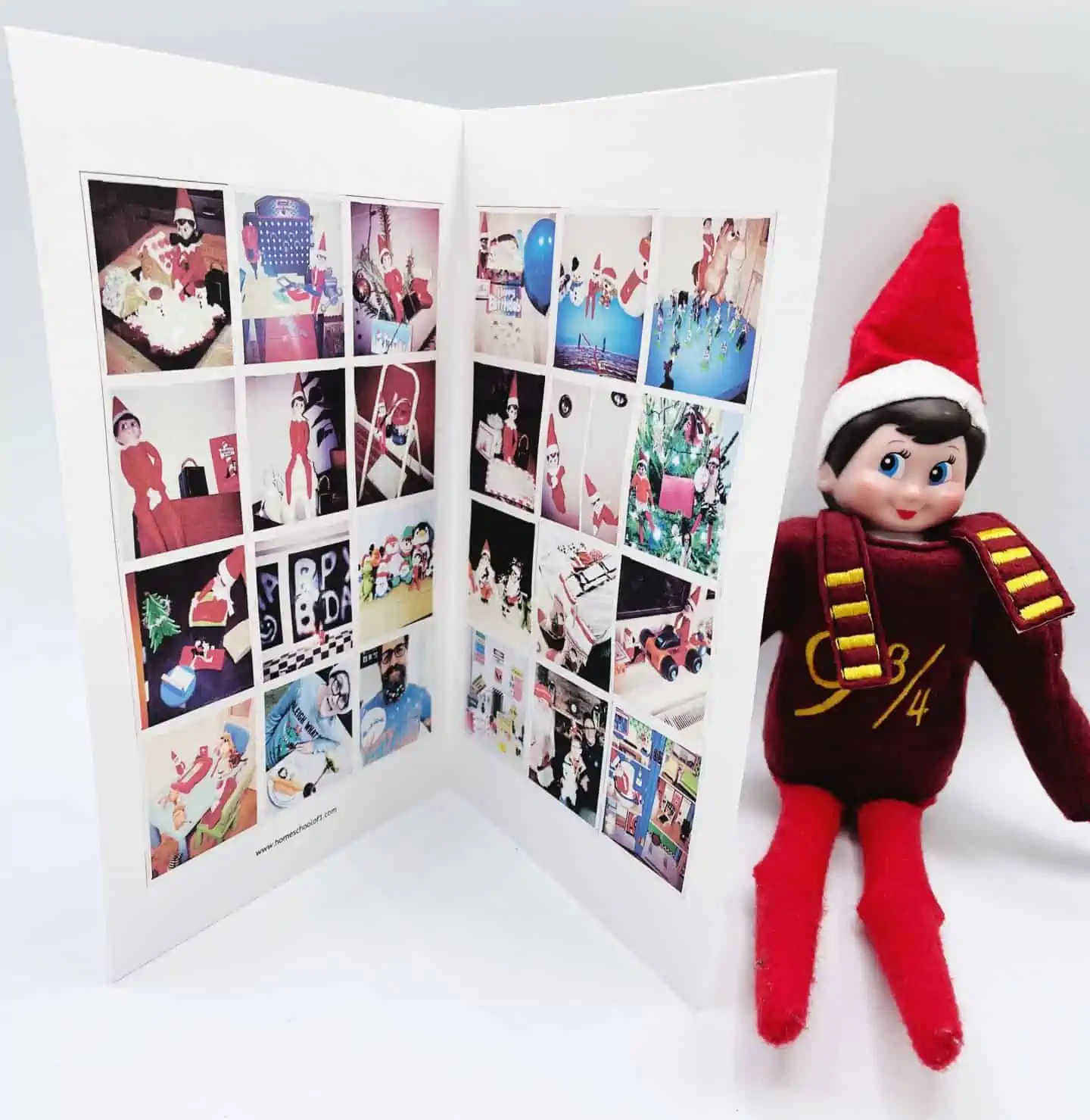 Elf Hats
For funny Elf on the Shelf ideas, you are going to love these Elf on the Shelf hat printables and add them to all of your family photos!
Elf hat on, camera's ready, and say "cheese" it's photo time!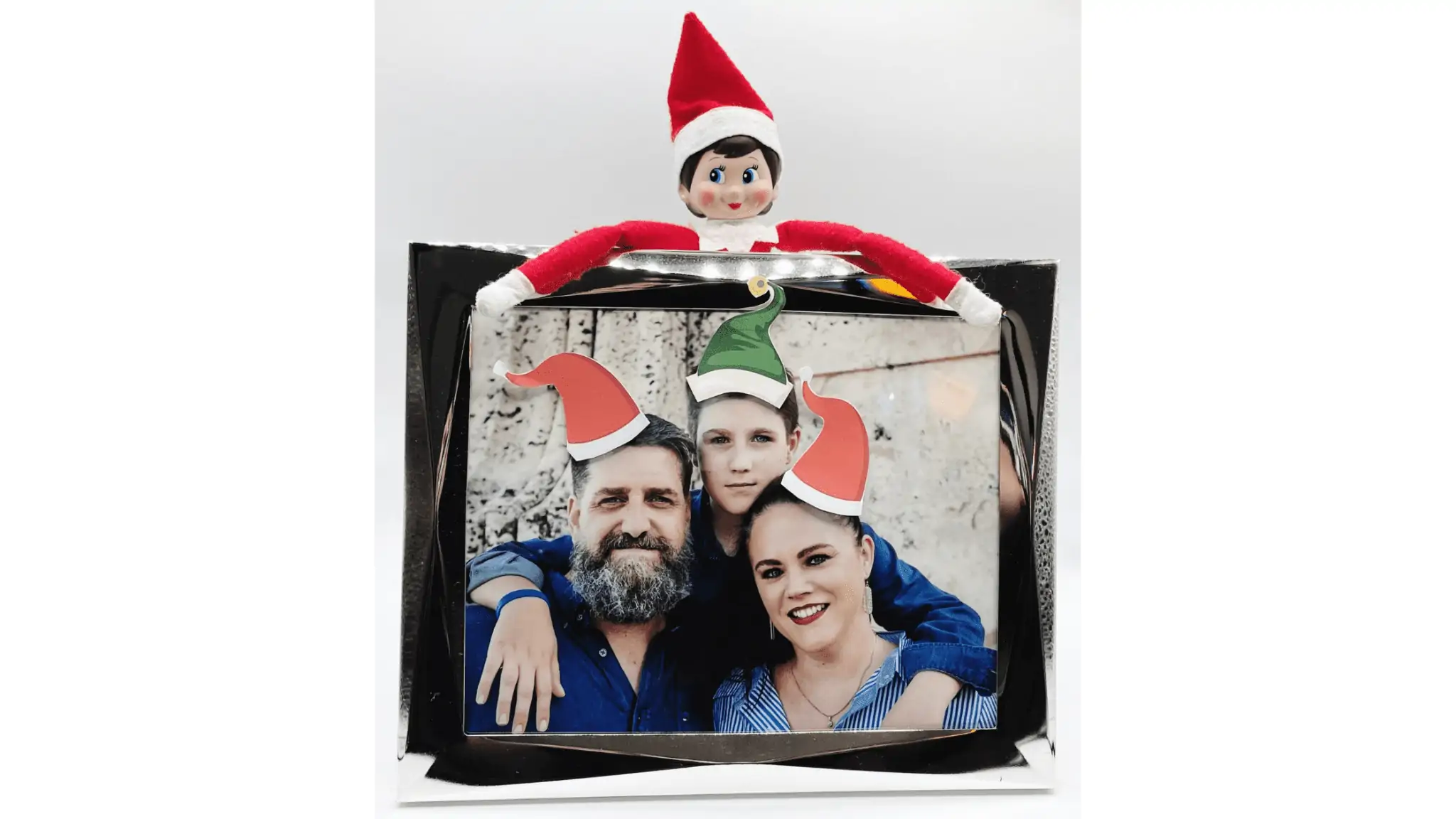 Santa Wish List
Towards the beginning of December, the elves bring along Santa wish lists. This is for my son to fill out so they can take it to Santa that evening.
We put it in a special Santa envelope that we made with some felt. if you don't have time Etsy has loads.
Time to make those Christmas wishes known!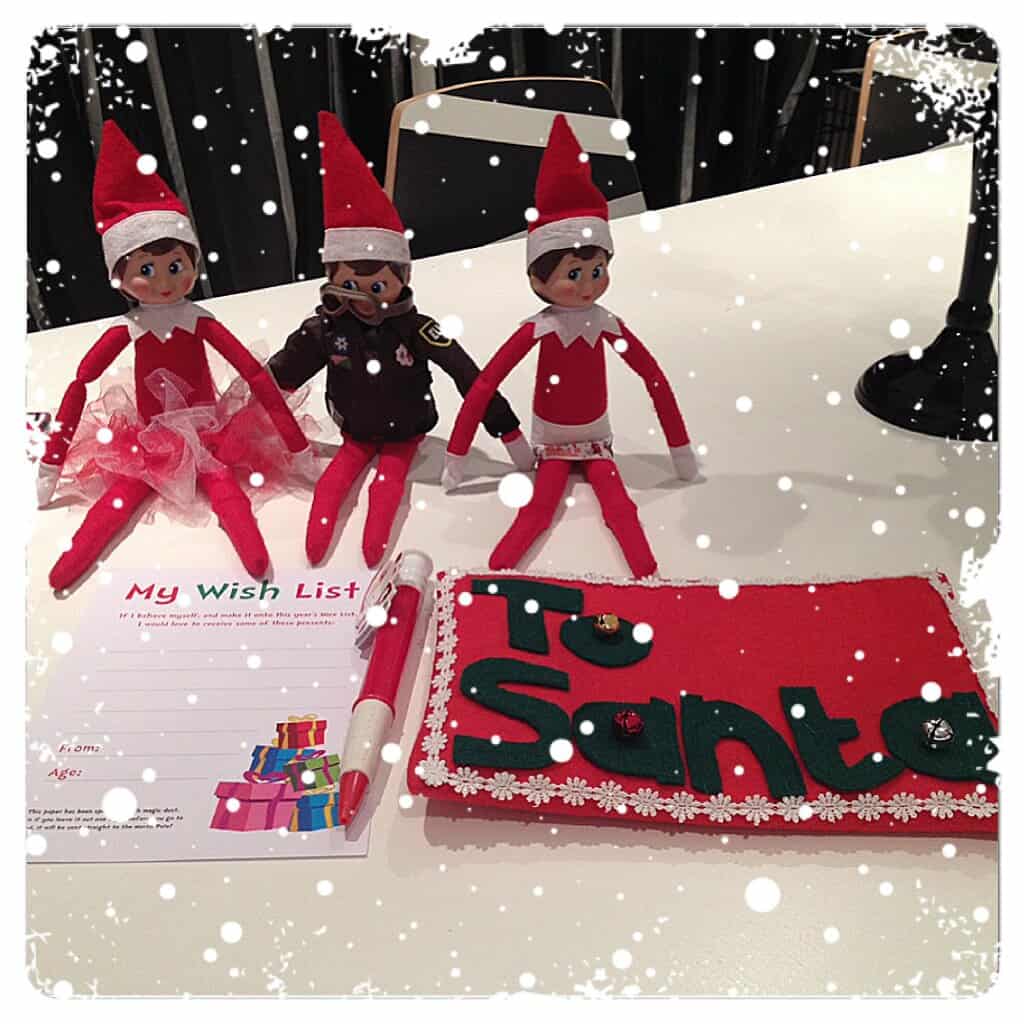 Spray Painting the Windows!
Our Elf knows how to throw an epic birthday surprise!
For my early December birthday, he goes all out, leaving a massive "Happy B'day" message on our windows with washable spray paint. Not as messy as it sounds, promise!
Get some fake snow here.
Elves playing in a band
This is a quick and easy elf antic. Set up some teddies and place musical instruments in front of them!
Get ready for the cutest concert you've ever seen!
Elves feeling at home
After we've made gingerbread houses for our North Pole Breakfast, our Elf takes the leftovers and creates a cozy North Pole setup.
Complete with a suitcase made from an old ring box! It's the cutest thing ever, and the snowman marshmallows make it even more delightful.
A couple of years ago I made the elf a suitcase out of an old ring box and added some sparkly pipe cleaner for the handle!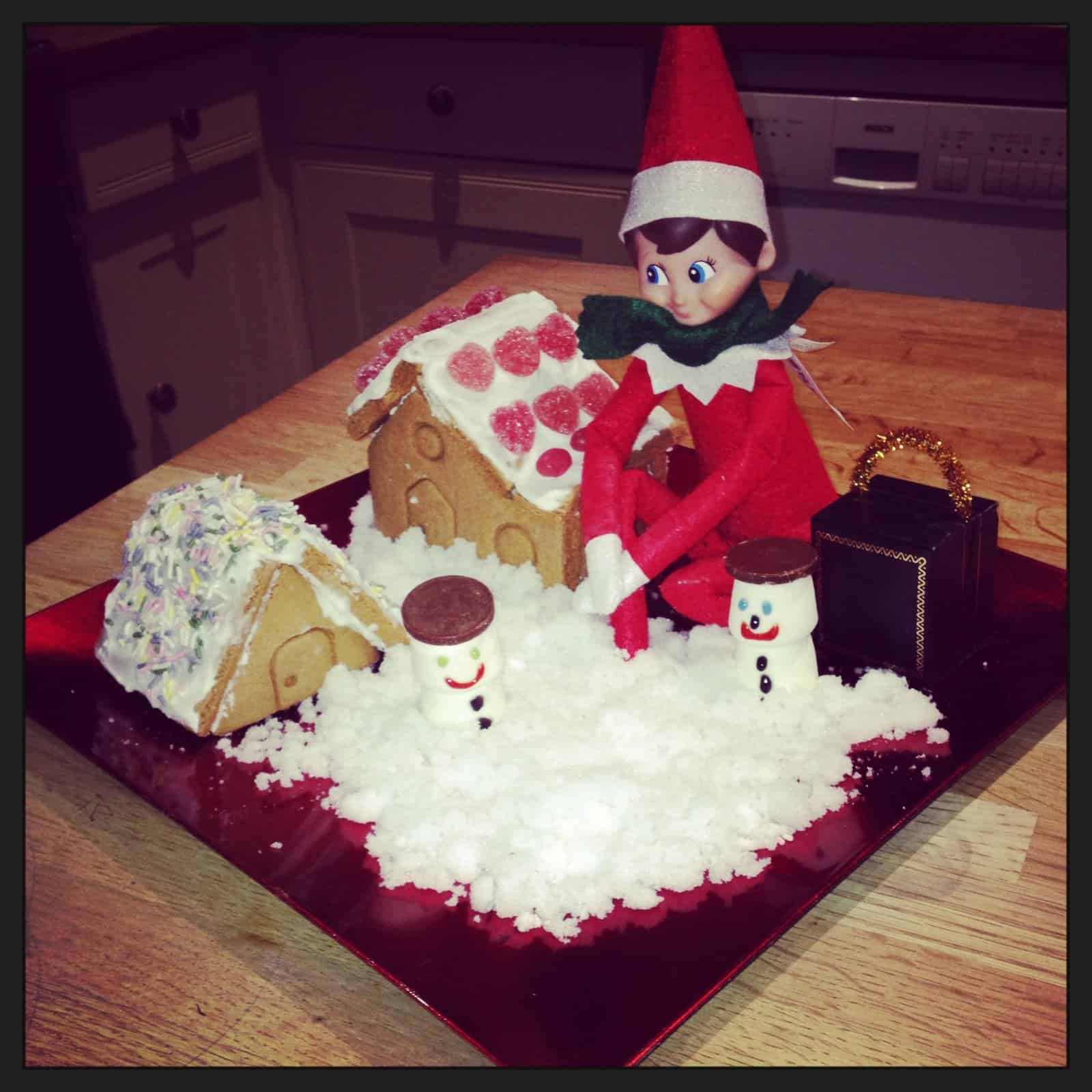 Elf Race
Hold your reindeer! Our Elf crew is on a wild race using road map rugs, reindeer toy cars, and tractors! We've got quite a bunch of Elves, you see, we're completely mad about them!
Get ready for the Elf Olympics!
Elves Stuck in a Traffic Jam
You think Elves are immune to traffic? Not ours!
They get stuck right in the middle of a toy car traffic jam on our window sill. Poor Elf, trying to get around during the holiday rush!
Santa should invest in Elf-sized teleporters!
Elf on the Shelf Ideas for Kids – Helping Decorate!
Our Elf can't resist joining in on the fun! When we were painting our hall, he grabbed a tiny paintbrush and went to town. It's like he's part of the family!
Elf on the Shelf Note Cards
This one was the Elf on the Shelf telling my son to watch a Christmas movie that day. We don't always do notes from the Elf but one year we did.
You can find some awesome ones on Etsy or you can print out our free printable Elf on the Shelf notes to use.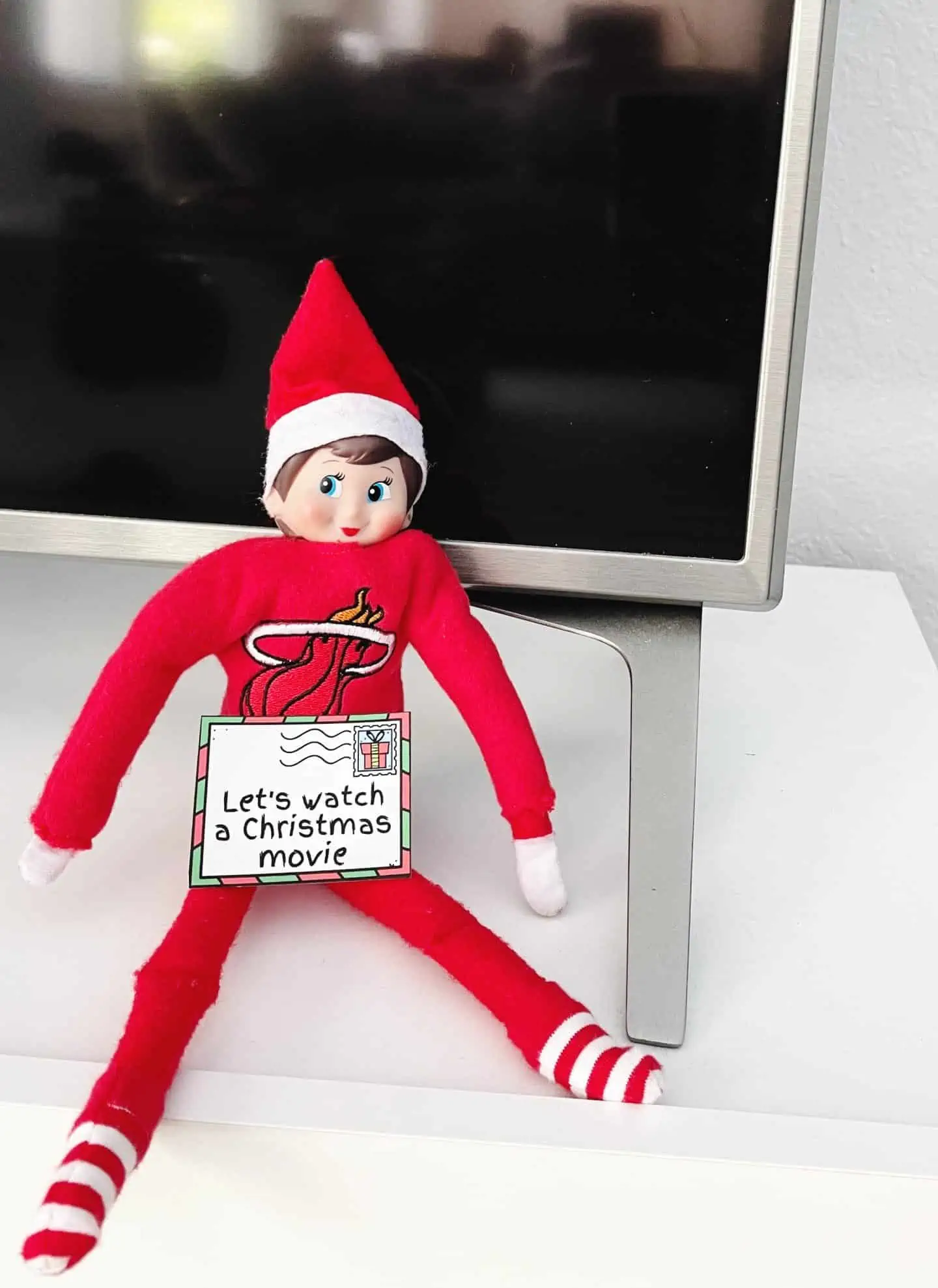 Elf on the Shelf Antics – Doing DIY
Our Elf got the DIY bug a couple of years ago! He decided to have a go with a play toolset, easy peasy Elf style!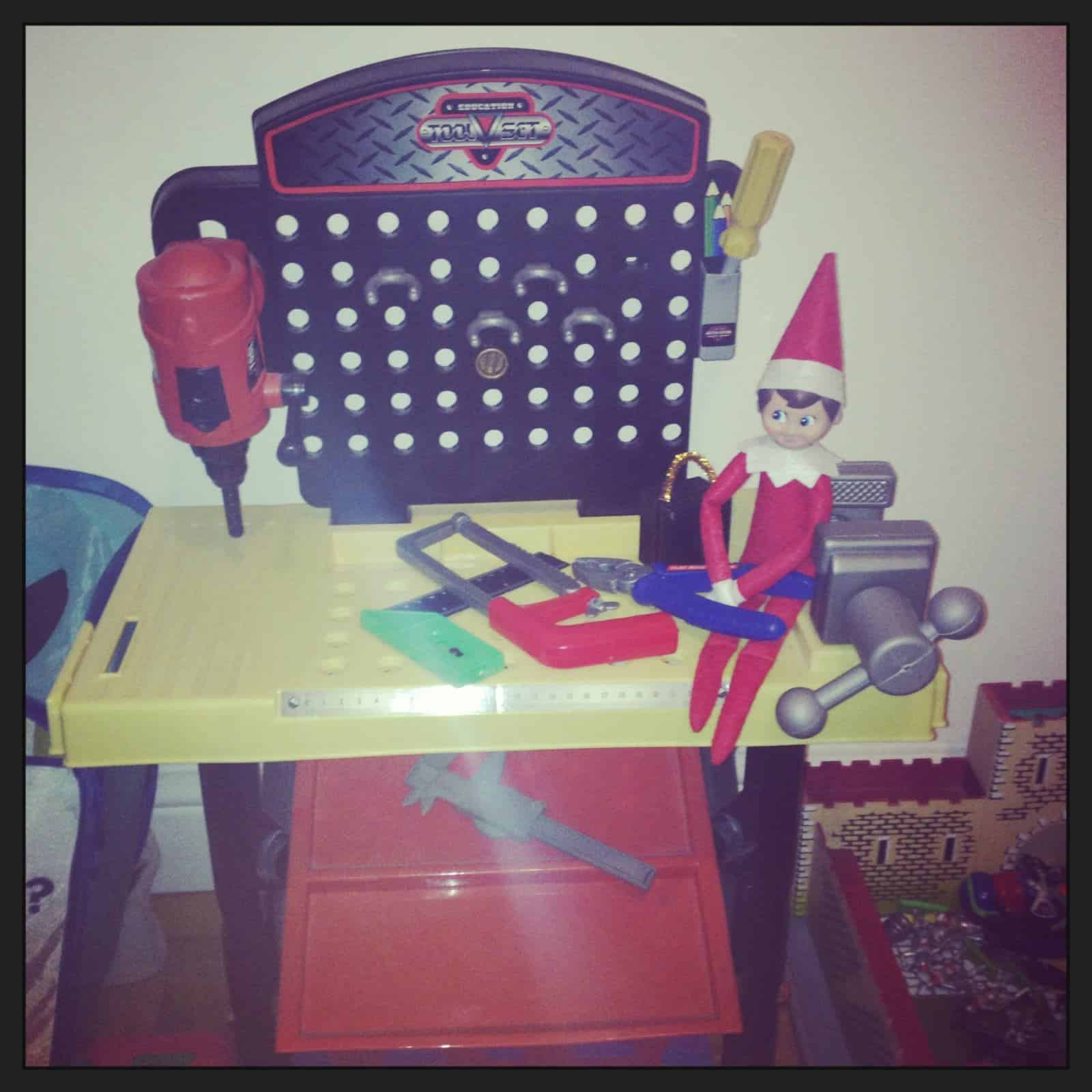 Elf on the Shelf Bringing Christmas Jumpers
On Christmas Jumper Day, our Elf goes all out and surprises us with Christmas jumpers for the entire family, including our adorable doggo!
It's like the ultimate Christmas fashion parade!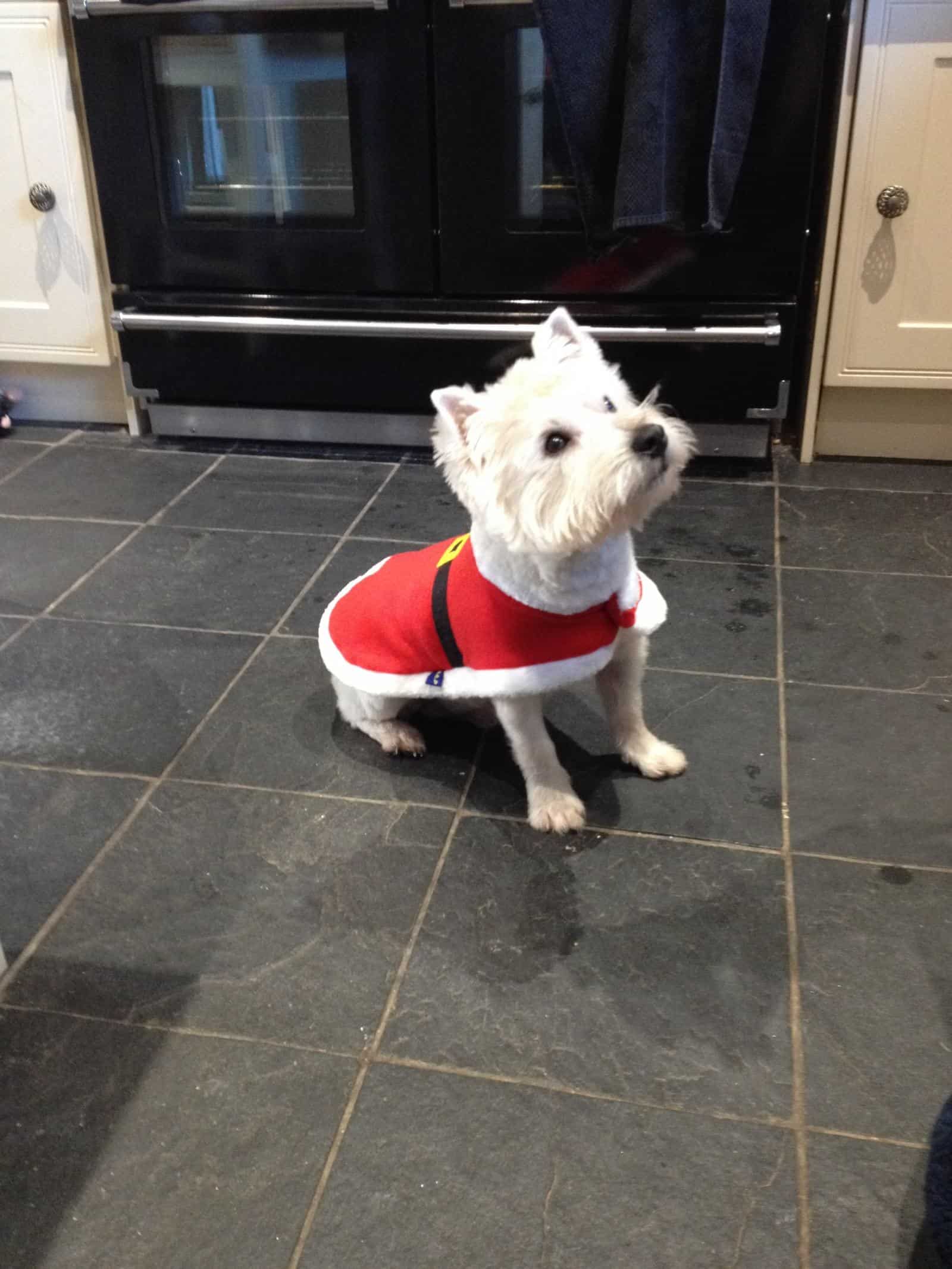 Have fun with an Elf on the Shelf candy cane hunt. Hide 12 candy canes around the house and have the kids find them.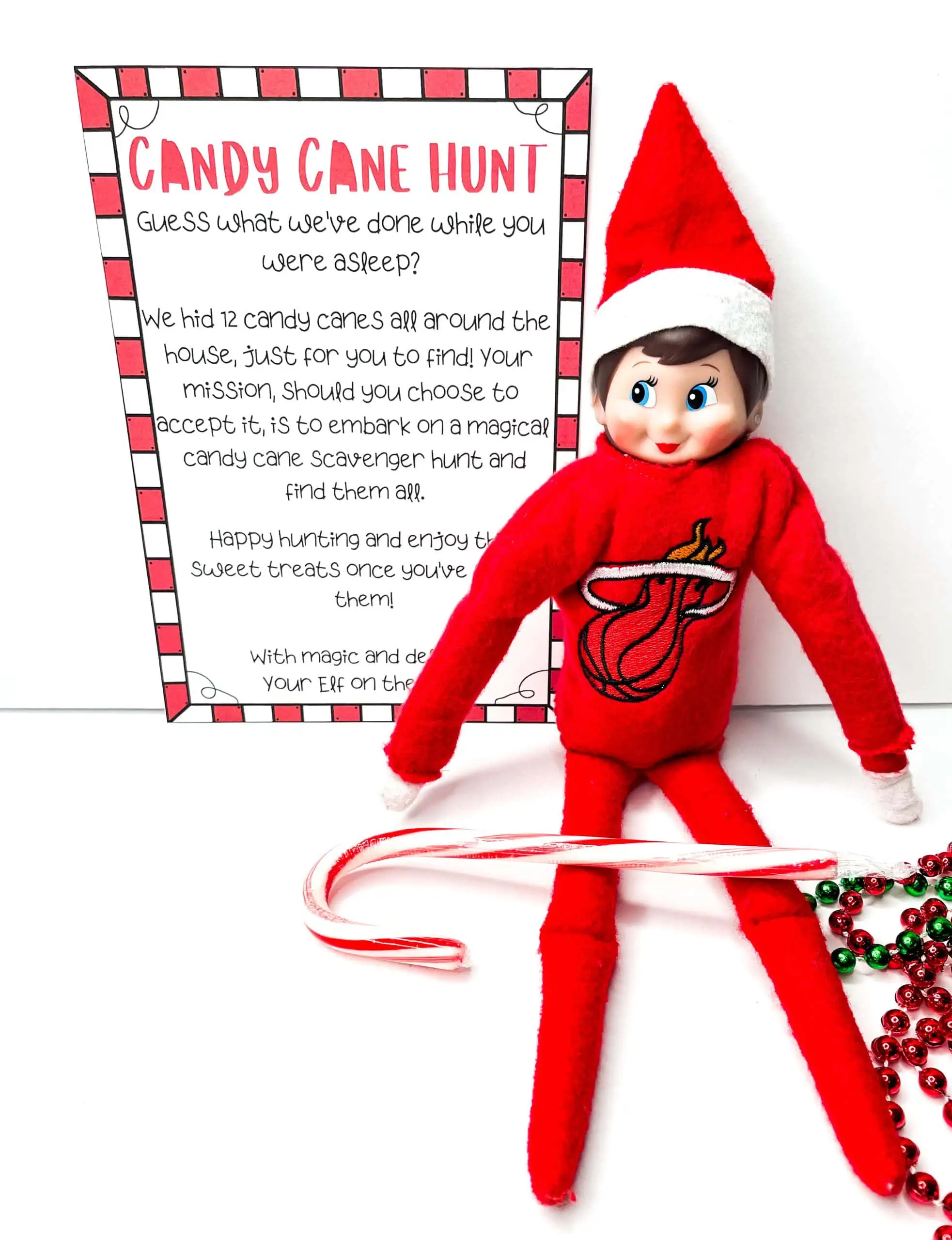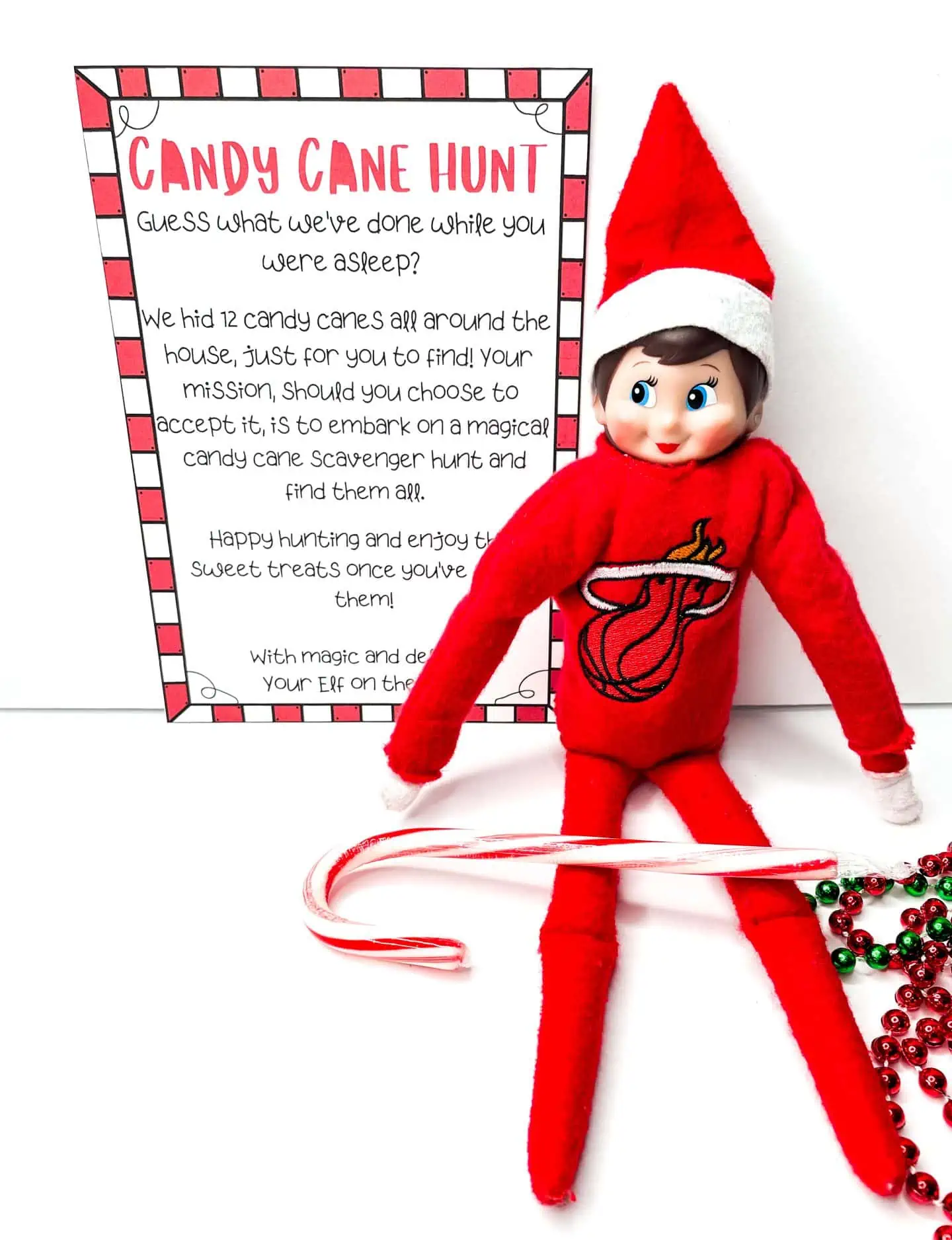 What is your favorite Elf on the Shelf ideas for kids? Please let me know in the comments below. I think you are also going to love these free Elf on the Shelf printables.
Last Updated on 25 November 2023 by homeschoolof1