Free Printable Homeschool Planner: Stay On Track This Year
Are you starting to plan for the new upcoming school year? This free printable homeschool planner is going to help. There are 13 pages of everything you are going to need (and more!) to have the best homeschool year ever.
This is one of the hundreds of free homeschool printables we have to share.
This free homeschool planner is super colorful and you are going to love being super prepared.
A homeschool planner with lots of free space is crucial, and I think you will agree there is a lot of extra space for notes in this free planner.
Homeschool planning doesn't need to be hard, and with this free homeschool planner printable it doesn't need to cost anything!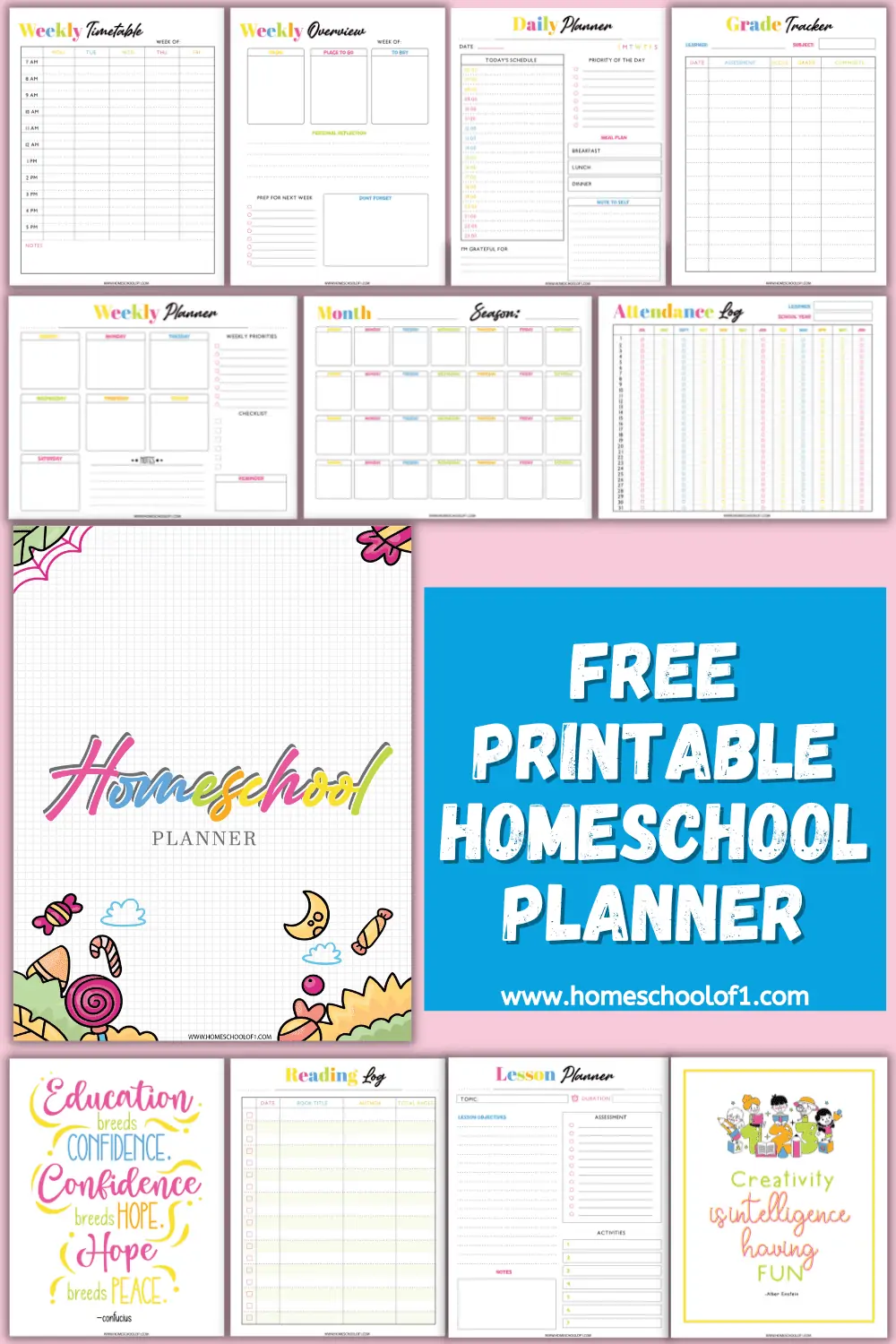 **There may be affiliate links in this post. You can read my full disclosure at the bottom of the page.**
What are the benefits of a homeschool planner?
Using a paper homeschool planner can have several benefits, including:
A paper planner can help you keep track of your homeschooling schedule, lesson plans, and daily activities. You can write down assignments, deadlines, and other important dates, which can help you stay on track and avoid missing any important tasks.
With a paper planner, you have the freedom to customize it to your needs.
A planner can help you set and achieve your homeschooling goals. You can write down your goals and break them down into smaller, achievable steps, and track your progress over time.
Using a paper planner can help reduce screen time and provide a break from digital devices. This can be especially beneficial for children who may be spending a lot of time on screens for their schoolwork.
A paper planner can serve as a memory aid, helping you remember important details and events. You can also use it to jot down ideas and notes, making it a useful tool for brainstorming and planning.
Check out all of our favorite homeschool planners you'll definitely find something you will love.
What is included with these homeschool planner printables?
Stay on track this year with our free printable homeschool planner you can download at the bottom of this page.
But what is included? Well, everything you are going to need of course!
There are 13 pages included, but only print out the ones you need. For example, we don't use a homework planner (I know plenty of homeschoolers who do though, so I have included it.)
Weekly overview
This weekly overview is just that, it is somewhere you can quickly scan to see what you have going on that week.
There is a place to add your:
To do's
Place to go
To buy
Personal reflection area
Prep for next week's list
Don't forget the section for your extra notes. (I told you earlier, that I like a lot of extra space in my homeschool planner!)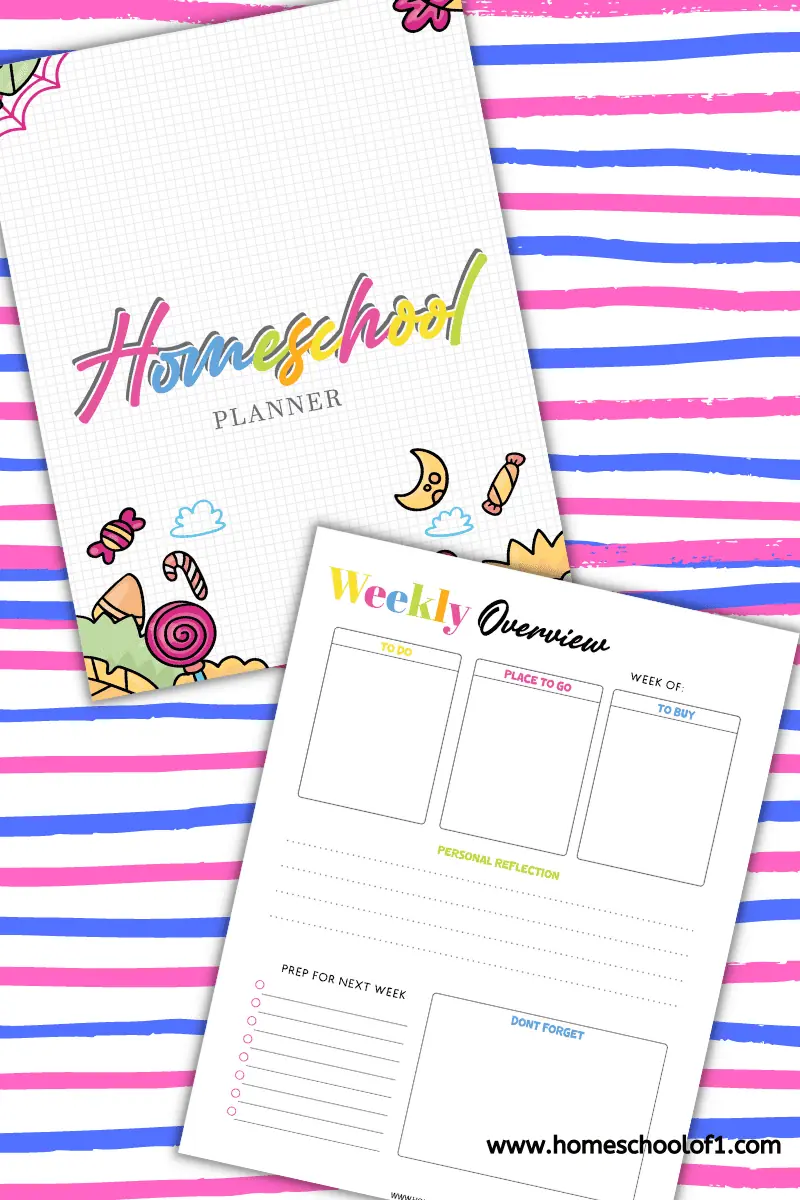 Weekly Timetable
This weekly timetable is for Monday – Friday and between the hours of 7 am and 5 pm. You can add the week at the top of the sheet. This doesn't need to be too detailed as there is a daily planner too.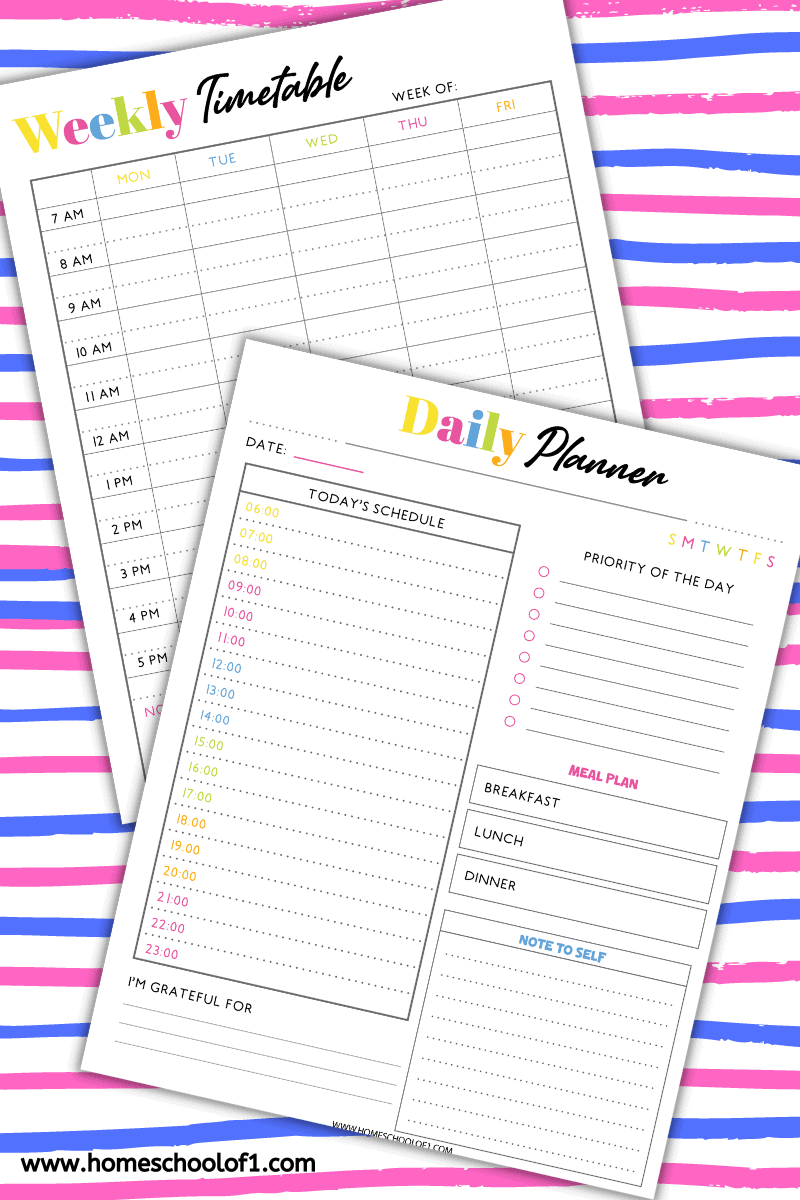 Daily Planner
This is a much more detailed place to add all of the activities your child has to do. As it goes up to 11 pm you can add all of their extracurricular activities too.
There is also a place for meal planning, and you guessed it, extra space for notes!
Weekly Planner
Do you like to see your week at a quick glance? Then you are going to love this weekly planner, with every day of the week.
Priorities, checklists, reminders, and extra notes again! This is a great place to add in your field trips too.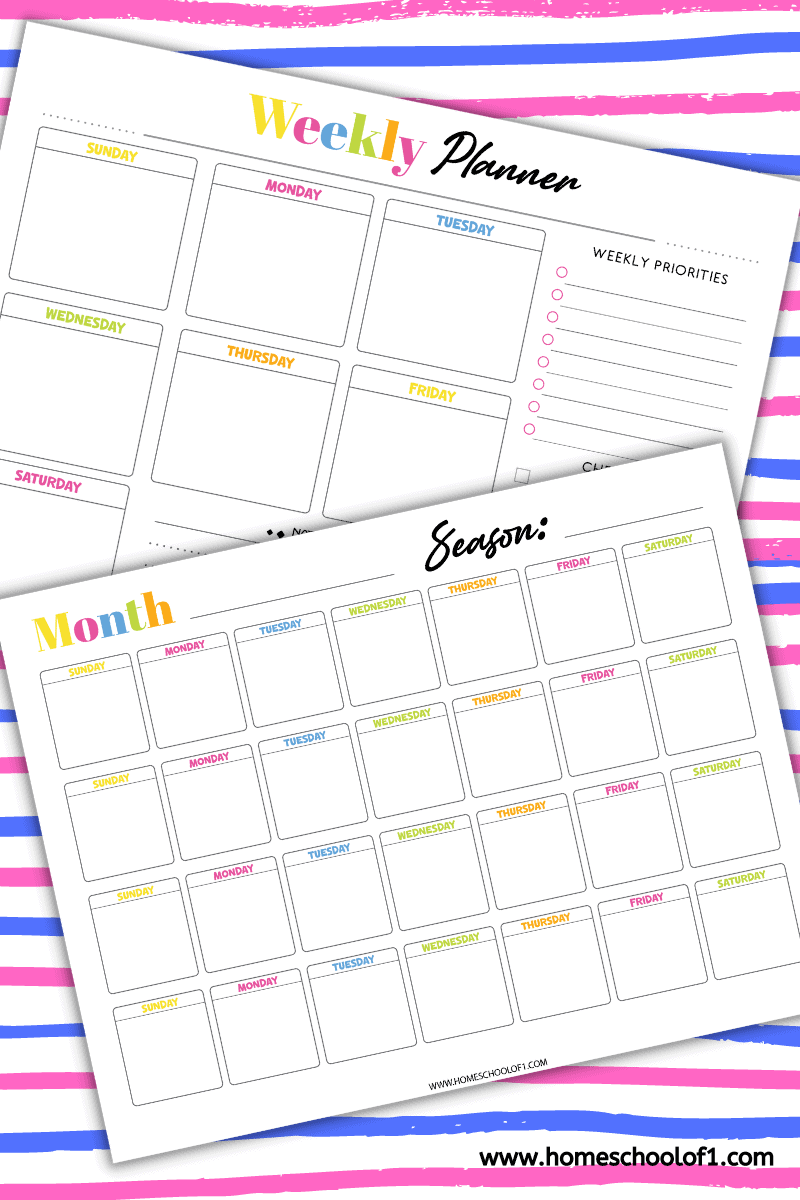 Lesson Planner
I love this lesson planner as it also has an assessments section, along with activities.
Add in your homeschool curriculum, unit studies, and lesson plans.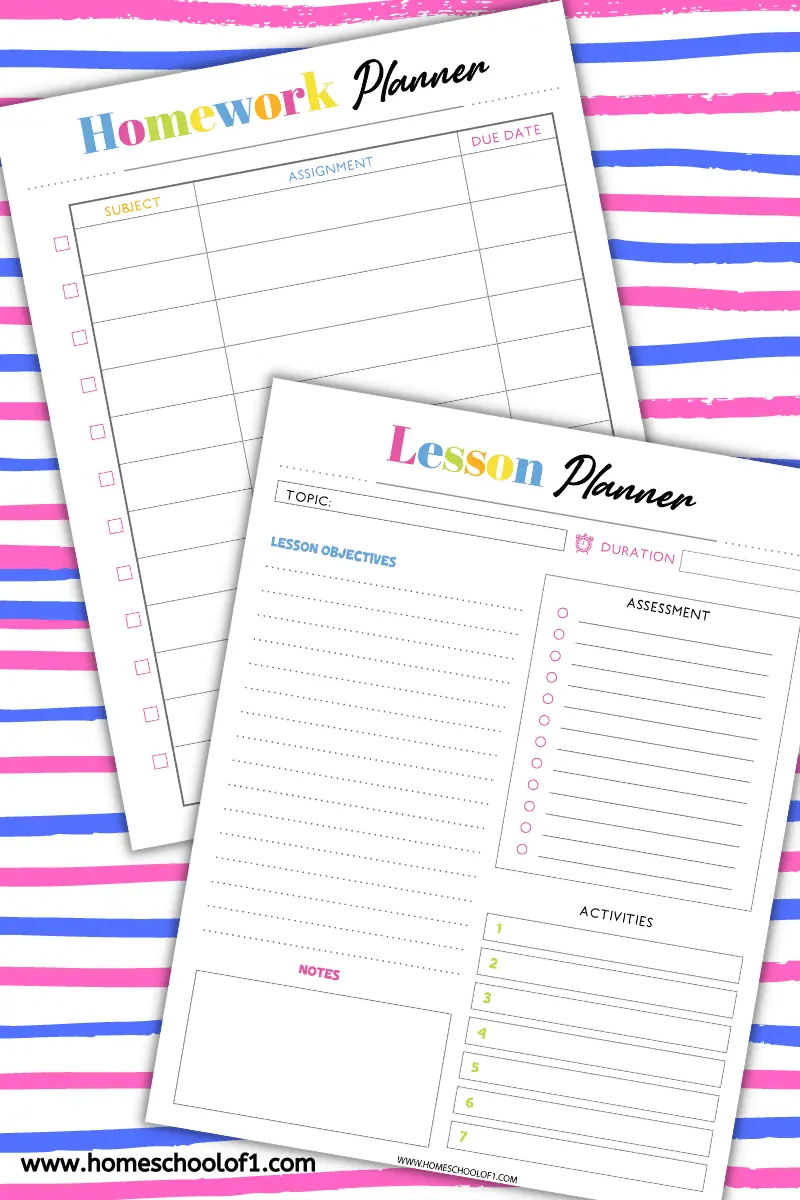 Homework Planner
I have included this as I know a number of homeschoolers who still assign homework.
We don't, but when the kids have completed any assigned homework there is a tick mark box.
Attendance Log
An attendance log from July – June, we don't need to keep one in Florida, however, I still do.
This homeschool attendance sheet is another alternative you will love.
Reading log
There is a simple reading log included but if you are looking for something a little more creative check out our free reading log printables.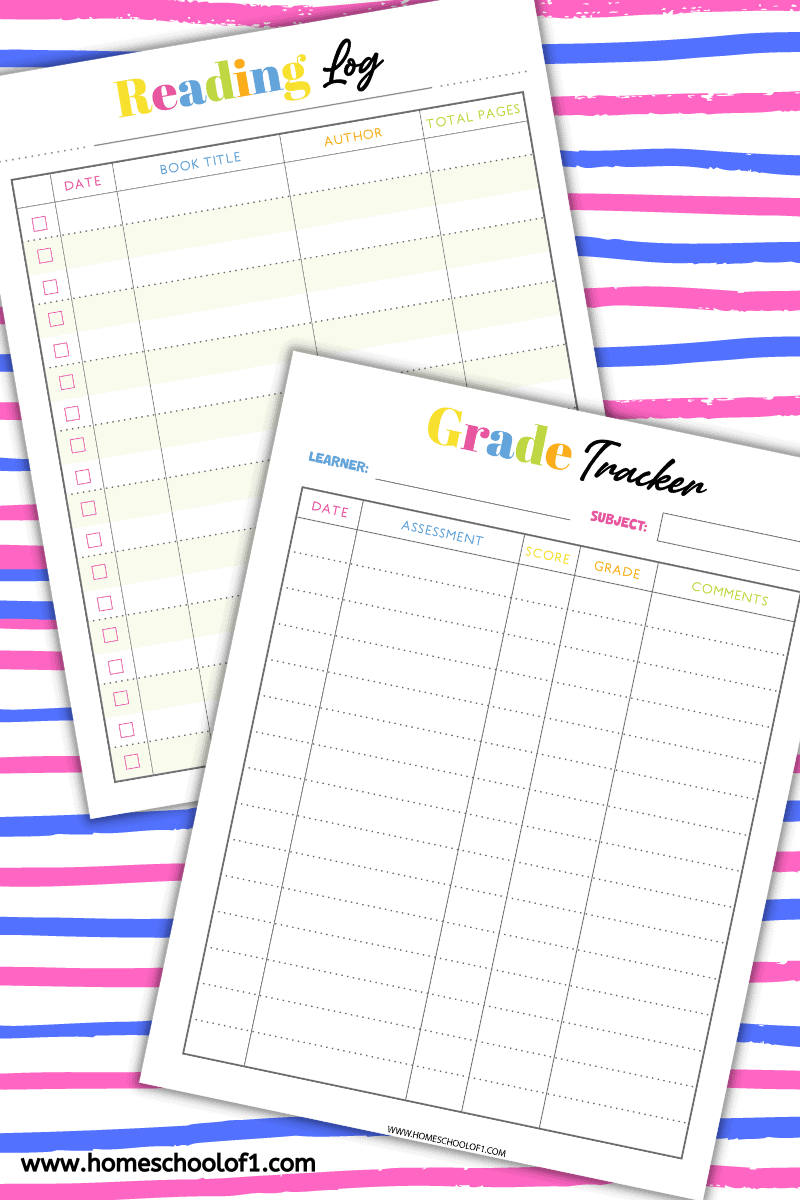 Grade tracker
The grade tracker is a great way to record your child's grades for the year.
Inspirational Homeschool Quotes
No homeschool planner is complete without a few words of inspiration! These are two of my favorites:
Creativity is intelligence having fun!
Education breeds confidence. Confidence breeds hope. Hope breeds peace.
If you prefer to use a digital planner we have used Trello for homeschool in the past. It is excellent and free, but we still prefer a paper planner, as I am old school!
How to organize the homeschool planner?
Keeping your homeschool planner and related materials well-organized is essential for maintaining a clutter-free and efficient planning system. Here are some tips to help you keep everything in order and easily accessible:
Add the front cover to a folder so you can easily see what it is!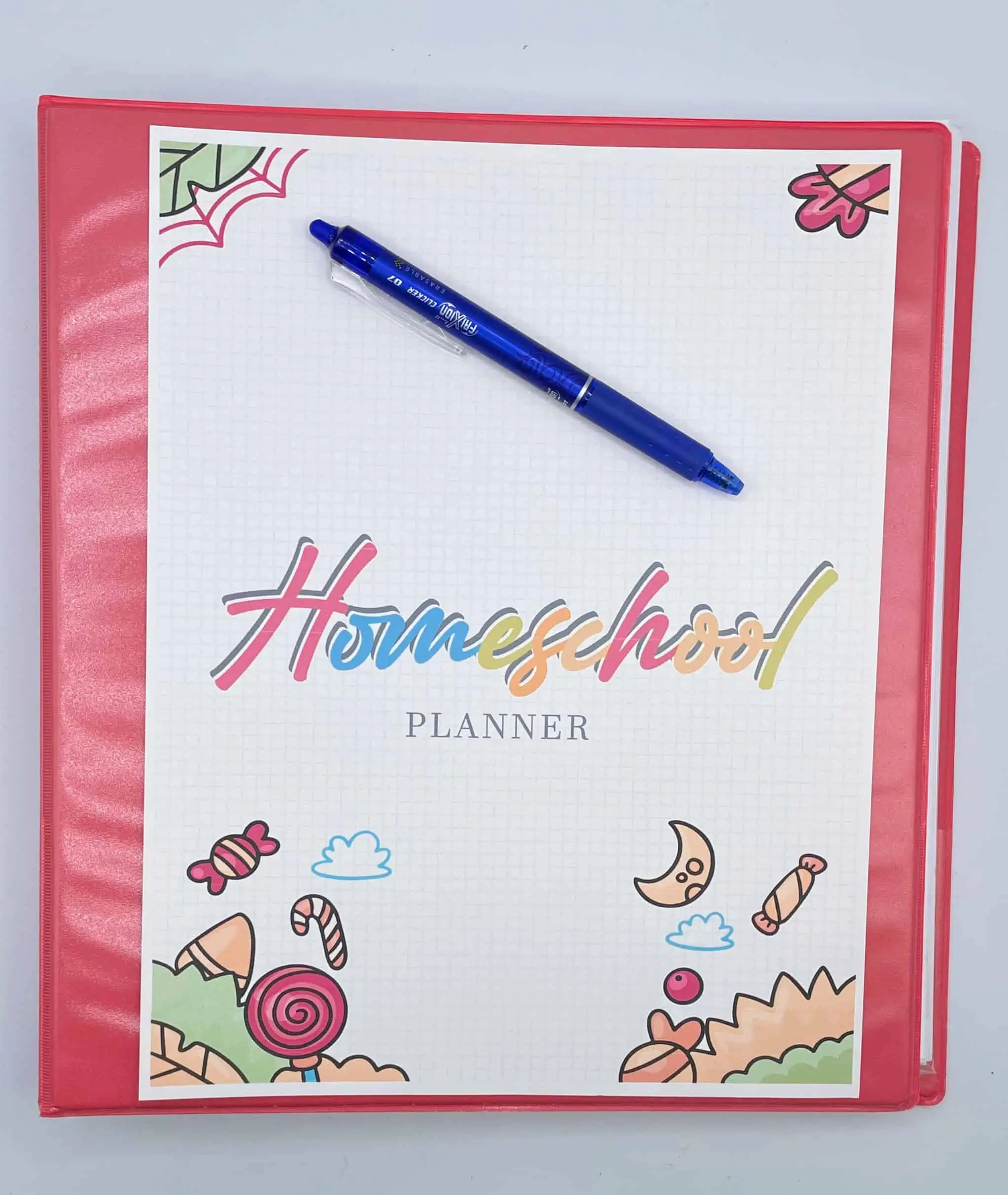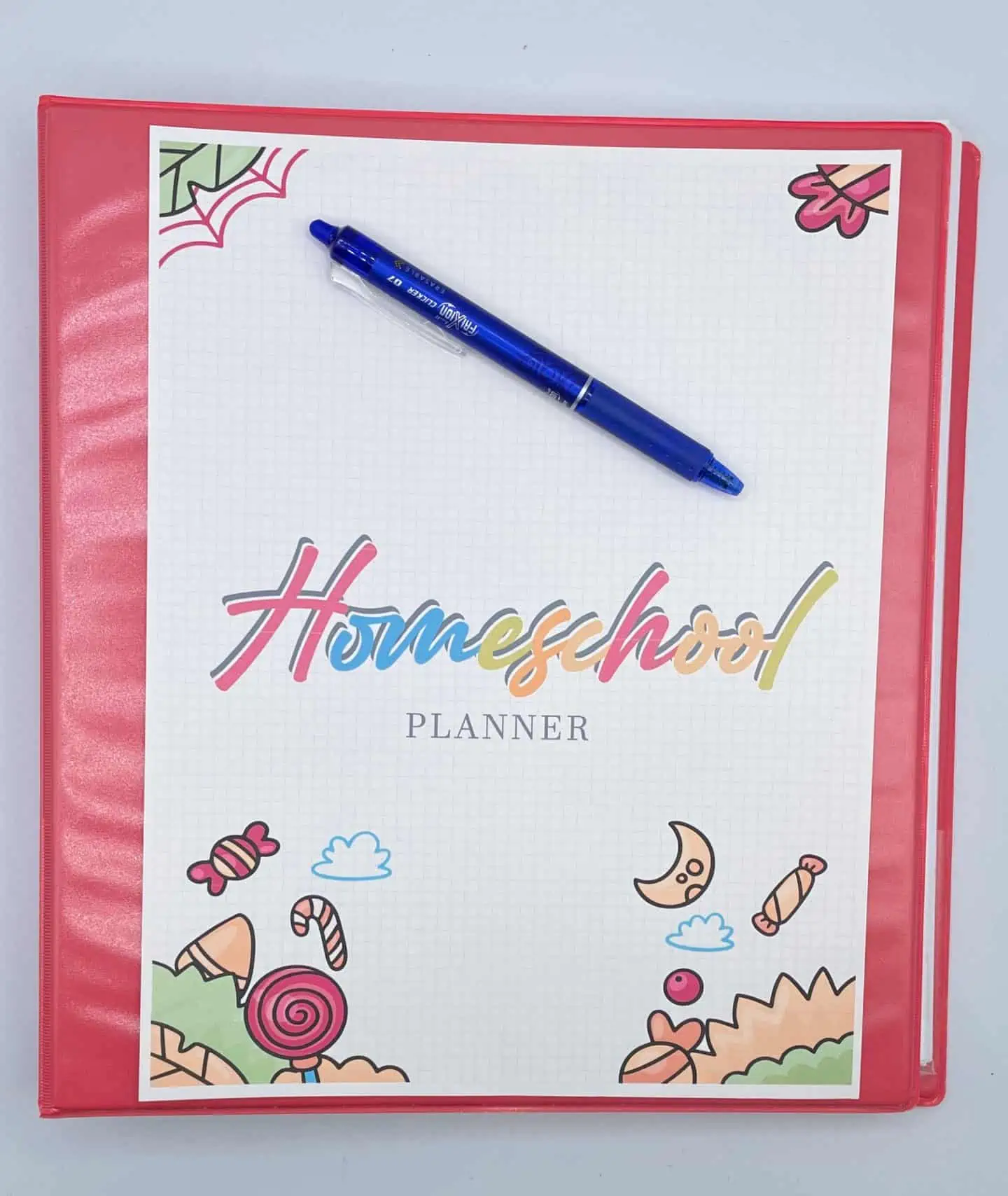 Add the attendance log to the top of the folder so you can mark the days off each day.
Then I recommend adding the reading log and the grade tracker at the front of the folder too. I like to keep my planner in date order, but if you were to use subject dividers you will need to print a grade tracker at the front of each section.
Then I would add the monthly dividers.
Print out the monthly worksheet 12 times and add it to the front of each month so you can have a quick overview of what is happening. I write any playdates or activities that we have coming up, plus any external homeschool classes.
You need to print out the weekly planner, the weekly overview, and the weekly timetable 52 times. However, I only print this out for each quarter, as we don't work every week of the year! Also, I only print out the weekly timetable 12 times for the year as ours doesn't change weekly.
Favorite homeschool planners
If you are worried about the cost of ink, then it may actually be cheaper to buy a homeschool planner. These are some of the best planners we have used over the years:
Download the free homeschool printable planner
Make sure you choose the correct paper size and click on the shrink to fit button. All of our free printables for kids work better when printed on cardstock (this is the one we use and love.)
Last Updated on 13 July 2023 by homeschoolof1