Homeschooling a Child With ADHD | Top Tips
First off let me just say homeschooling a child with ADHD is awesome.
Challenging? Yes.
Calm and peaceful? No, not so much.
But definitely, awesome.
We got the ADHD diagnosis when our son was 9 years old.
He had been homeschooling for a year already, and with this new diagnosis, we needed to find out how homeschooling a child with ADHD was different.
An ADHD child tends to be impulsive and has short attention spans.
They are naturally curious but they do not concentrate on a task for too long.
This does not mean that they are lazy, or incapable of learning. Quite the opposite, actually.
Homeschooling kids with ADHD gives them better leverage than others in public schools because you cater directly to their needs.
A classroom setting has many distractions that can make learning hard for such kids.
When homeschooling, you have the freedom to set up your homeschool curriculum, schedules, and learning process. Do what works best for your family.
**There may be affiliate links in this post. You can read my full disclosure at the bottom of the page.**
According to the Child Mind Institute, children who have ADHD tend to be highly intelligent and if their energy is well-focused, they go on to achieve great things in their lives.
What is ADHD and How Does It Affect Learning?
Attention deficit hyperactivity disorder (ADHD) is a condition that limits the child's ability to concentrate, follow instructions and makes them struggle paying attention. It can also cause erratic impulsive behavior.
The condition makes it hard for a child to enjoy school where there are non-negotiable rules and numerous distractions.
This could easily lead to conflicts and social anxieties both at home and school because they find it hard to get along with their siblings or peers.
Kids with ADHD are restless, not good at heeding instructions or directions, and they find it difficult to concentrate on something for a long time.
When they find something that excites them, they can have a razor-like focus but tend to lose interest in anything that is not exciting to them.
This razor-like concentration is called hyper-focus and can cause conflicts if not well managed.
Unschooling ADHD students can be a flexible and effective approach, allowing them to pursue their interests and learning at their own pace while accommodating their unique needs.
How to Homeschool a Child With ADHD
Most parents prefer homeschooling kids with ADHD because they can monitor their progress more closely and more effectively. Your kids are going to love these ADHD books for kids that will help them navigate the cool diagnosis.
Marvin's Monster Diary: ADHD Attacks! (But I Rock
A Dragon With ADHD: A Children's Story About
Understanding My ADHD: How to Help an ADHD
The Survival Guide for Kids with ADHD (Survival
My Brain is a Race Car: A children's
Thriving with ADHD Workbook for Kids: 60 Fun
You will also love our favorite sensory toys to help with ADHD.
Once you understand your child's interests, you can figure out how to balance their learning process at home and help them to meet their academic goals.
These are some excellent books for children with ADHD that will help the kids understand their superpowers.
Here are some tips that can come in handy while homeschooling a child with ADHD.
The best ADHD homeschool curriculum choices!
Be Flexible
A public school has its processes, systems, and rules set in stone. Your child may find it hard to thrive in such an environment.
Your child does not have to follow the public school grades. Plan the homeschooling day to their learning styles.
Our free printable homeschool planner will help you stay on track.
For instance, you can let them work on more demanding subjects that require more concentration in the morning when their minds are still fresh.
When you notice that they have gotten tired and have begun getting distracted, shift the focus to something more exciting.
Assistive technology
Many kids with ADHD are creative and inventive. Assistive technology can help your child become a better learner by boosting their confidence in learning subjects they feel is challenging to them.
Some of the best assistive technologies you can think of utilizing in your homeschool include text to speech, audiobooks, speech recognition software, portable word processors, and electronic math worksheets.
Keep them physically active
Kids (including those without ADHD) find it hard to sit down for several hours and concentrate on a particular project. They tend to learn better when they are in constant motion.
We used to have a trampoline (check out the trampoline benefits) when we lived in the UK before we knew he had ADHD, and it definitely helped.
Kids with ADHD tend to move about a lot. If possible, find ways to make learning fun by incorporating physical movements.
If they are learning a subject that may be hard to incorporate physical movement, find the right sensory device to help them concentrate.
For instance, a good sensory cushion or chair band can help them sit still without fidgeting too much to cause distractions.
Keep your lessons short
It can be tough for kids to concentrate for a long time, especially when working on difficult subjects.
Keep the lessons as short as possible. We tend to finish one class, then have a short walk around the neighborhood before the next one.
Check out our free neighborhood scavenger hunt printable and have a bit of fun on the way!
Schedule many breaks between classes.
Small increments of time work better than lumping up the lessons into one long stretch. Obstacles courses are great learning approaches for kids with ADHD.
If it is something they are interested in, they will not rest until they have tackled that obstacle.
Try positive reinforcements
This was one of our reasons for leaving the public school system.
He felt that he was always being told off, and as soon as we started homeschooling this was one of the first things we changed.
We turned the don't do that, into I love that you do that.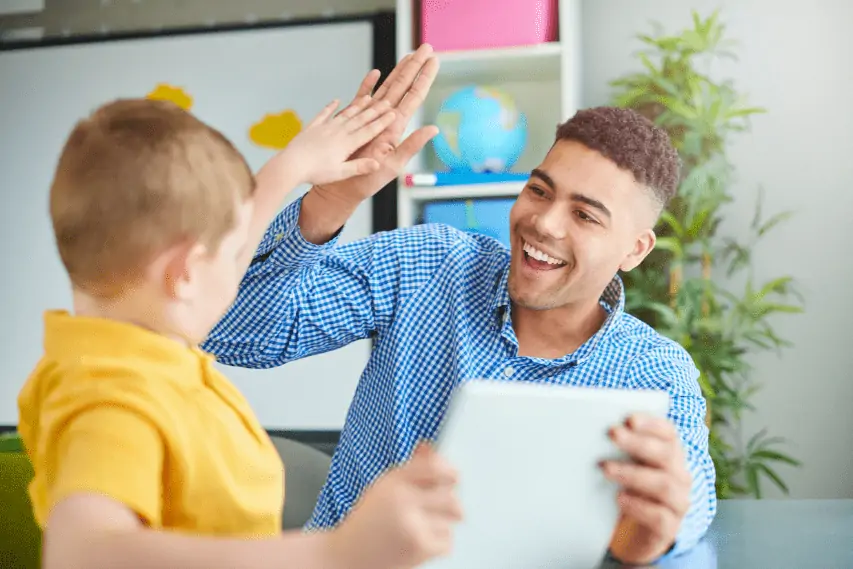 You will have lots of "Don't do that", "Stop doing that", and "Why are you doing that?" moments while homeschooling a child with ADHD.
Remember that your kid is being driven by a restless, curious, and exploratory mind. They are constantly looking for something to spend their endless energy on.
You should correct them firmly and fairly whenever they make a mistake but always practice positive reinforcement.
This will nurture confidence in them and help them become better human beings. Learn as much as possible about their condition so that you can understand them and figure out how to help them achieve their academic goals better.
Use checklists, charts, and other visual learning aids
A kid with ADHD can be a great academic achiever if well nurtured. And this may begin with something as simple as letting them know what expectations you have for them during the day.
This strategy can eliminate possible avenues of conflict.
We use this student journal to record everything. He fills it out every morning at breakfast and then ticks it as he completes each task. When he was younger though I wrote it out for him.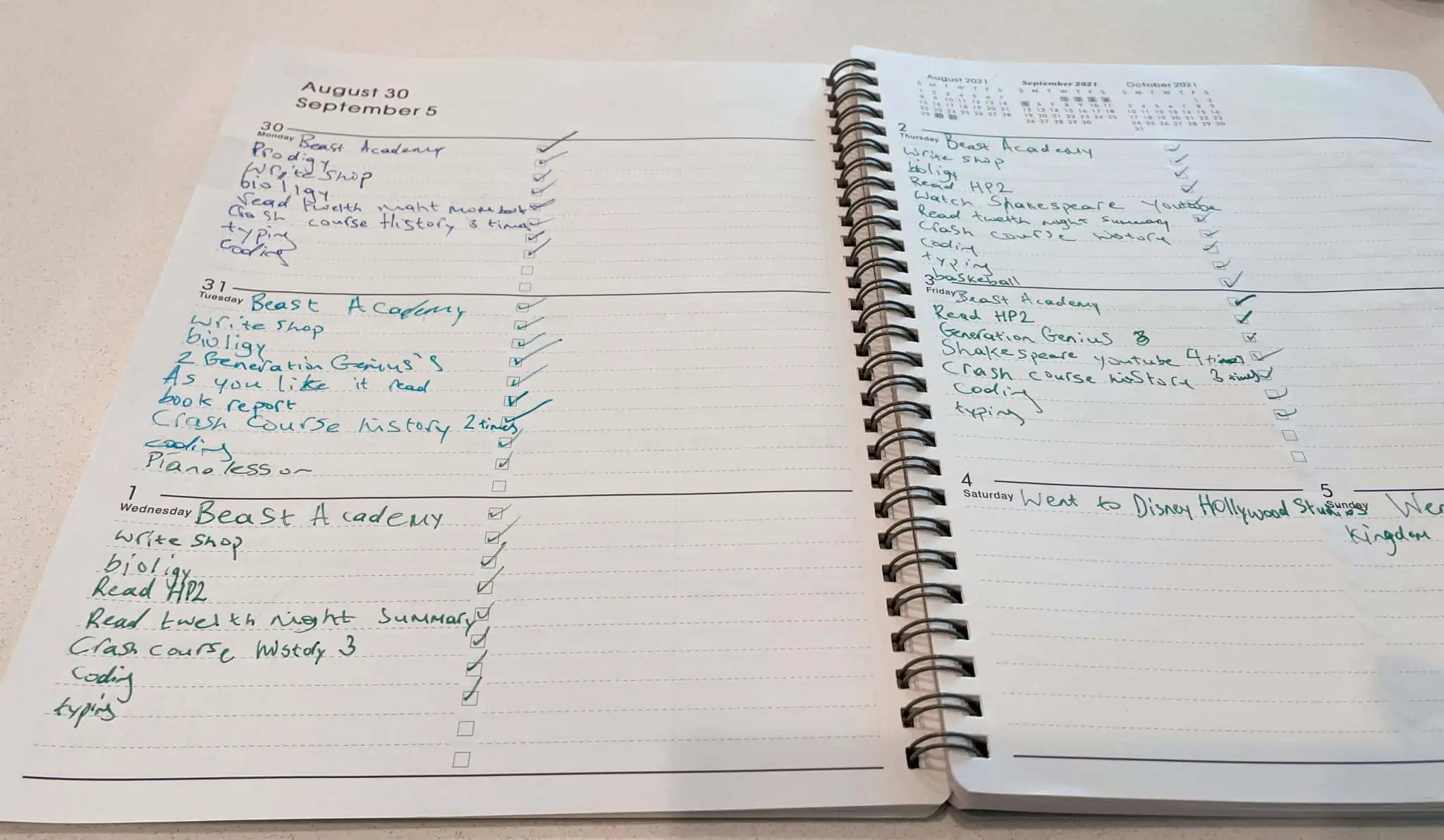 Checklists and other visual aids can help track their academic progress effectively because they help you establish structure in your class and set clear expectations for the child.
Get rid of distractions
You have more control of the kind of distractions your child will be exposed to when you are homeschooling than if they were in a public school.
There are no school bells, distractions from other students, or background noises to interrupt your learning process at home.
Turn off the TV and other noisy appliances during your lesson.
Try setting aside a space or room for homeschooling purposes. You can easily control or manage any form of distraction when you have a designated homeschooling space in your house.
We have found also that with the easier subjects (math in our case) that music sometimes helps. But more often than not, having no distractions works best.
Eating healthily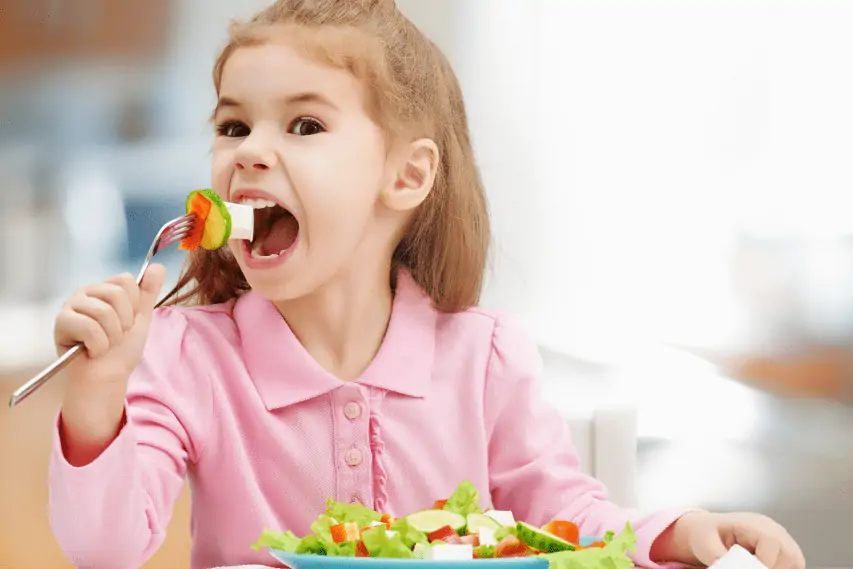 Hunger can affect a child's mood and behavior.
Kids with ADHD need healthy foods that will nurture their ADHD brain. Since they are also very physically active, they need something to replenish the energy they spend.
Well-balanced foods, nuts, berries, and good snacks will provide the energy they need to keep learning and playing during the day.
Find natural ways to increase dopamine for ADHD, such as eating more protein.
Expert Insights: Strategies and Tips for Homeschooling a Child with ADHD
As we all know, homeschooling a child with ADHD can be a challenge, but it's definitely doable with the right strategies and mindset.
That's why I've reached out to two experts in the field to get their insights on how we can create a successful and fulfilling learning environment for our children with ADHD.
So, without further ado, let's dive into some expert quotes and tips that can help us in our homeschooling journey!
Children with ADHD thrive in environments that are structured and predictable. Creating a consistent routine and using visual aids can be very helpful in keeping them focused and engaged.

Dr. David Anderson, senior director of the ADHD and Behavior Disorders Center at the Child Mind Institute
Incorporating physical activity and movement breaks into the day can help children with ADHD regulate their attention and focus better. It's important to remember that every child is different, so finding what works best for your child may take some trial and error."

Dr. Mark Stein, professor of psychiatry and behavioral sciences at the University of Washington School of Medicine
Homeschooling a child with ADHD is incredibly rewarding, but it is hard work. I hope some of our top tips have helped you.
Last Updated on 17 September 2023 by homeschoolof1