KiwiCo Doodle Crate Review + Promo Code
Are you looking for something fun, educational, and creative for your tweens and teens? If so you are going to love our KiwiCo Doodle Crate review.
Imagine the scene, it's raining outside, the kids are quietly sitting around the dining table, and the house is peaceful. The kids are happy.
No, this is not a dream. No this is not a TV commercial. It is what happened last weekend in my house with my 12 year old son who has ADHD.
After having huge success with the KiwiCo Eureka crate (check out our KiwiCo Eureka Crate review) I knew the Doodle crate would be good. But if I am being honest my son isn't overly creative.
He enjoys coloring, but anything else remotely arty or creative is not his jam. So when he sat there last weekend for a couple of hours smiling and creating we were both super shocked.
Carry on reading for our detailed KiwiCo crate review and get an exclusive 50% off your first box.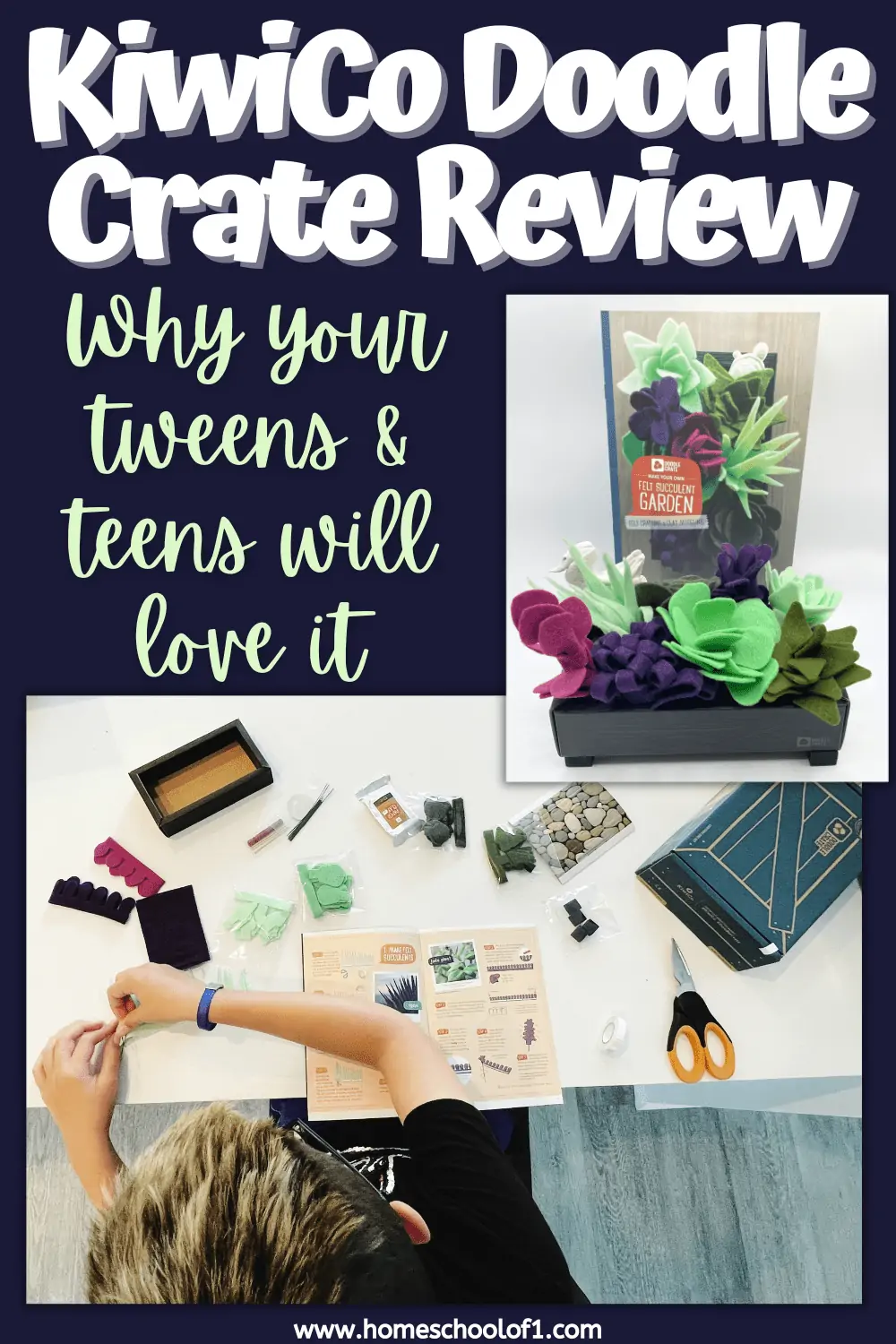 **Disclosure: I was compensated for my time to write this post. As always, all thoughts and opinions are my own. I only share resources that I would use with my own family and those that I believe other homeschool families will enjoy. There may be affiliate links in this post.**
Doodle Crate Box from KiwiCo
The KiwiCo Doodle crate is aimed at kids aged between 9 and 16, and today I am showing you the felt succulent garden.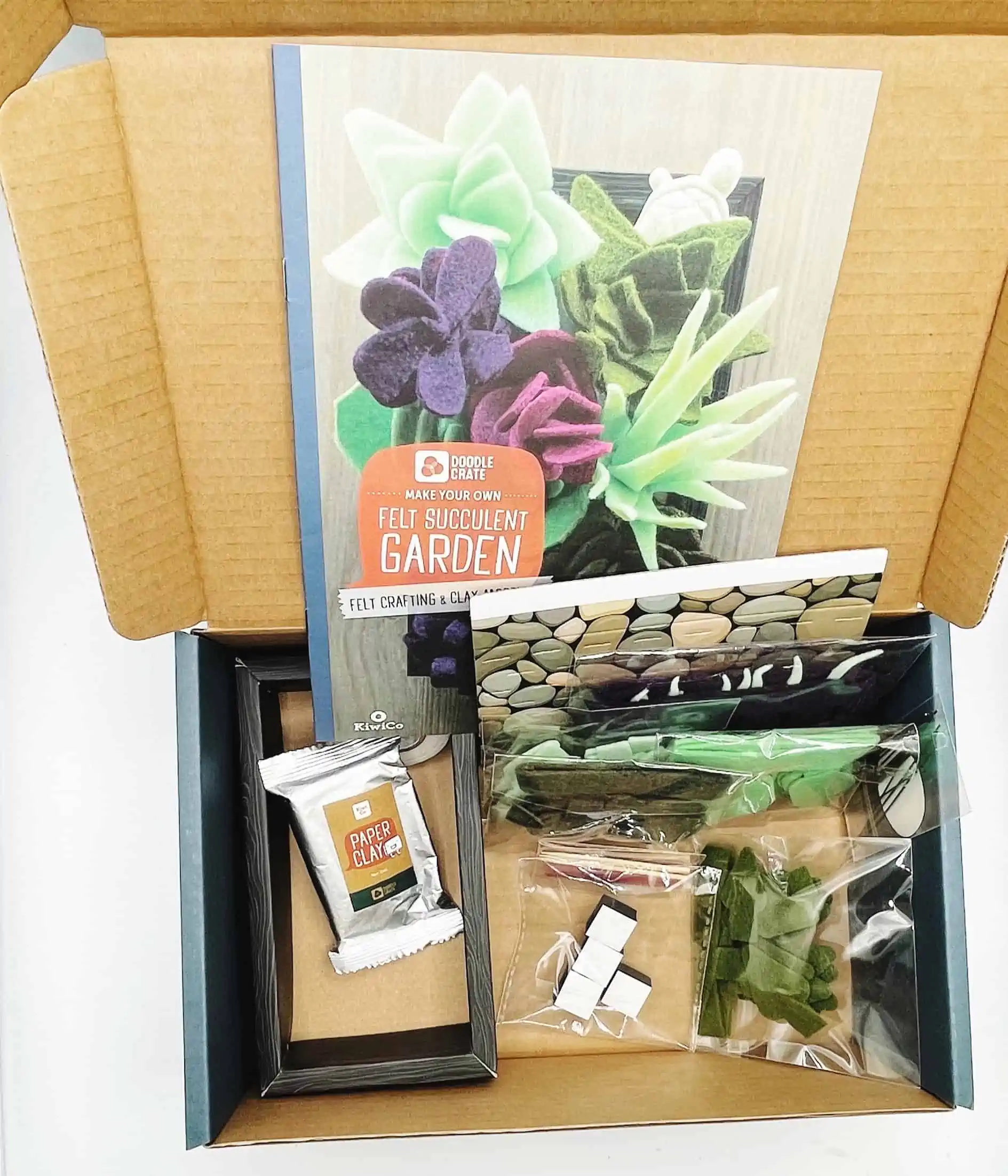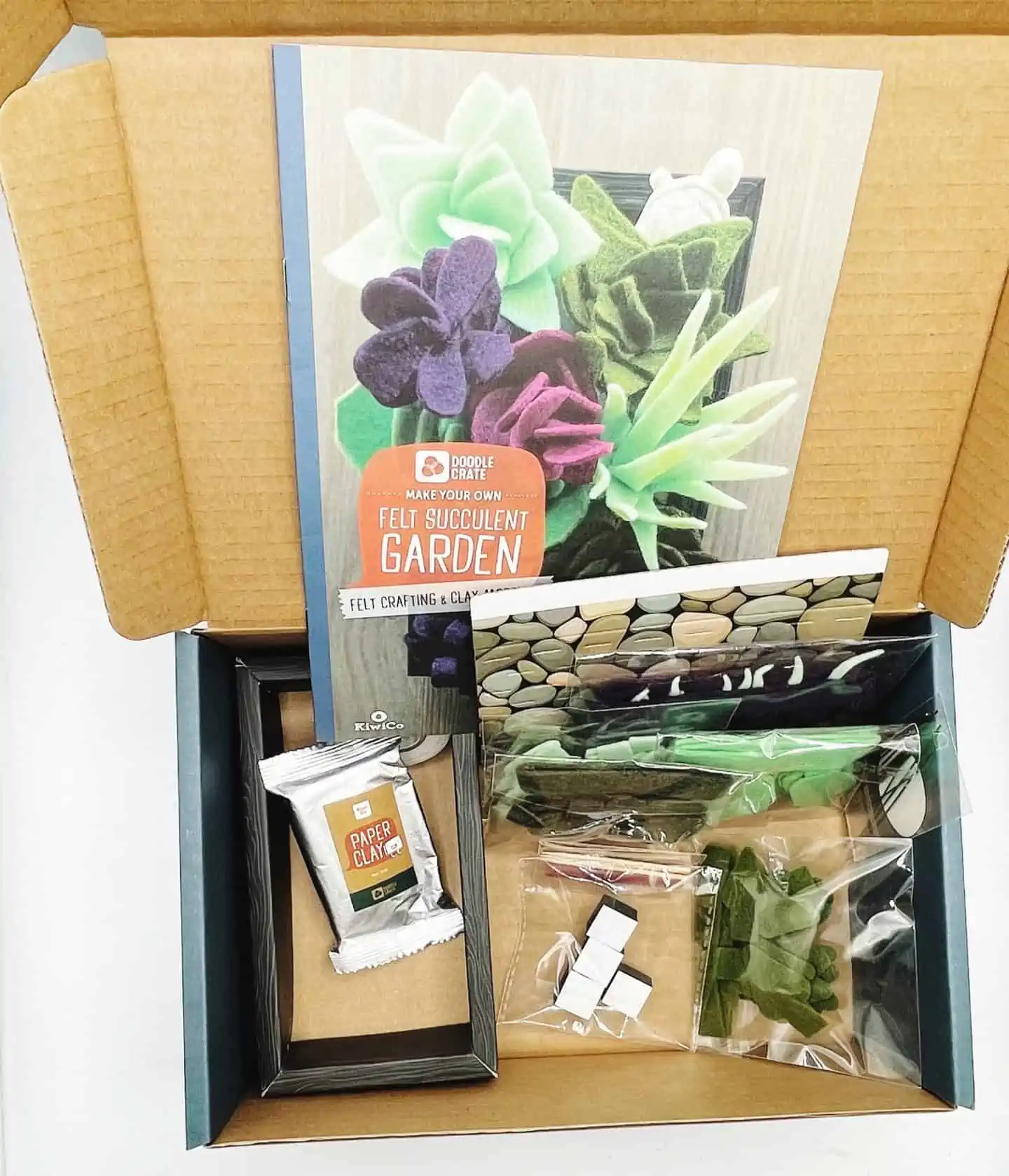 Before I even opened the box I knew we were going to love it.
Why?
It includes everything you need.
This KiwiCo Doodle crate really does contain everything you need. Well apart from the scissors, we all have them handy don't we?
Included in the Felt Succulent Garden subscription box:
Felt shapes
Crayon
Decorative stone insert
Double stick tape
Planter box
Foam feet
Clay
Toothpicks
Wires
9-page guide
The maker's guide was even better than I expected too.
Of course, it told you how to create the succulents and the clay structures. But what I wasn't expecting were details about succulents and where they grew, etc.
If you prefer a video tutorial there is a QR code linking you directly to it.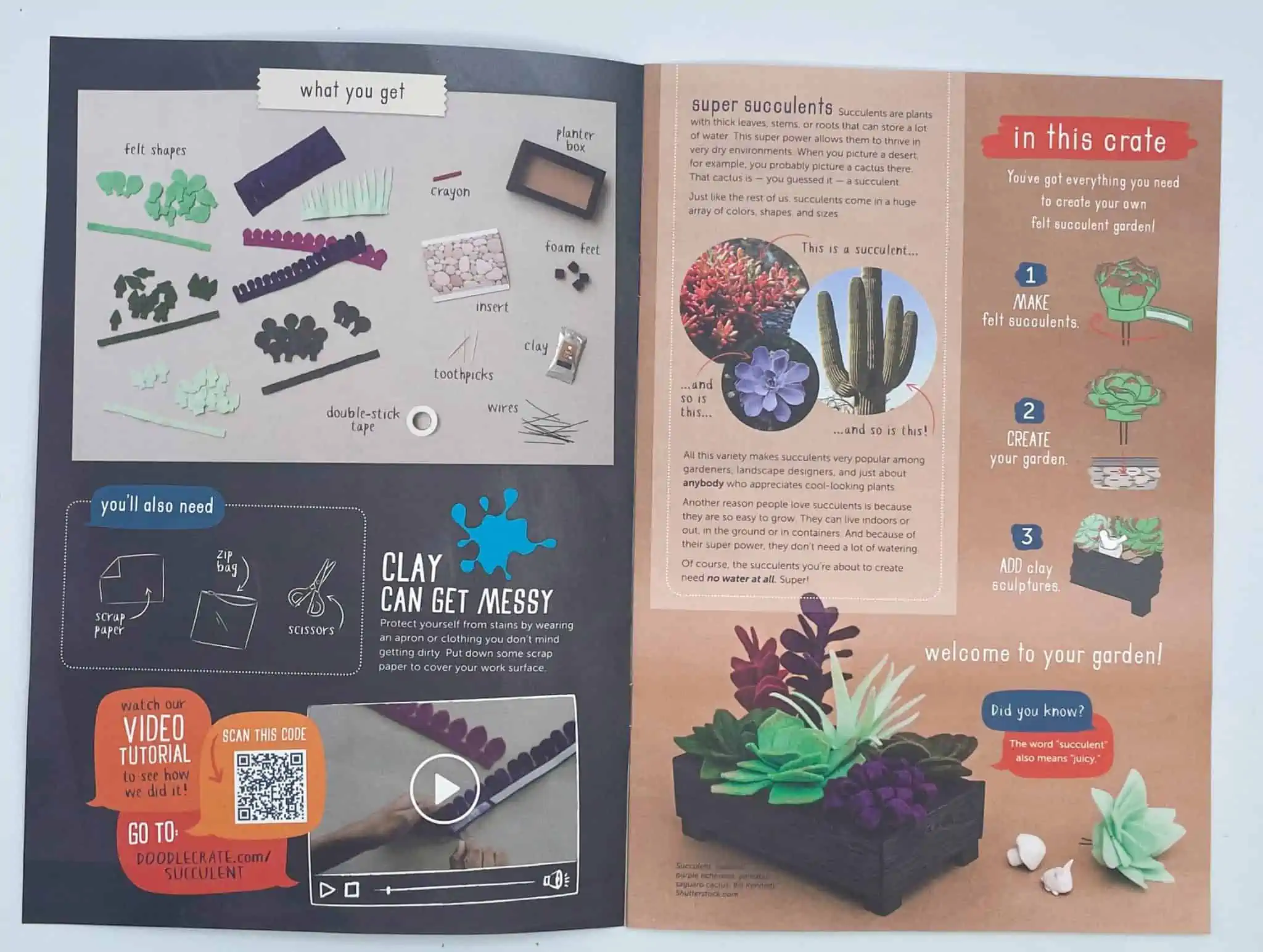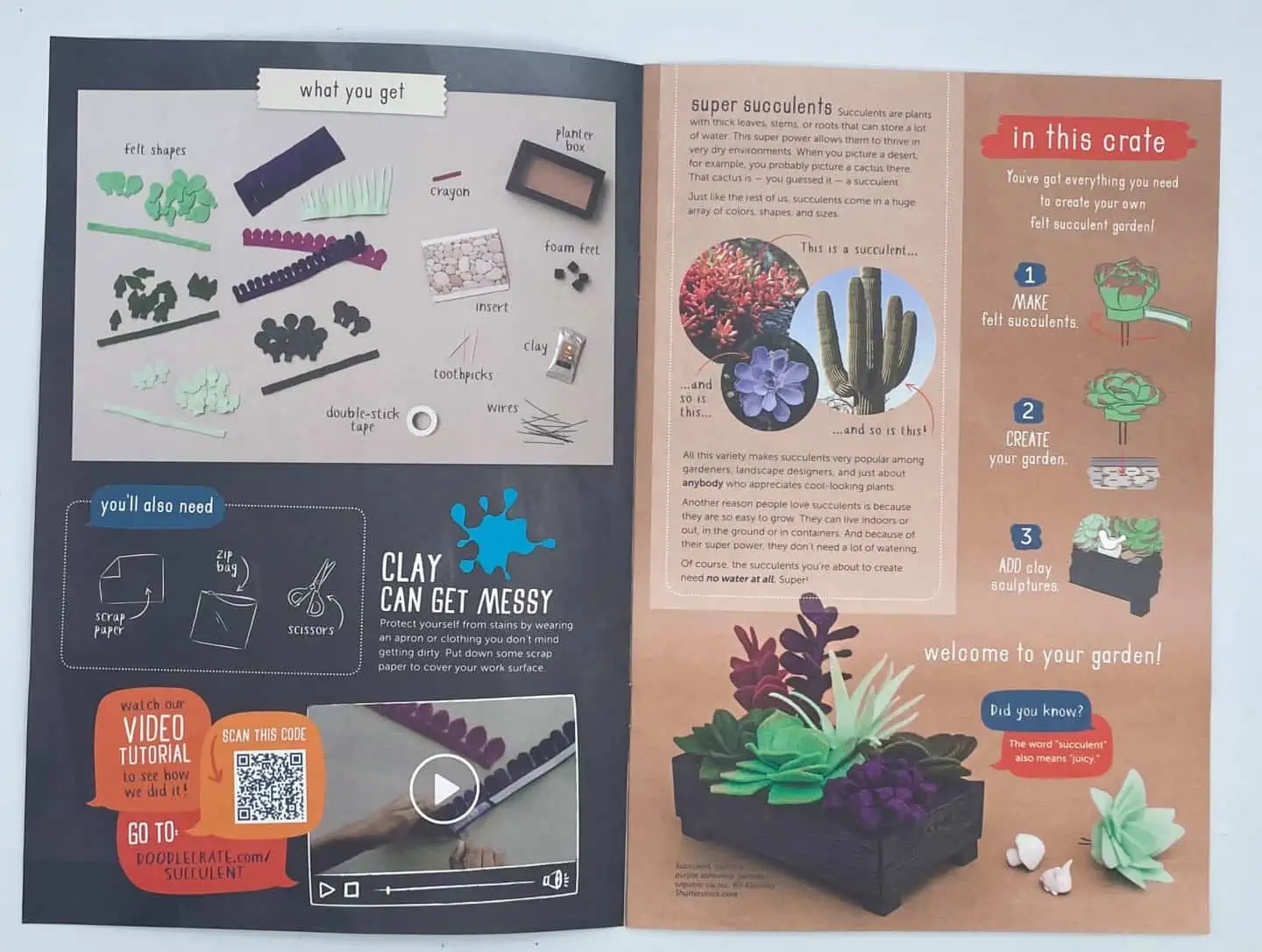 Creating the Felt Succulent Garden
There is no running around the house finding sticky back plastic, or anything. You have everything you need in the box.
The maker's guide was excellently written and not at all condescending.
It reminded us somewhat of the Lego instructions with images for every step.
Open the box and go.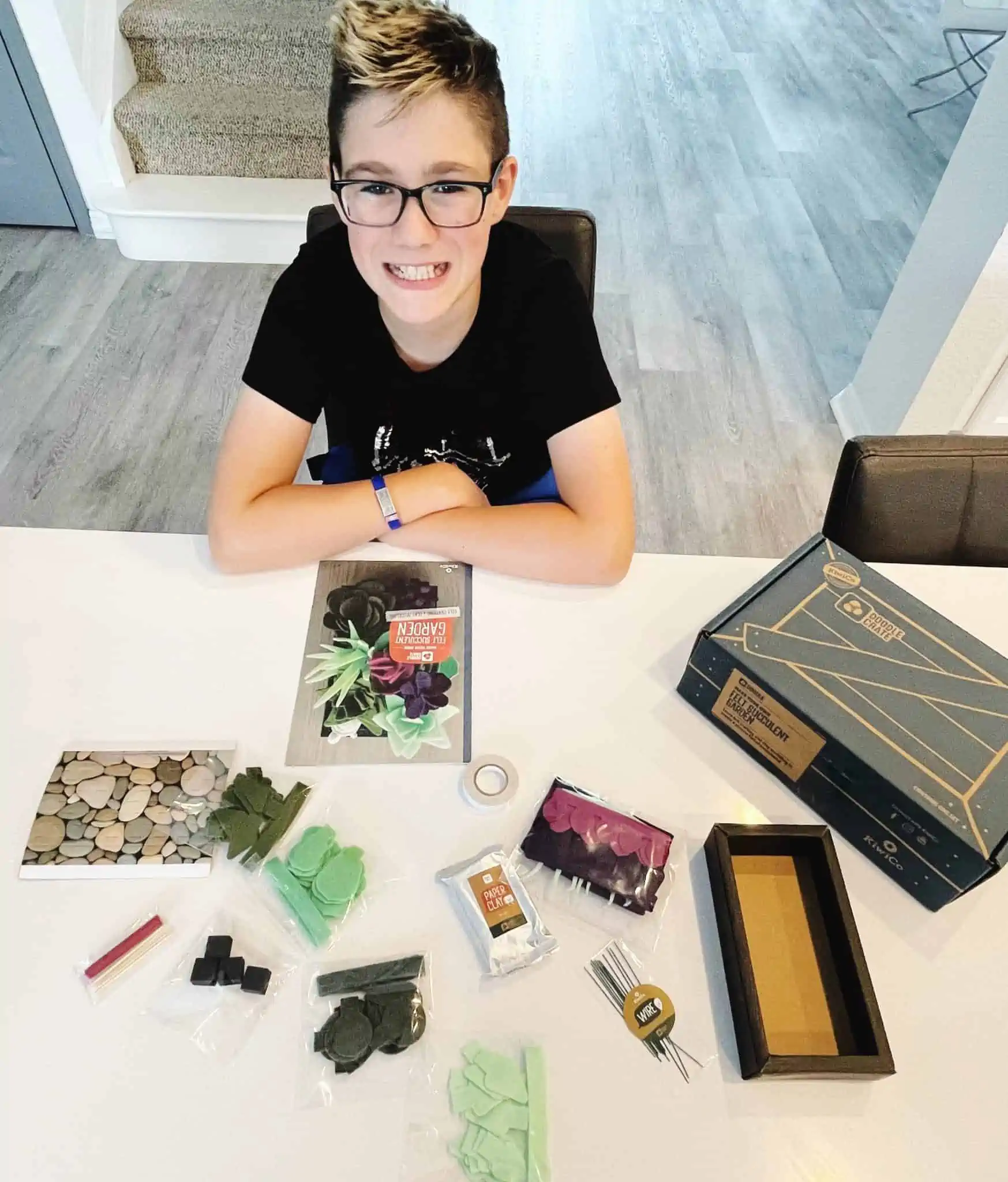 This KiwiCo Doodle crate kept him genuinely engaged for about 2 hours.
It was a blessed relief from the grunting and the whining that we normally get when we are stuck in on a weekend.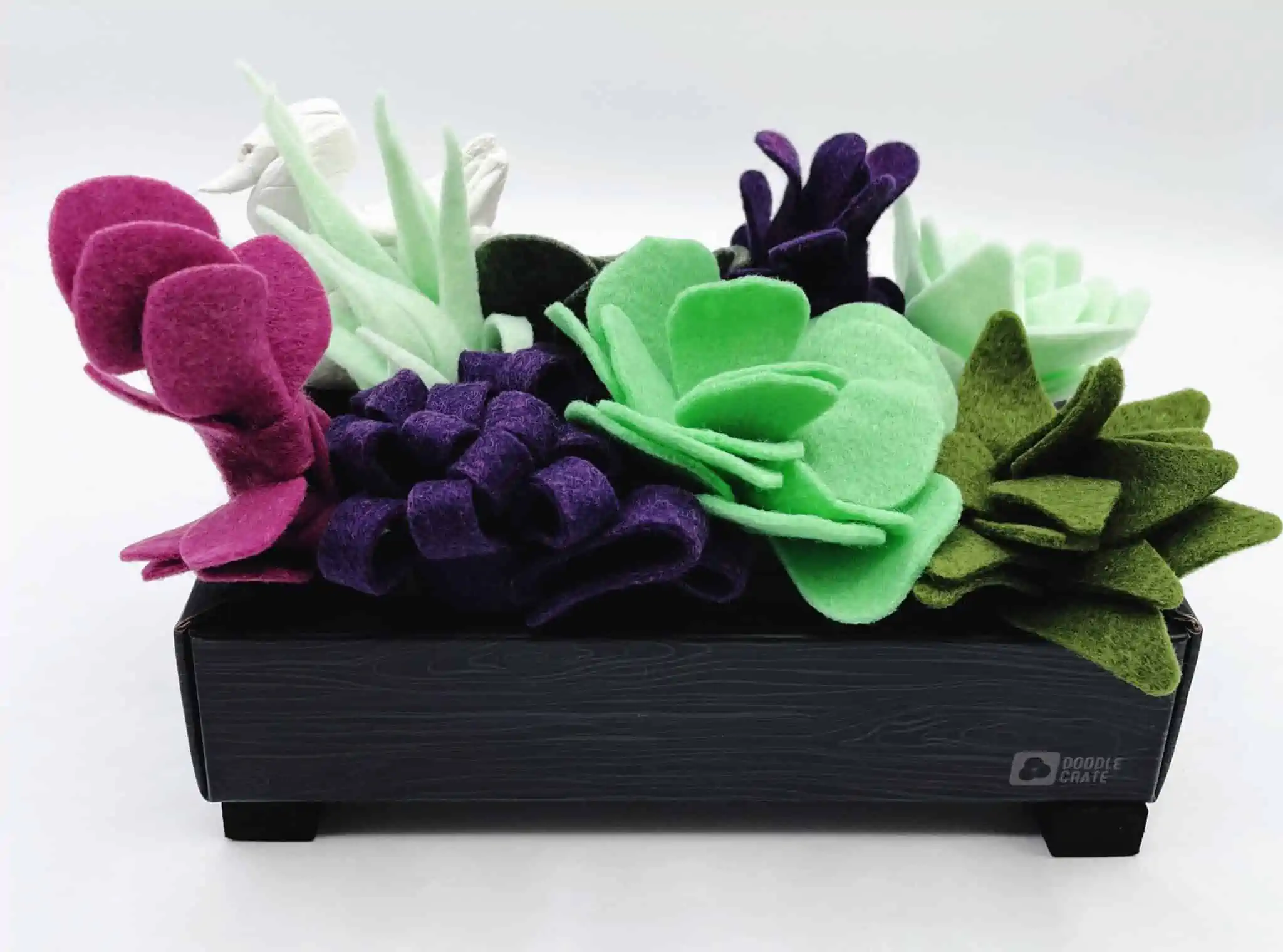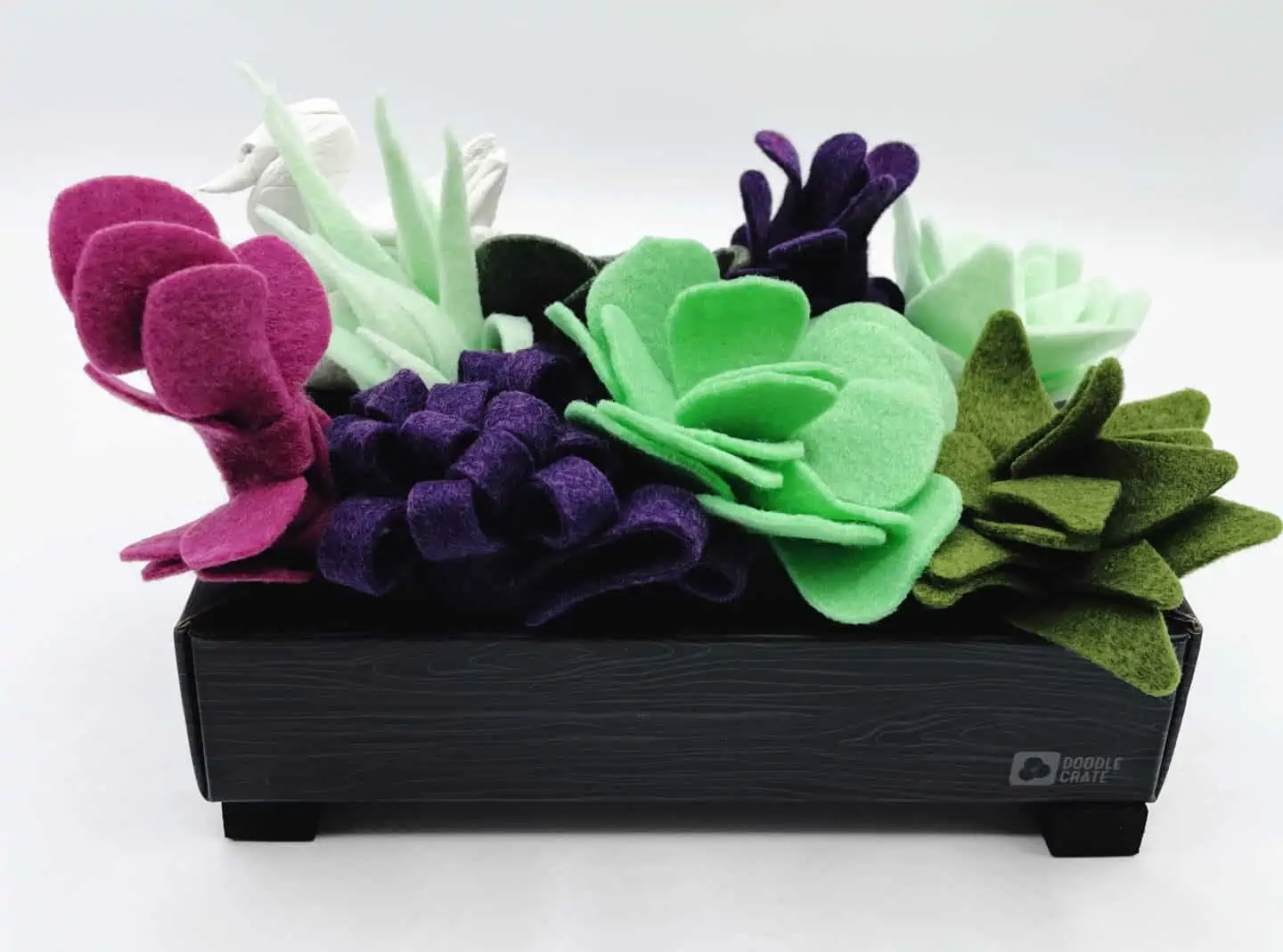 The completed product, our beautiful succulent garden.
I can't tell you how proud of himself he was.
It is now living on our kitchen window sill.
This is not our usual subscription box, as we normally opt for either comic books or the KiwiCo Eureka crate, but for my normally non-creative son, this was excellent.
He thoroughly enjoyed it and is now looking forward to the next one arriving.
What is KiwiCo Boost?
You can add a specially-curated book to complement the crate's theme for the month for an extra $10.95 per crate.
Grab your Doodle crate today with code HOMESCHOOL for 50% off your first box, perfect for rainy weekends.
Doodle Crate Reviews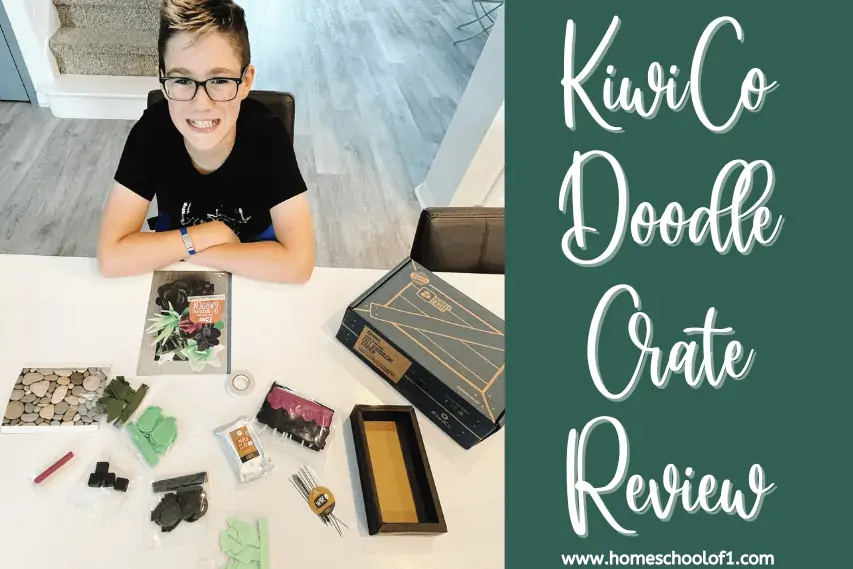 If you are looking for a subscription box that tweens and teenagers will actually enjoy, then the KiwiCo Doodle crate is the one for you.
At first glance, I thought this would only appeal to girls. But I am honestly blown away by how much my son enjoyed it.
Get them off their electronics for a couple of hours and let them be creative.
Whether it is this felt succulent garden, the faux leather portfolio, handmade soap, or something else. I promise that they will love it.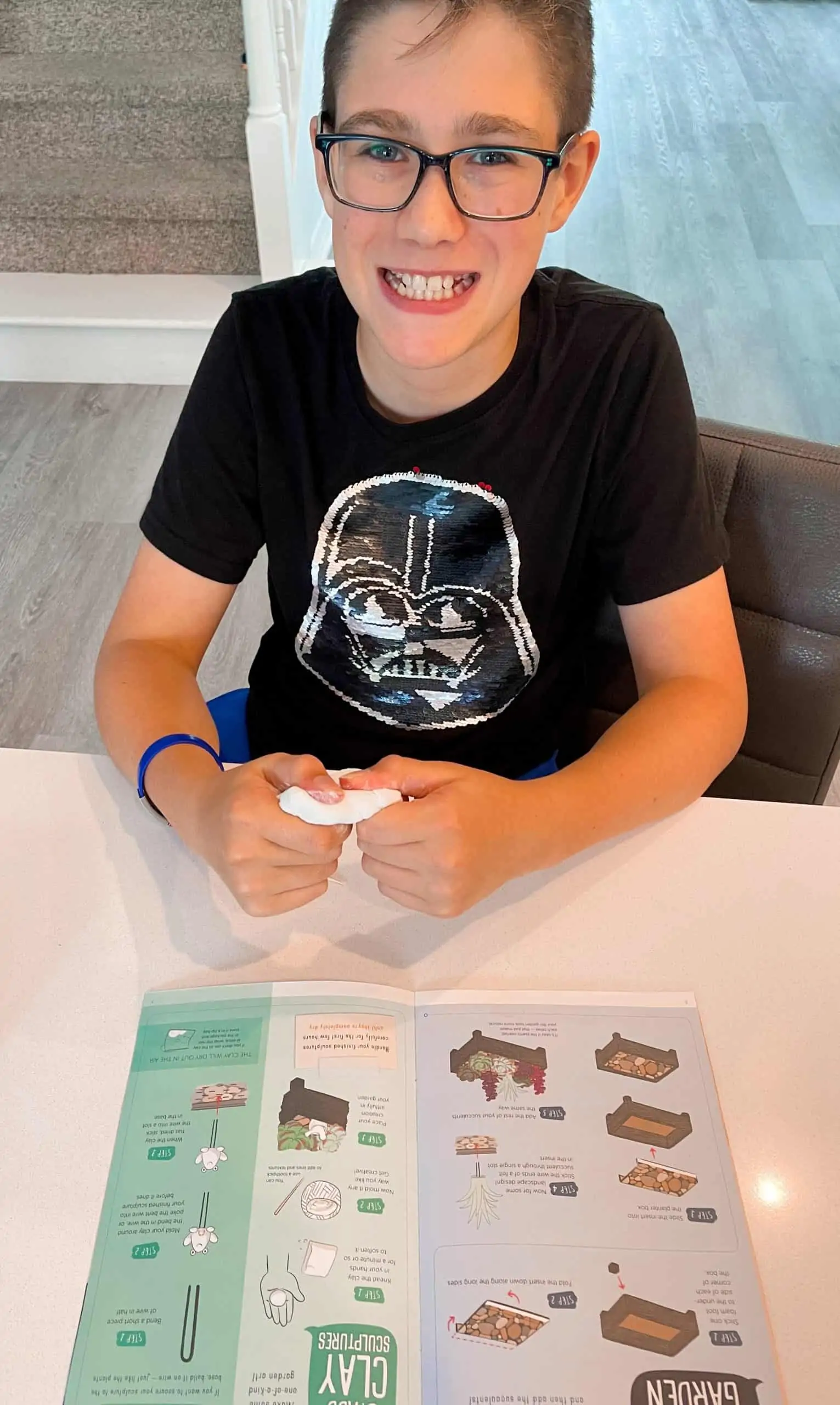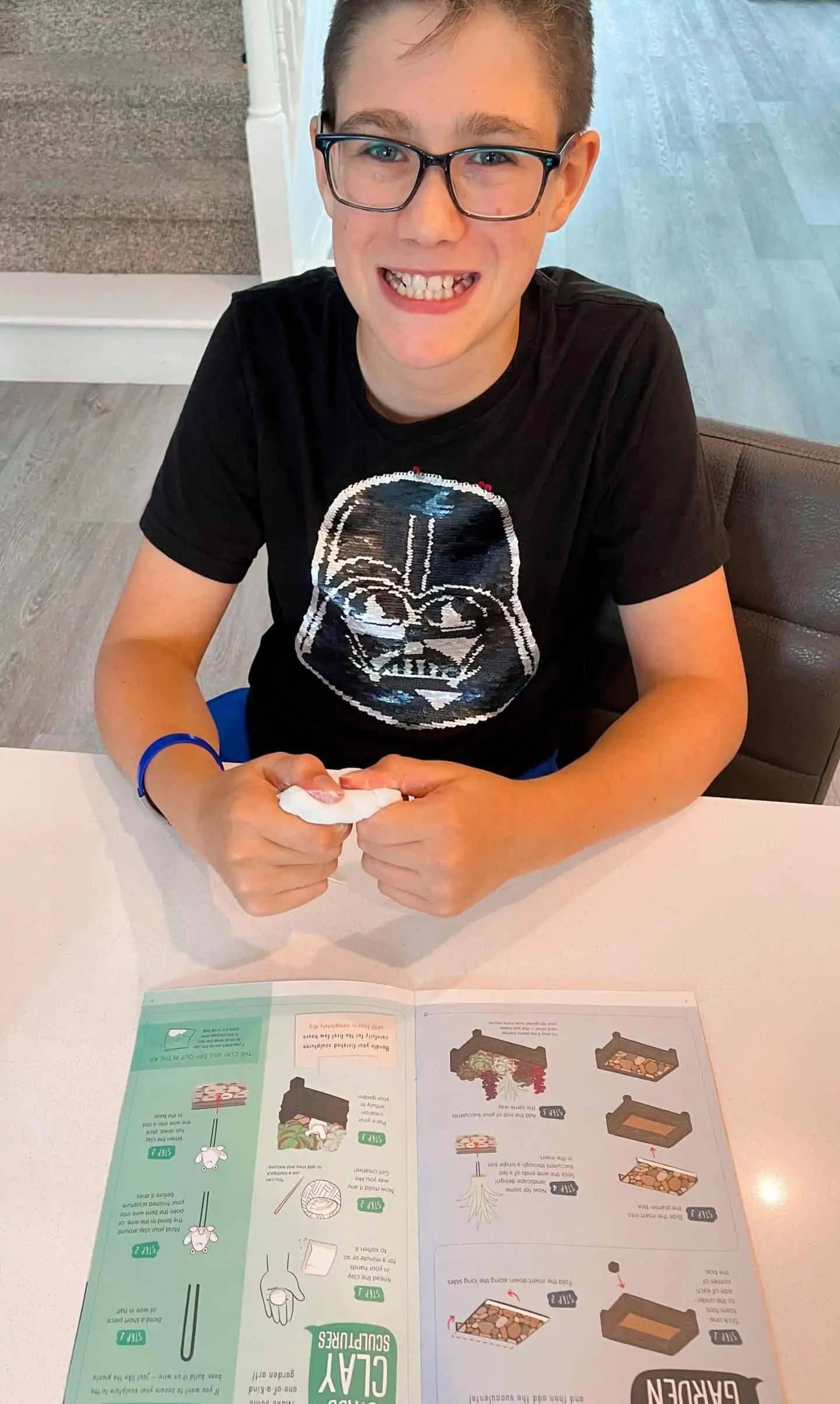 You won't need to rummage around the house finding objects they need to complete the project, everything they need is in the box.
We were both so impressed with this KiwiCo Doodle crate.
Here are our top 5 reasons why you should give it a go too:
The quality is excellent;
The value is excellent (from only $14.50 per month);
It nurtures creativity in kids, even the ones that don't normally show their creative side;
Everything really is included in the box;
More importantly, it will get the kids off their electronics for a day.
This is the perfect time to try this box as colder, rainy months are coming. It is less than the cost of a movie ticket and snacks, but more than that, it is also educational.
Grab your first box today with 50% off with code HOMESCHOOL.
Love the look of this KiwiCo Doodle crate but have a child who is too young?
No problem carry on reading to find all nine different subscription boxes they have to offer for as young as 0!
Can I change to a different Kiwi crate?
You absolutely can switch between KiwiCo crates. If you have ordered a 12-month subscription to the Atlas crate for example and feel like you want to change over to the Doodle Crate.
All you need to do is go to your "My Account Page".
To switch, click on your "Subscriptions" tab and then click "Edit" next to the subscription you would like to change.
On the next screen, click "Switch Line" under the Subscription Details section.
Select the new line and click "Update Subscription".
What KiwiCo Crates are there?
No matter the age of your child KiwiCo has a subscription for you. They have engaging subscription boxes for babies all the way through to adulthood.
Panda Crate
Panda Crate (ages 0-24 months) was developed in partnership with Seattle Children's Hospital.
Each crate helps babies learn by doing what they do best — playing, exploring, and most importantly, interacting with the adults in their lives.
Crates arrive every other month and are filled with two months' worth of content!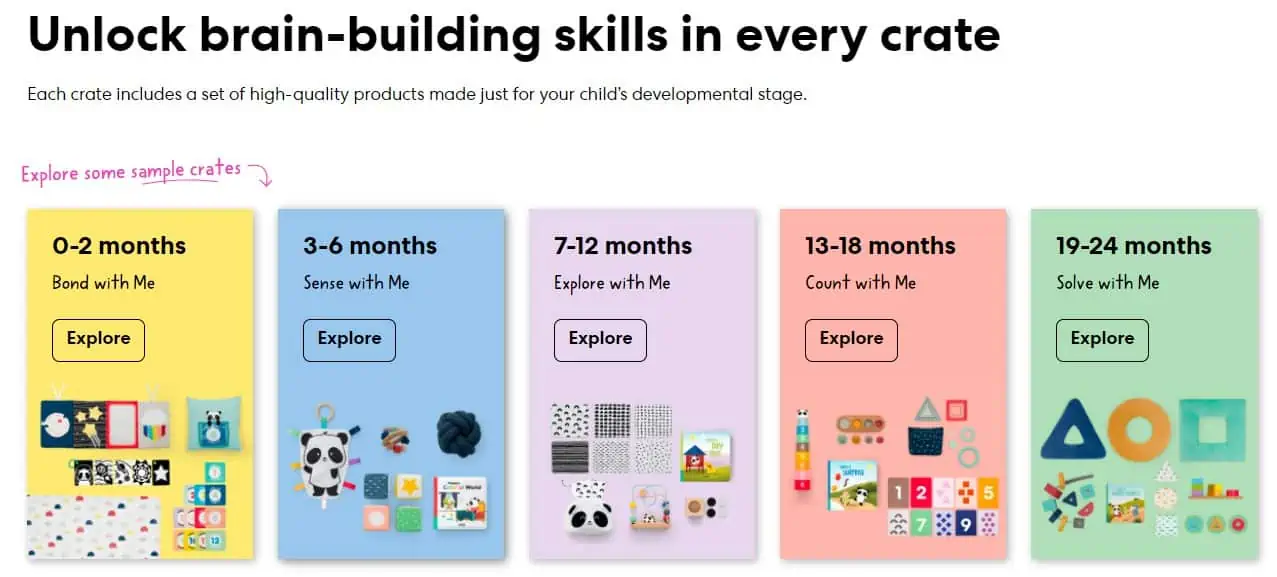 Koala Crate
Koala Crate. (Ages 2-4) delivers fun hands-on activities to engage the natural curiosity and creativity of preschoolers in play-based learning. Check out our KiwiCo Koala Crate review and see why we think it is the best preschool subscription box.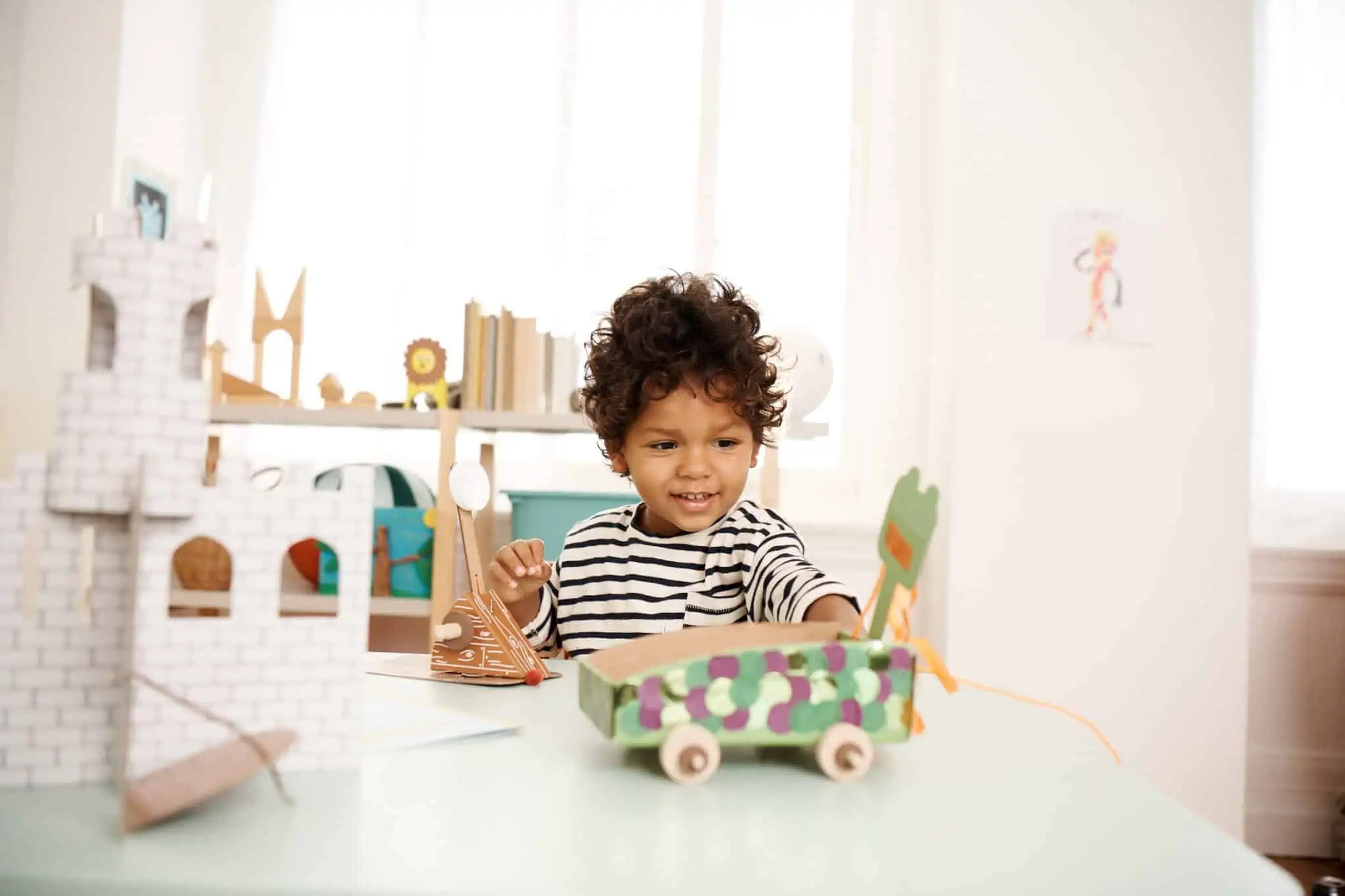 Kiwi Crate
Kiwi Crate (Ages 5-8) delivers young innovators all the materials and inspiration needed for fun hands-on projects that explore art, science, and engineering.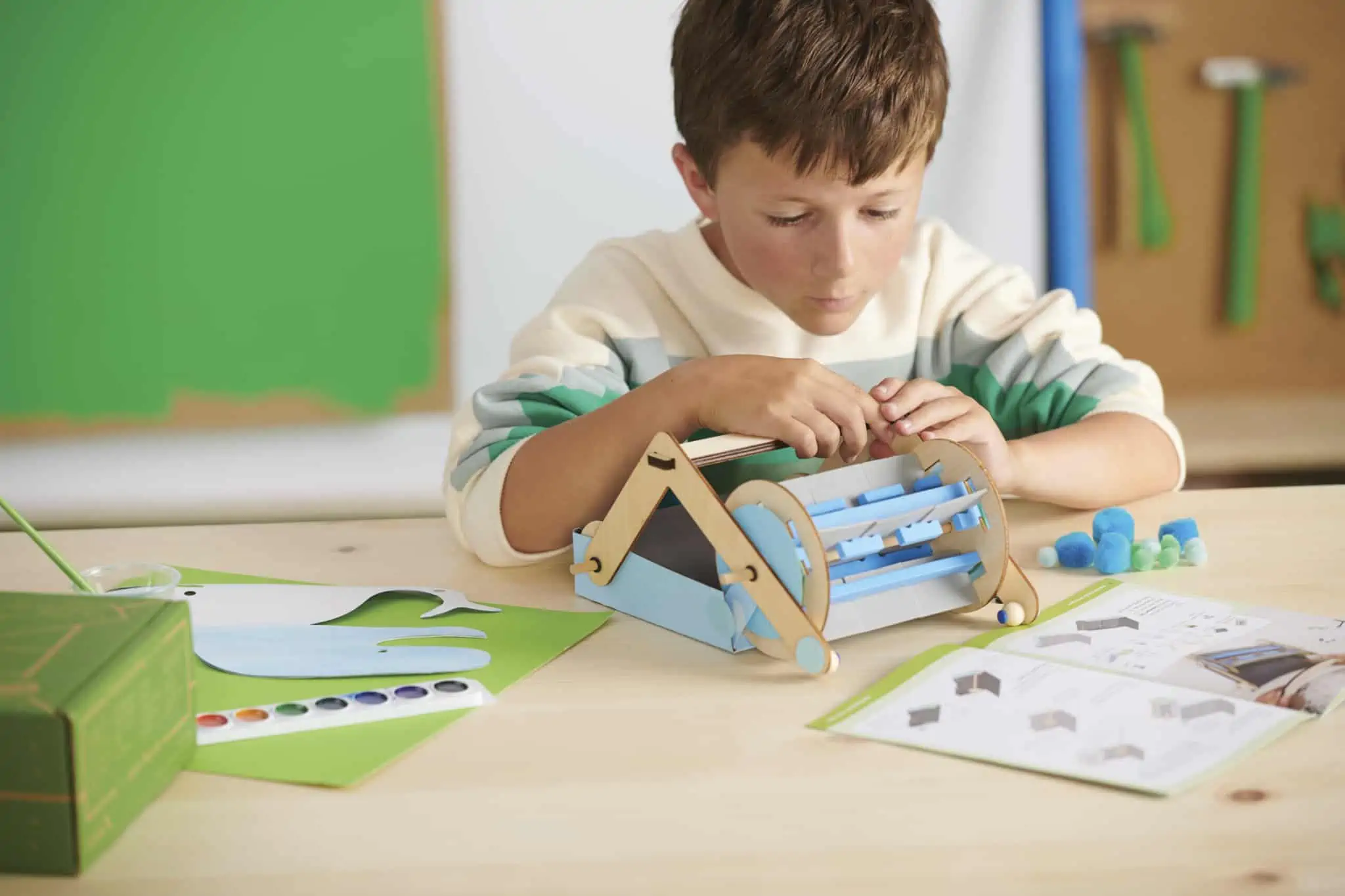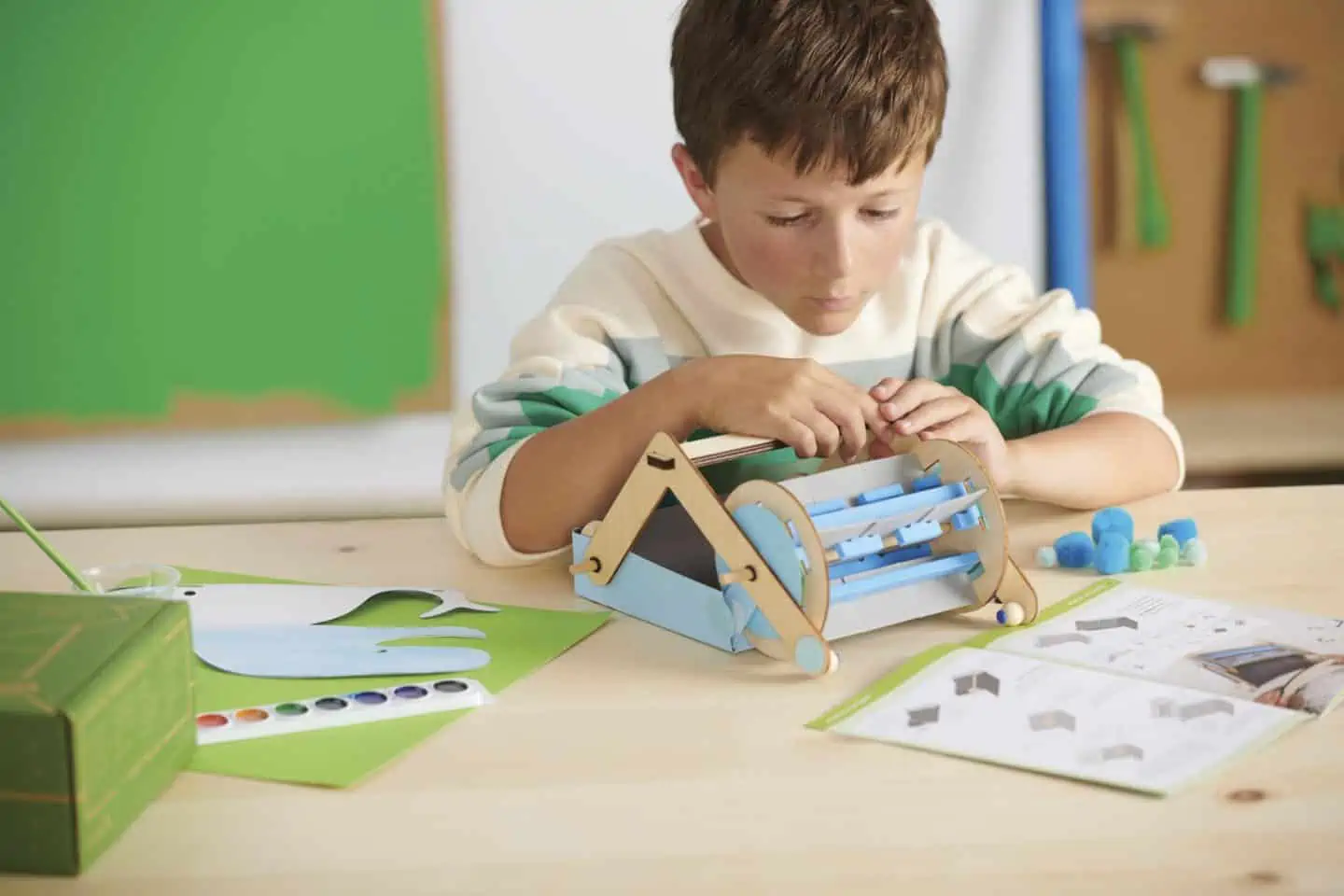 Atlas Crate
Atlas Crate (Ages 6-11) sparks kids' sense of adventure and curiosity, inspiring them to see themselves as world citizens. Check out our review of our favorite geography subscription box.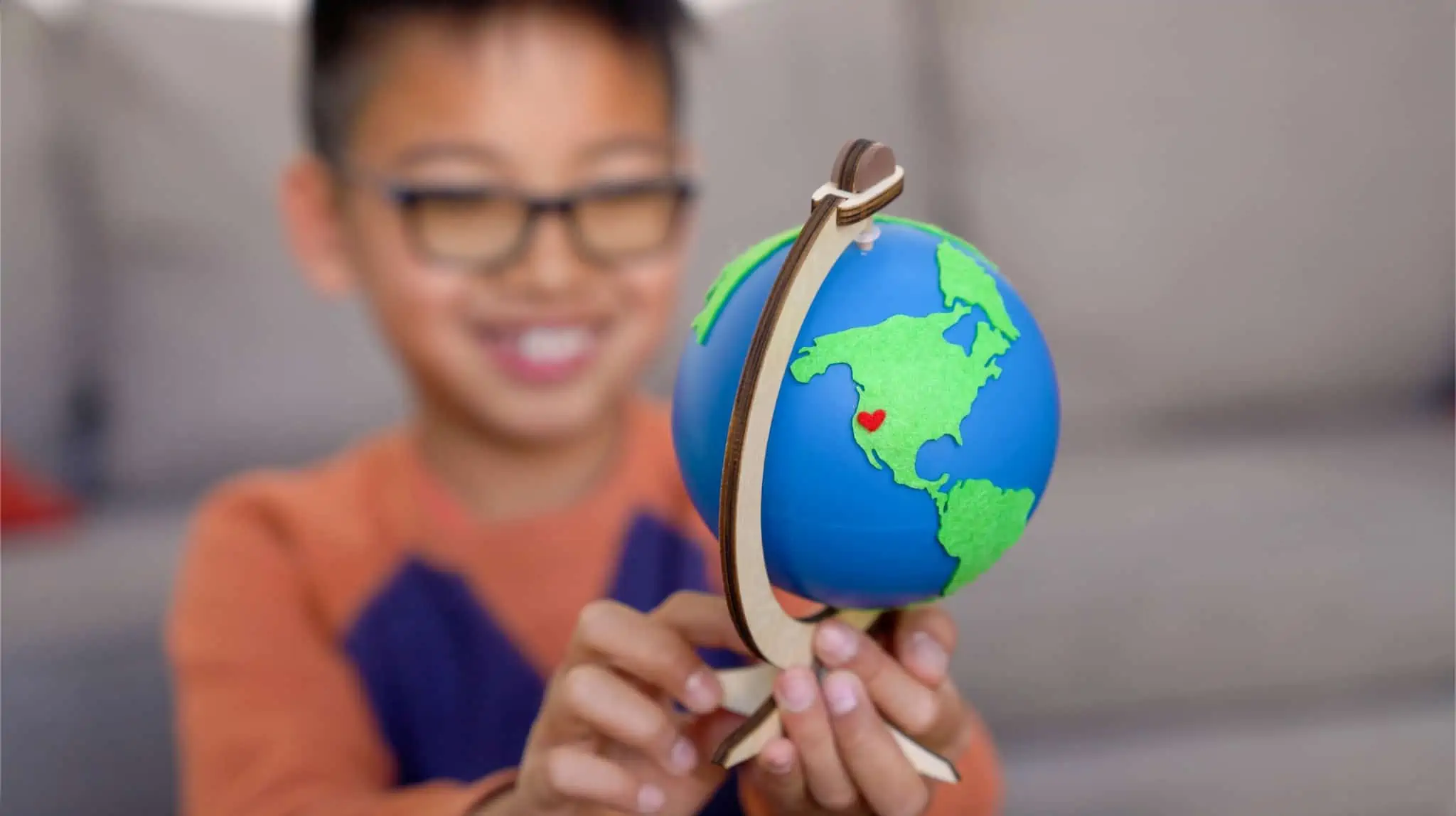 Yummy Crate
Yummy Crate (Ages 6-14) helps kids discover the science of cooking with recipes and activities that explore hands-on experimentation in and out of the kitchen.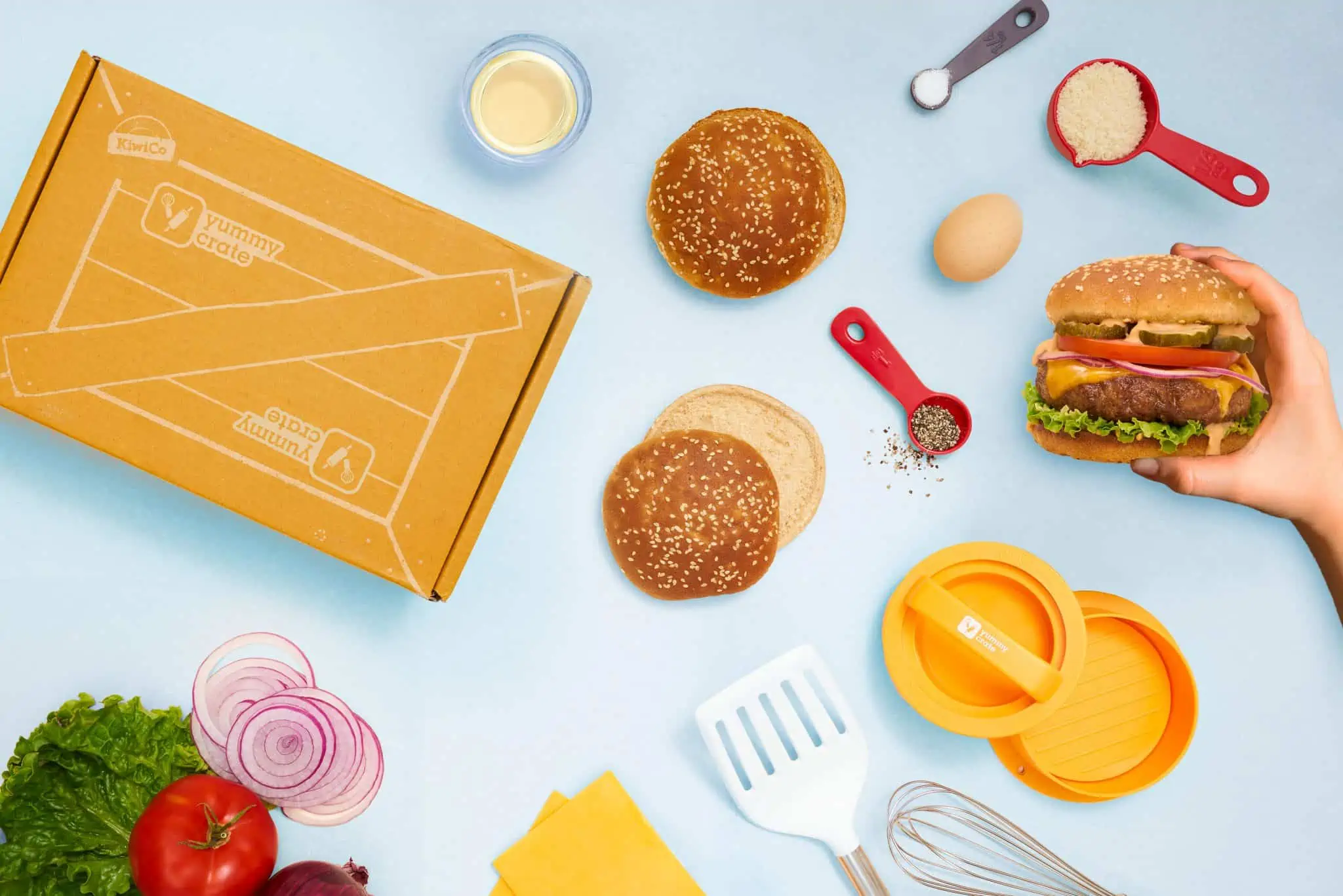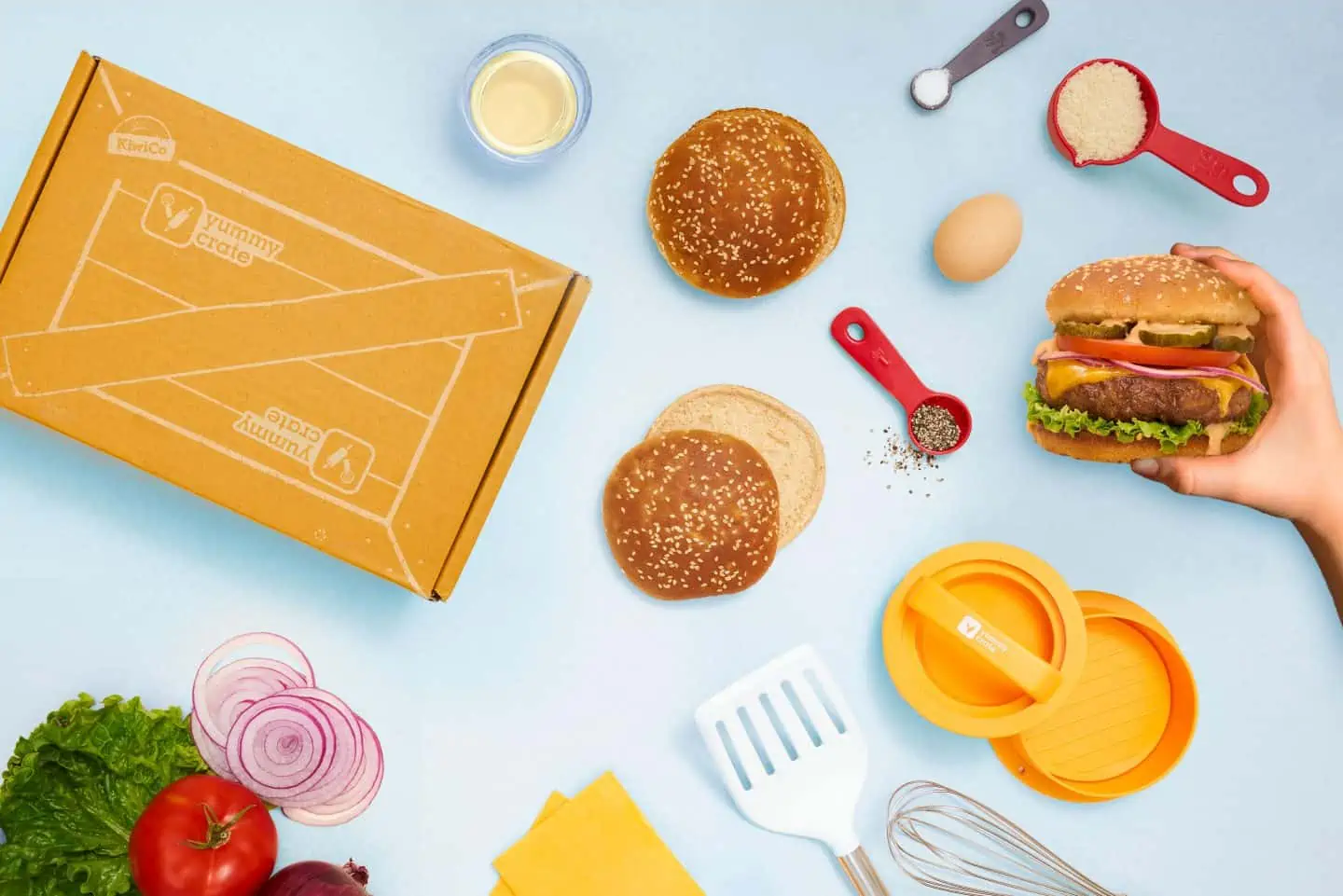 Doodle Crate
Doodle Crate (Ages 9-16) invites young designers to build creative confidence by experimenting with art & design techniques in monthly hands-on projects.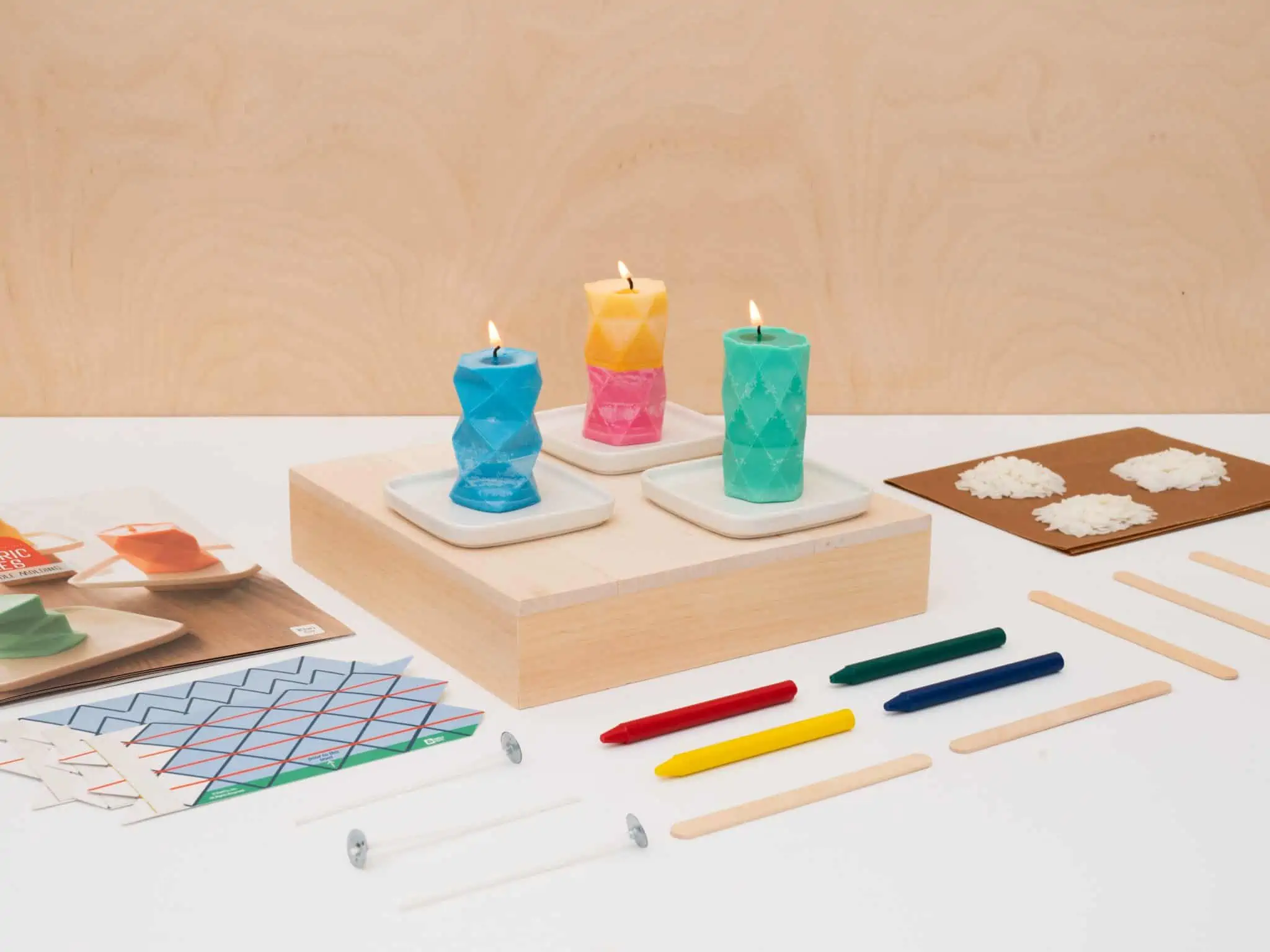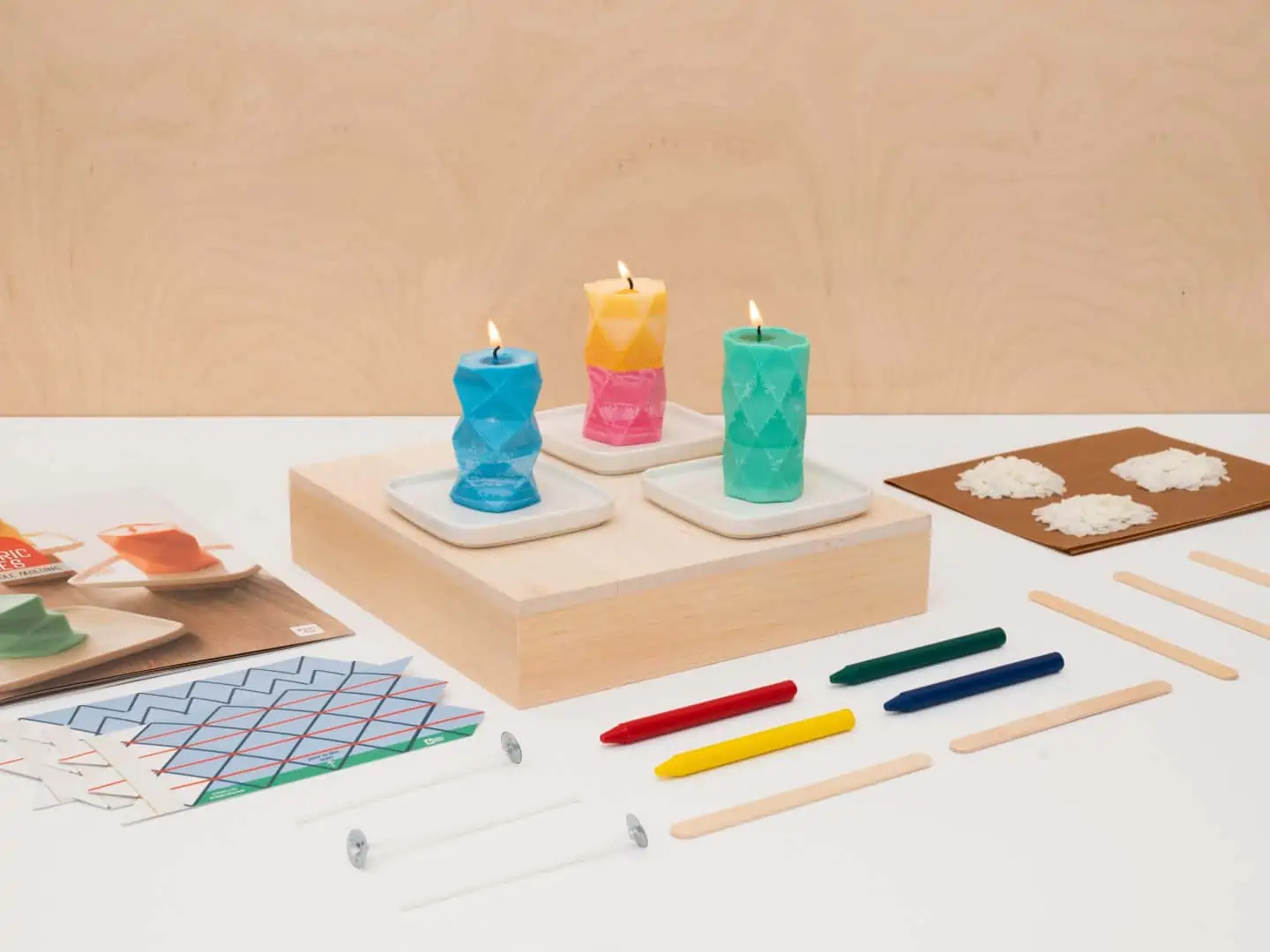 Tinker Crate
Tinker Crate (Ages 9-14) helps young innovators to discover and learn about science!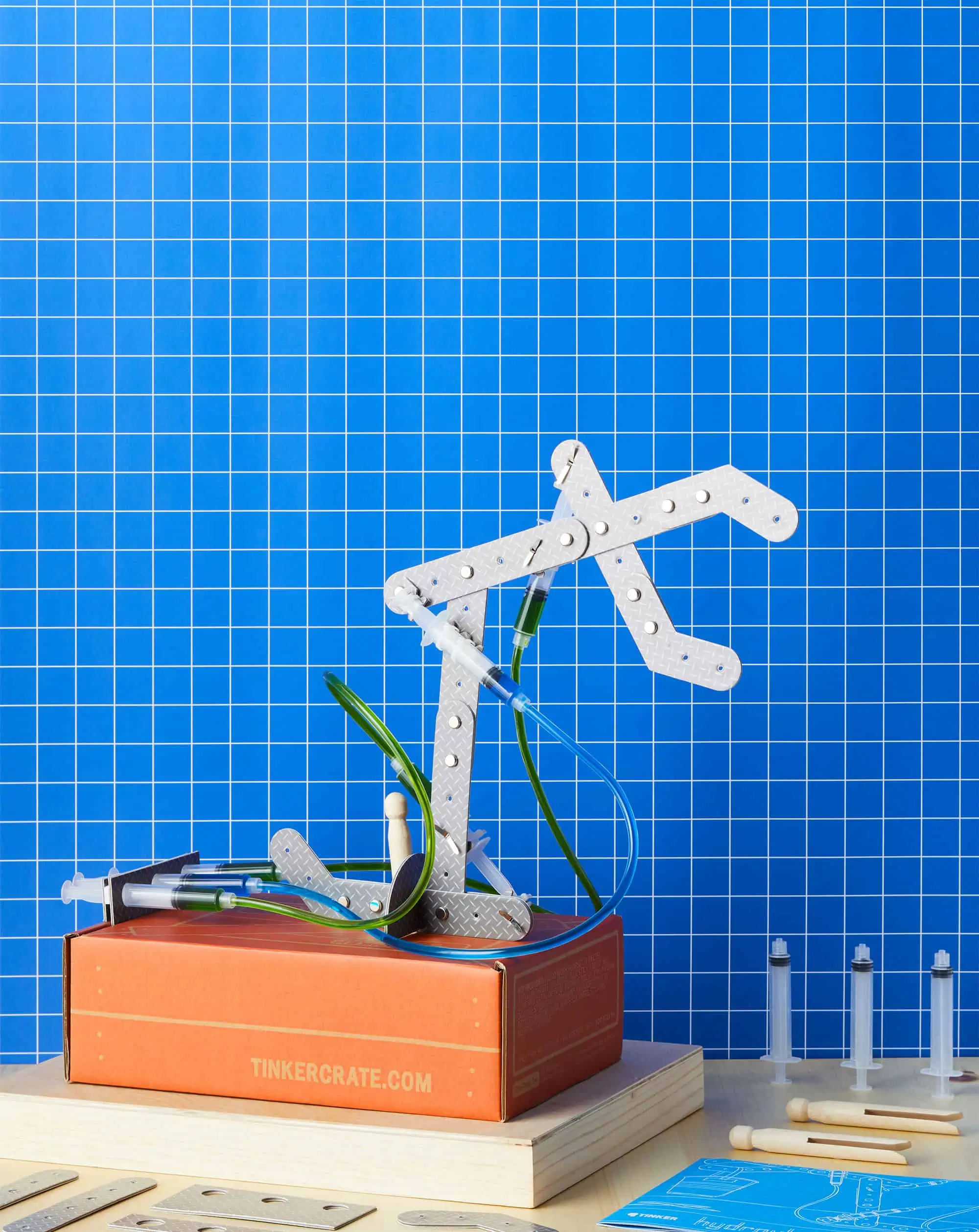 Eureka Crate
Eureka Crate (Ages 12-100) teaches kids (and kids at heart!) how to apply science and math principles to engineer solutions and make awesome things they'll love using every day.
Check out our KiwiCo Eureka Crate review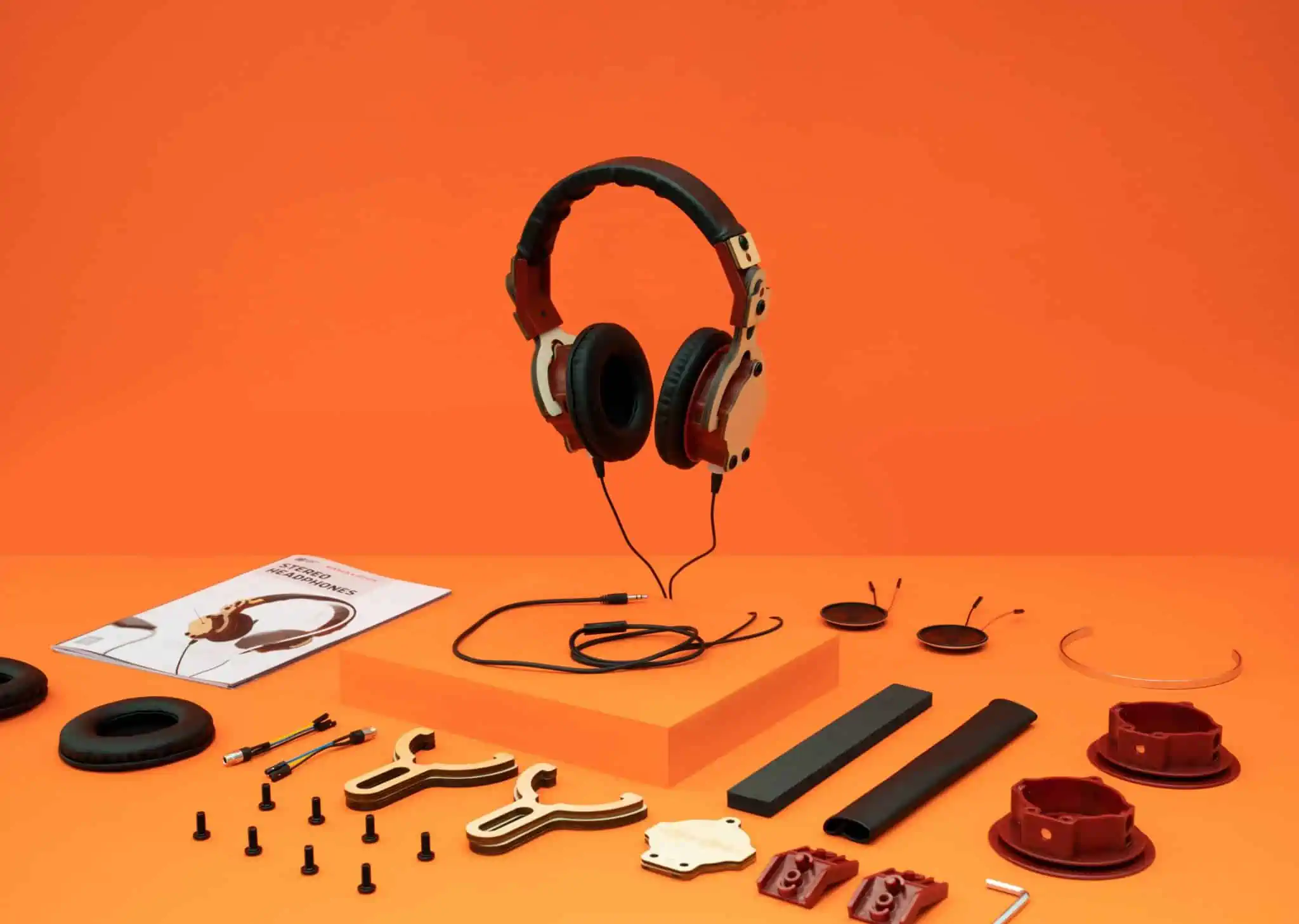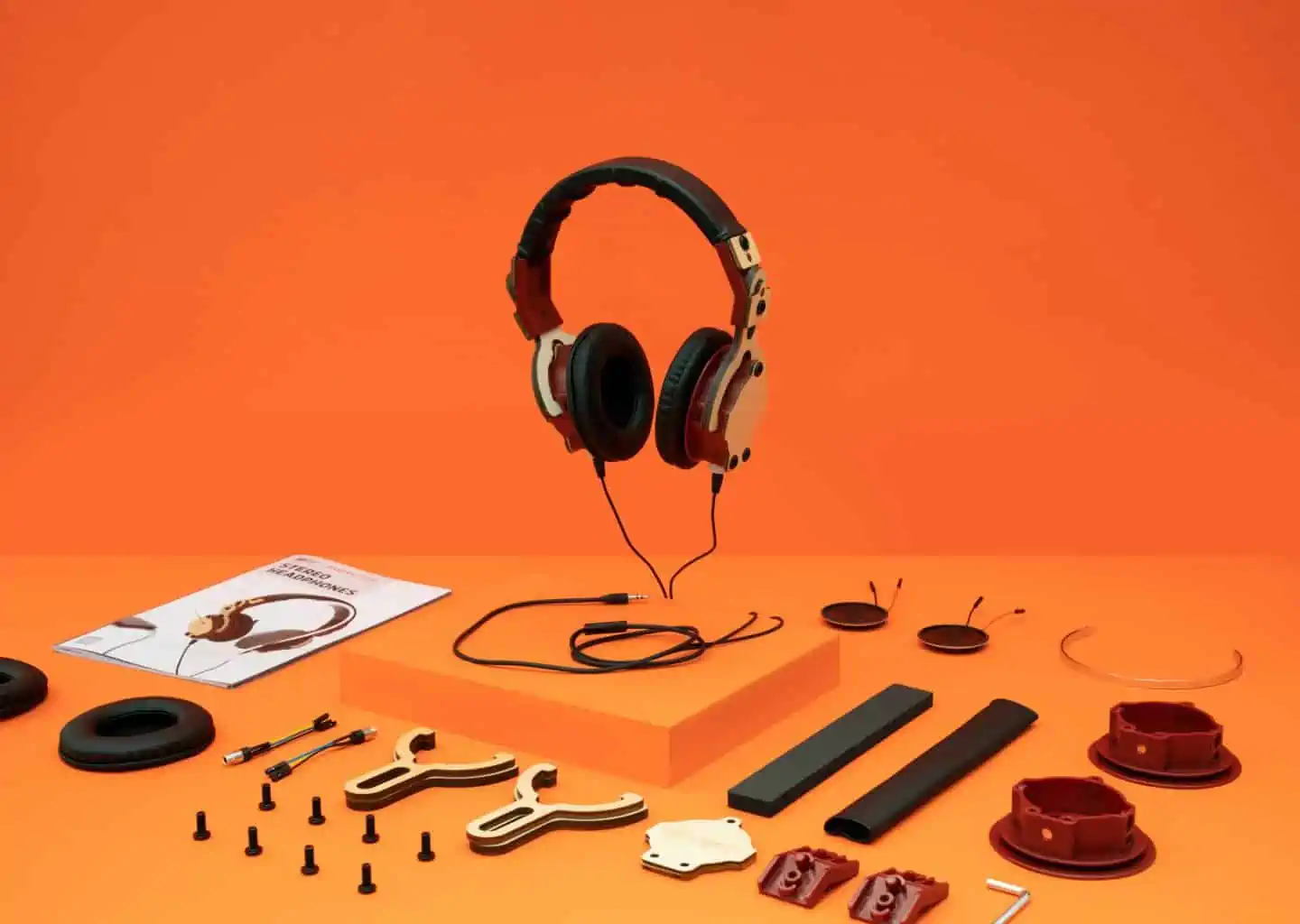 Maker Crate
Maker Crate (Ages 14-100) Whether you're 14 or 104, a first-time crafter, or an experienced maker, this is the box for you. A new art and design workshop in every box.
Check out our KiwiCo Maker Crate review to see what exclusive promo codes we have available.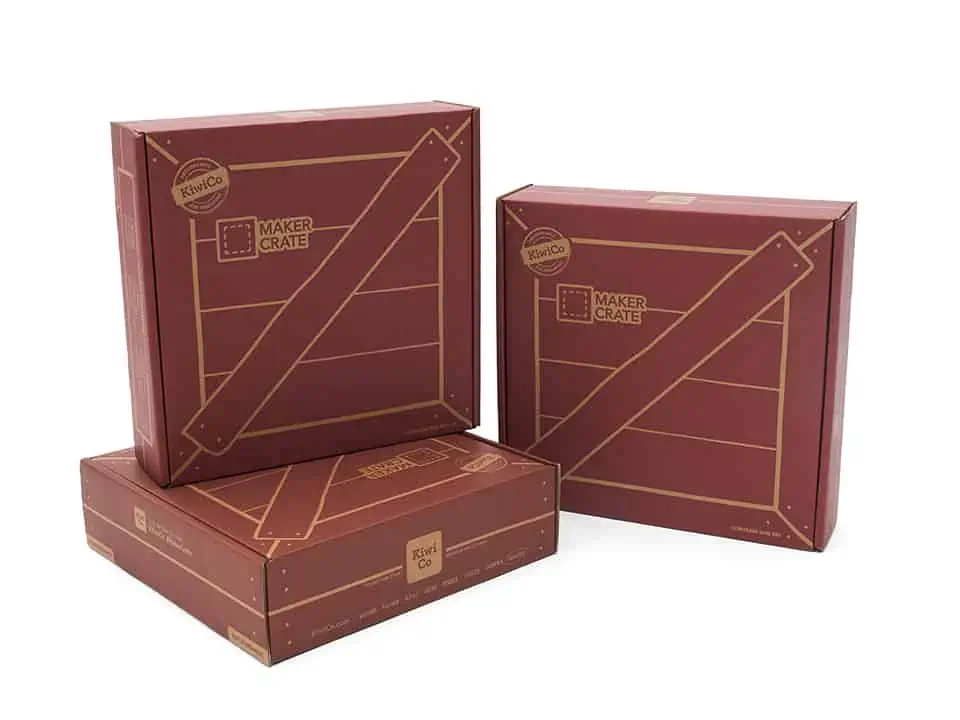 Check out the best subscription boxes for teen boys that we have loved in the past or continue to order.
If you are looking for even more homeschool curriculum reviews check out all the others we have reviewed over the years.
Last Updated on 9 September 2023 by homeschoolof1