Lingopie Review – Learn Spanish The Easy Way in Homeschool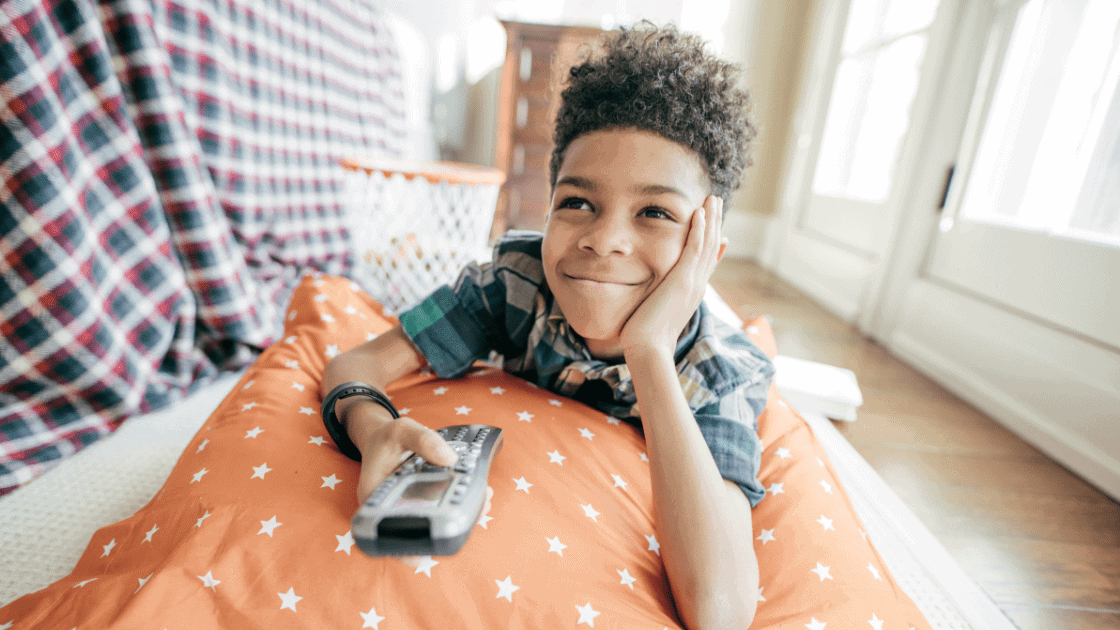 I have recently come across a new, and fun, way to learn Spanish in your homeschool. Watching TV. I mean how cool is that, when I told Freddie he honestly thought there was a catch. Keep reading for my honest Lingopie review.
Ok, well there was a small catch!
He had to watch TV in Spanish!
Lingopie was not designed as a homeschool Spanish program, this was clearly made with adults in mind. However, I think this is such a fun and cheap way to get the kids interested in learning a new language.
Lingopie is not just for Spanish, you can also watch TV in Portugese, French, German, Italian and Russian.
We love Duo Lingo which we use for free, but this alone is not enough to be confident in a language. So this is where we believe Lingopie stands out. You are watching real people talking Spanish, as you follow along.
**Disclosure – I was compensated for my time, however, as always all views are my own. There are affiliate links included in this post.**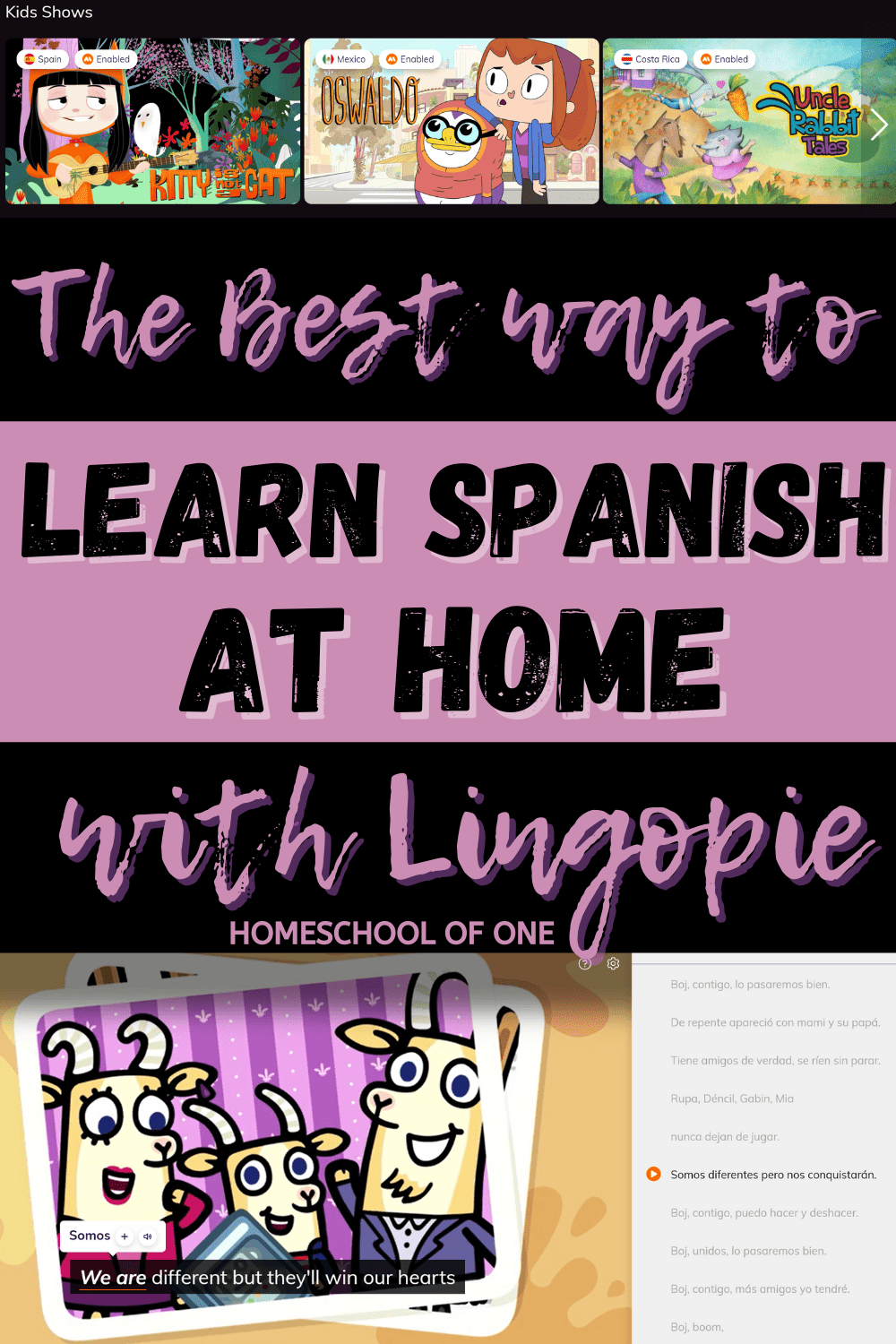 Lingopie Review With Kids In Mind
There are currently 6 kids cartoons in Spanish
Boj
Kitty is Not a Cat
Oswaldo
Uncle Rabbit Tales
Bird Watchers
Yoko


What I love is that when you watch the cartoon you not only get the English translation (that you can click on to save the word).
It also shows you the Spanish script so you can follow along that way too! If you find the script too distracting though you can turn it off and just have the cartoon in full screen. We tend to watch the cartoon once with the script on, and then again with it off.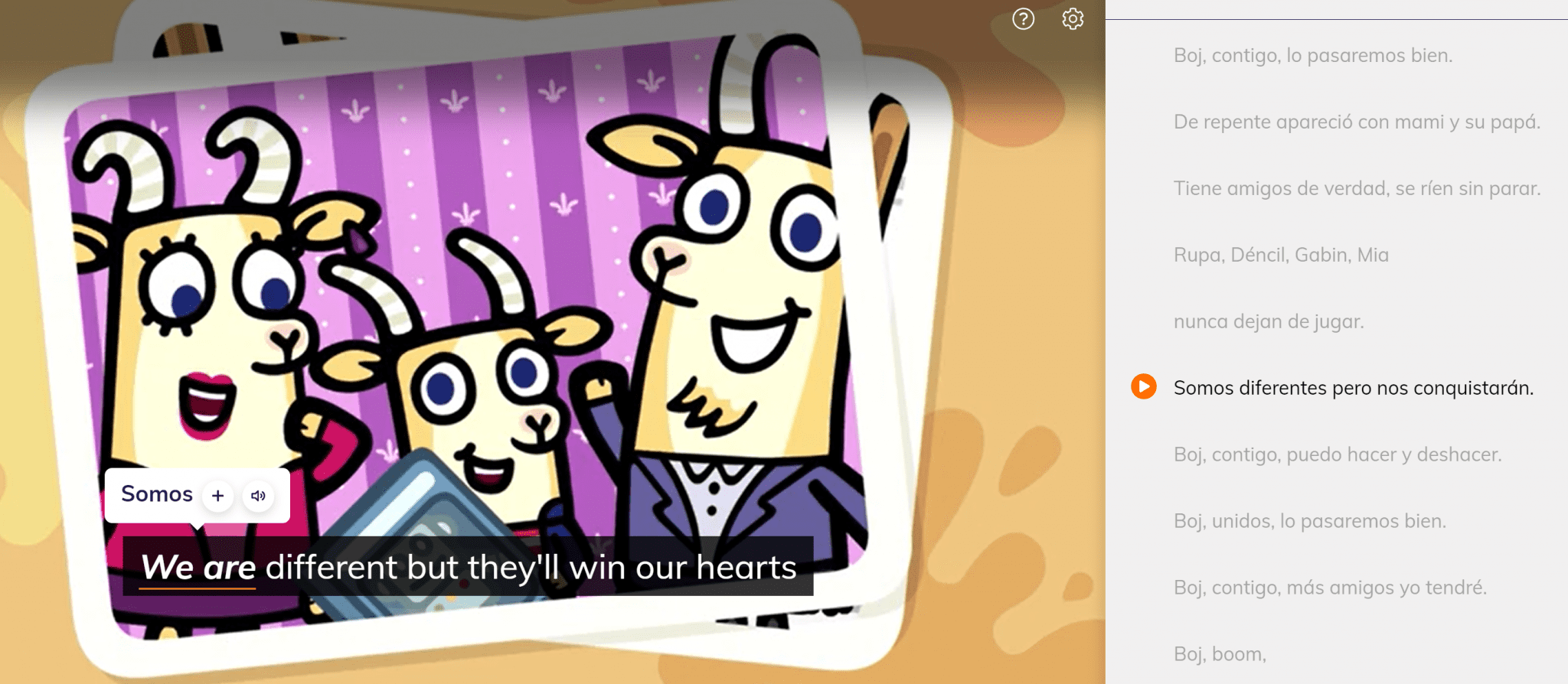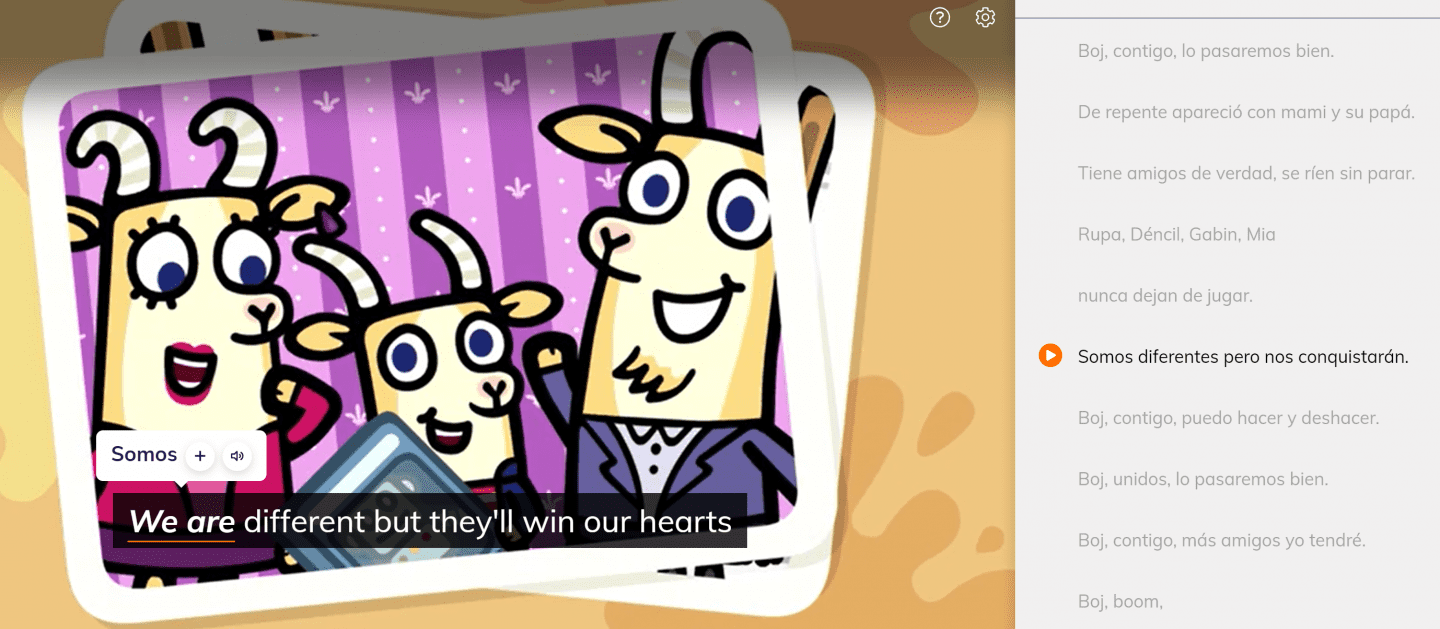 As you can see above, there are words highlighted in English with the Spanish translation above. If you click on the plus button it will save the word for review later.
When you have finished watching the cartoon you can then go to review and learn. The words you clicked on will show here along with the show you were watching. So it is easier to navigate which words you needed help with. At first, you will see the words in Spanish and then you click the card for English as can be seen below.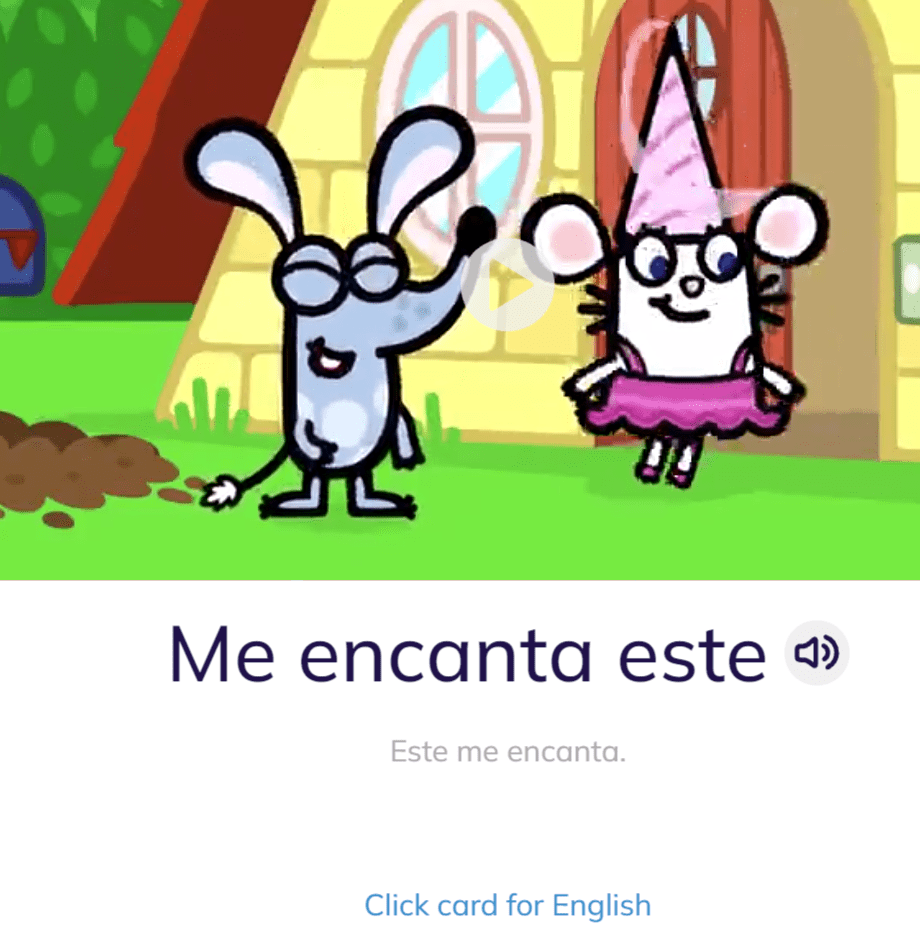 Lingopie App
As we homeschool we tend to do "school" work on either a desktop or a laptop. Which is what we have used for this review. However, I have checked and they have the Lingopie app both on IOS and Android. Below is what it looks like on the iPhone.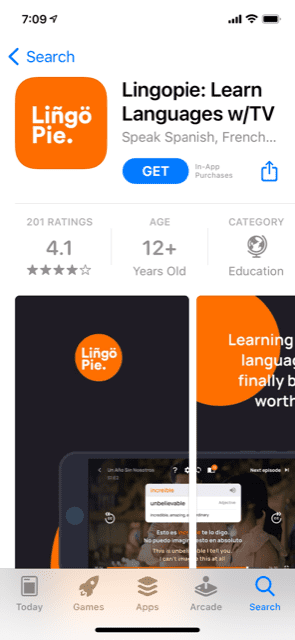 I downloaded the Lingopie App on the iPad just to see how it worked, and actually, I prefer the layout on here to the PC. Below you can see a screenshot when you log in. You can easily see what level you are, the words you have clicked and learned. You can see it on the PC which I will show further down, but I like the fact it is in your face!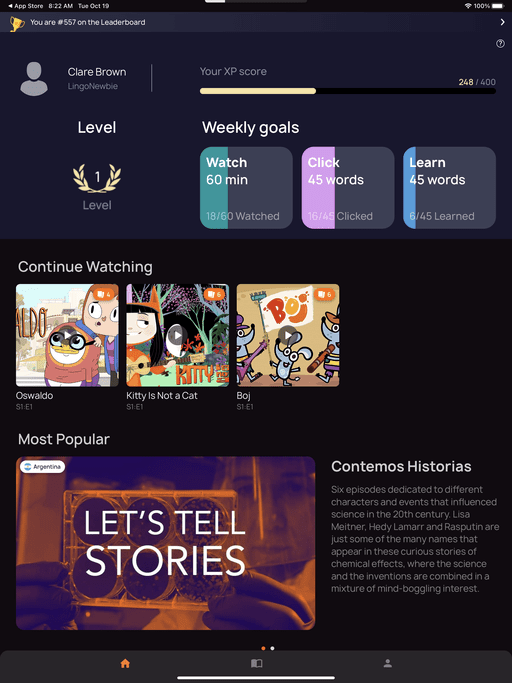 Below is a screenshot of the home screen on the PC. As you can see you can still see the progress it is just much smaller!


Lingopie Review
Lingopie is rated 4.7/5 on Trustpilot so you don't need to just take my word on it! It really is a fun way for kids to learn Spanish. You can check it out yourself for FREE for 7 days.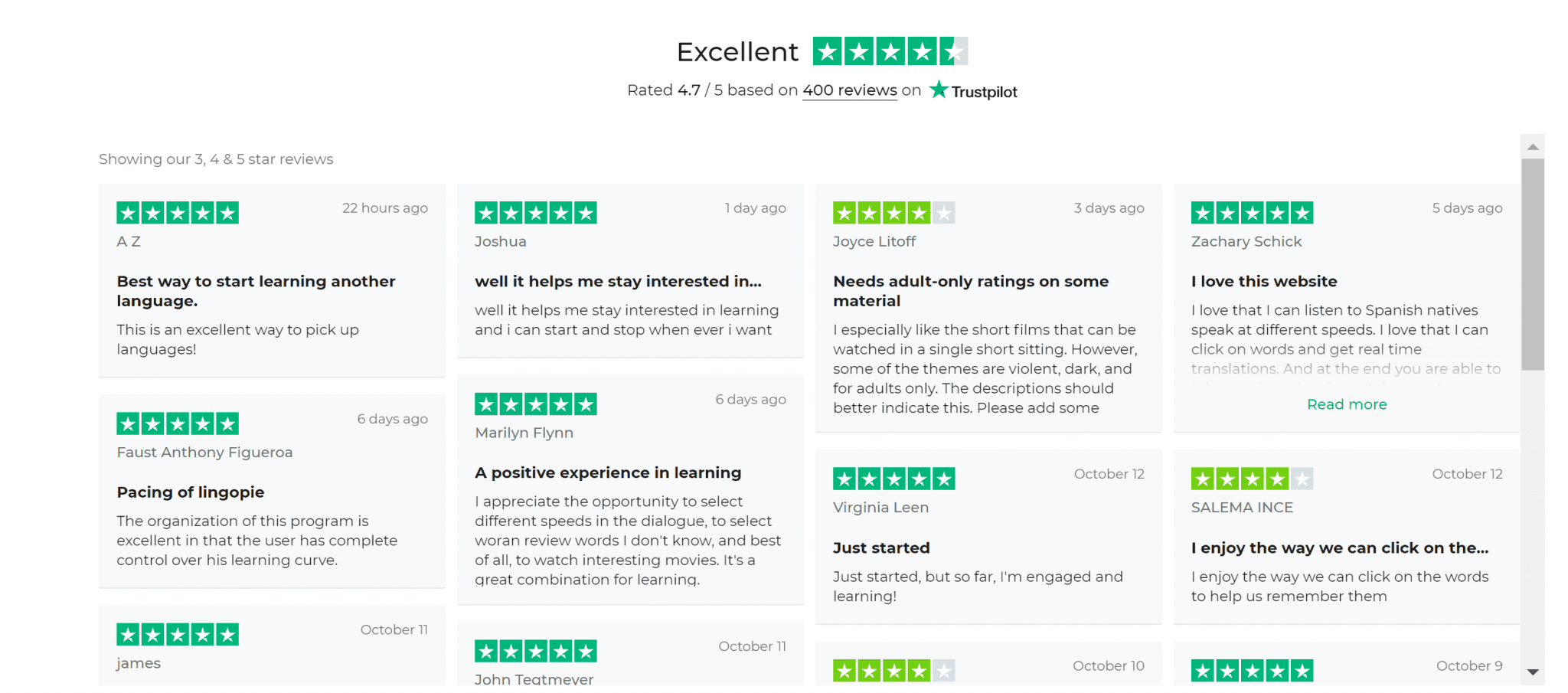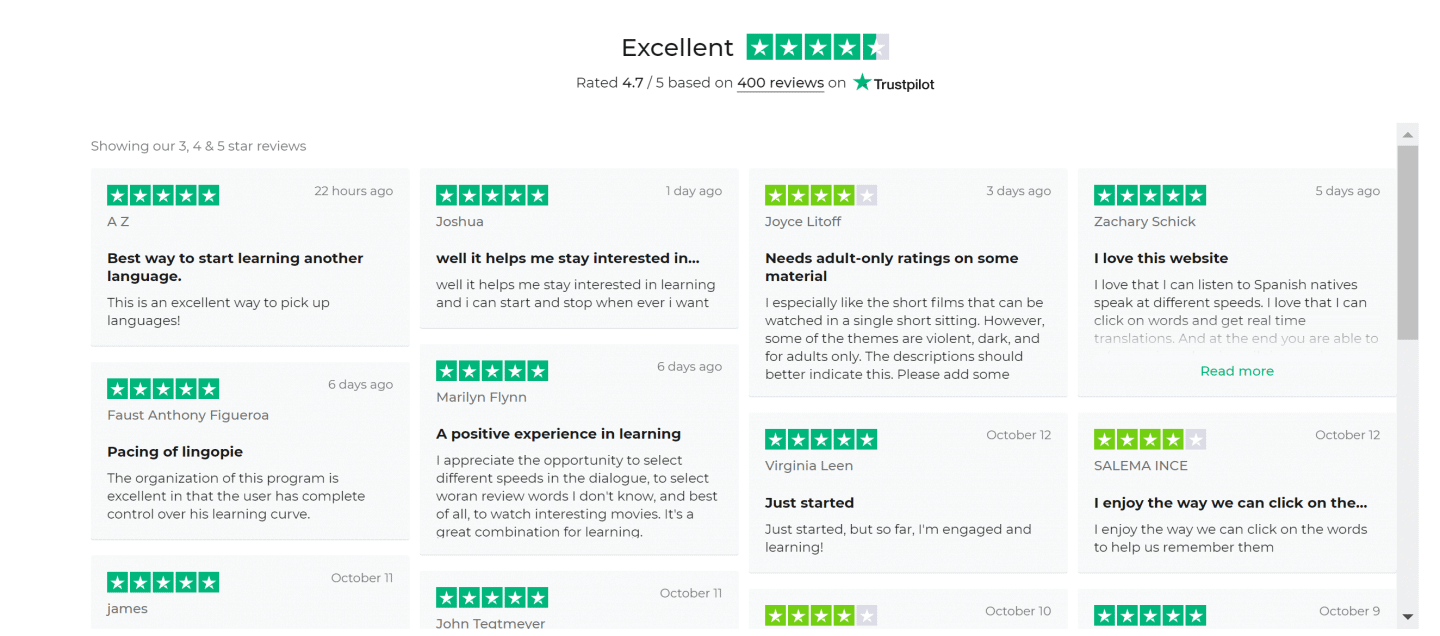 Pros of Lingopie
You can listen to different dialects ( I love this, so the shows are from Spain, Argentina, Uruguay, Columbia, and Mexico).
You can read the script in Spanish while watching, this is great for us, as we learn the words much quicker than understanding someone speaking it.
There is an option to revisit words that you find harder.
It is a fun way to learn Spanish.
It is a more immersive way to learn a language.
You can also learn Portugese (there is more children's content than Spanish), French, German (which has a teen section, unfortunately learning Spanish doesn't have one yet.), Italian and Russian!
Cons of Lingopie
There are currently only 6 kids cartoons in Spanish
It is hard to tell which other shows are appropriate.
You can't change the audience view, so everyone can see "adult" themes.
Lingopie Prices
This is the BEST BIT you can have a FREE 7 DAY trial to see if you like it. After that, you can either pay monthly or much cheaper pay for the year.
Monthly $12 per month
Annual $5.40 per month, $65 a year
With the FREE trial though go and check it out, you have nothing to lose.
If you are looking for even more ideas for foreign language for homeschoolers check out our huge list.
Last Updated on 18 November 2021 by homeschoolof1