The Best Thanksgiving Scavenger Hunt Printable The Kids Will Love
We absolutely love treasure hunts in this house, so I thought I would share with you our latest FREE Thanksgiving scavenger hunt printables.
Here are some of the other treasure hunts we have created for you (all for FREE)
Easter should certainly not be the only holiday that gets to have treasure hunts!!
I have purposely not numbered these Thanksgiving treasure hunt clues, as I don't know the layout of your house! I have purchased some before with clue 1, clue 2, etc and the kids were running around the house like madmen! Now, not to say that is not an excellent way to make the treasure hunt go on for hours. But for younger children, this might not be what you are looking for!
If you want to spice things up a bit for older kids why not create a Thanksgiving-themed escape room with these awesome free escape room puzzle ideas!
These FREE Thanksgiving scavenger hunt printables are super easy to have fun with.
As a side note – as it is nearly Thanksgiving make sure you keep checking our Black Friday Deals for Kids post, this will be updated as soon as we spot any new deals!
**There may be affiliate links in this post. If you make a purchase (after clicking one of my affiliate links) I'll earn some coffee money, which I promise to drink while supporting your journey. You do not pay a higher price. You can read my full disclosure at the bottom of the page.**
Thanksgiving Scavenger Hunt
These 12 rhyming clues are perfect for younger or even older children. Especially if you don't hide them in the obvious spots!
There isn't really much else required to start with these FREE printables, well apart from a printer.
Grab the free printable below (scroll to the end of this page, and subscribe for FULL ACCESS)
Print out the clues – just make sure you print to either A4 or Letter and click on shrink to fit. I have tried so they should print on both sized paper.
Paper or Card – the printables work better on cardstock (this is the one we use), however, normal printer paper will work perfectly.
Scissors – to cut the clues, I have purposely kept the clues big, but of course, you can fold them if they need to fit in somewhere small.
Get a pen (to remind you where you have put the clues and in what order)
Most importantly the gift, however, as it is Thanksgiving, you will already have plenty of candy! If you are looking for alternative gifts I will share our favorites later in the post.
Thanksgiving Gifts for Kids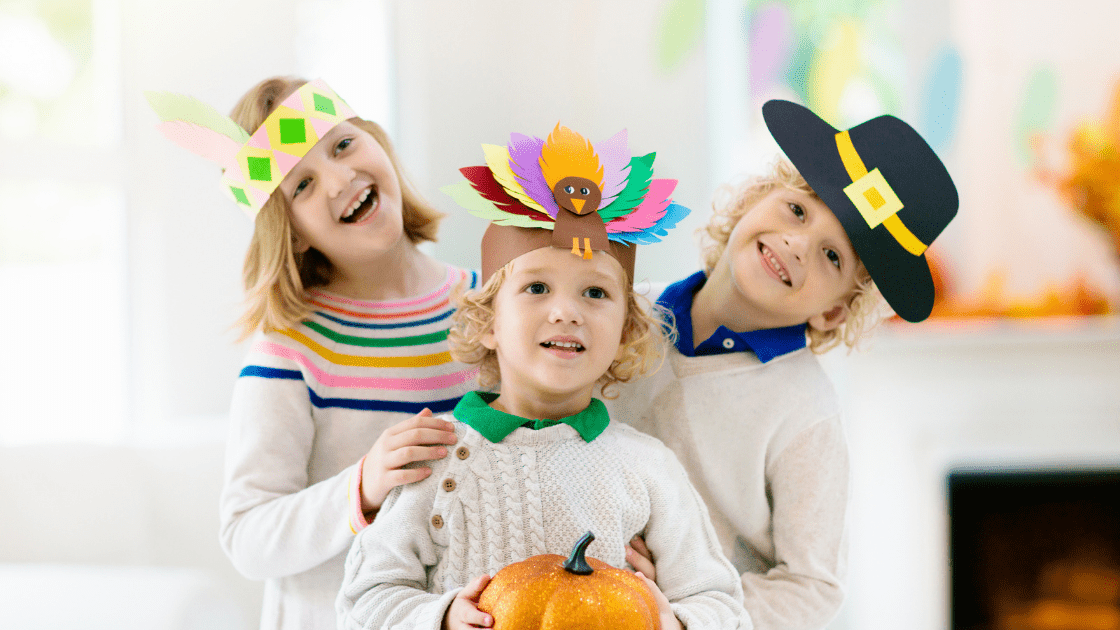 Freddie has a severe peanut allergy so candy is always hard to find that has been produced in a nut-free facility. So we always prefer to find gifts that are NOT candy! Here are our favorite Thanksgiving gifts for kids
Thanksgiving in the Woods Book
It's Laugh O'Clock: Would You Rather? Thanksgiving Edition
If you are looking for more Thanksgiving fun why not check out our other blog posts:
Play our free Thanksgiving scattergories game and this Thanksgiving word search.
Check out our favorite Thanksgiving read aloud books
Printable coloring pages for Thanksgiving FREE
If you homeschool check out our favorite educational Thanksgiving Fun Activities.
If you have finished our free Thanksgiving scavenger hunt, why not have another! I mean the kids are off for the week! These are our favorites and all can be instantly downloaded too.
Download the Thanksgiving Scavenger Hunt
Make sure you choose the correct paper size and then click on the shrink to fit button. With all of our printables, they work better when printed on cardstock (this is the one we use and love.)
Last Updated on 14 May 2022 by homeschoolof1