Best Homeschool Art Curriculum That Kids Will Love
Welcome to the world of homeschool art curriculum, where creativity knows no bounds and artistic exploration takes center stage in the comfort of your home.
We love homeschooling, but, I am very aware of my abilities. Finding an art homeschool curriculum was a necessity. Art is definitely not one of my talents! In fact, by the age of 10, my son could draw better than I could.
I have added a range of homeschool curriculum options from the best art books, free art resources, unit studies, and fine art curriculums that homeschool families will love.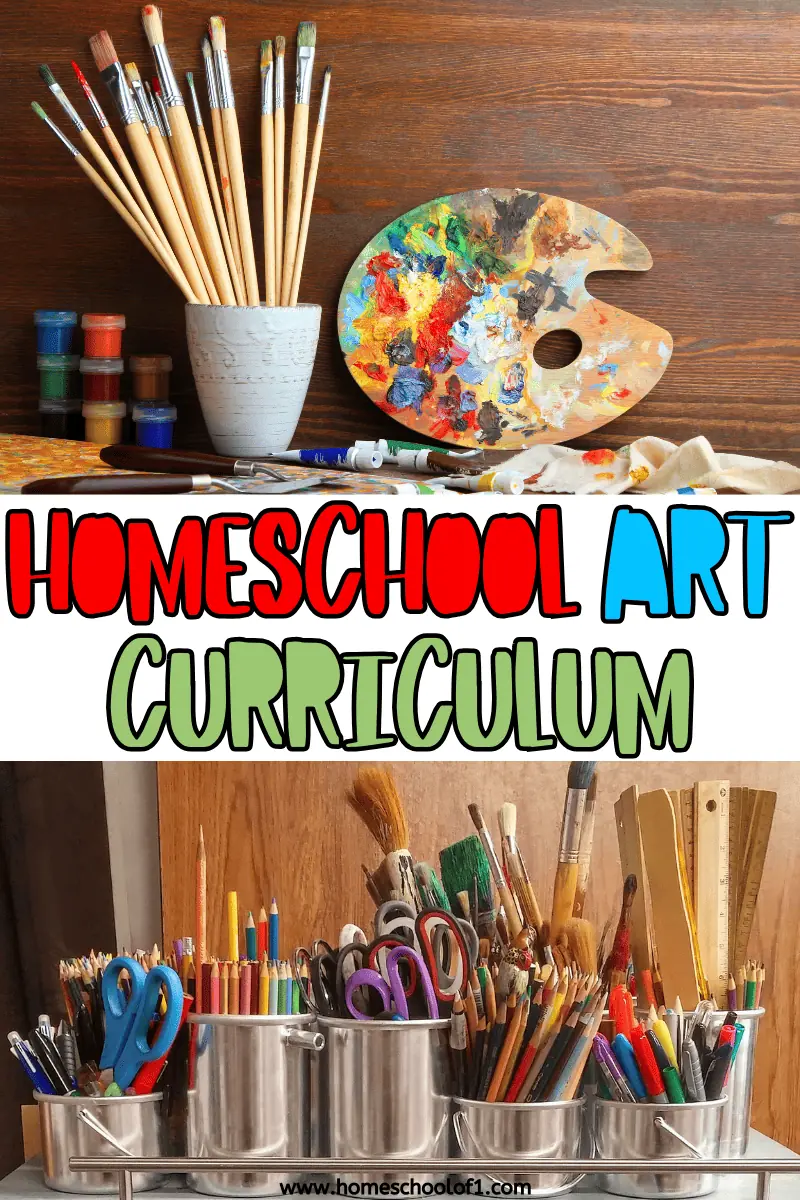 **There may be affiliate links in this post. You can read my full disclosure at the bottom of the page.**
Art Homeschool Curriculum
Art is a vital and enriching component of any homeschooling experience, fostering creativity, self-expression, and an appreciation for the beauty in the world around us.
In this comprehensive guide, we'll explore various art homeschool curriculum options designed to cater to the diverse needs and age groups of homeschooling students.
Homeschool artist study
One exciting way to introduce young artists to the world of creativity and culture is through a Homeschool Artist Study.
This approach not only educates students about famous artists but also encourages them to engage actively with their masterpieces. Consider incorporating the following resources into your curriculum:
Famous artist's coloring pages: These coloring pages not only offer a fun, hands-on activity but also provide insights into the lives and works of renowned artists.
As students color in the artists' most famous creations, they'll gain a deeper understanding of their unique styles and contributions to the art world.
Artists research project: Dive even deeper into art history by embarking on an extensive exploration of 30 of the greatest artists of all time.
This research project delves into their biographies, artistic techniques, and significant works, making it an enriching and educational experience for homeschooling students.
Artistic Pursuits
Artistic Pursuits is a tailored art curriculum designed explicitly with homeschooling families in mind. This curriculum provides a comprehensive and engaging approach to art education.
Its reputation for excellence is well-established, supported by numerous positive reviews and testimonials from homeschoolers across the globe.
With a variety of grade levels and topics available, Artistic Pursuits offers a flexible and enriching art education experience for homeschooling students, making it a compelling choice for families seeking a well-rounded artistic education.
Alpha Omega Art
For homeschool students in grades 7-12, Alpha Omega Art offers a thorough and in-depth exploration of the fundamental principles of artistic creation.
This curriculum covers a broad spectrum of topics, including color theory, various art styles, perspective drawing, portraiture, carving, and even cartooning. It provides a robust foundation for older students seeking to hone their artistic skills.
Atelier
Designed with younger children aged 4 to 8 in mind, Atelier is an engaging art curriculum that fosters creativity in the early years of a child's education. This curriculum comes complete with instructional DVDs, a comprehensive parent and teacher manual, and a well-structured set of lesson modules.
It's an excellent choice for parents looking to instill a love of art in their younger homeschoolers.
How Great Thou Art
While non-secular curriculums may not always be recommended, How Great Thou Art stands out as an exception.
Particularly suitable for high school students interested in art history, this curriculum has garnered exceptional reviews for its effectiveness and educational value. If you're seeking a comprehensive and faith-based art history curriculum, How Great Thou Art could be the perfect fit.
SchoolhouseTeachers
One standout option in the world of homeschooling is SchoolhouseTeachers, which offers a unique advantage. Upon subscribing, you gain access to an extensive array of subjects and grade levels, including a diverse selection of art curriculum materials.
From preschool to high school credits, SchoolhouseTeachers has you covered, making it an invaluable resource for homeschooling families looking to cultivate their children's artistic talents alongside their academic pursuits. Explore the possibilities for yourself by checking out SchoolhouseTeachers today.
Free homeschool art curriculum
When it comes to homeschooling, finding quality art resources without breaking the bank can be a game-changer.
Fortunately, there are several outstanding options for free homeschool curriculum for art that cater to various age groups and interests.
Twinkl
Twinkl, a resource primarily known for its premium offerings, generously provides a selection of free art worksheets that can be a valuable addition to your homeschooling arsenal.
While exploring their resources, we stumbled upon a noteworthy collection dedicated to the celebrated artist George Stubbs. These Twinkl free resources not only offer an opportunity to delve into the works of this iconic artist but also provide an engaging way to nurture artistic skills.
Easy Peasy All in One Homeschool
Easy Peasy All in One Homeschool is a treasure trove for homeschooling families seeking comprehensive and free art education.
With a curriculum that spans grades 1 to 8, it encompasses a wide range of artistic topics. But that's not all; if you're homeschooling high school students, Easy Peasy has you covered too.
Their extensive curriculum covers four years of art education, touching on themes such as ancient art, early American art, cultural influences, and modern art. It's a rich and diverse resource for fostering creativity and art appreciation in your homeschooling journey.
Khan Academy Art Curriculum
Khan Academy, renowned for its free educational content, offers an exceptional art curriculum that delves into the history of the arts. This curriculum, tailored for homeschooling, serves as a valuable tool to explore the evolution of art throughout history.
It not only educates students about various art movements and periods but also encourages critical thinking and artistic expression. Best of all, it comes at no cost, making it an accessible and comprehensive resource for homeschoolers interested in the rich tapestry of art history.
Homeschool Art Books
These art books not only enhance your art education but also provide a lasting resource for creative inspiration and artistic exploration.
The Arts: A Visual Encyclopedia. This comprehensive visual encyclopedia offers a captivating journey through the world of art. With stunning images and informative content, it covers a wide range of artistic movements, styles, and artists. It's a valuable reference that enriches your understanding of the art world.
Art: The Definitive Visual Guide. A staple in our weekly art lessons, this book has earned its place as an indispensable resource. If you're considering just one art book, we wholeheartedly recommend this one. It's a remarkable guide that provides in-depth insights into art history, techniques, and famous works of art. Its visually engaging format makes learning about art an immersive and enjoyable experience.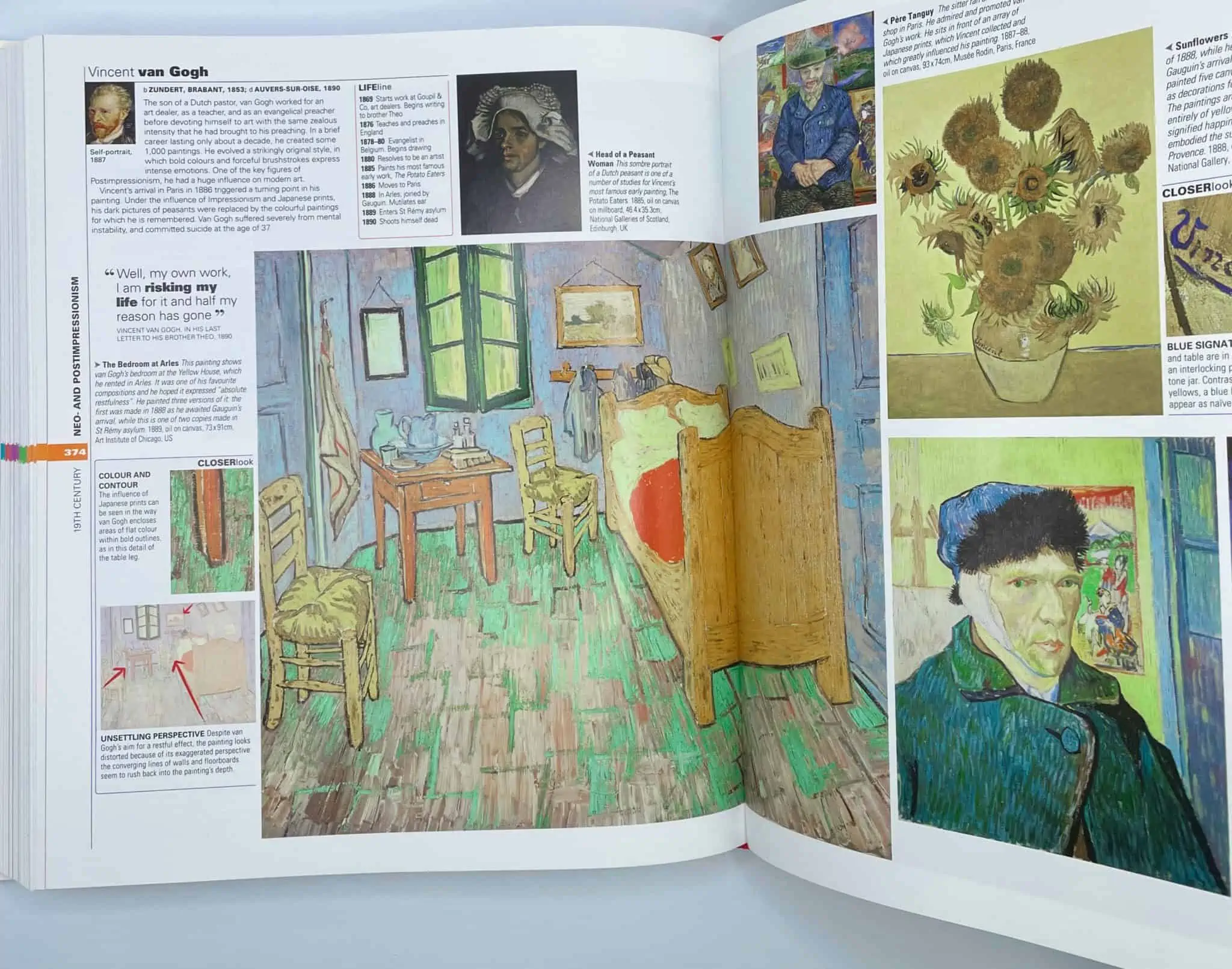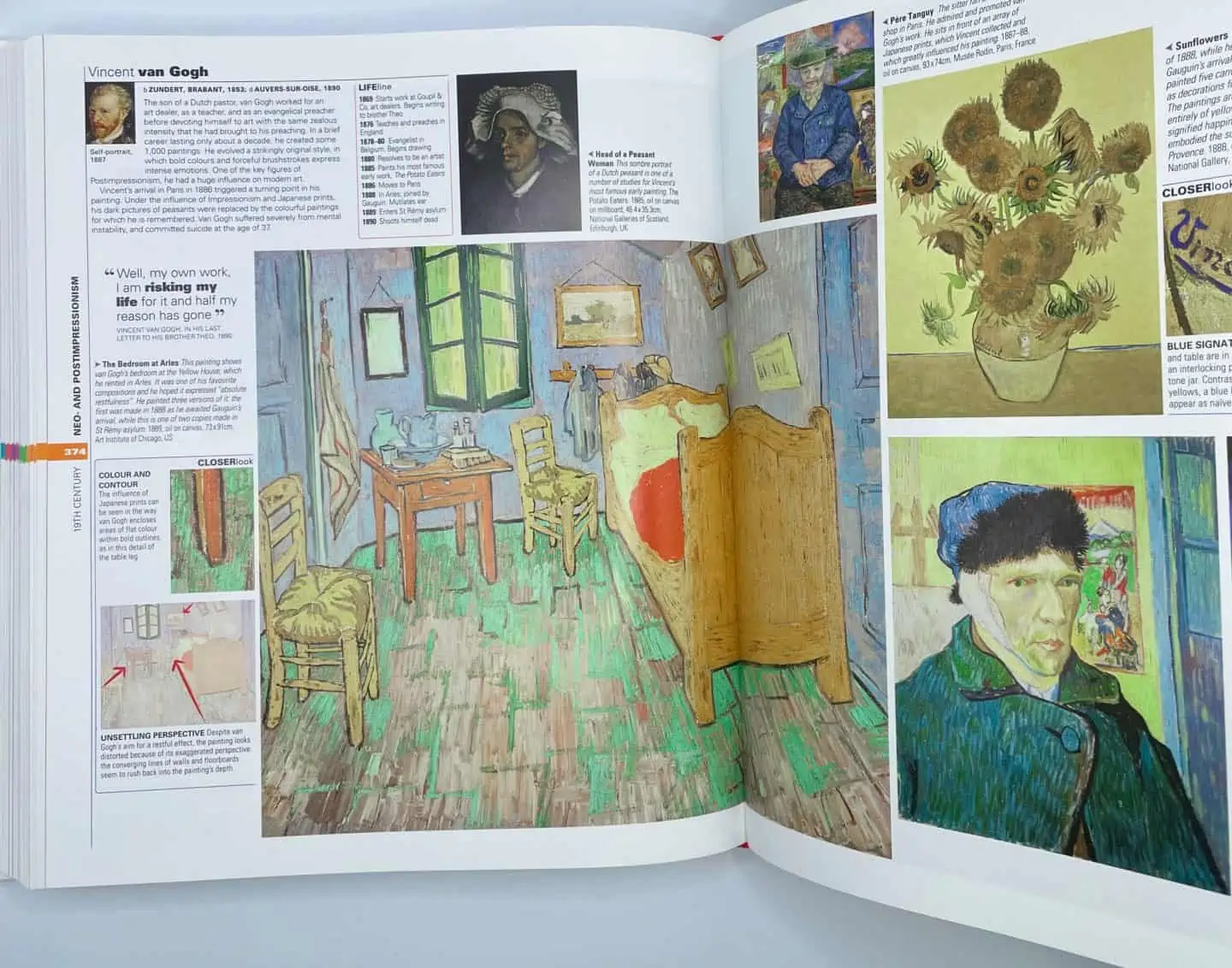 The Story of Paintings. This art book is a perfect choice for introducing young learners to the captivating world of art history. "The Story of Paintings" offers a child-friendly exploration of renowned artworks and their historical context. It's a delightful resource that nurtures a love for art in children and piques their curiosity about the stories behind the masterpieces.
The Illustrated Story of Art is an exceptional art book that combines rich visual content with insightful narratives. It takes readers on a journey through the evolution of art, from ancient civilizations to contemporary masterpieces. With its stunning illustrations and well-researched text, this book serves as a captivating reference for art enthusiasts of all ages.
Homeschool Art Kits
If you're on the lookout for engaging and creative gifts for kids who love art, we've curated a list of some of the best homeschool art kits available. These kits not only provide hours of artistic enjoyment but also enhance your child's artistic skills and imagination.
Dive into the world of creativity with the KiwiCo Doodle Crate. For more details and a comprehensive review, check out our KiwiCo Doodle Crate review. This kit offers a range of art projects and materials designed to inspire young artists and encourage their exploration of various artistic techniques.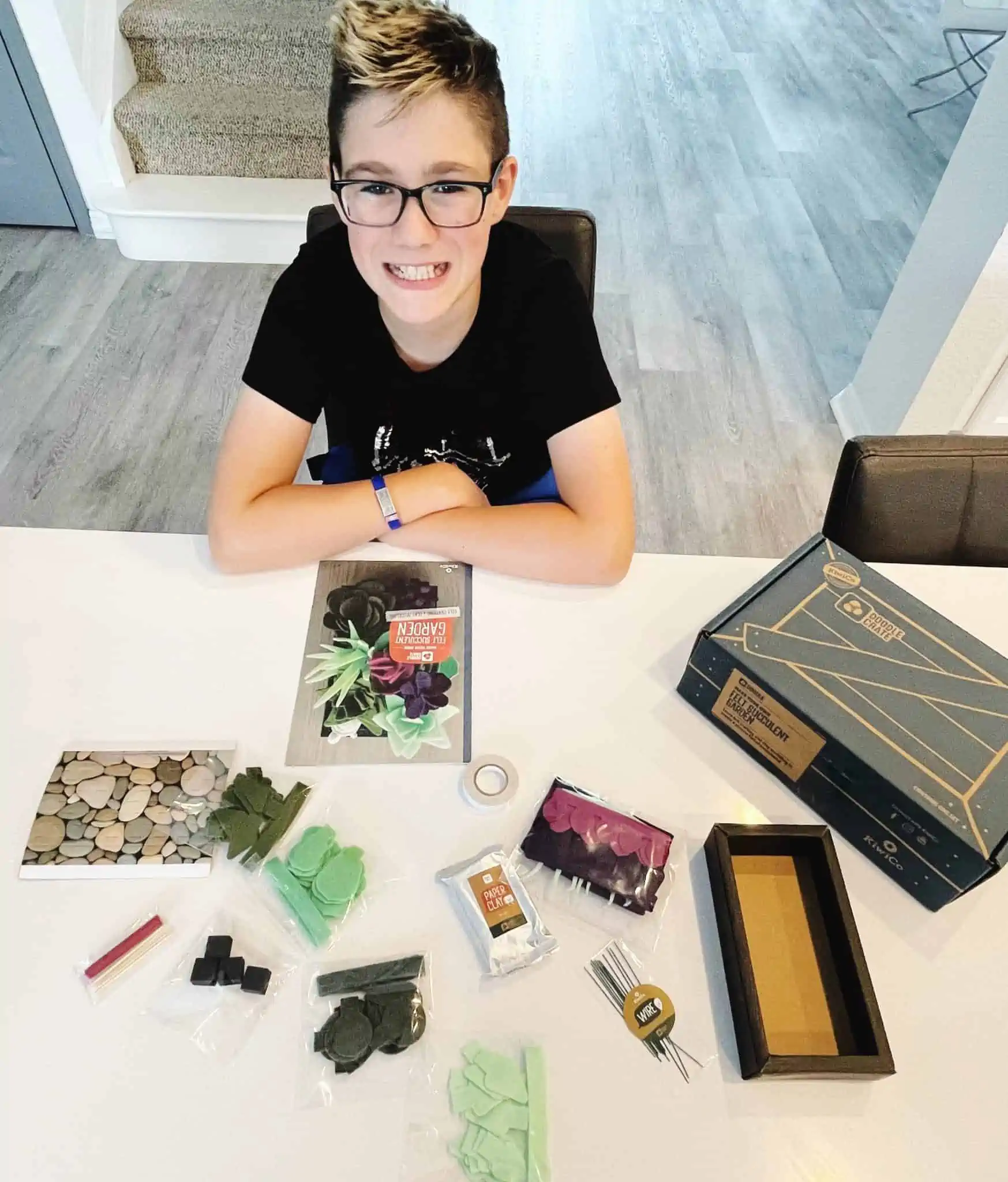 The We Craft Box is a fantastic option for fostering creativity in children. Each box is packed with curated art supplies and project ideas that spark imagination and provide hands-on learning experiences.
The Ultimate Monthly DIY Crafts Box. As the name suggests, this kit truly is the ultimate monthly DIY crafts box. It's a treasure trove of art supplies and craft projects that will keep your child engaged and inspired month after month.
Craft-tastic – Artist's Box is a comprehensive kit designed to unleash your child's artistic potential. With a variety of projects and high-quality materials, it's an excellent choice for young artists looking to expand their creative horizons.
Creative Girls Club offers a subscription that delivers a new and exciting art project to your doorstep every month. It's a perfect way to keep the creative juices flowing and provide a consistent source of artistic inspiration.
Online Art Classes for Homeschoolers
Online art classes are definitely every homeschool mom's friend.
I do love workbooks, and of course, teaching myself. But there's something uniquely beneficial about having a skilled instructor guide your child's artistic journey.
Check out our favorite kid's educational videos on YouTube for even more of our favorites.
Outschool Art Class
Outschool has emerged as a trusted platform for live online classes, and our experience with it has been nothing short of fantastic. Among the plethora of courses available, the Outschool art classes truly shine. With a diverse selection of offerings, there's something for everyone.
For instance, in the 11-year-old age bracket, students can explore a variety of captivating art classes. These include lessons on drawing realistic fruit, creating Star Wars-inspired artwork, and delving into the world of oils for landscape painting.
Outschool's art classes provide a dynamic and engaging learning environment, allowing students to interact with experienced instructors and fellow young artists. You can read our Outschool review for more details.
Art For Kids Hub
Art for Kids Hub is designed for students in grades K-8. Their YouTube channel offers a wealth of art tutorials that are not only educational but also exceptionally current and relevant to children's interests.
One of the standout features of Art for Kids Hub is its ability to adapt to contemporary themes. It's not uncommon to find tutorials on popular topics like Fortnite drawings or holiday-themed creations like Christmas illustrations.
As a testament to the quality of instruction, my son created a piece of art on Art for Kids Hub a couple of years ago, and it remains one of our all-time favorites.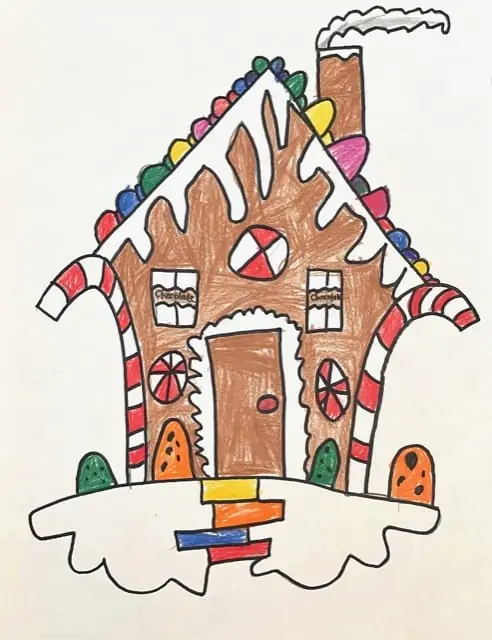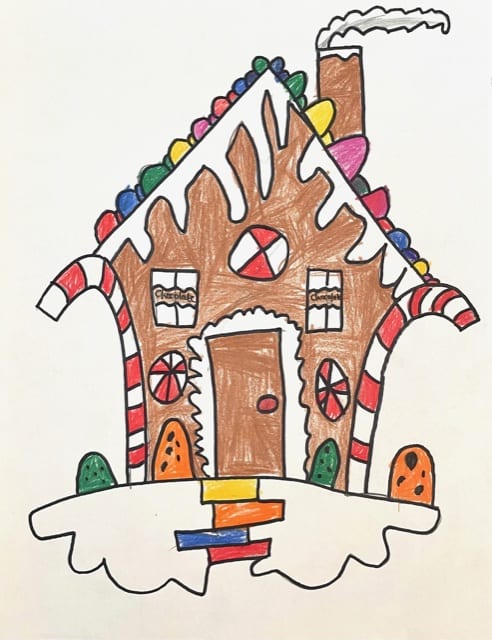 Cartooning Club How to Draw
For slightly older kids with a passion for character art, Cartooning Club is a top choice. Whether your child dreams of sketching superheroes or bringing their favorite sci-fi characters to life, Cartooning Club has a lesson for it.
Engaging, fun, and perfect for honing artistic skills, it's a must-visit resource for budding artists.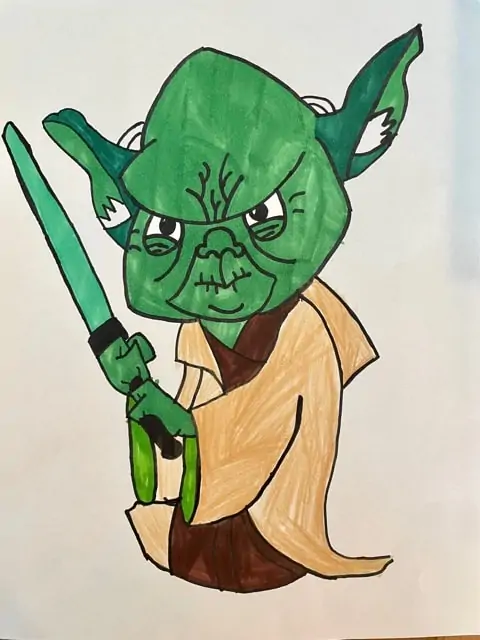 The Art Sherpa
The Art Sherpa is a rich source of acrylic painting tutorials suitable for both kids and adults.
With an extensive library boasting hundreds of tutorials, you're bound to discover something that piques your interest. Whether you're a novice looking to explore the world of acrylic painting or an experienced artist seeking fresh inspiration, The Art Sherpa offers a diverse range of projects and techniques to explore and enjoy.
Bob Ross
Bob Ross and his iconic show, The Joy of Painting, are timeless classics in the art world. Perfect for older children and adults, Bob Ross's soothing voice and step-by-step guidance make acrylic painting feel accessible and enjoyable.
If you've ever wanted to try your hand at creating beautiful landscapes with happy little trees, his tutorials are the perfect starting point. Consider exploring Bob Ross's world of art with your children, and if you're a fan, you can even treat them to Bob Ross painting kits for an authentic painting experience.
Magic Cat
While smaller and less frequently updated than some other suggestions, Magic Cat is a hidden gem on YouTube.
It may not have the extensive library of larger channels, but it's worth exploring for its unique and imaginative creations. From Deadpool riding a unicorn to other delightful surprises, Magic Cat offers a touch of whimsy and creativity that can be a refreshing addition to your art lessons.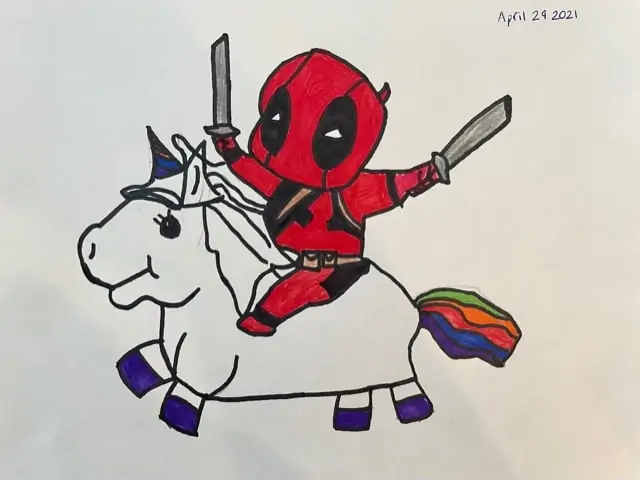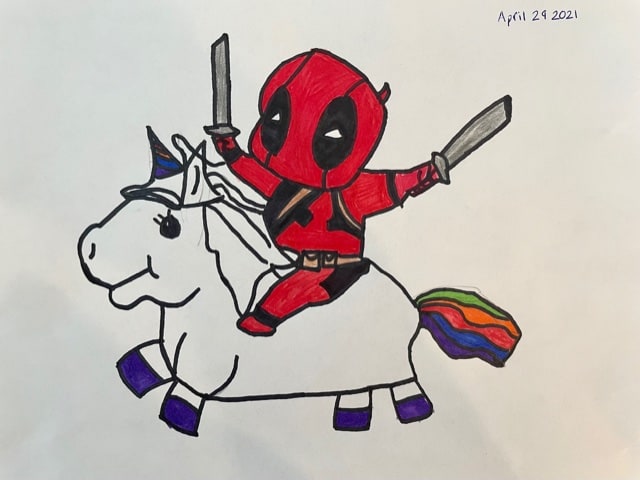 Face Drawer
Face Drawer is an excellent resource for learning how to draw your favorite characters from movies and video games.
Beyond character art, Face Drawer also shares other crafty ideas to inspire your creative pursuits. Whether you're a fan of animated classics or the latest gaming sensations, this platform offers step-by-step tutorials to help you bring these beloved characters to life on paper.
Last Updated on 14 September 2023 by homeschoolof1