12 Days of Christmas Wishes – A Fun Writing Activity (free)
As Christmas is nearly upon us, we like to put away our core curriculum and focus more on educational Christmas activities. Download our free 12 days of Christmas wishes writing prompts below and encourage the kids to write!
Our free printable set includes a captivating coloring page featuring the enchanting 12 days of Christmas song.
But that's not all! We've also crafted 12 beautifully illustrated pages, each representing a day from the song. From a partridge in a pear tree to drummers drumming, your children will delight in coloring these delightful images and crafting their very own Christmas wishes.
Ever noticed how writing about something close to the heart sparks boundless creativity? We certainly have! That's why, on each page, there's a dedicated space for your young writers to jot down their own wishes for each day.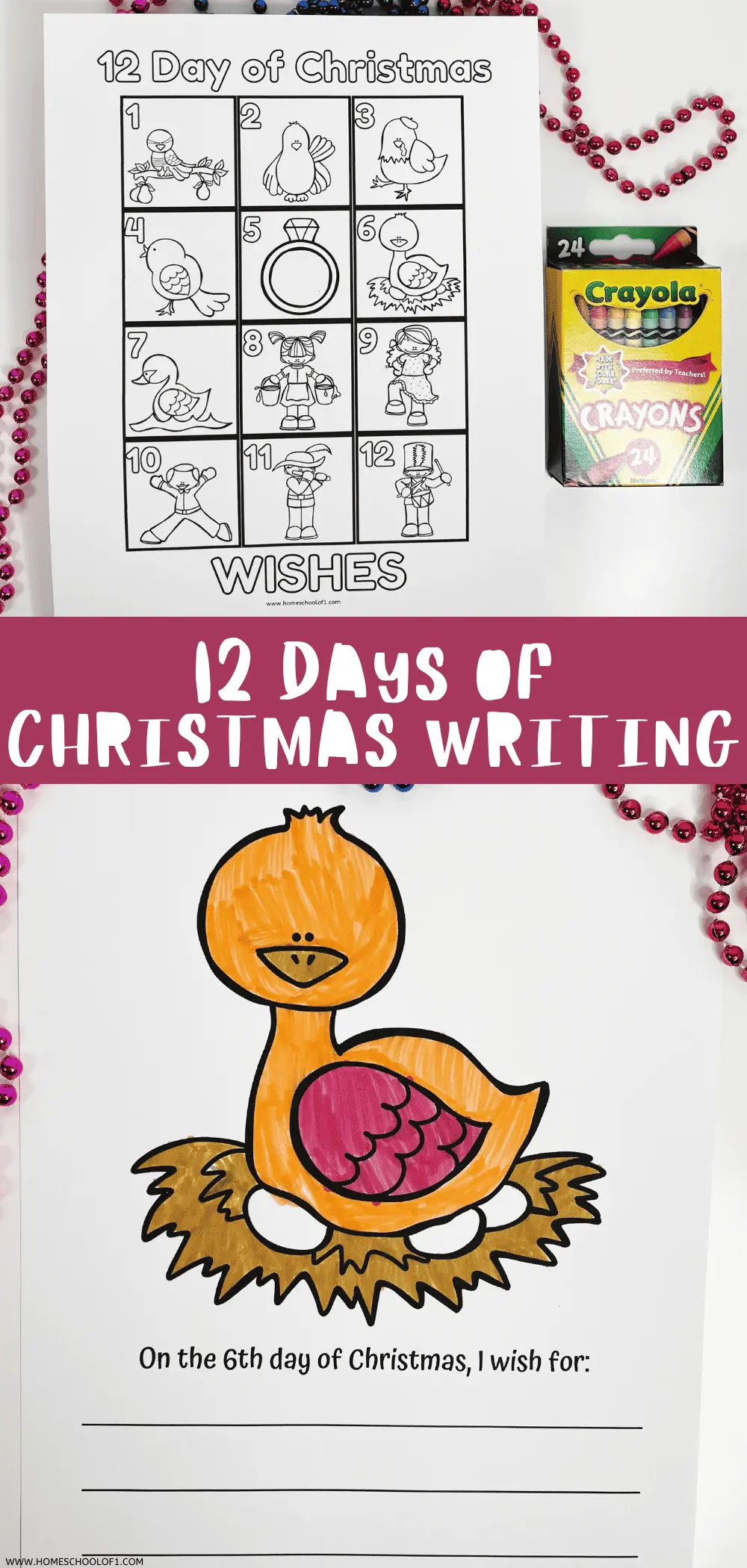 **There may be affiliate links in this post. You can read my full disclosure at the bottom of the page.**
12 Days of Christmas Writing Prompts
These 12 days of Christmas writing prompts for kids can also be used with our free 12 days of Christmas coloring pages.
While these prompts are designed with elementary students in mind, we've found that even middle schoolers enjoy this festive twist on writing. It's the perfect blend of learning and holiday cheer!
You won't need to worry about elaborate preparations. Just grab some copy paper, crayons, and pencils, and you're ready to embark on this joyful writing adventure. Whether you're in a classroom or at home, these prompts are a delightful way to celebrate the season.
If you are looking for a fun way to get the kids writing this December you are going to love these Christmas writing prompts.
What's included in the worksheet
The first page is the page below which shows the 12 days of Christmas from the song. This page is just a fun page for the kids to color in.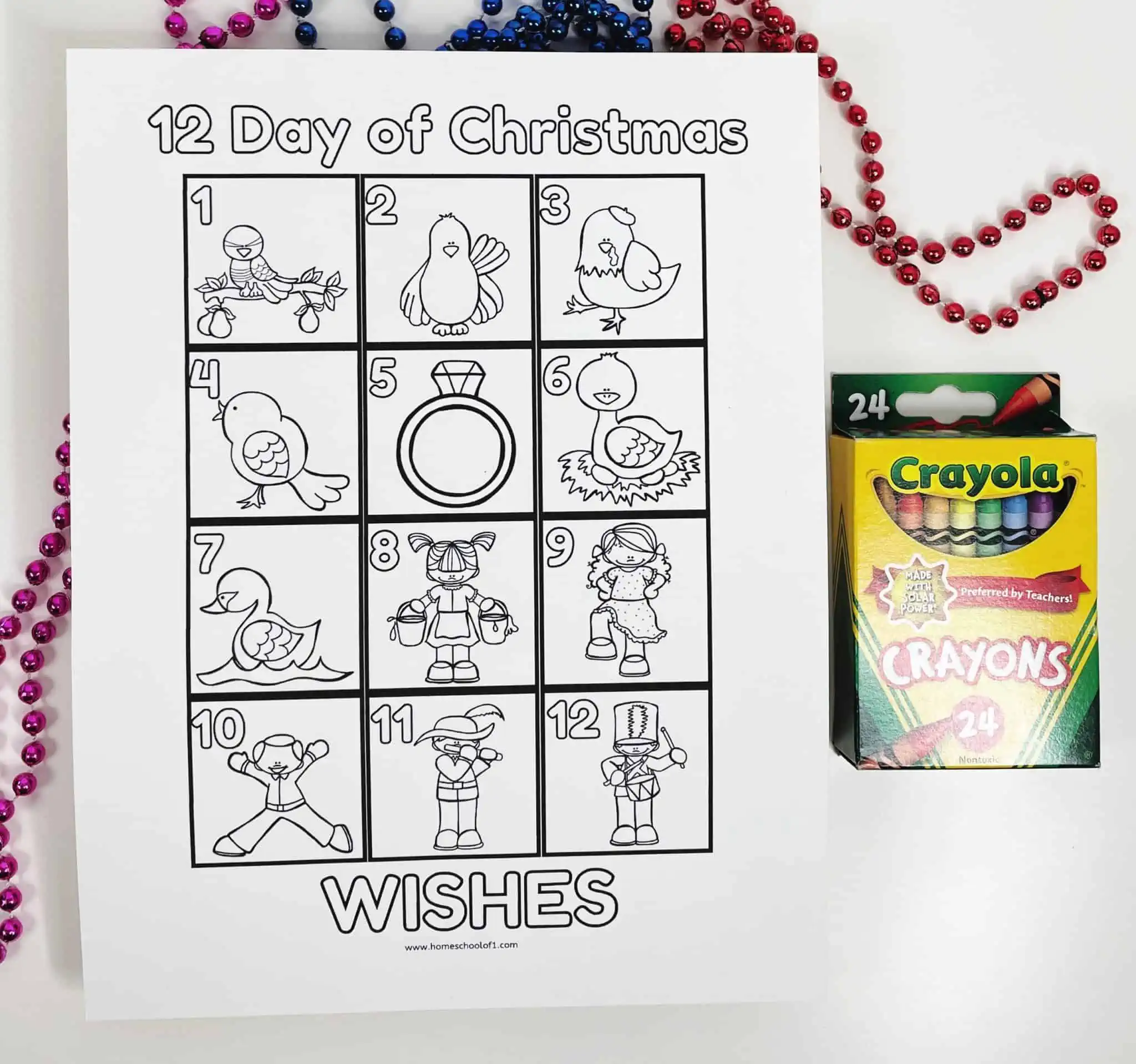 Each of the 12 days of Christmas includes an image to color and the writing prompt:
On the 1st day of Christmas, I wish for…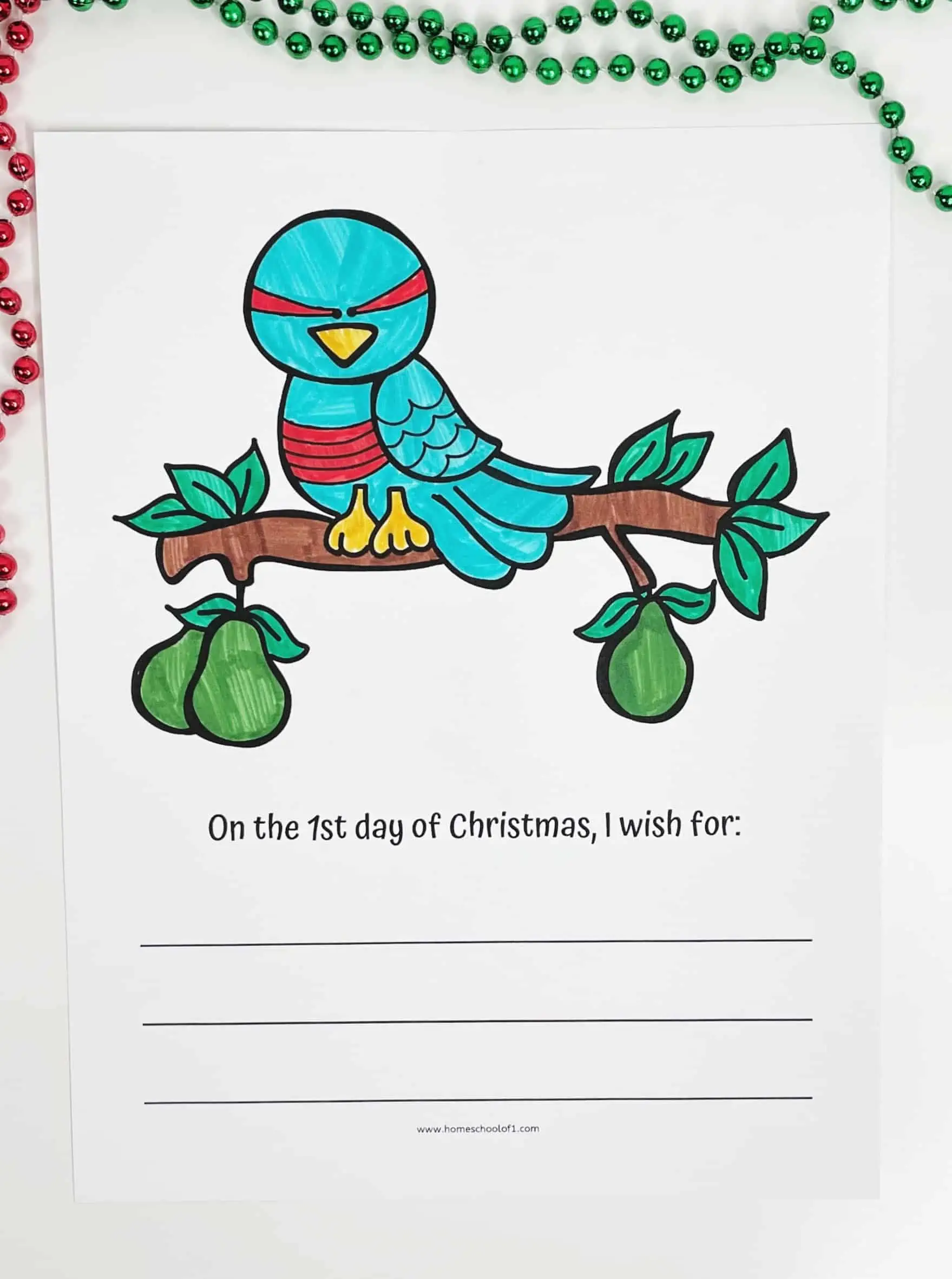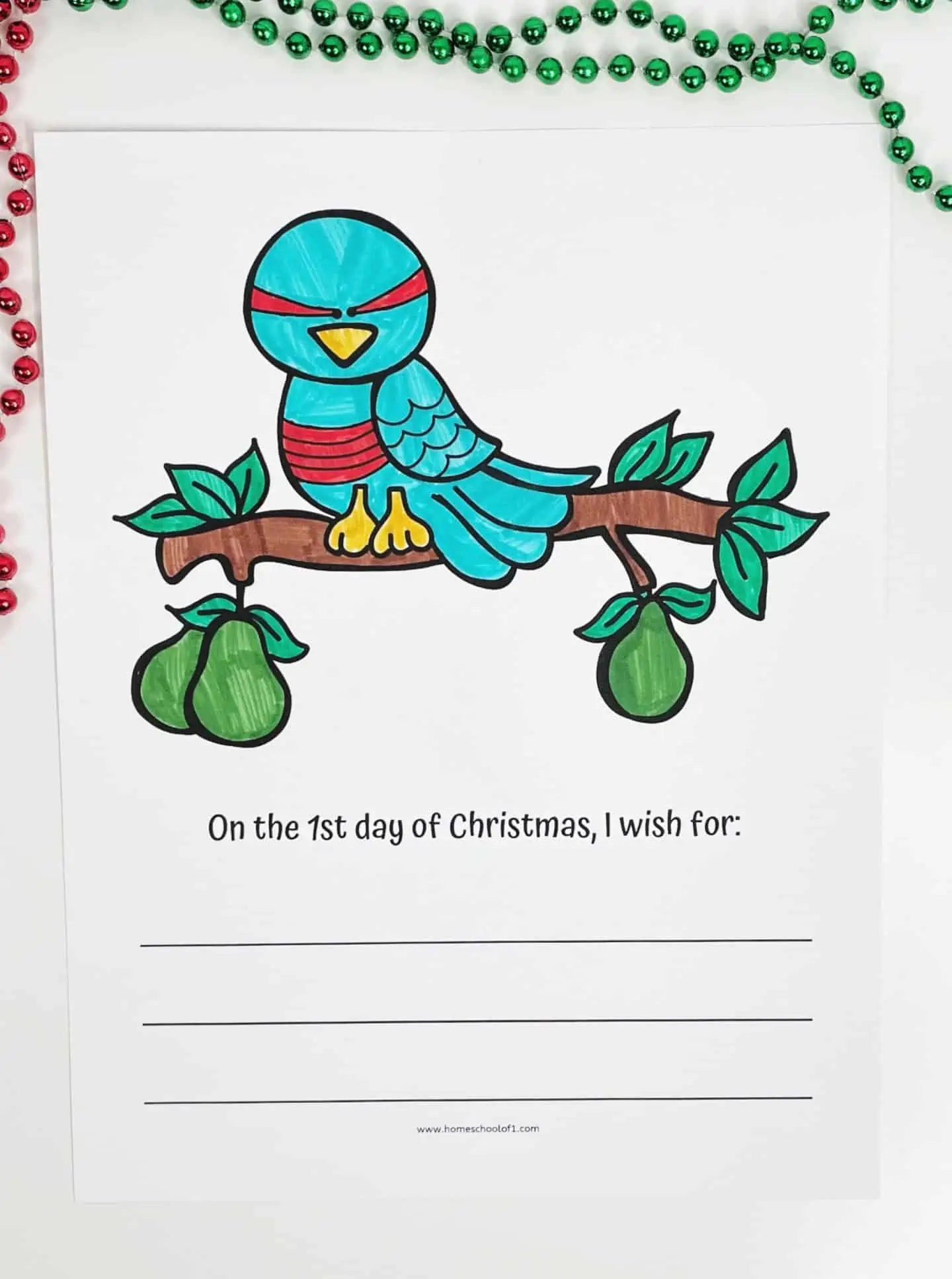 Give the kids crayons and a pencil and see how creative they can get with their Christmas wishes.
Why not treat the kids to a new Christmas pencil?
How to use the 12 days of Christmas writing activities in the classroom?
Introducing a dash of festive flair into your classroom has never been this exciting! With our 12 days of Christmas writing prompts, you can infuse the holiday spirit into your curriculum while encouraging creativity and writing skills.
Here's a step-by-step guide on how to use these prompts effectively in your classroom:
Set the Scene: As the holiday season approaches, introduce the concept of the 12 Days of Christmas to your students. Discuss its significance and how it's a beloved part of holiday traditions.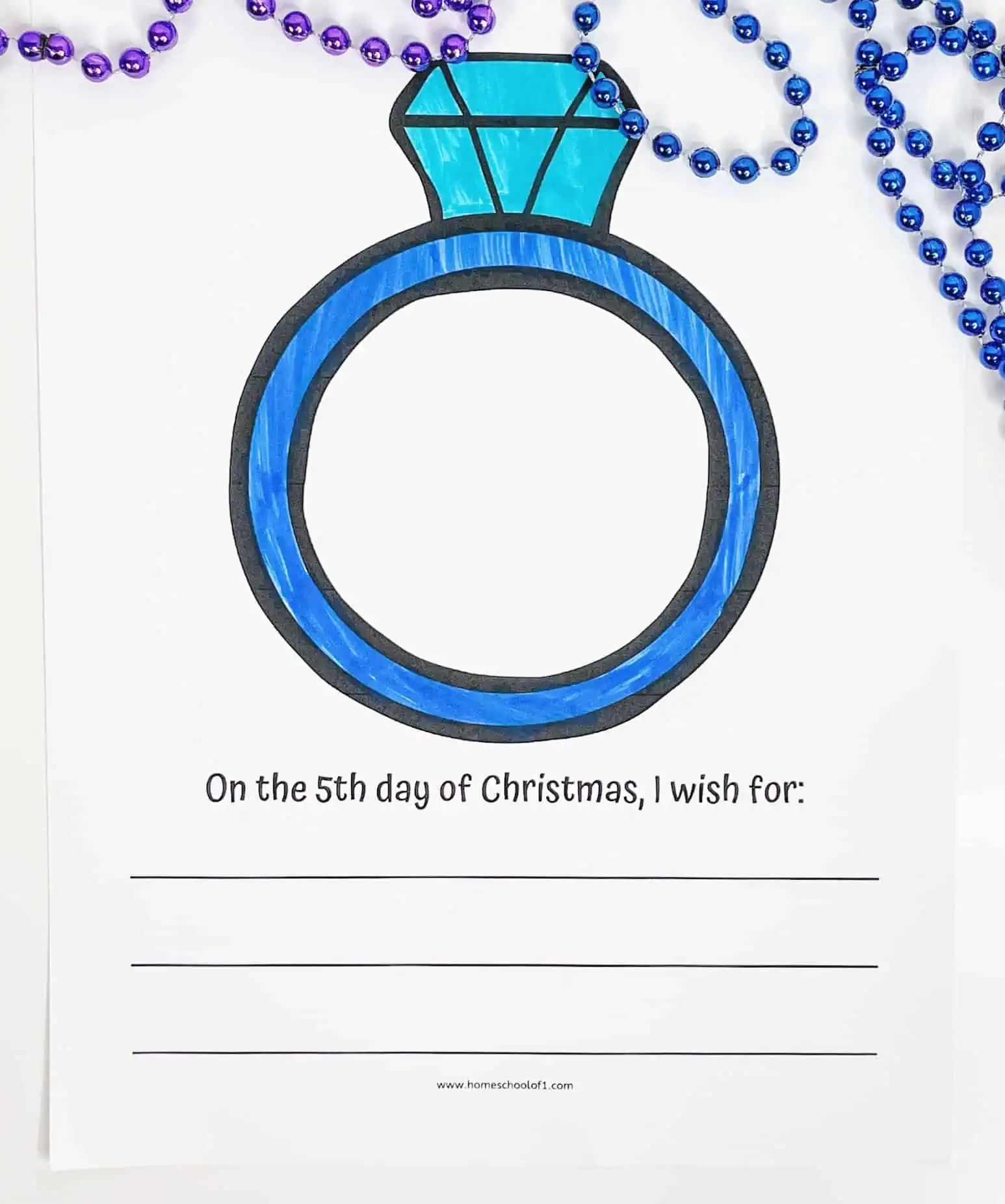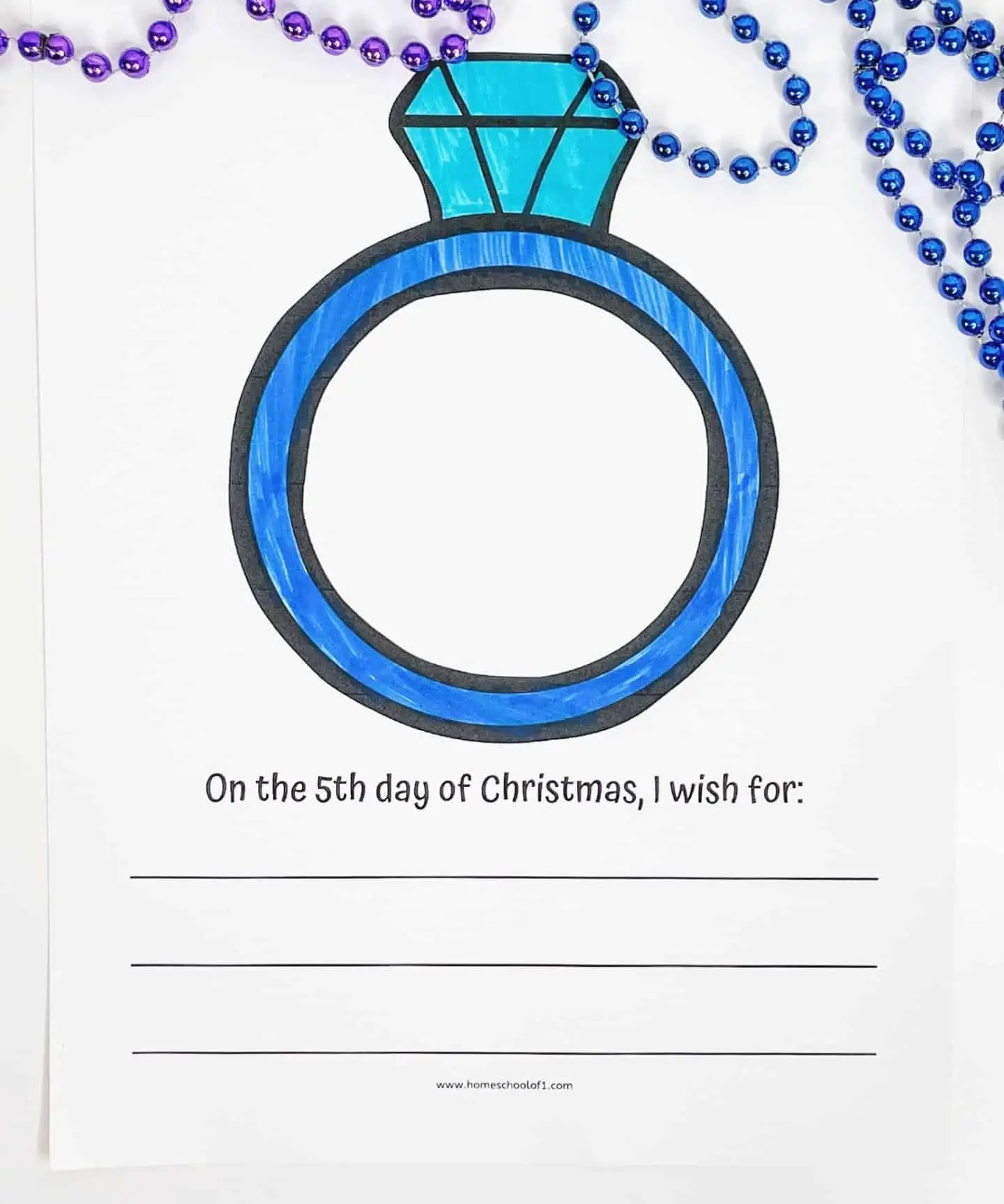 Spark Curiosity: Begin with a class discussion about wishes and dreams. Encourage students to share their thoughts on what they would wish for if they had 12 days of Christmas gifts.
Introduce the Prompts: Distribute the 12 Days of Christmas Writing Prompts to each student. Explain that each prompt corresponds to a day from the song and features an illustration related to that day's gift.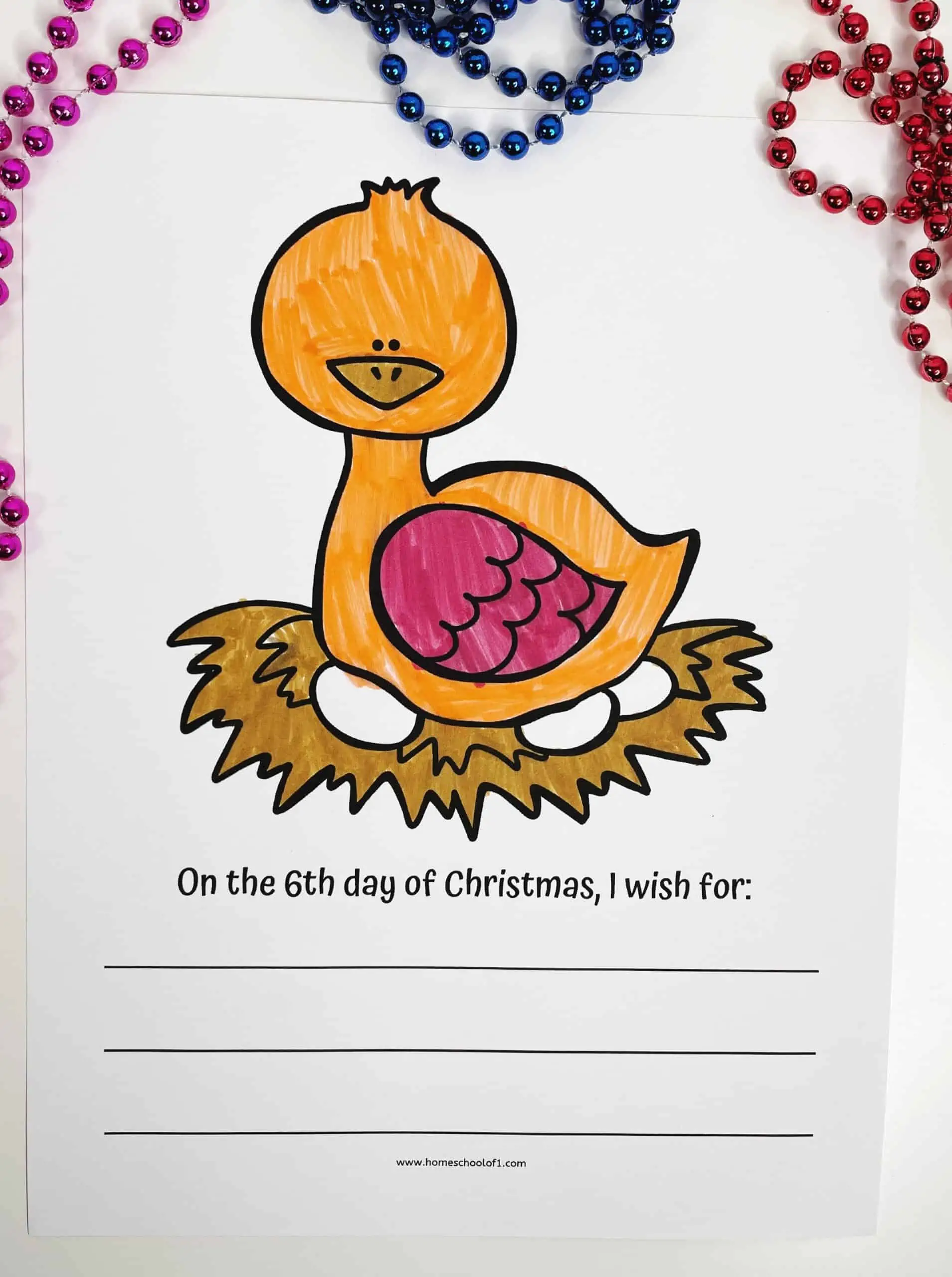 Engage with the Images: Have students take a few moments to observe the illustrations on each page. Discuss the imagery and how it connects to the specific day of the song. This can also be an opportunity to introduce some historical context behind the song itself.
Discuss Creative Wishing: Lead a class brainstorming session on the types of wishes students might make for each day's gift. Encourage them to think both imaginatively and realistically. For instance, a partridge in a pear tree might spark wishes related to nature or animals.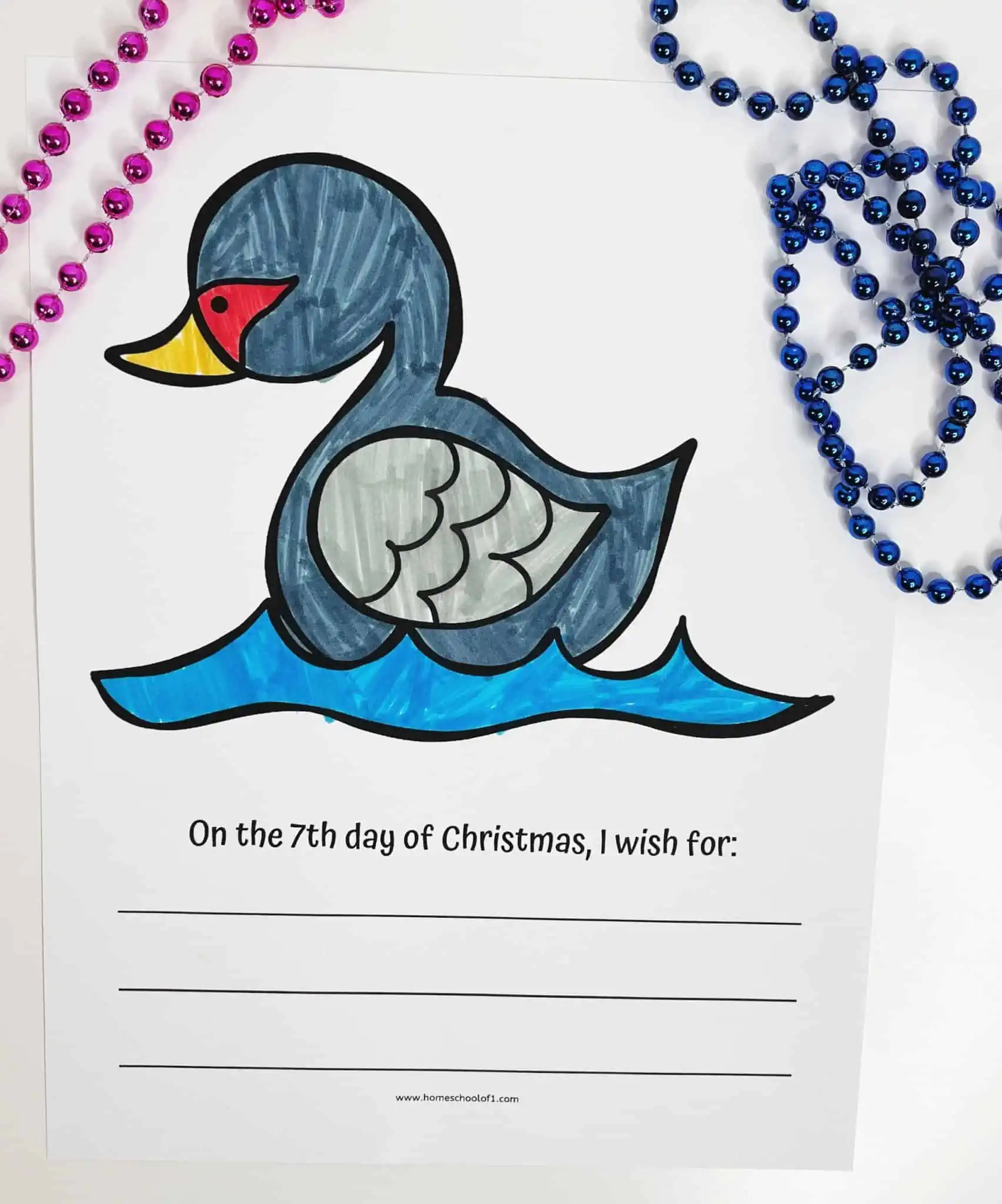 Personalized Writing: Now it's time for each student to engage their creative writing skills. Instruct them to complete the sentence on each page: "On the [X] day of Christmas, I wish for…" They can fill in their heartfelt wishes or even invent whimsical scenarios.
If you are doing this activity with a group of children why not give the best wish one of these 12 days of Christmas ornaments? This is a great way to motivate the children to try their hardest.
More educational Christmas printables
Have even more fun in the classroom or in your homeschool with these fun worksheets:
Books about the 12 days of Christmas for kids
Count down to the holidays with these '12 Days of Christmas' books tailored for kids! Each day brings a new adventure, whether it's a whimsical retelling of the classic song or a joyful story celebrating the spirit of giving during this festive season.
Tips for downloading the free files
Below you will see a large sign-up box where you need to add your name and email address, and press I NEED THIS NOW!
Within minutes you will be sent the free PDF directly to your email address, so you can print it out and start using it immediately.
Sometimes emails get a little wonky, so if you can't see it, please check your spam folder where I am sure it is hiding.
Download the free twelve days of Christmas wishes writing activities
Make sure you choose the correct paper size and click on the shrink to fit button. All of our free printables for kids work better when printed on cardstock (this is the one we use and love.)
Last Updated on 25 November 2023 by homeschoolof1