How To Remember The States: The Fun Way For Kids
Learning the 50 States is super important to us, especially as we are from England. We of course knew a lot of them but certainly didn't know any of the state capitals. These 18 fun ways will teach you how to remember the States.
We love to have fun in our homeschool, and learning about America is a perfect time to bring out the games, activity books, and fun songs!
These activities are a perfect addition to your homeschool geography curriculum for kids of all ages.
I have listed our favorite memory tricks for learning the names of the states, and there are plenty of FREE resources included.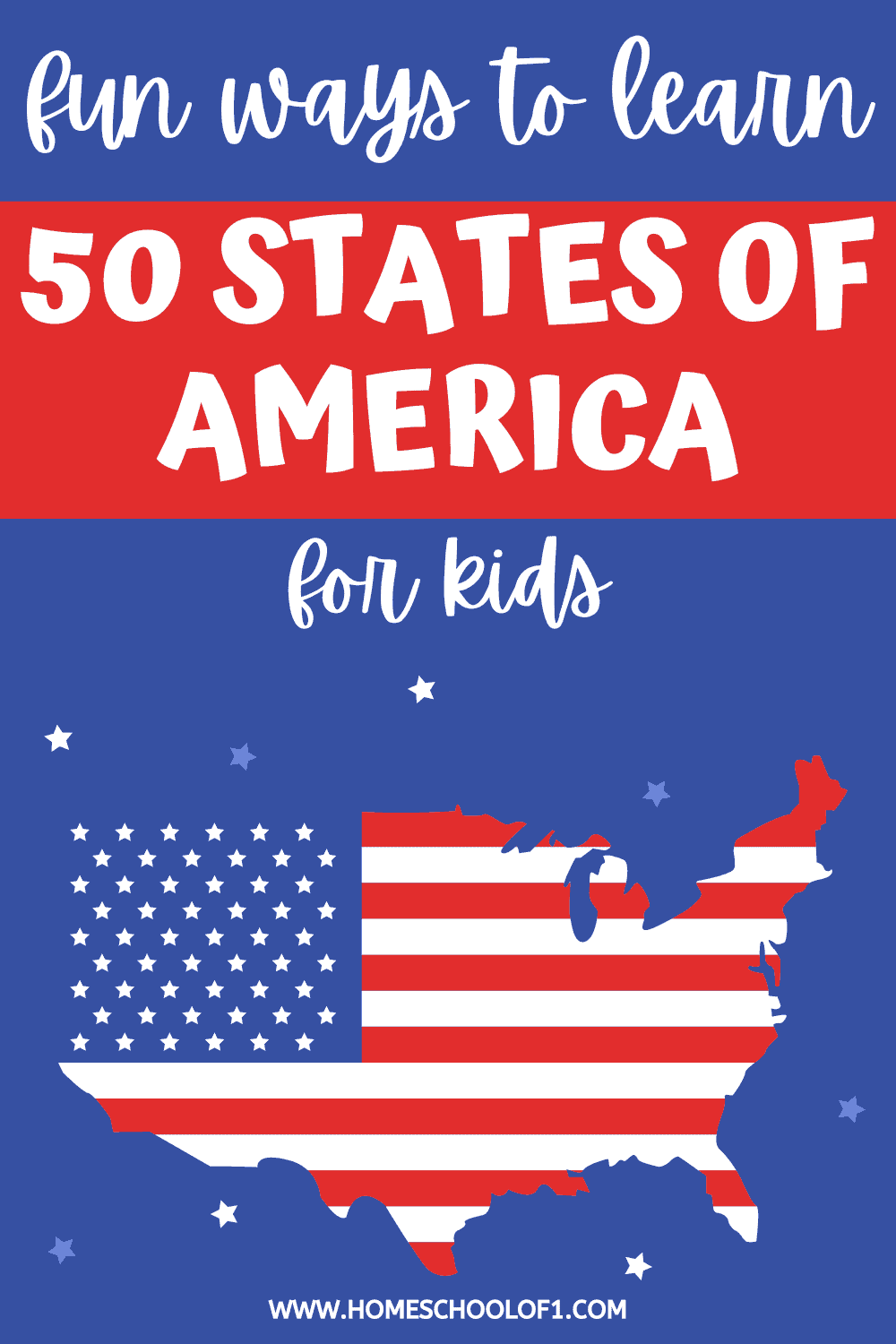 **There may be affiliate links in this post. You can read my full disclosure at the bottom of the page.**
How To Memorize the 50 States
We like to start the day off as relaxed as possible, so every morning while having breakfast we watch CNN10 (when it is on, we have missed it over the summer months).
After this, we are watching one of the songs on youtube (listed below). They are all so fun and the songs are so catchy. We will remember the States and capitals in no time!
Then once a week for an hour (or more if we are playing board games) we are learning about each State. Starting of course, with our home state of Florida.
See what other resources we are using to learn about the 50 states below.
National Geographic Kids U.S. Atlas 2020, 6th Edition
The 50 States: Explore the U.S.A. with 50 fact-filled maps!
The Scrambled States of America
The 50 States Game – US Geography Board Game – Educational Game for Kids & Adults – Fun Learning for Teenage Boys & Girls
Scholastic Race Across the USA Game, for 96 months to 1188 months
Gamewright The Scrambled States of America Game
50 States Homeschool Curriculum
Traveling the States is a digital full curriculum for kids of all ages. For each state your family travels to you will:
locate the state on a blank map,
read about the state,
color the original artwork coloring page,
learn more about the history of the state flag and color your own,
stamp a passport,
watch the YouTube playlist,
learn about the history of the state as well as the nature of the state such as the state animal, bird, flower, and tree,
play fun and educational games,
make a traditional recipe from that state.
State Songs of the 50 States. This online course is the perfect course to do with any state study! Listen to the state's official, and unofficial songs as you learn about each state. Videos of the songs, as well as links to lyrics and sheet music, are included.
50 States unit study from Sonlight.
Learning across the United States offers a 10-week course for grades 2-5.
Have some fun learning with these printable US geography worksheets from Etsy.
Free American worksheets
You can also add our free geography worksheets to your curriculum:
We have created these 50 United States coloring pages for you to print out and enjoy, and this helped us loads.
Free American landmarks worksheets, explore 17 of the most famous landmarks.
Download our free state facts worksheet and use it for each of the States.
Learn all about the continent with these free North America worksheets.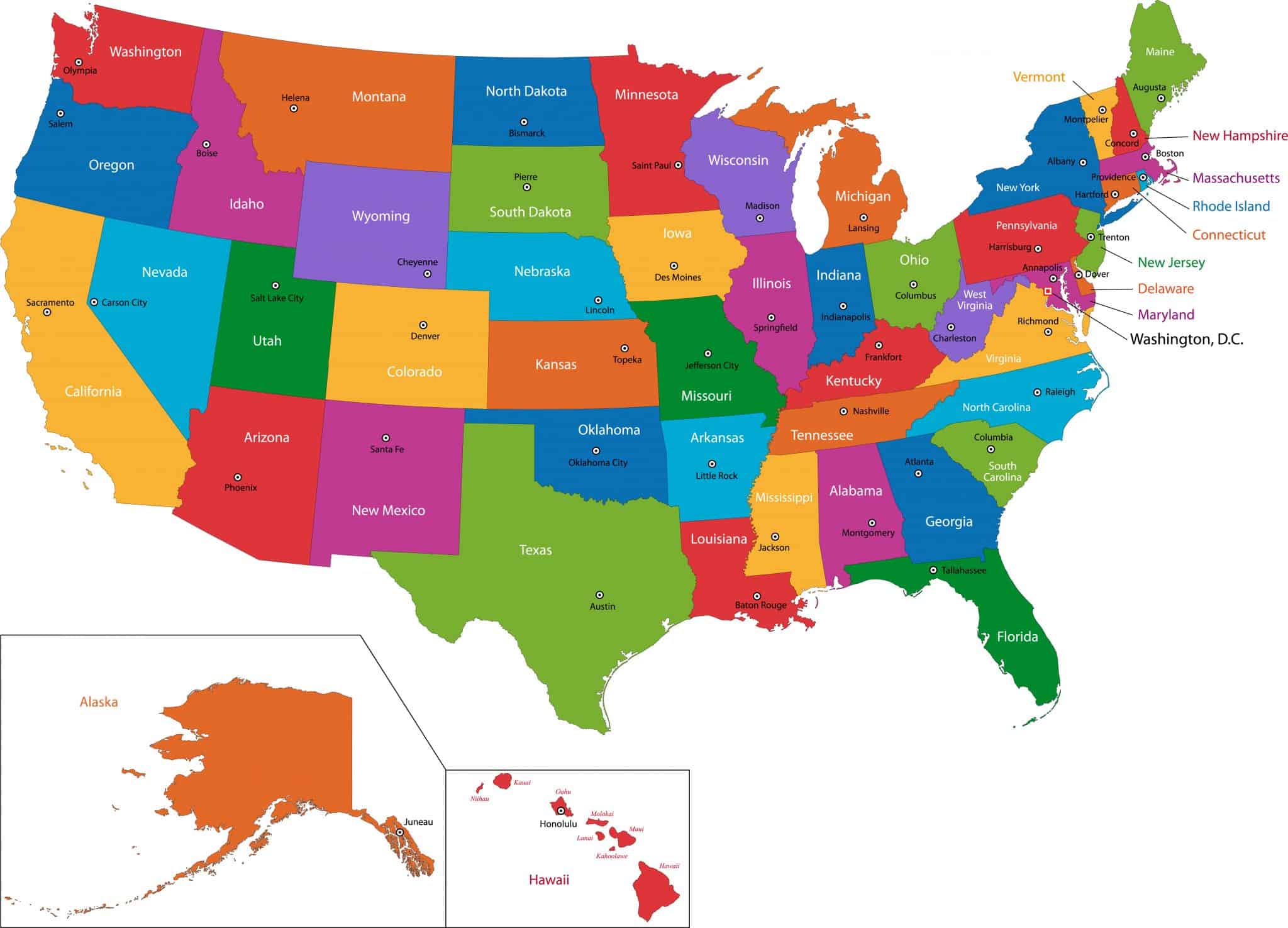 Fun Ways to Learn The 50 States
You and your kids will have memorized the 50 States of America in no time with these fun activities.
50 States Books
We just love books so we have all three, you can either buy new ones or check out your local library who will have them.
Learning the 50 States with Games
Games are one of our favorite ways to learn anything, I mean if you are having fun it doesn't feel like learning!
Check out our favorite geography board games that can help learn the 50 states.
These games are all so much fun, and certainly better than doing a boring workbook! If you are looking for other educational board games check out over 40 of our favorites.
50 States Activity Book
We haven't used these activity books, however, they all get amazing reviews so I have included them.
Please let me know in the comments if you have used any of these, or if you recommend anything else.
Songs about the 50 States
These are all FREE from Youtube.
They are all so incredibly catchy, you will be singing them constantly, in fact, I had a dream about the Animaniacs song last night!!
But trust me, they really are a fun way to learn the 50 states.
We watch a different one every morning before school.
Apps for Learning The States of America
Stack the States is an app, it is a paid-for app ($2.99) however, it really is a fun way to let the kids learn.
Also, I don't know about your children, but my son LOVES playing on his Ipad so it's a win-win.
Last Updated on 11 July 2023 by homeschoolof1