36 Back to School Writing Prompts (free printable list)
Have fun with the kids on the first day of school with these fun back to school writing prompts.
Get ready for an exciting writing adventure with these incredible first day of school worksheets! They're the perfect catalyst to ignite your students' creativity and help them express themselves through writing.
Spark your students' love for writing from day one with these engaging back to school writing prompts for kids.
**There may be affiliate links in this post. You can read my full disclosure at the bottom of the page.**
Back to school journal prompts
Get ready to kick off the new school year with an exciting journaling adventure using these back to school journal prompts!
With 36 unique writing prompts, you'll have plenty of options to engage your students during the first week of school.
To make the most of these prompts, here are a few ideas on how to use them:
The lucky draw: Cut out the prompts and place them in a hat or container. Have each child pick a prompt at random. This element of surprise adds an extra layer of excitement to their journaling experience.
Personalized prompts: Assign specific prompts to individual students and encourage them to glue their chosen prompt on the top of their composition book. This personal touch gives them a sense of ownership and allows them to express their unique perspectives.
Student's choice: Hand out the worksheets to the children and let them select the prompt that resonates with them the most. This empowers students to choose a topic that sparks their interest and encourages them to take ownership of their writing journey.
Writing centers: Set up writing centers in your classroom with different prompts at each station. Students can rotate through the centers, choosing a prompt from each station and working on their journal entries independently.
Crayola Back To School Supplies Set (80ct), Crayons, Markers & Colored Pencils, Teacher Supplies, Kindergarten & Elementary School [Amazon Exclusive]
100 Pack Colored Sentence Strips for Teacher Supplies, Classroom, Lined Paper Borders for Writing Words (5 Colors, 3 x 24 in)
Scotch Thermal Laminating Pouches Premium Quality, 5 Mil Thick for Extra Protection, 100 Pack Letter Size Laminating Sheets, Our Most Durable Lamination Pouch, 8.9 x 11.4 inches, Clear (TP5854-100)
Officemate PVC Free Color Coated Paper Clips, 450 Per Tub Office Paper Clamp (97229)
Crayola Construction Paper – 480ct (2 Pack), Bulk School Supplies For Kids, Classroom Supplies for Preschool, Elementary, Great for Arts & Crafts
14 Pack Lined Sticky Notes Bright Ruled Post Stickies, Post Sticky Notes 4×6 and Sticky Notes 3×3, Strong Adhesive Self-Stick Notes for Office, Home, School, Meeting (LJ004)
Personal reflection and goal setting writing prompts
We all know that reflecting on our experiences and setting goals is important for our students' growth. These journal prompts will encourage students to look back on their past school year, explore fascinating topics, and share how they tackled challenges.
They'll even get to dream up creative projects and imagine new school holidays!
These writing activities will help our students develop self-awareness and get excited about setting goals for the upcoming year.
Write a letter to your future self. What advice would you give yourself for this school year?
Describe the most interesting thing you learned last school year. Why did you find it so fascinating?
Write about a challenging assignment or project you completed in school. How did you overcome the challenge?
Describe an activity or project you would like to do in school that involves creativity and imagination.
If you could invent a new school holiday, what would it be called, and how would you celebrate it?
Imagine you could interview any historical figure or famous person about their school experience. Who would it be, and what questions would you ask?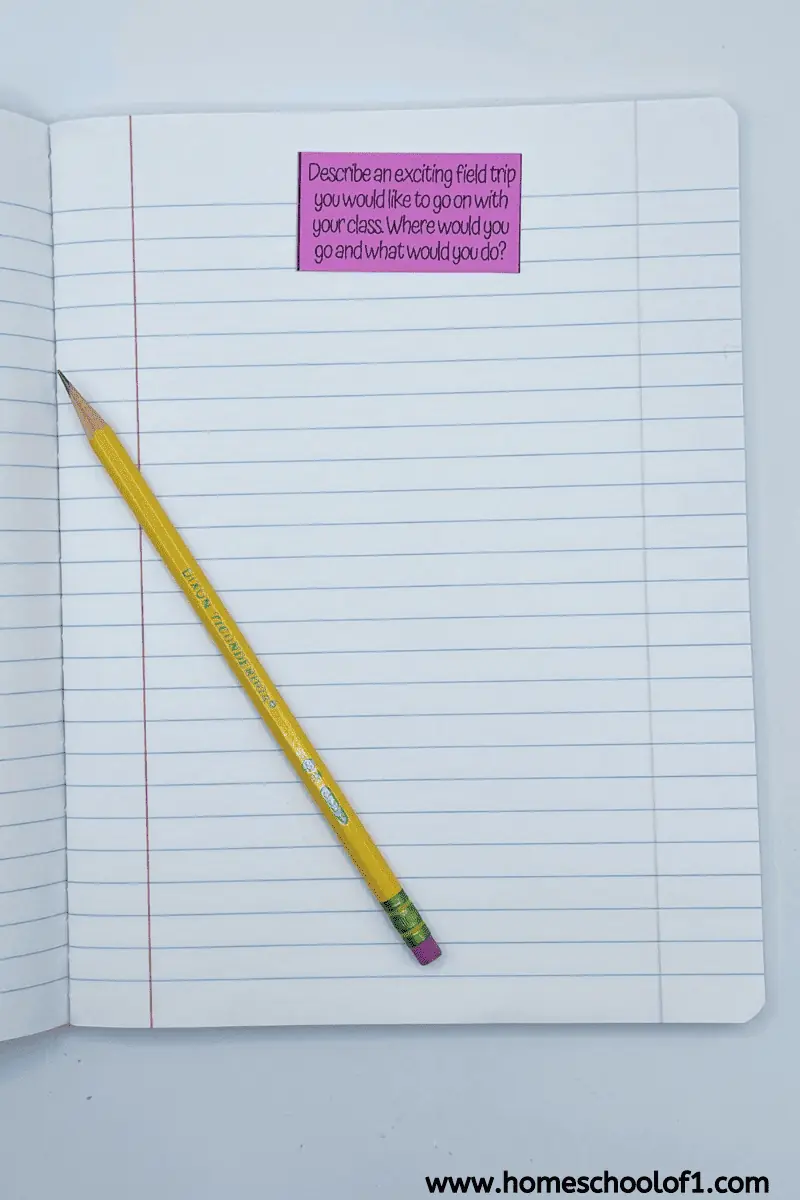 Imagination journal prompts
Get ready to unleash your students' imaginations with these prompts!
They can dive into a world where friendly monsters attend school for the first time or where superheroes lend a helping hand with homework.
These prompts will have our students honing their storytelling writing skills and falling in love with creative writing.
Write a story about a friendly monster who goes to school for the first time.
Write a story about a superhero who helps kids with their homework.
Write a story about a magical backpack that helps students with their schoolwork.
Write a story about a time when you worked on a group project in school. What did you learn from working with others?
Relationships and school experiences
Building connections and navigating school experiences are crucial for our elementary students. These prompts explore friendships, transitions, and the qualities that make a great teacher.
Let your students write welcoming letters to new classmates, share memories with friends who've moved away, and reflect on their first day of school.
These writing activities will help foster empathy, communication skills, and a strong sense of belonging in our classroom community.
Write a letter to your best friend, telling them about your summer break and asking about theirs.
Write a letter to a new student joining your class. Give them advice and make them feel welcome.
Write a letter to a friend who moved away. Share your favorite memories from school and ask about their new school.
Describe the qualities you think make a great teacher and explain why those qualities are important.
Imagine you are the principal of your school for one day. What changes would you make, and why?
Describe your first day of school. How did you feel, and what activities did you do?
School environment writing activities
Ready to get creative with your students? These prompts are all about dreaming up the perfect school environment!
The kids can design their dream classrooms, suggest new school rules and exciting supplies, and bring their innovative ideas to the table.
These writing activities will empower our students to be creative problem solvers and take ownership of their educational journey.
Imagine you could make a new subject in school. What would it be called, and what would you learn in that class?
If you could design your own school uniform, what would it look like? Draw a picture and explain it.
Describe your dream classroom. What would it look like, and what activities would you do there?
Imagine you could create a new school rule. What would it be, and why do you think it's important?
Imagine you could invent a new school supply. What would it be, and how would it be helpful?
Write a letter to the principal suggesting a new after-school club or activity. Explain why it would be a great addition.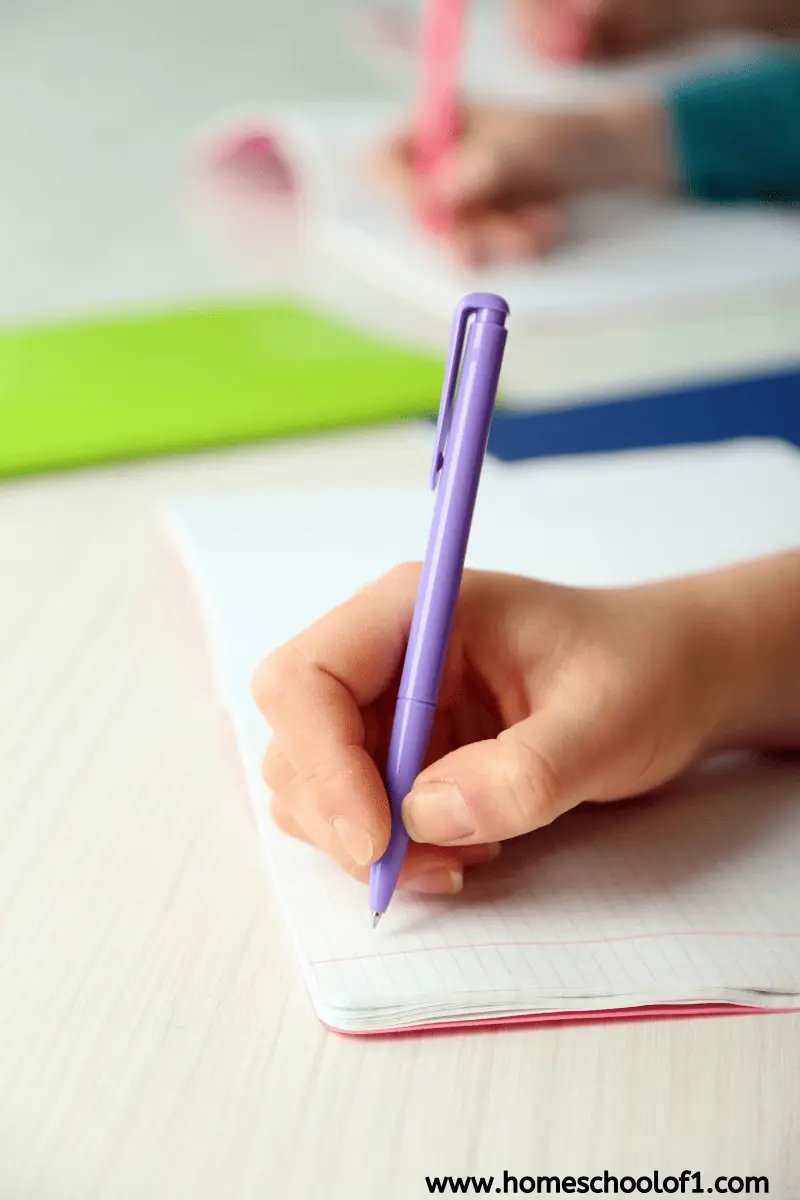 Favorites and preferences
Let's dive into what makes our students unique and celebrate their preferences!
From recess activities to must read books and favorite subjects, your students will have a blast expressing their personal choices.
They can recommend their top picks to their peers, share their appreciation for a favorite teacher, or even describe the ultimate school lunch.
These writing activities will help you better understand your students' individuality, foster a positive classroom culture, and embrace the diverse interests within your class.
Write about your favorite thing to do during recess and why you like it.
Describe your favorite book and why other kids should read it.
Write a poem about your teacher. What are some things you like about them?
Describe your favorite subject in school and why you enjoy it.
Describe the best school lunch you can imagine. What foods would be on the menu, and why do you like them?
Describe an exciting field trip you would like to go on with your class. Where would you go, and what would you do?
Other back to school activities
Don't let the fun stop there, download even more of our first week of school printables: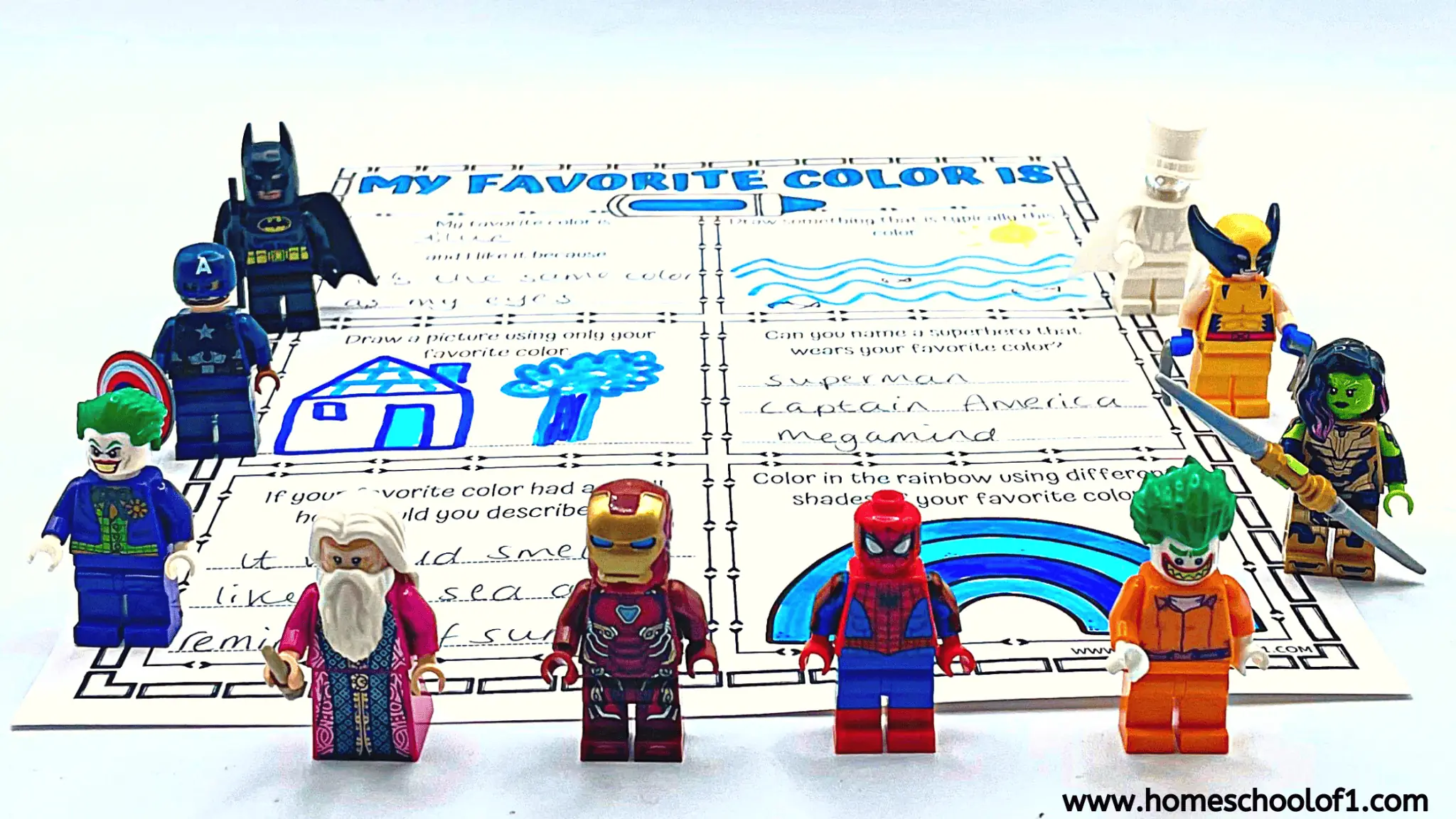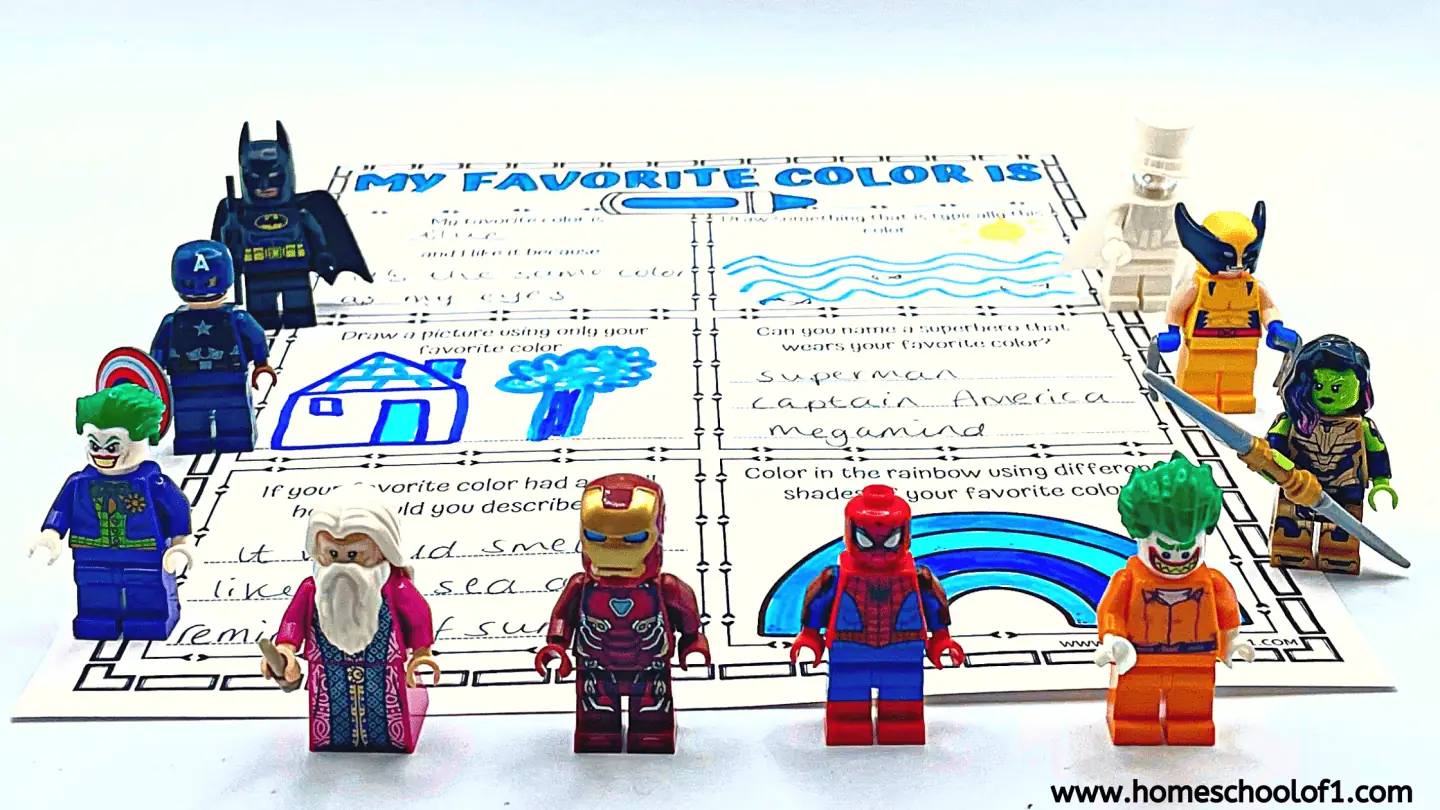 Tips for downloading the free files
Below is a blue cloud with an arrow pointing downward. Underneath that is a large sign-up box where you need to add your name and email address, and press I NEED THIS NOW!
Within minutes you will be sent the free PDF directly to your email address, so you can print it out and start using it immediately.
Sometimes emails get a little wonky, so if you can't see it, please check your spam folder where I am sure it is hiding.
Download the free back to school writing prompts
Make sure you choose the correct paper size and click on the shrink to fit button. All of our free printables for kids work better when printed on cardstock (this is the one we use and love.)
Last Updated on 2 October 2023 by homeschoolof1