Free Easter Bingo Printable Boards
This Easter bingo printable brings festive joy to your holiday celebrations!
With Easter just around the corner, these engaging activities offer a delightful twist to traditional bingo games.
Kids will be thrilled to explore a world of colorful eggs, cute bunnies, and cheerful spring themes through these Easter bingo cards.
Incorporating Easter activities for kids, these printable bingo sets provide a fun and interactive way for children to enjoy the holiday spirit while enhancing their visual recognition skills.
Get ready for an egg-citing adventure of Easter-themed bingo that the whole family can enjoy!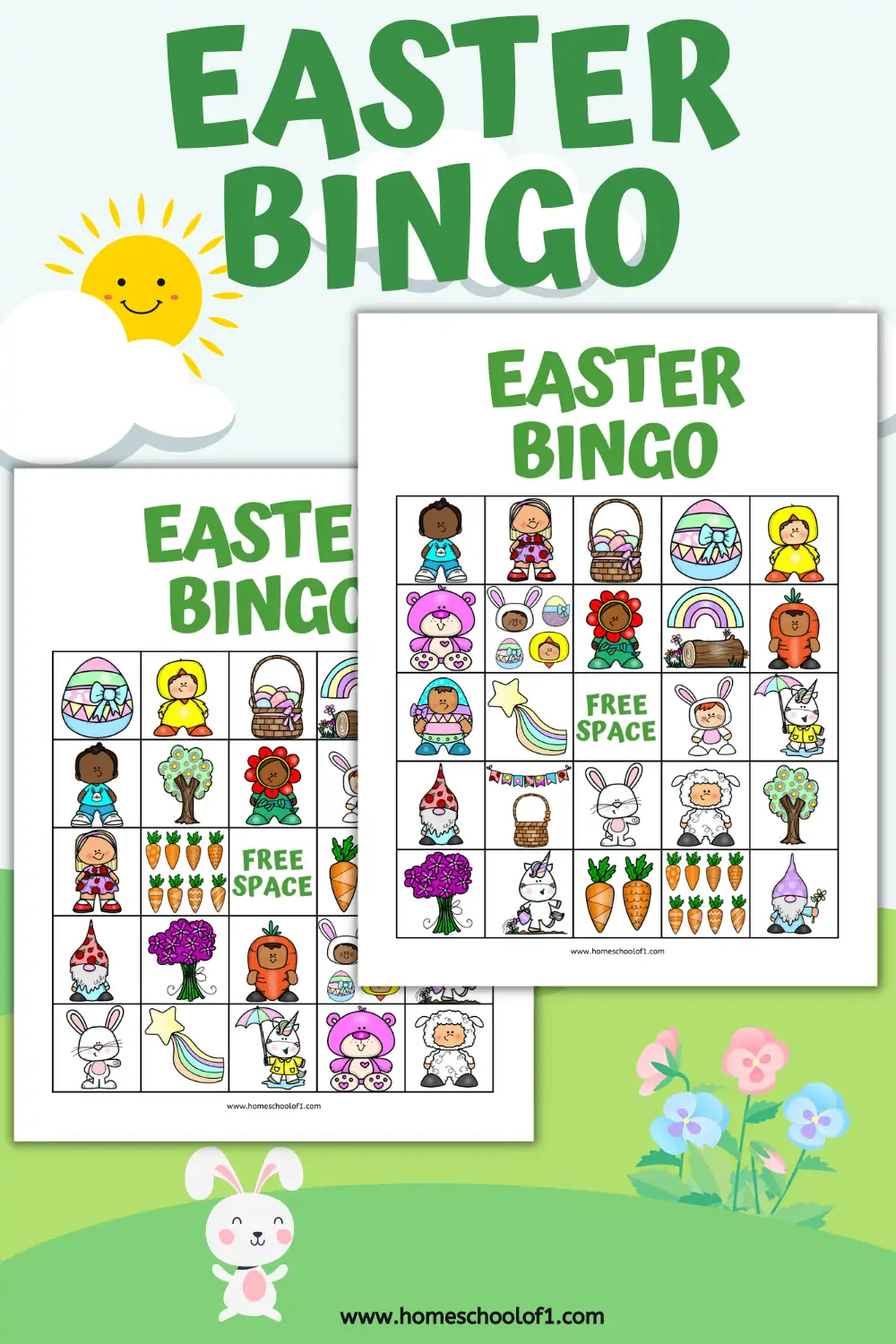 **There may be affiliate links in this post. You can read my full disclosure at the bottom of the page.**
How to Play Easter Bingo
Included are 5 x free printable bingo cards (5×5) and we have also included the images for you to cut out. So you can put them in a hat and pull them out.
This is such a simple game, and yet it is so much fun to play.
Print out the game (either in color or black and white) we like to use cardstock, but any printer paper will work. Scroll to the bottom of the post to grab the free pdf file.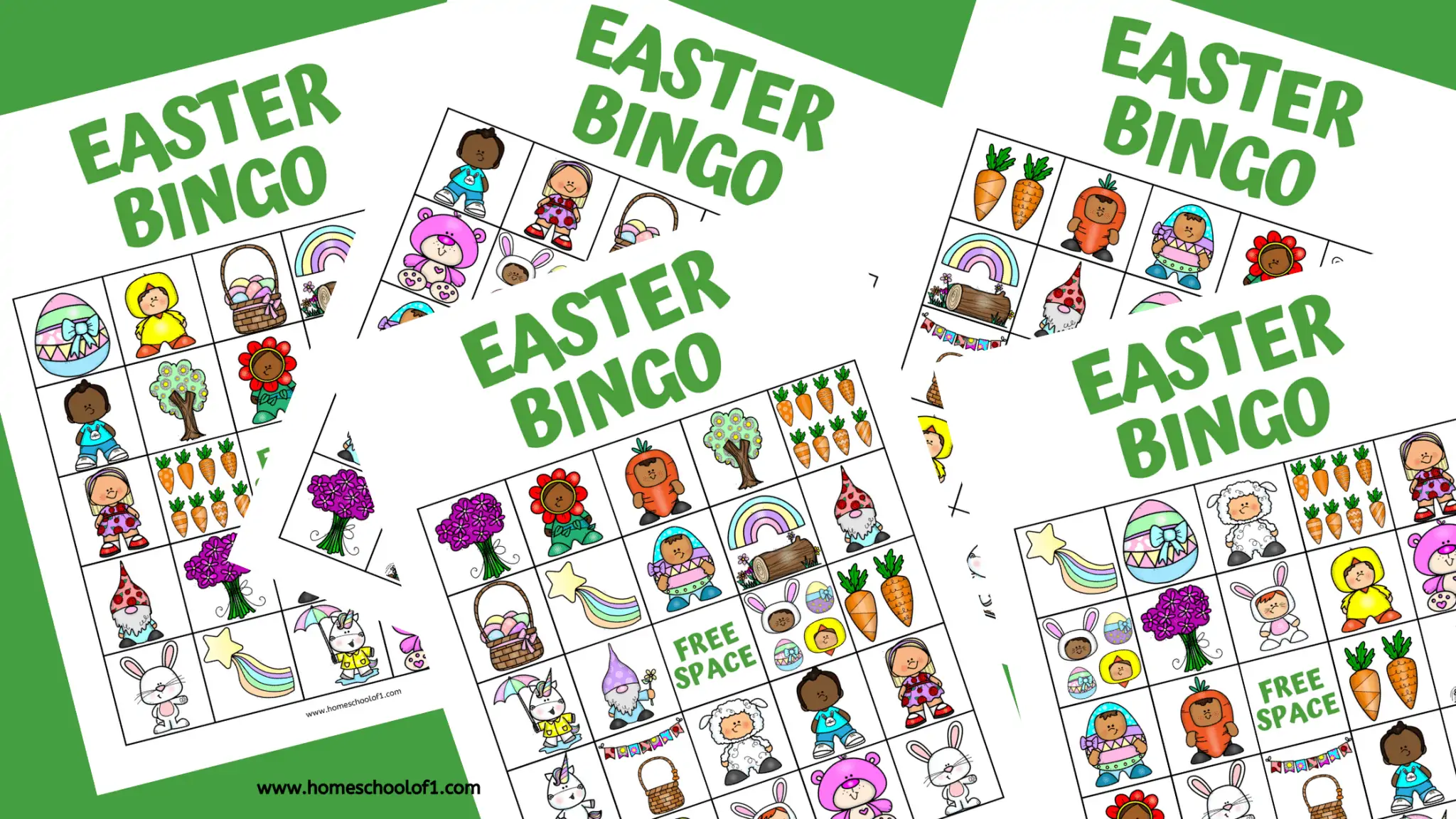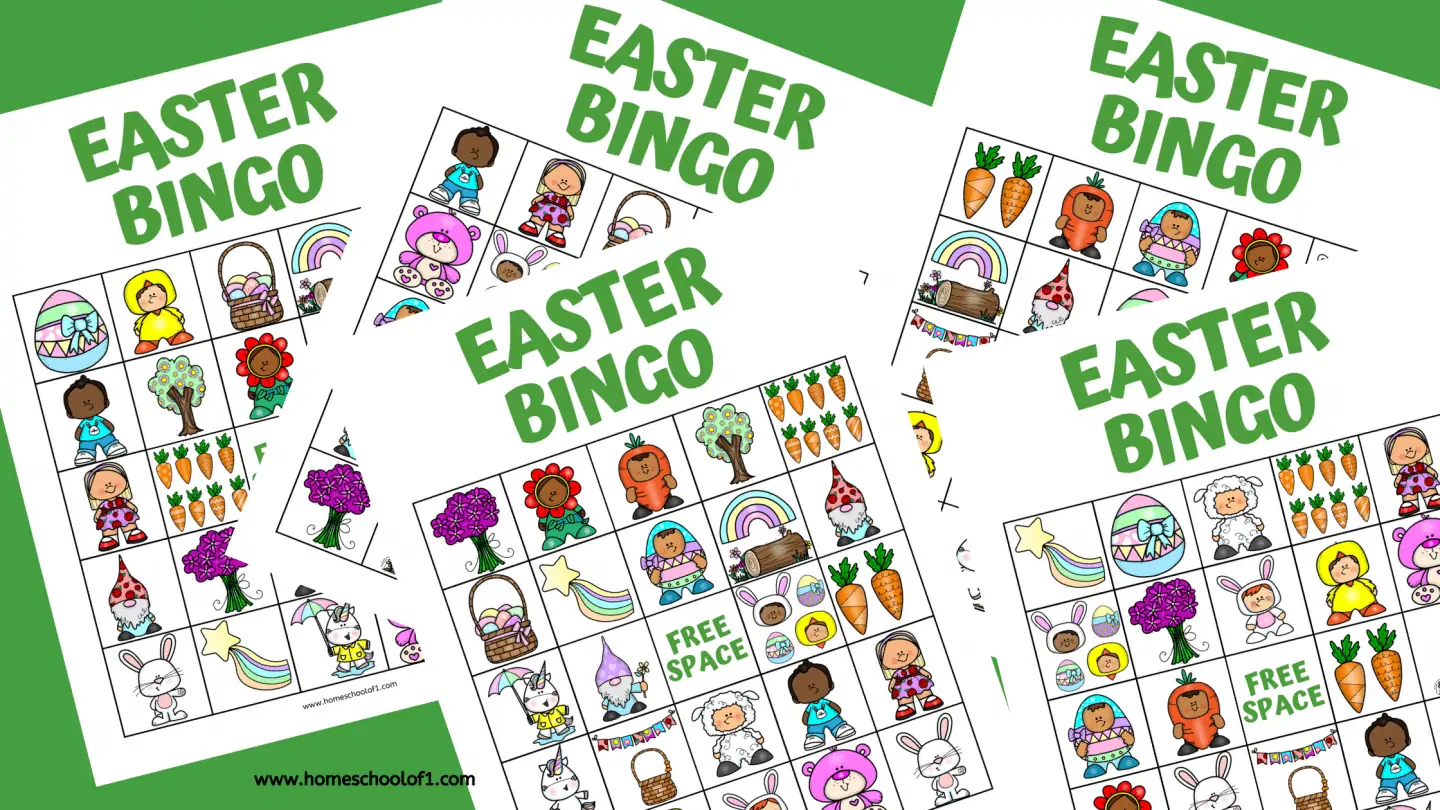 The images are super cute with pictures of unicorns, carrots, Easter chicks, bunnies, and more.
For a more professional look (and so you can use it next year!) I highly recommend a laminator. If you're anything like me you probably laminate everything anyway!
Grab your paper trimmer and cut out the images (or scissors if you have a steady hand!).
Just cut out the images from the calling cards sheet and add them to easter baskets for a fun way to play at Easter parties.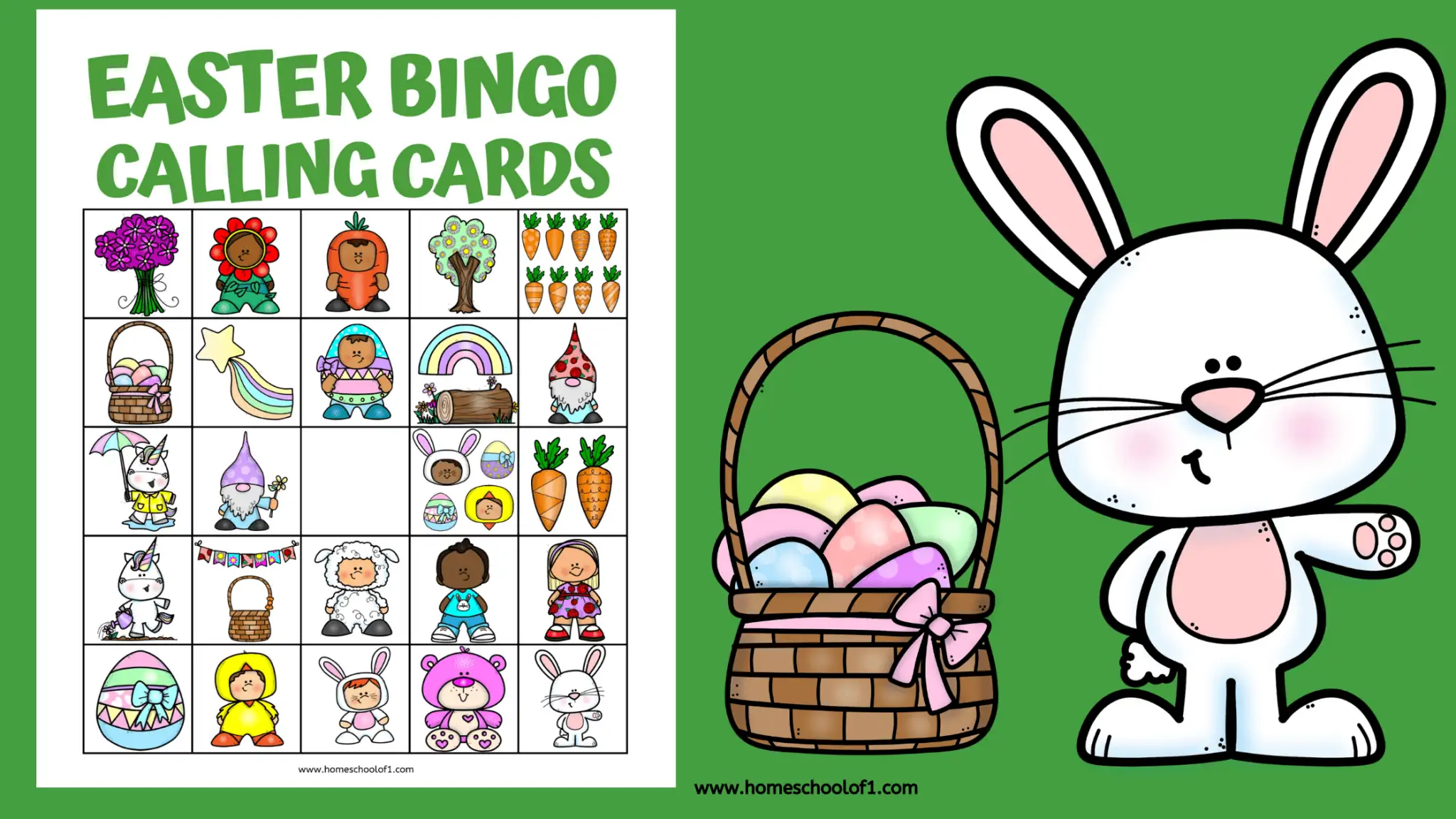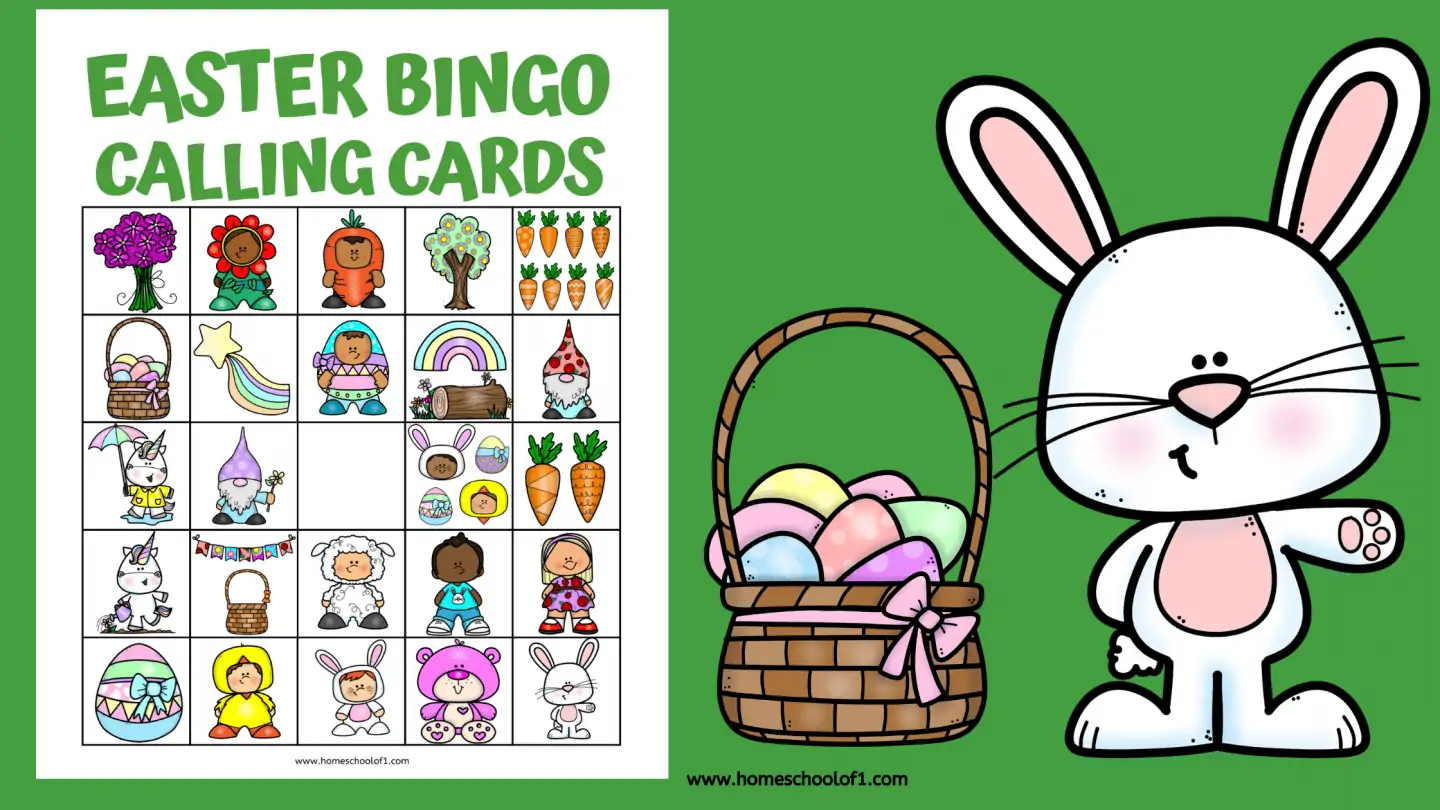 Give each child a bingo board. There are 5 different bingo cards in total.
The bingo boards are 5×5 with the middle square being a free space.
Give each child a pen (or if you want to make it even more special, these dot markers are just perfect for playing bingo!)
For even more fun (and if you don't have bingo markers) you can use jelly beans instead. Just place them on the bingo sheet when the picture is called out.
When everyone knows the rules of the game, start playing and see who is the first person to shout bingo.
If you are looking for a small little Easter treat check out our favorite Easter gift guides:
It's Better Being a Bunny: An Early Reader
The Night Before Easter
The Good Egg Presents: The Great Eggscape!: Over
How to Catch the Easter Bunny
Easter Eggstravaganza Mad Libs: World's Greatest Word Game
More Easter Activities
Have even more fun this Easter with these free Easter printables, these will make a perfect addition to free printable Easter bingo game.
Tips for downloading the free files
Below is a blue cloud with an arrow pointing downward. Underneath that is a large sign-up box where you need to add your name and email address, and press I NEED THIS NOW!
Within minutes you will be sent the free PDF directly to your email address, so you can print it out and start using it immediately.
Sometimes emails get a little wonky, so if you can't see it, please check your spam folder where I am sure it is hiding.
Download Free Printable Easter Bingo cards
Make sure you choose the correct paper size and click on the shrink to fit button. All of our free printables for kids work better when printed on cardstock (this is the one we use and love.)
Other free bingo boards you can download include:
Last Updated on 2 October 2023 by homeschoolof1