15 Cool Geography Gifts for Kids Who Love Traveling
Do you have a child interested in traveling? If so these are the best geography gifts for kids that they're going to love.
These geography gifts are great for kids aged 5-14 and range from books to games, globes, and more.
As we homeschool we have put together our favorite geography curriculum resources.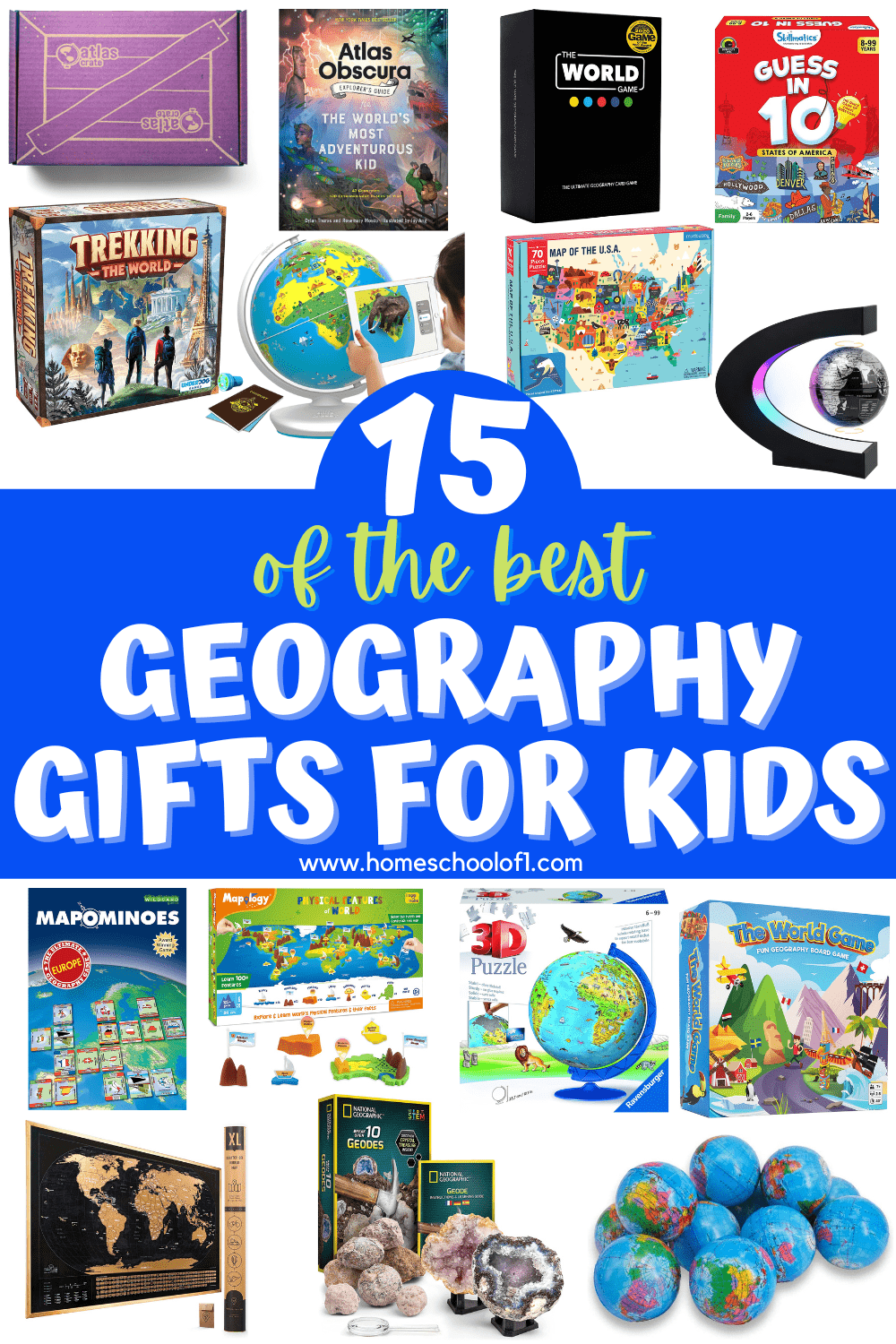 **There may be affiliate links in this post. If you make a purchase (after clicking one of my affiliate links) I'll earn some coffee money, which I promise to drink while supporting your journey. You do not pay a higher price. You can read my full disclosure at the bottom of the page.**
Geography Gifts for Kids
If your geography loving child loves to read we highly recommend all 20 of these geography books.
There is a mix of reference books, reading books, atlas, and more included.
Photo Credit: www.kiwico.com
The KiwiCo Atlas crate is a monthly subscription aimed at kids aged 6-11.
Travel all around the world every month with KiwiCo and get 2 STEM projects, an inspiration booklet. atlas cards (and DIY activities to discover geography, customs, history, and foods) plus an atlas adventure book.
We absolutely love KiwiCo and have reviewed a number of their boxes including:
Check to see if we have any exclusive promo codes available in these reviews before purchasing the Atlas crate.
With all 194 countries of the world included the kids are going to love the World game.
This is one of our favorite educational board games and is our favorite geography game.
From the creators of the World Game above this is their board game variant.
Race around the world, pass famous landmarks, and win.
With 10 questions to ask about each State how many will you need to work out what the State is? This is a great geography gift the whole family will love to play.
You may also like Guess in 10: Countries of the World
From the creators of our favorite history board game, Trekking through History, is their trekking the world geography board game.
An absolutely fantastic game and perfect for family game night.
Create a 3d map of the world. Solve the puzzle with the river, desert & lake-shaped pieces, and add the 3D mountains, volcanoes & plateaus to complete the map.
Great for kids aged 5-10 they will explore the world in a completely unique way with this 3d puzzle.
The double-sided 70-piece map of the USA puzzle is perfect for children ages 5 and up.
Kids will love learning the 50 states by name, capital city, shape, location, and state nickname from the colorful and whimsical illustrations of the map puzzle.
Pieces are shaped like each state with its nickname on the back.
This interactive globe takes your child on a fun adventure around the world.
Scan the globe with the free app that comes with it and discover the world in the app.
Full of visual storytelling, music, animal facts and voice interactions, world quizzes, globe puzzles, and challenges for ages 4 to 10.
This floating globe will make a great geography gift for slightly older children and will look great in their bedroom.
These miniature squeeze globe stress balls will make excellent party bag favors or stocking stuffers for any child. Not just geography loving kids.
If your geography loving child travels around the world I highly recommend this XL scratch off world map. This will look amazing in their bedroom so they can see how many countries they have visited, and see what countries are left to explore.
Or you may prefer a scratch off map of America instead.
This domino game is like the numbers game but with maps of Europe instead. Connect the countries that share a common border and the winner is the person who gets rid of their dominoes first.
Break open these rocks to reveal amazing crystals inside!
Geology doesn't get more exciting than breaking open rocks and finding crystal treasures.
You may also enjoy:
Last Updated on 23 September 2022 by homeschoolof1