10 Pirate Writing Prompts (free printable)
Are you looking for creative ways to encourage your children to write? If so you are going to love these pirate writing prompts.
These writing prompts for kids can be used with all age groups, but are aimed at elementary grades.
Included in this free download are 10 fun writing prompts.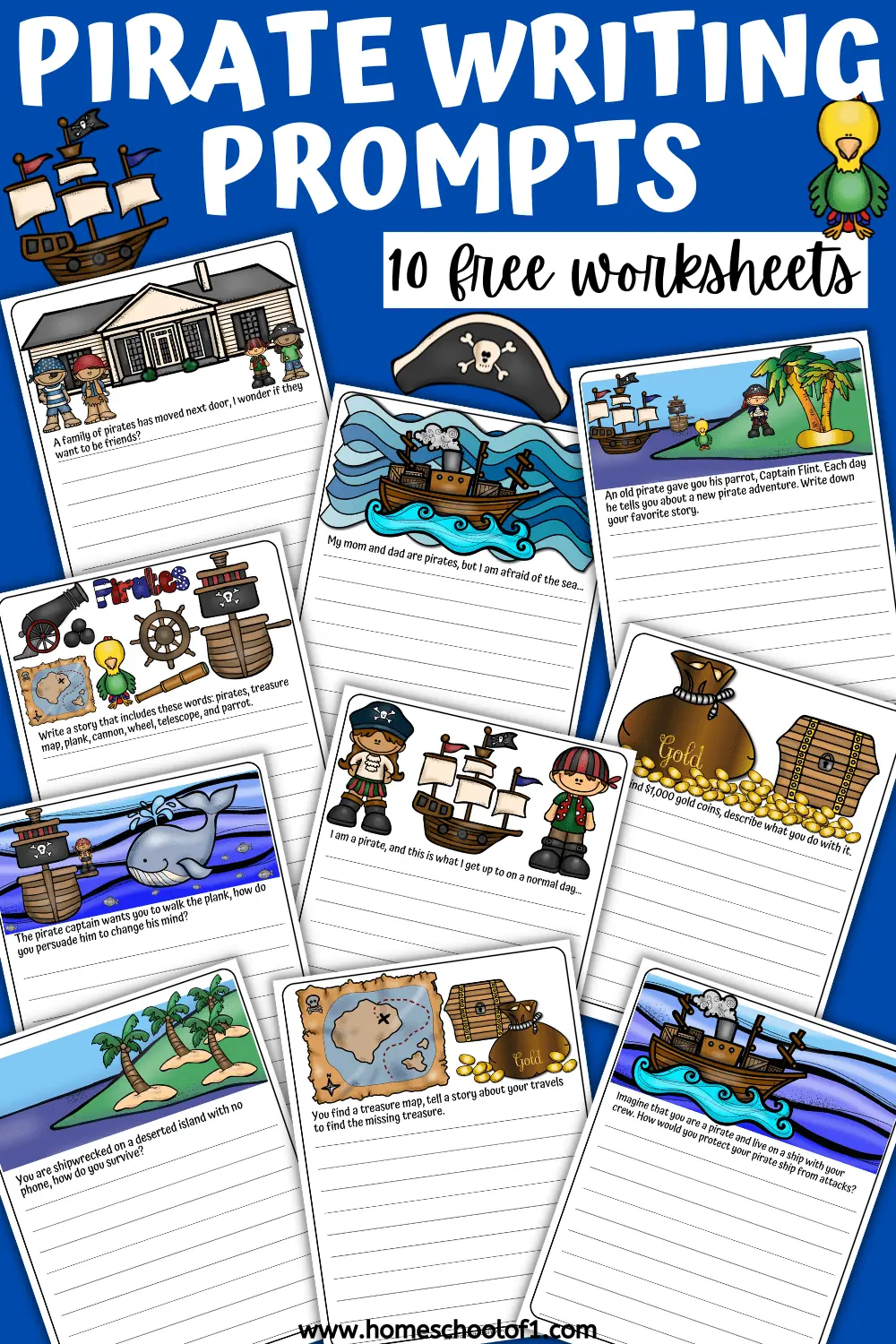 **There may be affiliate links in this post. You can read my full disclosure at the bottom of the page.**
Why use Writing Prompts?
If you have a reluctant writer or just want to add a little fun to your classroom, I highly recommend using writing prompts.
These fun topics to write about will certainly encourage the children to write more than normal. You could have a child who normally only writes a sentence or two, hand in a 3 page essay.
These are aimed at students in grades 2 – 5th grade, but of course, can be used for middle school students too.
How I Became a Pirate
Pirate Stew
Who Was Blackbeard?
A Year on a Pirate Ship (Time Goes By)
The Pirates Next Door
Pirates Magnified: With a 3x Magnifying Glass
These printable writing prompts are free to print, but they are for personal or classroom use only. Scroll to the bottom of the page to get the pdf file.
When the kids have completed this fun writing activity check out all our Talk like a Pirate Day activities and printables that you can have fun with. Including coloring pages, games, and more.
Writing Prompts for Talk Like a Pirate Day
There are 10 fun pirate story ideas that are perfect holiday activities for kids for Talk Like a Pirate Day on September 19th.
There are 10 writing prompts to be printed out, you can either print them all. Or just the ones that you think the kids will enjoy the most.
Imagine that you are a pirate and live on a ship with your crew. How would you protect your pirate ship from attacks?
You are shipwrecked on a deserted island with no phone, how do you survive?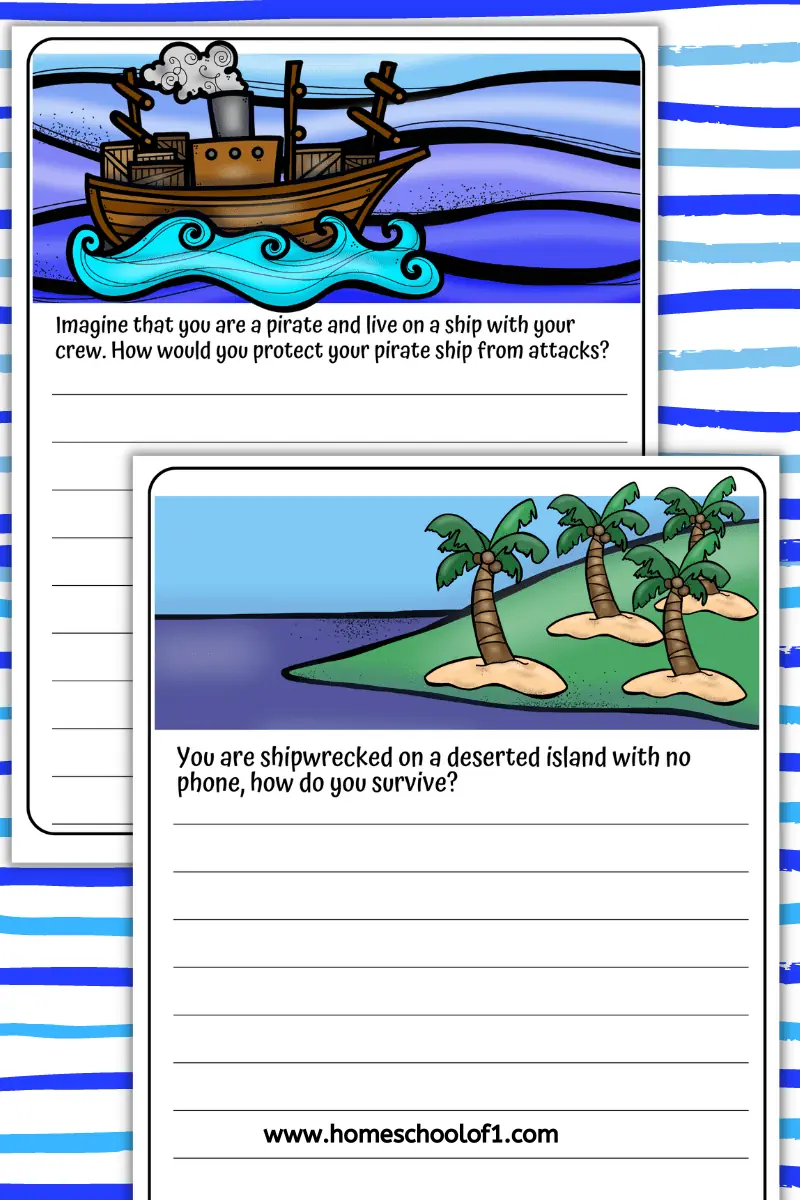 You find a treasure map, tell a story about your travels to find the missing treasure.
The pirate captain wants you to walk the plank, how do you persuade him to change his mind?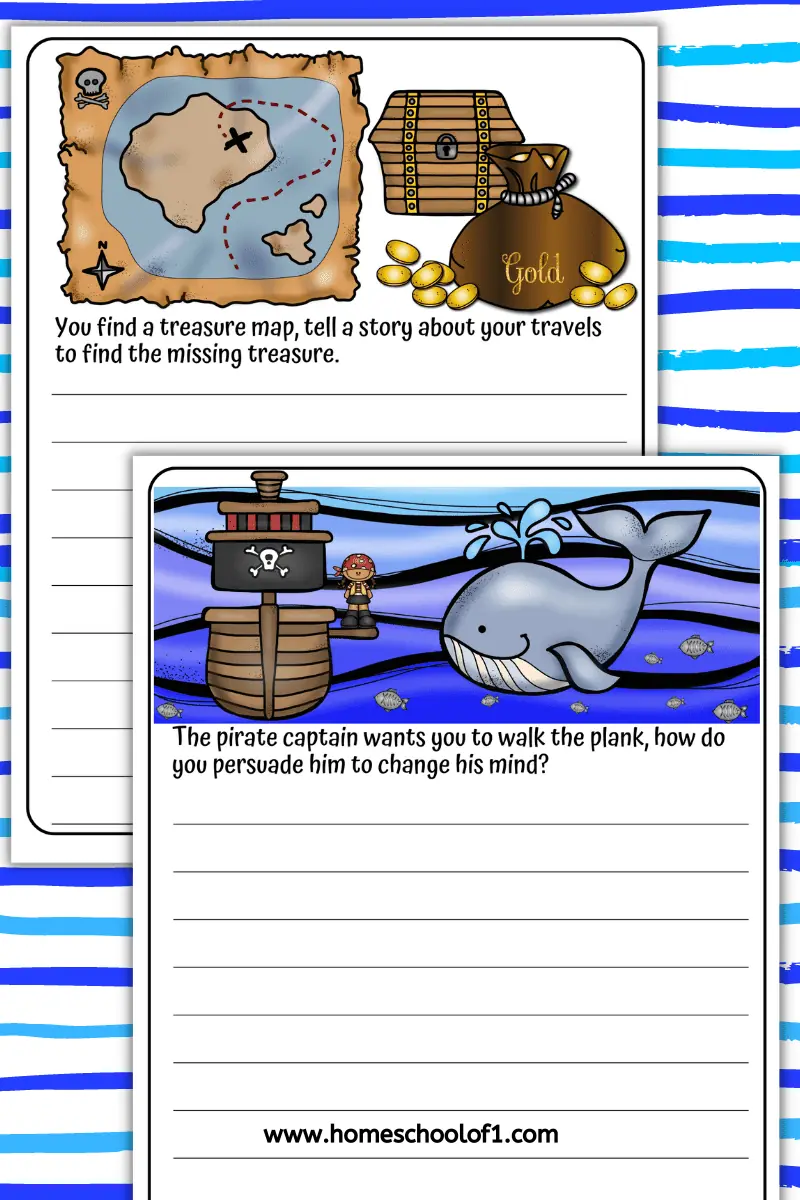 A family of pirates has moved next door, I wonder if they want to be friends.
My mom and dad are pirates, but I am afraid of the sea…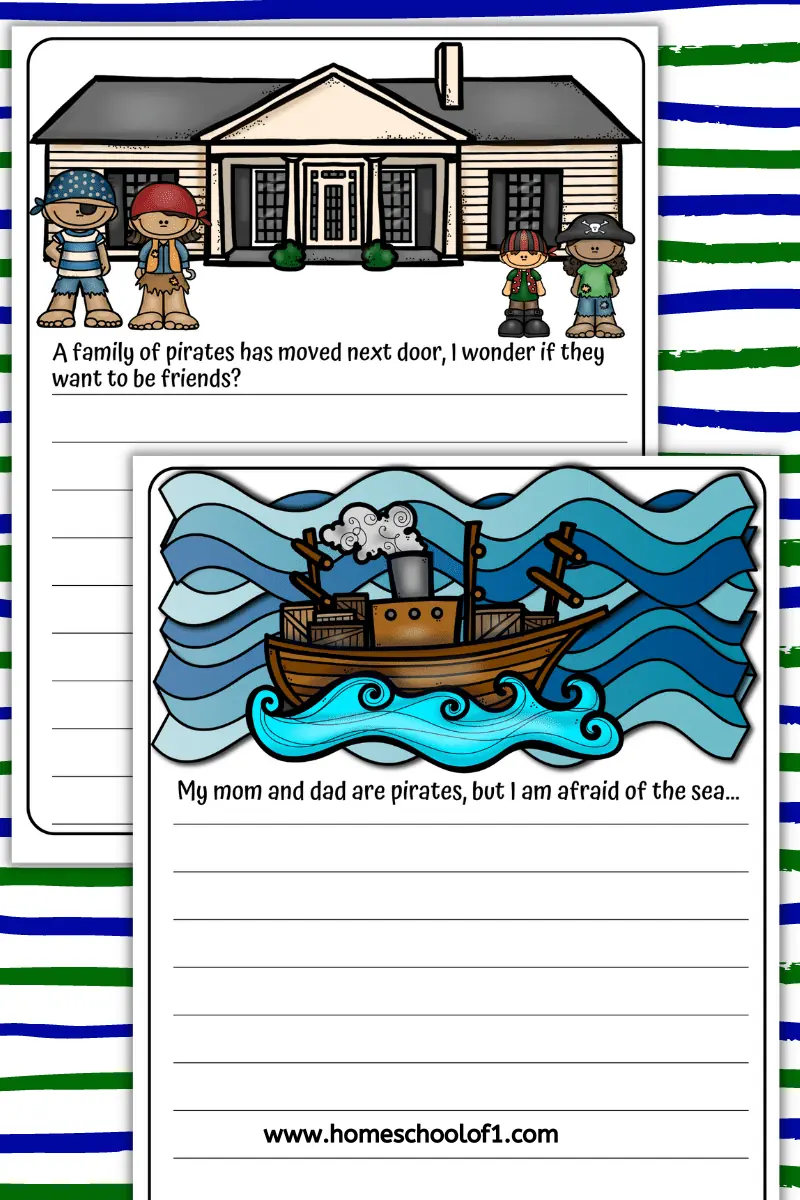 Write a story that includes these words: pirates, treasure map, plank, cannon, wheel, telescope, and parrot.
An old pirate gave you his parrot, Captain Flint. Each day he tells you about a new pirate adventure. Write down your favorite story.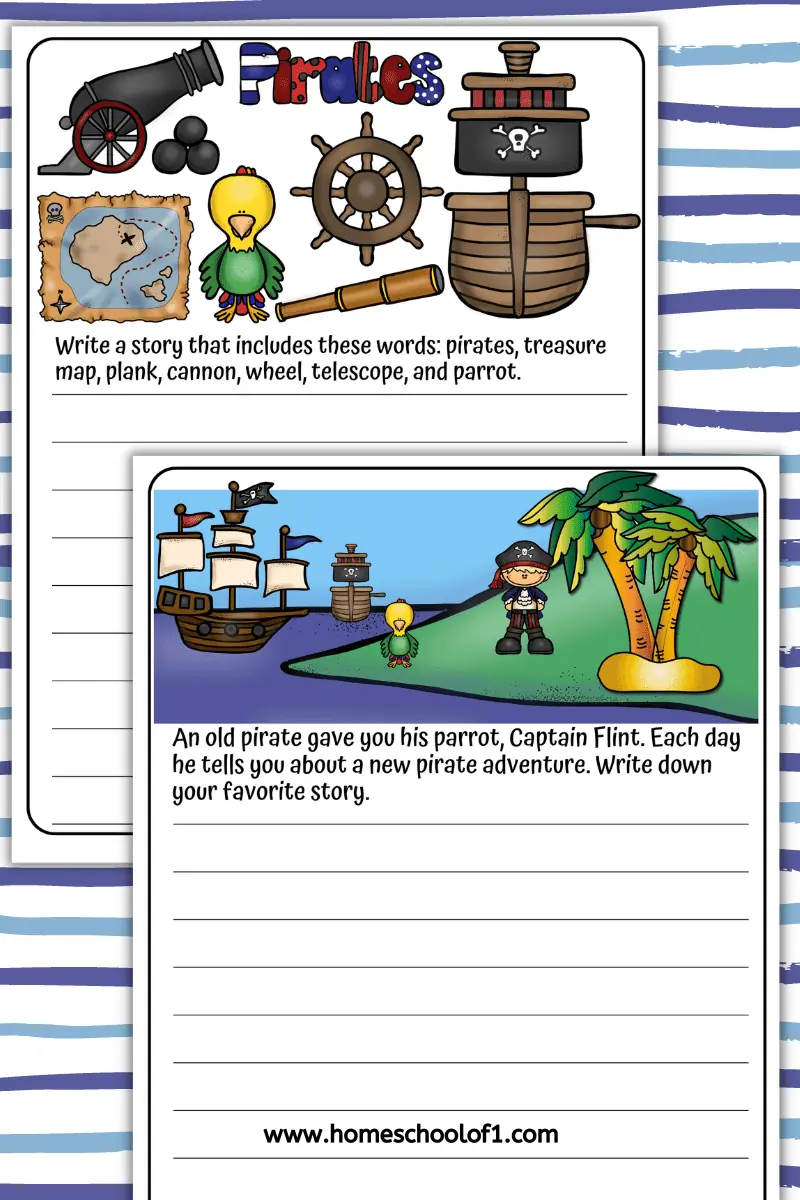 You find $1,000 gold coins, describe what you do with it.
I am a pirate, and this is what I get up to on a normal day…
I also highly recommend this pirate mad libs book for even more pirate fun, plus our pirate coloring pages featuring the 15 most famous pirates of all time.
Learn about the most notorious pirates with this pirates research study.
Continue the fun with these 60 funny pirate sayings.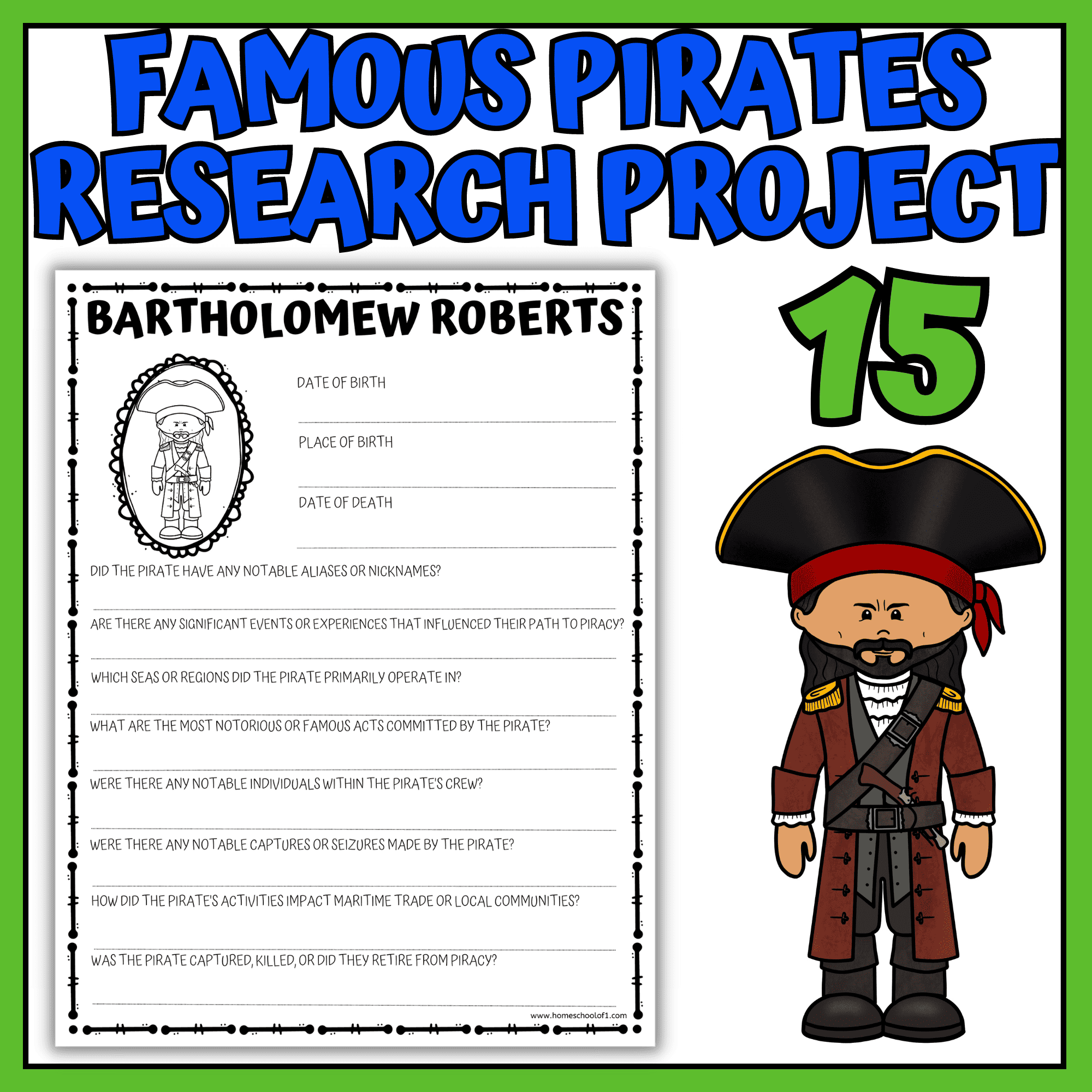 Pirate Research Worksheets

Pirate alphabet worksheets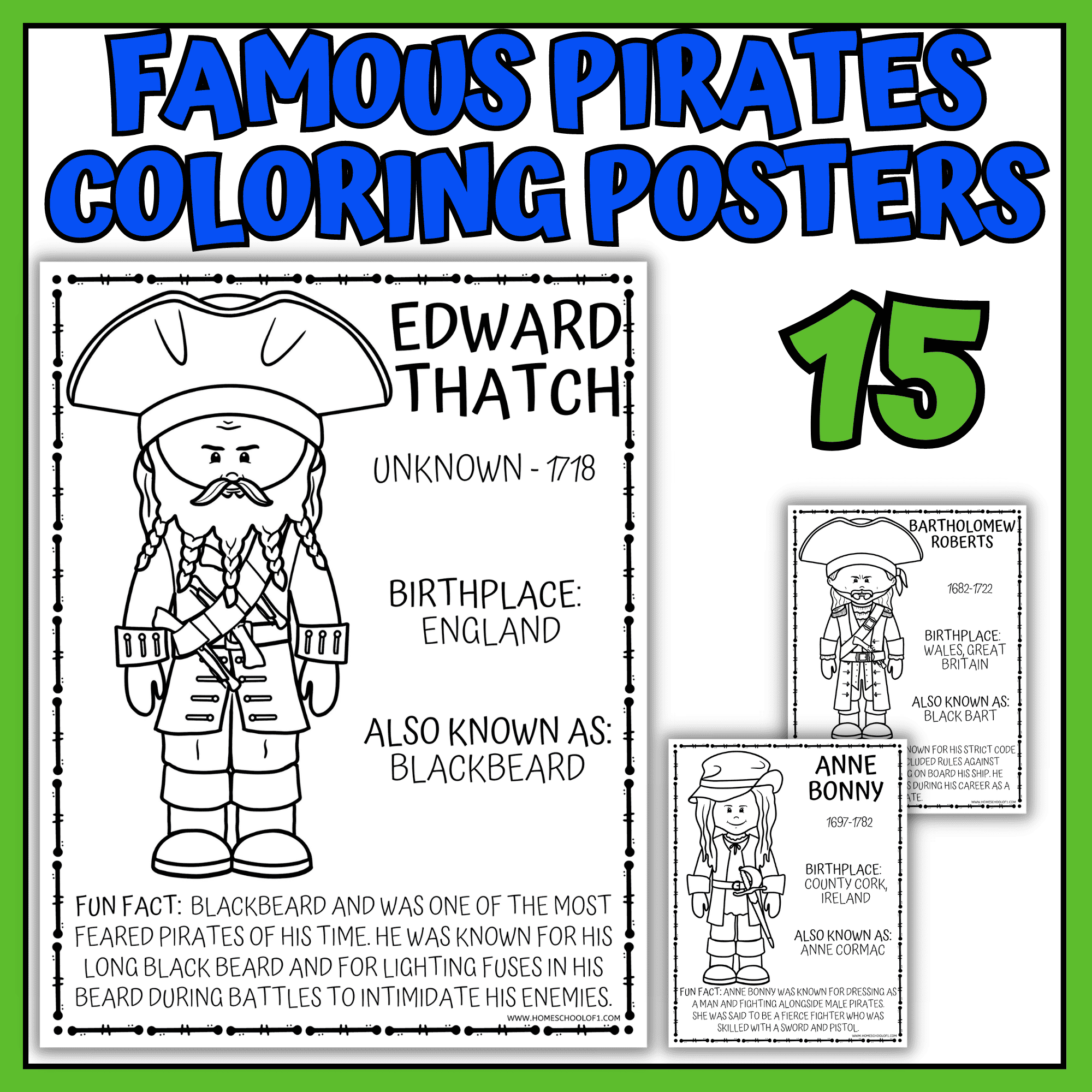 Famous pirate coloring pages

Other free printable writing prompts
Download free pirate story prompts
Make sure you choose the correct paper size and click on the shrink to fit button. All of our free printables for kids work better when printed on cardstock (this is the one we use and love.)
Last Updated on 10 September 2023 by homeschoolof1