17 American Landmarks Worksheets For Kids (Free)
We absolutely love learning about America, and this month we have been focusing on famous American landmarks. These American landmarks worksheets can be used when studying the States of America, see our top tips on how to remember the States.
Despite there being hundreds of beautiful landmarks we have created free American landmarks worksheets for the most famous 17.
As we have been learning about the States of America we had heard of all of these landmarks, but have only actually seen the Statue of Liberty and the Empire State Building. We managed to go to the top (well the 86th floor) a number of years ago and the view of New York was spectacular.
You can also incorporate some American geography board games to supplement these worksheets.
These geography worksheets are aimed at upper elementary and middle school-aged children.
**There may be affiliate links in this post. You can read my full disclosure at the bottom of the page.**
US Landmarks for Kids
There are so many beautiful landmarks in America, but today we are just focussing on the most famous 17.
These American landmark worksheets are free to print but are for personal and classroom use only. Scroll to the bottom of the post and add your email address to get the pdf file.
We prefer to try and find our information from books, the 50 States book has a lot of the information, and for the rest, we use Mr. Google! Check out 20 of the best geography books for kids that will also help.
If you are using these in your homeschool, or in fact at school, I highly recommend this States card game. We love playing educational board games in our homeschool and this one is a winner! It is from the makers of the World game which is our favorite geography game of all time.
Each American landmark worksheet has the following details that need to be completed:
A space to draw the landmark,
Year Built,
Where was it built?
Label it on the map,
Materials used,
Historical facts,
Fun facts,
Location,
Physical description,
Landmark dimensions,
Designers.
Famous landmarks printable worksheets
Ellis Island. Was the primary immigration station of the United States between 1892 to 1954. Processing over 12 million immigrants during that time.
9/11 Memorial. This is a tribute to the nearly 3,000 people killed in the terrorist attacks on September 11, 2001. In the footprint of the Twin Towers, New York.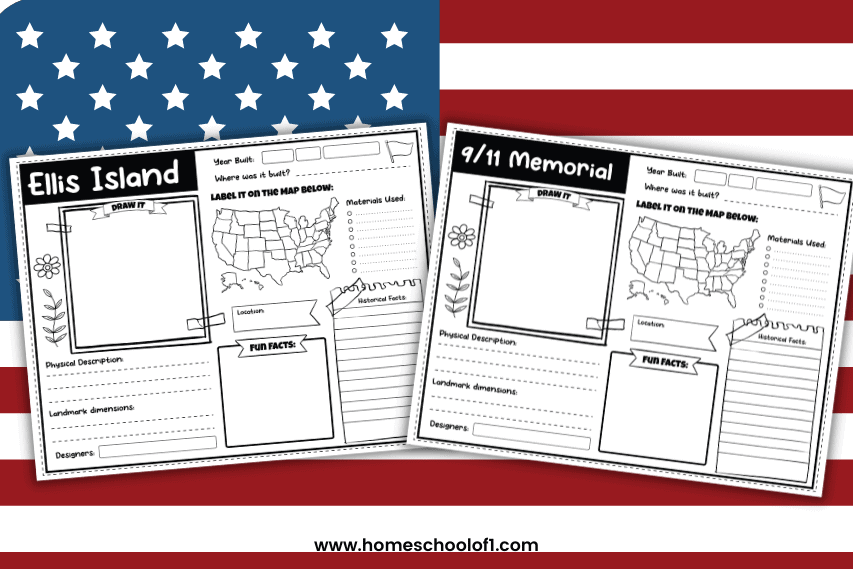 One World Trade Center. Also known as the Freedom Tower. Is the tallest building in the United States and the Western Hemisphere, standing at 1,776 feet.
Empire State Building. An iconic 102-story Art Deco skyscraper in New York City. Standing at 1,454 feet tall and was completed in 1931.
Capitol Building. Located in Washington D.C., is the home of the United States Congress and one of the most recognizable symbols of democracy and government in the world.
Statue of Liberty. On Liberty Island in New York Harbor, gifted to the United States by France as a symbol of freedom and democracy. (Download our free Statue of Liberty worksheets)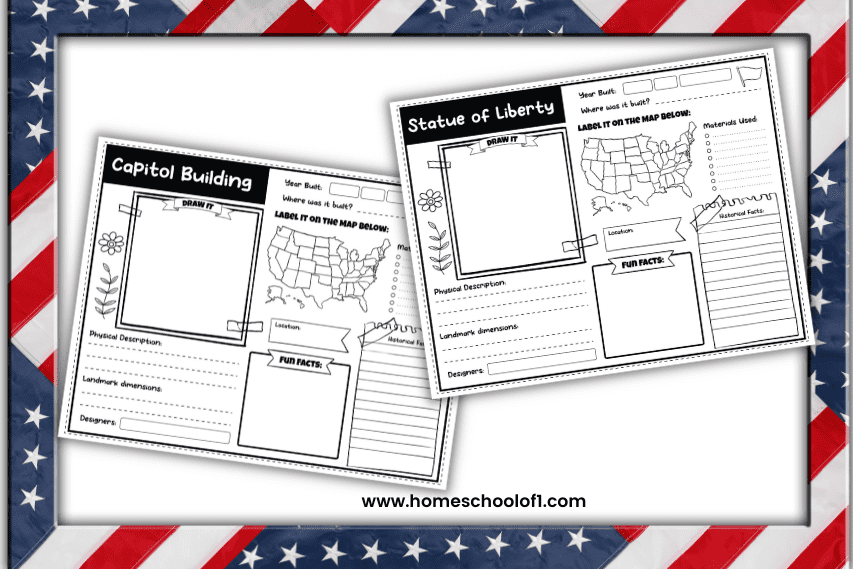 Arlington Memorial Amphitheater. A historic performance venue located in Arlington National Cemetery, Virginia. Where important ceremonies and tributes are held to honor the service and sacrifice of America's fallen heroes.
White House. The official residence and workplace of the President of the United States, located in Washington D.C. It has been the home of every U.S. president since John Adams in 1800.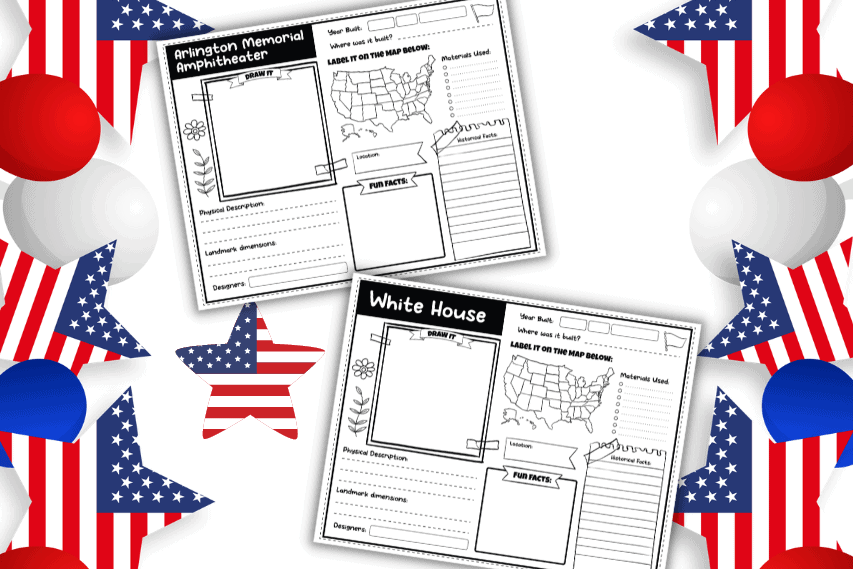 Hollywood Sign. Hollywood Hills of Los Angeles, California, was originally constructed in 1923 as a promotional advertisement for a real estate development. Has since become a symbol of the entertainment industry and the American Dream.
Jefferson Memorial. Located in Washington D.C. dedicated to the third U.S. President. You will also enjoy our free Thomas Jefferson worksheets.
Lincoln Memorial. Located in Washington D.C., honoring the 16th President of the United States, Abraham Lincoln. You will also enjoy our free Abraham Lincoln worksheets.
Golden Gate Bridge. A suspension bridge spanning 1.7 miles over the Golden Gate Strait, connecting San Francisco Bay to the Pacific Ocean.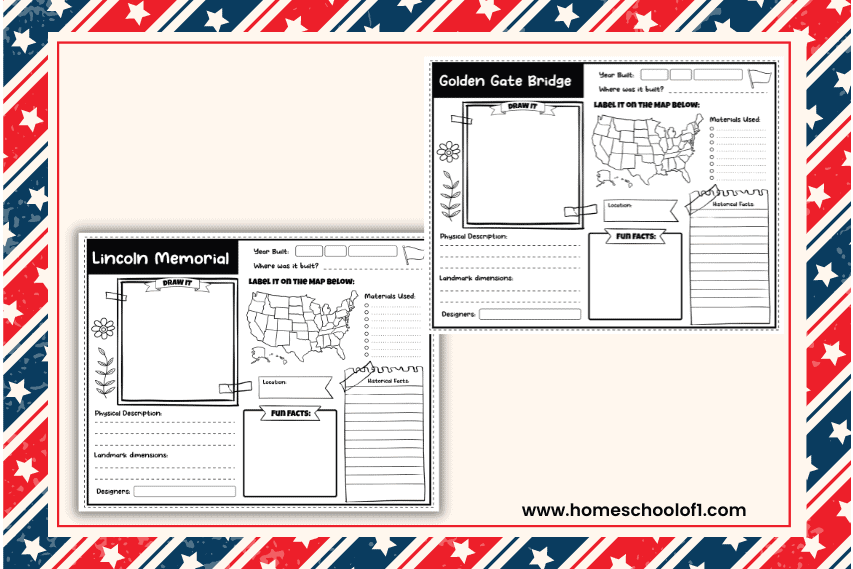 The Alamo. A fortress in San Antonio, Texas. Where a small group of Texans fought for independence against Mexican forces in 1836.
Hoover Dam. A concrete arch-gravity dam on the Colorado River, bordering the states of Nevada and Arizona.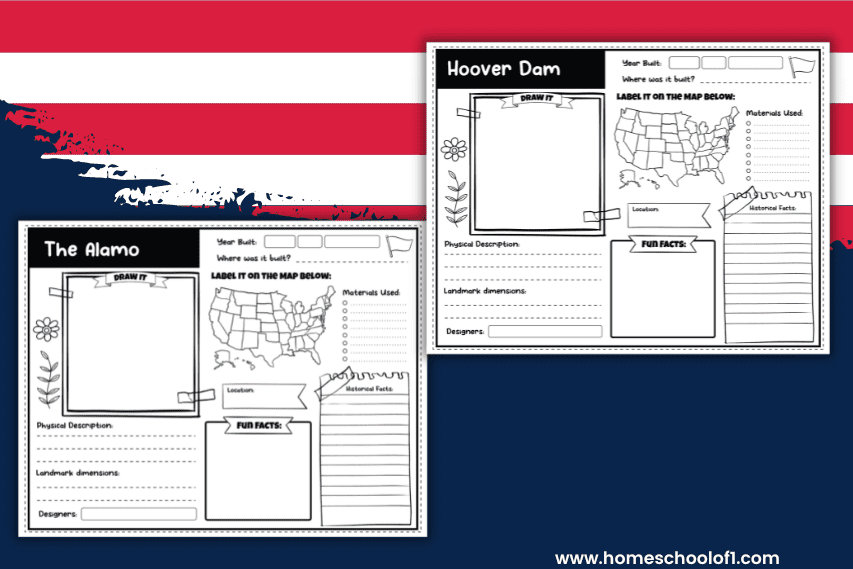 Space Needle. An observation tower located in Seattle, Washington.
Gateway Arch. A 630-foot monument in St. Louis, Missouri. Designed as a symbol of the city's role as the "Gateway to the West".
Mount Rushmore. A massive sculpture carved into the Black Hills of South Dakota, featuring the heads of four U.S. presidents: George Washington, Thomas Jefferson, Theodore Roosevelt, and Abraham Lincoln.
Landmarks of the United States Worksheets
Make sure you choose the correct paper size and click on the shrink to fit button. All of our free printables work better when printed on cardstock (this is the one we use and love.)
Other posts I think you will love:
Last Updated on 3 March 2023 by homeschoolof1