The Best Coding Classes For Homeschooling High School (MYTEK LAB)
I absolutely LOVE homeschooling! Do you know the main reason? We can be led by our child's dreams and aspirations. We don't need to do anything in order, and we can pick and choose the curriculum that works for us. Coding is a great example of this. We have been coding in our homeschool for years. But as we have hit the middle school years I was looking for online coding classes that were aimed at middle schooler / high school.
Learning to code is not required to graduate high school, however, I will make sure that before I graduate Freddie from high school he has at least one high school credit in computer science. It is such an important subject to learn.
We have used many coding classes and programming games (see at the end of the post) but MYTEK LAB offered something more…… They actually taught coding that could be used in the real world.
Not that the other coding classes we had taken before were no good, as Freddie loved them. The previous ones we had taken were definitely more geared towards having fun, and gaming, rather than learning how to code.
Discover what our best homeschool curriculum for high school resources are for each subject.
Carry on reading for our review of MYTEK LAB and get your kids earning high school credits.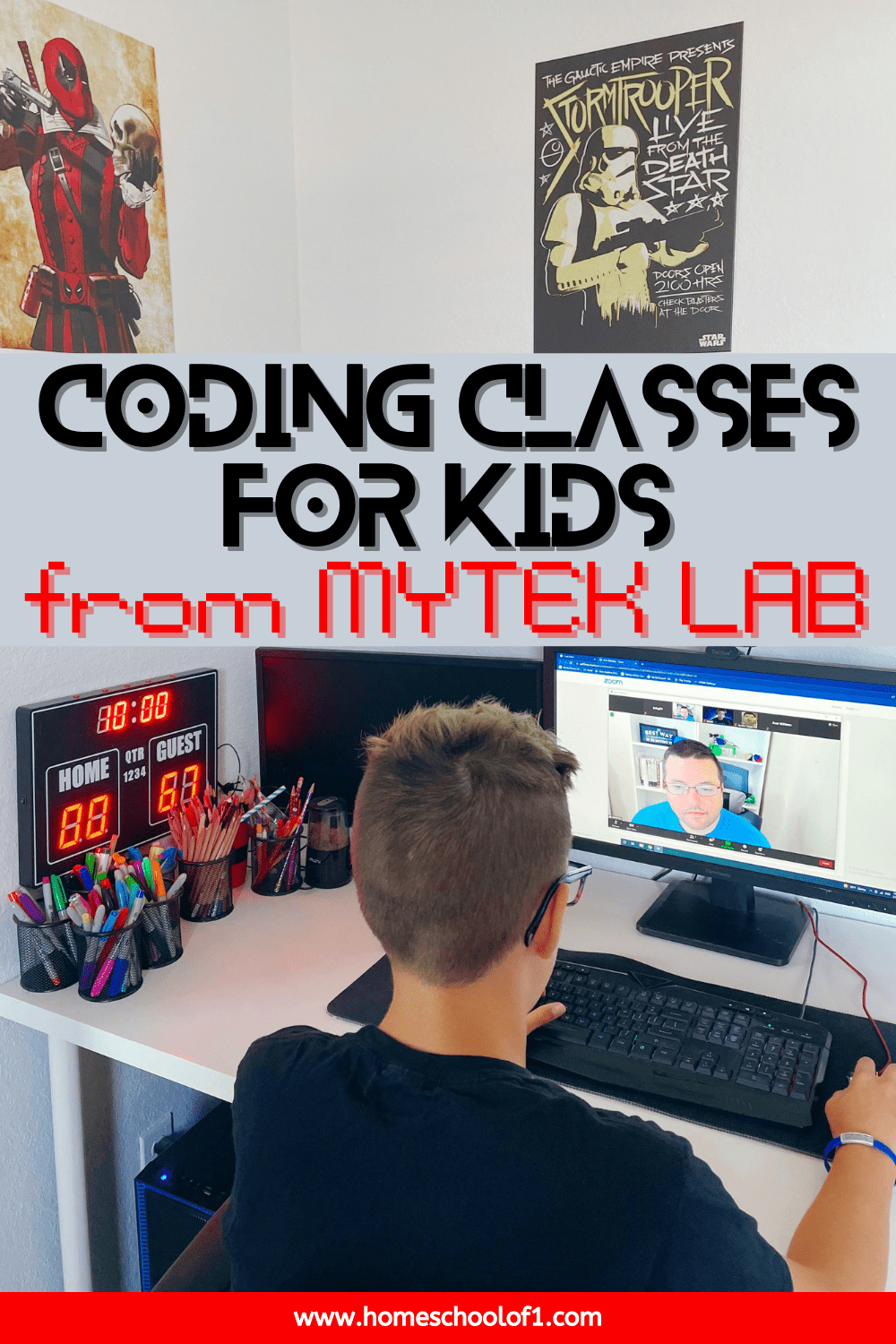 **There may be affiliate links in this post. If you make a purchase (after clicking one of my affiliate links) I'll earn some coffee money, which I promise to drink while supporting your journey. You do not pay a higher price. You can read my full disclosure at the bottom of the page.**
Coding Classes
What I love about MYTEK LAB is I could just leave Freddie to it. Mr. Mytek was a really great friendly teacher that the kids all seemed to really like. I didn't need to get involved at all! This is my type of curriculum! Especially when it comes to coding. I can just about code a website, but anything more than that I'm lost.
With subjects such as coding, or pretty much anything other than math, history, and English I have to make sure he is getting the right tutor/help. That is just not me… I know my limitations! Homeschooling elementary was easy, I pretty much knew all the basics. But wow, middle school and now high school credits are a whole different level!
Online coding classes from MYTEK LAB were absolutely perfect they covered everything required to get high school credits in computer science and computer education. More importantly, I was confident that he was learning from the professionals.
MYTEK LAB Review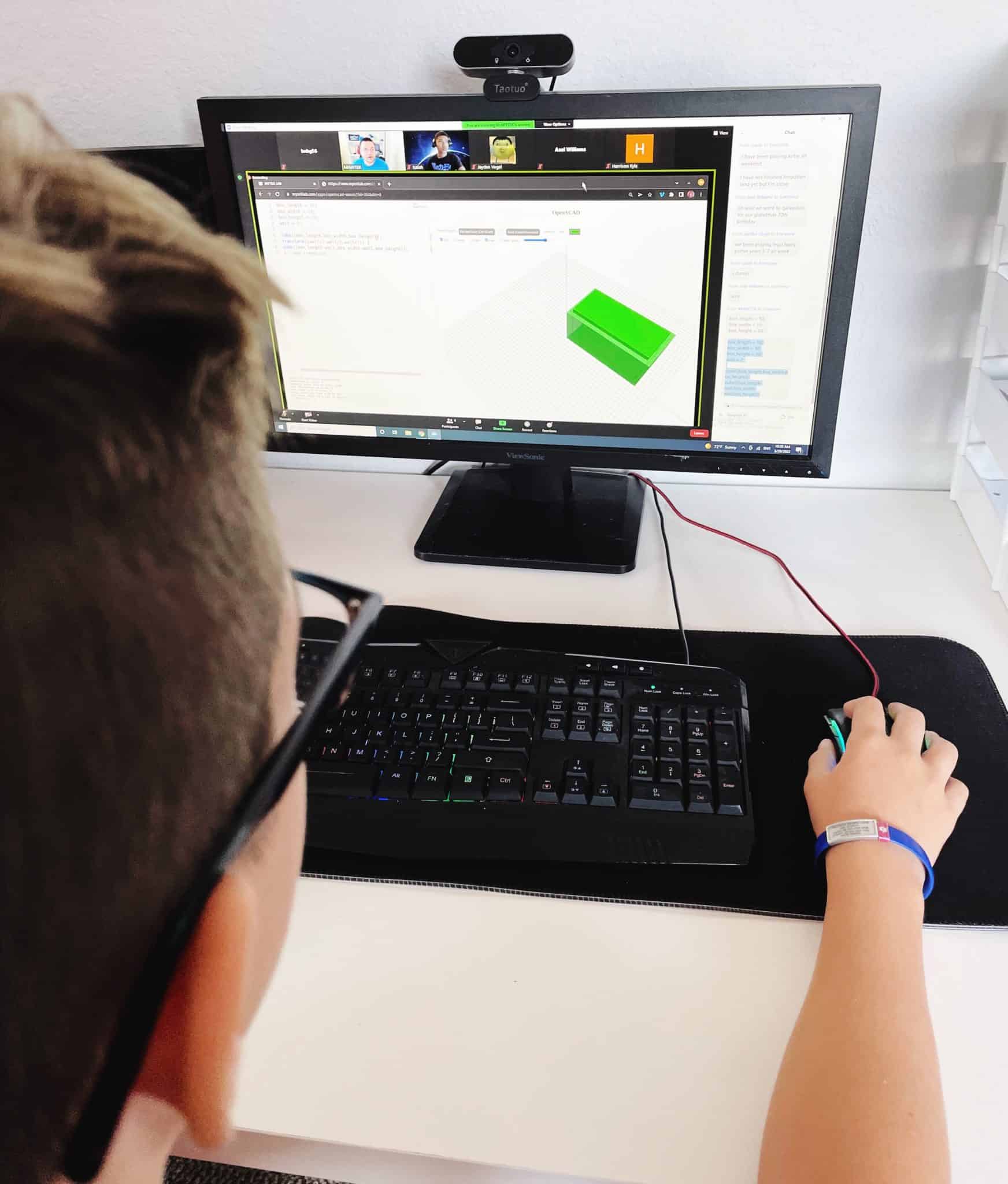 MYTEK Lab has lots of live coding classes, check out the class schedule. What I love is there is a mix of times, some in the homeschool day and for kids that prefer to learn later in the day there are classes later too.
Can't make the online class? Forget what was done during the class? No problem MYTEK LAB have you covered! Included in all of the live online courses are the recorded live lessons. Freddie missed a number of the live classes and actually really enjoyed taking things at his own pace in the recorded classes.
If you have seven million other things going on you are not going to forget your MYTEK LAB class as you get frequent reminder emails. Honestly, I would forget my head if it wasn't screwed on!
Most coding classes are 50 minutes of live instruction per week, and the cost is only $49/month with no additional materials required.
Courses offered:
TEKnology Lab level 1 – Specifically designed for ages 7 to 11-year-old students.
TEKnology Lab level 2 – meets the requirements for 1/2 credit (per semester) of Computer Education. Totaling 1 credit if both semesters are taken.
TEKnology Lab Level 3 -meets the requirements for 1 credit in Computer Science and is designed at a high school level.
TEKnology Lab level 4 – Prerequisite: Completing TEKnology Lab Level 3. Meets the requirements for a Computer Science credit and is designed at a high school level.
Software Engineering 1 – Prerequisite: Completing Technology Lab Level 2 or at least 1 year of prior programming experience. Meets the requirements for a Computer Science credit and is designed at an advanced level.
Programming 1 -Prerequisite: Completing TEKnology Lab Level 1 Programming 1 meets the requirements for a Computer Education credit meets the requirements for 1/2 credit (per semester) of Computer Education. Totaling 1 credit if both semesters are taken. (The credit is optional.)
Summer Session: 3D modeling and Animation – is aimed at kids aged 8-12
Sign up today and get your kids to learn how to code the best way.
Other Coding Posts:
If you are looking for even more homeschool curriculum reviews check out all of the others we have reviewed over the years.
Last Updated on 3 September 2022 by homeschoolof1