40+ Awesome Gratitude Journal Prompts For Kids To Use All Year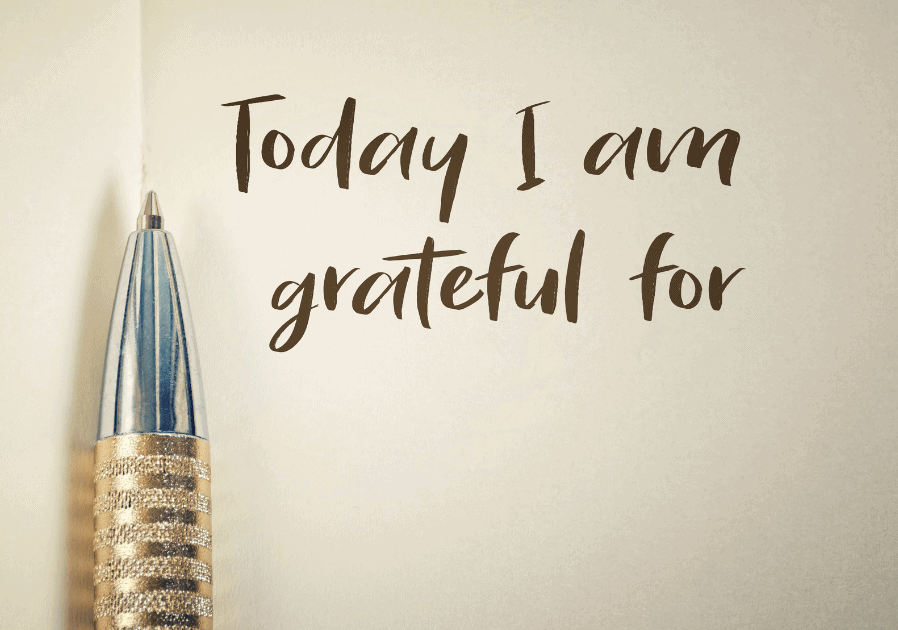 Gratitude is quite simply being thankful for something or someone. It is normally thought about more at Thanksgiving, however, these gratitude journal prompts have been designed to be used throughout the year.
Apart from encouraging the kids to write more, these gratitude journal prompts will improve their mood. Kids, and adults for that matter, often go through life in the moment and don't take time to truly be grateful for what they have.
This is a great way to reflect and be thankful every day.
grat·i·tude
/??rad??t(y)o?od/noun
the quality of being thankful; readiness to show appreciation for and to return kindness.
**Disclosure – there are affiliate links included in this post.**
These gratitude journal prompts can either be added to a journal (these Kraft ones are perfect) or just jotted down on a scrap of paper. I like to keep these so we use the Kraft journals linked above. But the most important thing is getting your kids to think about all the amazing things they have to be grateful for.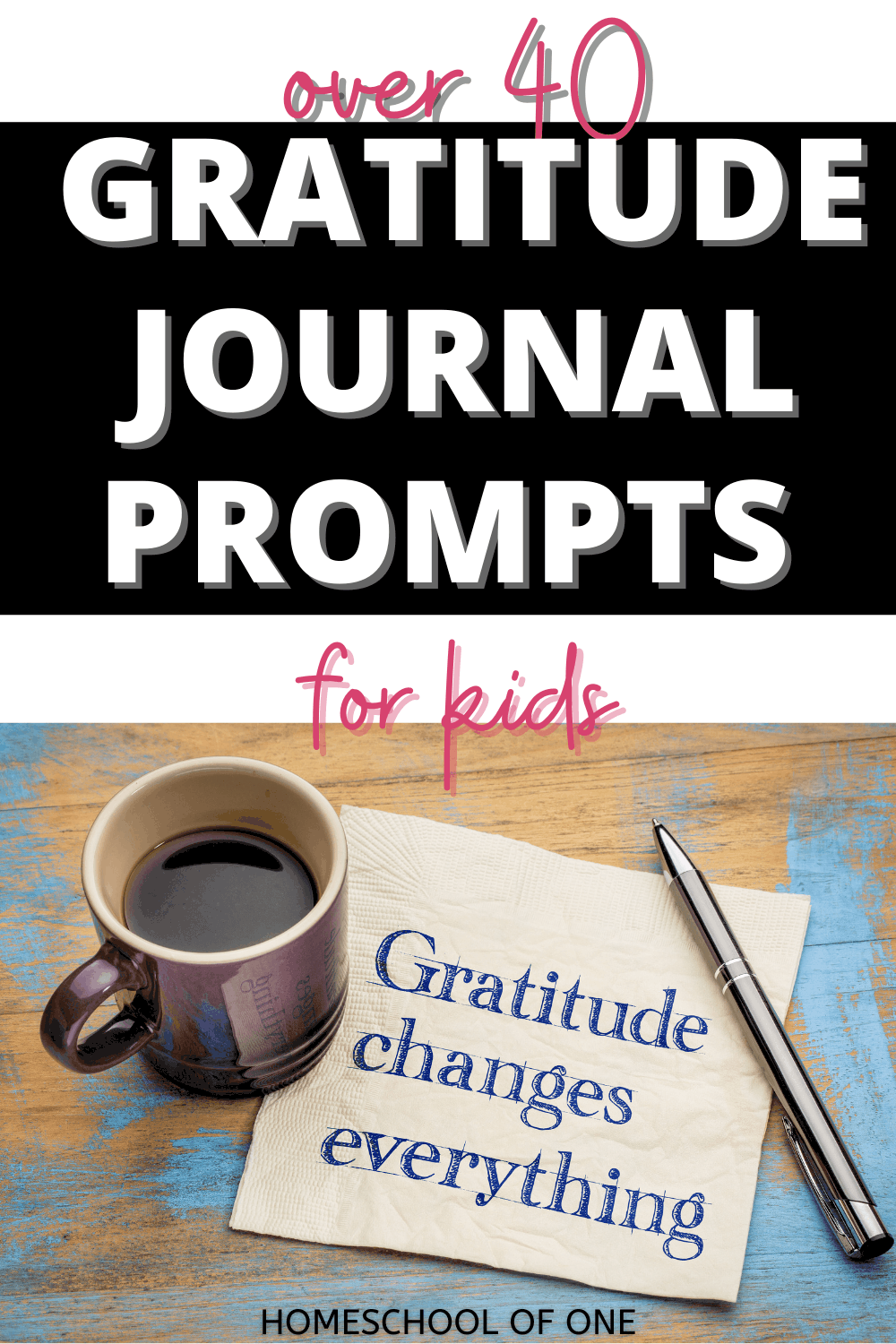 Halloween Journal Prompts
What candy are you most grateful for?
What is your favorite Halloween costume?
If gratitude was a person what Halloween costume would they wear?
How do you feel when you think people are not being grateful? Do you think this is more noticeable on Halloween?
Would you give more or less candy to a neighbor if they were being grateful?
Check out our favorite Halloween activities here.
Gratitude Journal Prompts for Thanksgiving
Why is it important to have a Day of Thanks?
What is your favorite part of Thanksgiving Day?
Do you help cook the Thanksgiving meal?
How do you show gratitude at Thanksgiving?
What food are you most grateful for?
What is the number one thing you are thankful for? And why?
Check out all of our favorite kid's Thanksgiving activities here.
Christmas Journal Prompts
If you are thinking of sending Christmas thank you cards to show gratitude check out our latest free printable.
How do you feel when someone gives you a gift?
What is your faorite thing about Christmas?
What are your favorite Christmas songs?
Do you prefer receiving or giving Christmas gifts?
What is your favorite Christmas movie?
How do you spread Christmas cheer?
What do you love about your Christmas decorations? Do you have any family traditions?
If you are looking for even more Christmas writing prompts check out our recent post. Or check out all of our favorite Christmas activities here.
New Year Journal Prompts
What are all the ways you could be more grateful for this year?
Write three things you are grateful for
Why is gratitude important to you?
What were you most grateful for last year?
What was your favorite book you read last year?
Valentine Journal Prompts
How does being grateful make you feel?
Write a story about someone you love.
Write a letter of thanks to your mom, dad, or someone in your family who does everything for you.
Is gratitude and love the same?
Write about a time you felt loved.
Finish this sentence 10 different times, I love……..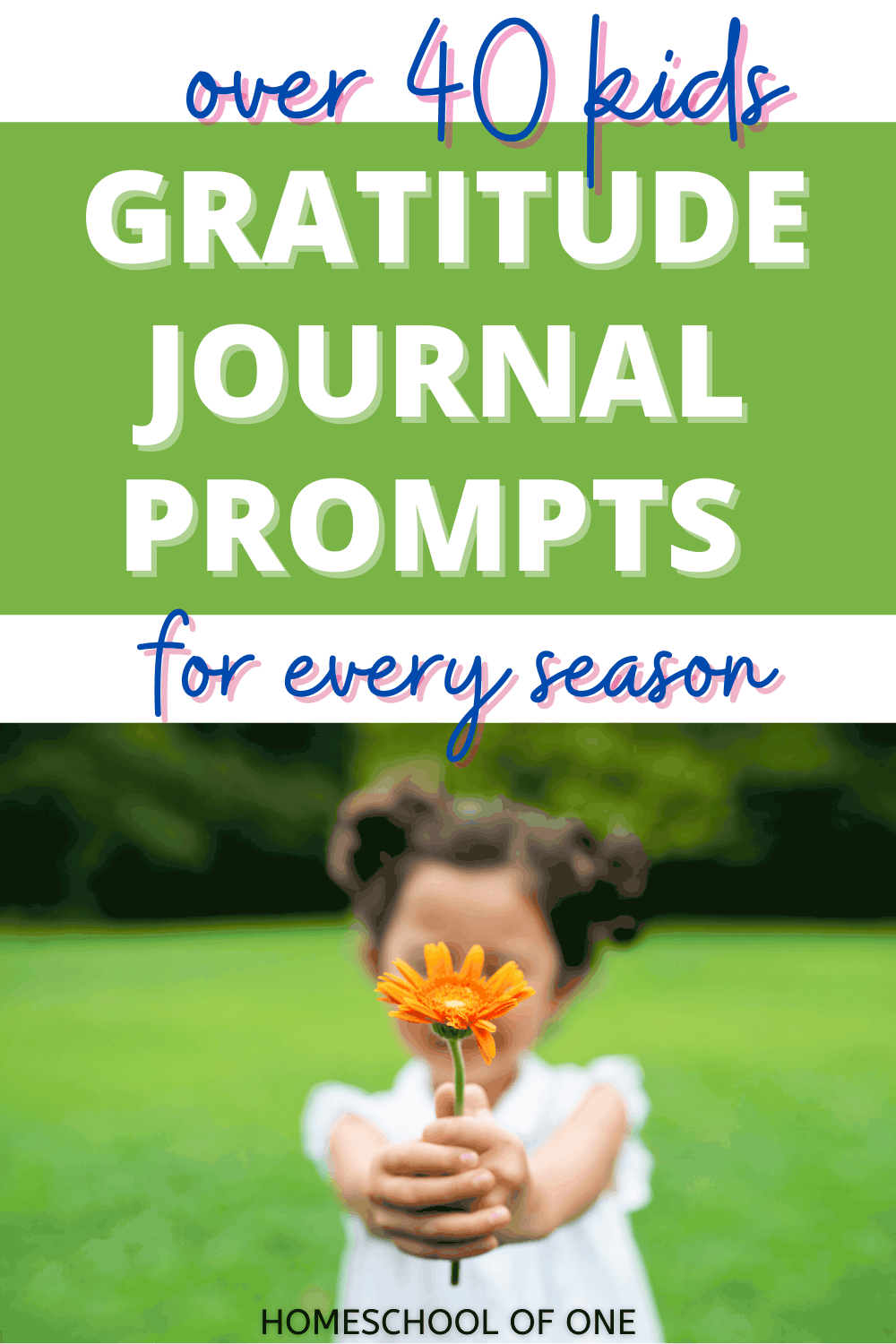 Easter Writing Prompts
What is your favorite Easter activity?
How do you celebrate Easter?
Have you ever let someone down? Did you ask for forgiveness?
Do you have a nice Easter memory? What was it? (A fun Easter Egg hunt with family, or a vacation?)
Are you grateful for the Easter Bunny?
Summer Gratitude Journal Prompts
Where was your favorite holiday destination?
Where would you like to go on your summer vacation and why?
How can you show gratitude in the summer months?
Now school is over, what was your favorite lesson last year?
Write a thank you card to your favorite teacher (or mom, if you are homeschooled!)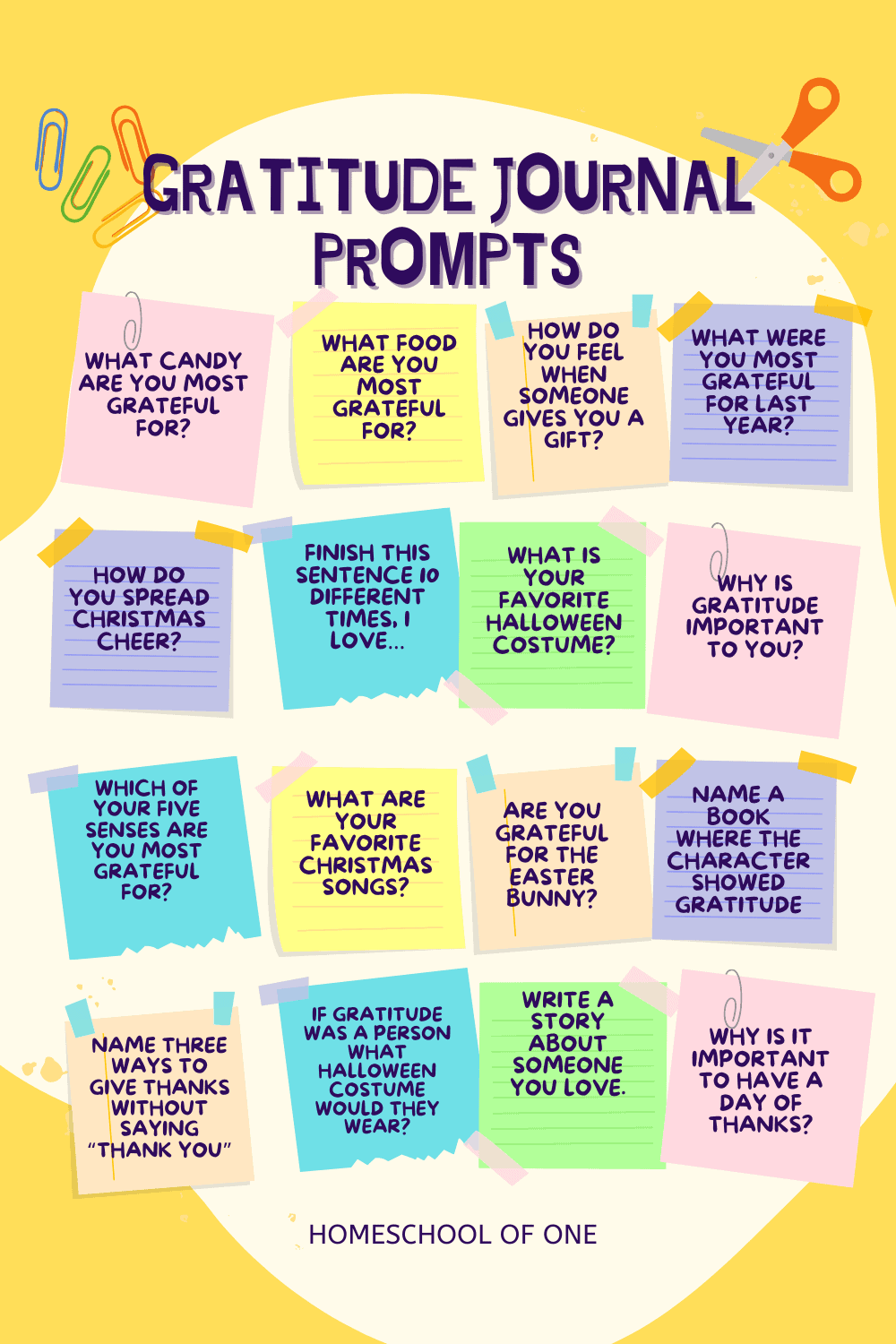 Other Gratitude Journal Prompts For Kids
Name a book where the character showed gratitude, how and why?
Which of your five senses are you most grateful for?
Name three ways to give thanks without saying "Thank You"
Gratitude Journal For Kids
If you prefer an actual gratitude journal these are our favorites:
Last Updated on 10 October 2021 by homeschoolof1