67 Gratitude Journal Prompts For Kids to Use All Year
Gratitude is quite simply being thankful for something or someone. It is normally thought about more at Thanksgiving, however, these gratitude journal prompts for kids have been designed to be used throughout the year.
Apart from encouraging the kids to write more, these gratitude journal prompts will improve their mood. Kids, and adults for that matter, often go through life in the moment and don't take time to truly be grateful for what they have.
This is a great way to reflect and be thankful every day.
These writing prompts for kids can be used with all age groups throughout the year.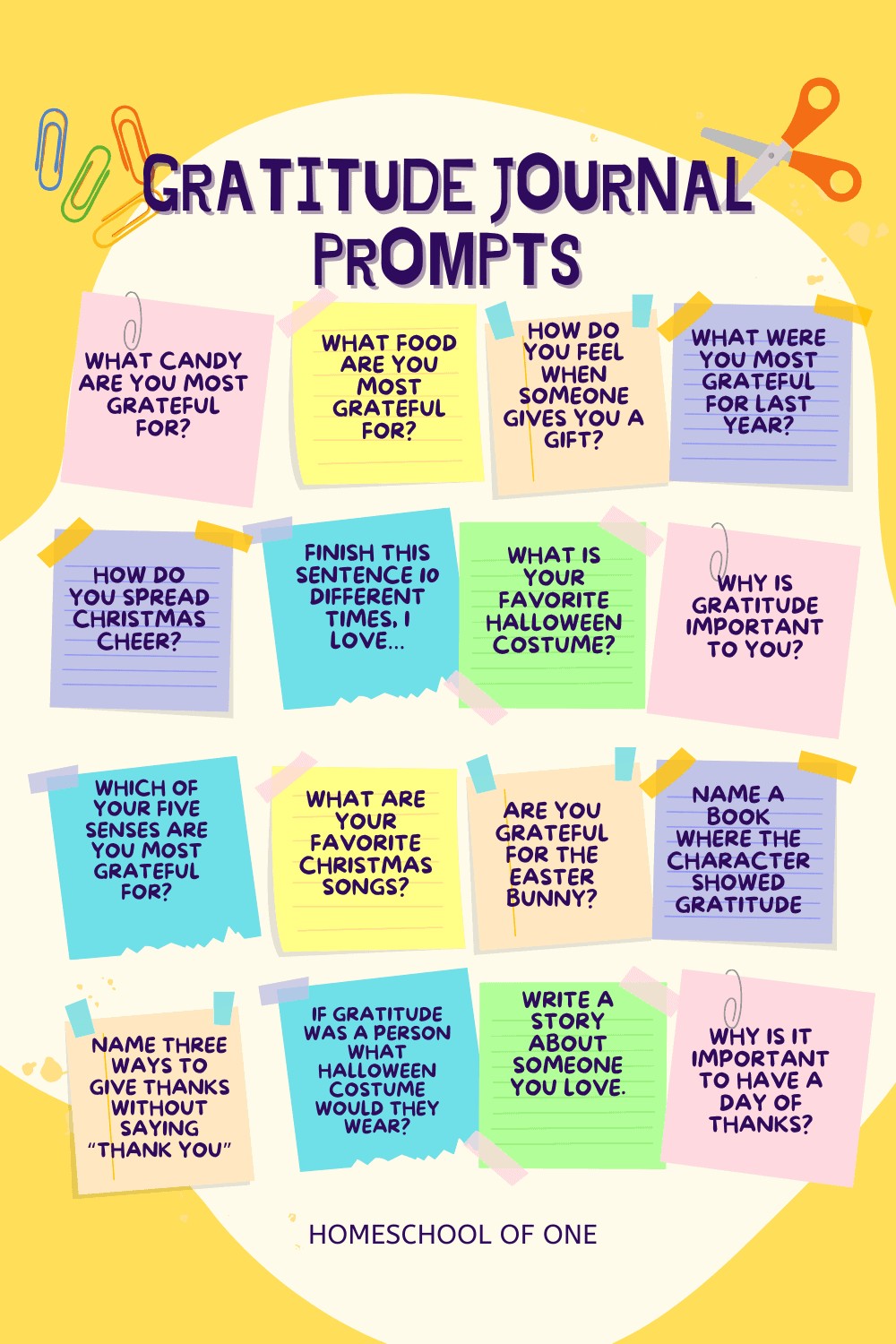 **There may be affiliate links in this post. You can read my full disclosure at the bottom of the page.**
Gratitude Journal For Kids
These gratitude journal prompts can either be added to a journal (these are the ones we use) or just jotted down on a scrap of paper. But the most important thing is getting your kids to think about all the amazing things they have to be grateful for.
If you prefer an actual gratitude journal these are our favorites:
grat·i·tude
the quality of being thankful; readiness to show appreciation for and to return kindness.
There are over 40 gratitude journal prompts for every season if you are looking for inspiration.
MALEDEN Leather Writing Journal Notebook, Classic Spiral Bound
12 Pack Kraft Paper Notebooks, Happy-Themed Journal for
The 3 Minute Gratitude Journal for Kids: A
The HappyMe Journal – The Daily Gratitude Journal
New Year Journal Prompts
What are all the ways you could be more grateful for this year?
What was your favorite book you read last year?
Imagine you are about to embark on a magical journey in the new year. What kind of adventure would it be? Where would you go, and what exciting things would you do?
Think about something you would like to learn or improve this year. It could be a new skill, a subject in school, or a hobby. Write about why you want to learn it and how you plan to achieve your goal.
Why is gratitude important to you?
Brainstorm five acts of kindness you can do for others this year. It could be something simple like helping a friend, being kind to a stranger, or volunteering.
Write three things you are grateful for
Write a letter to yourself that you will read at the end of the year. Include your hopes, dreams, and goals for the year ahead.
What were you most grateful for last year?
Imagine you're creating a time capsule that will be opened in the future. Draw or describe five items you would put in it to represent this year.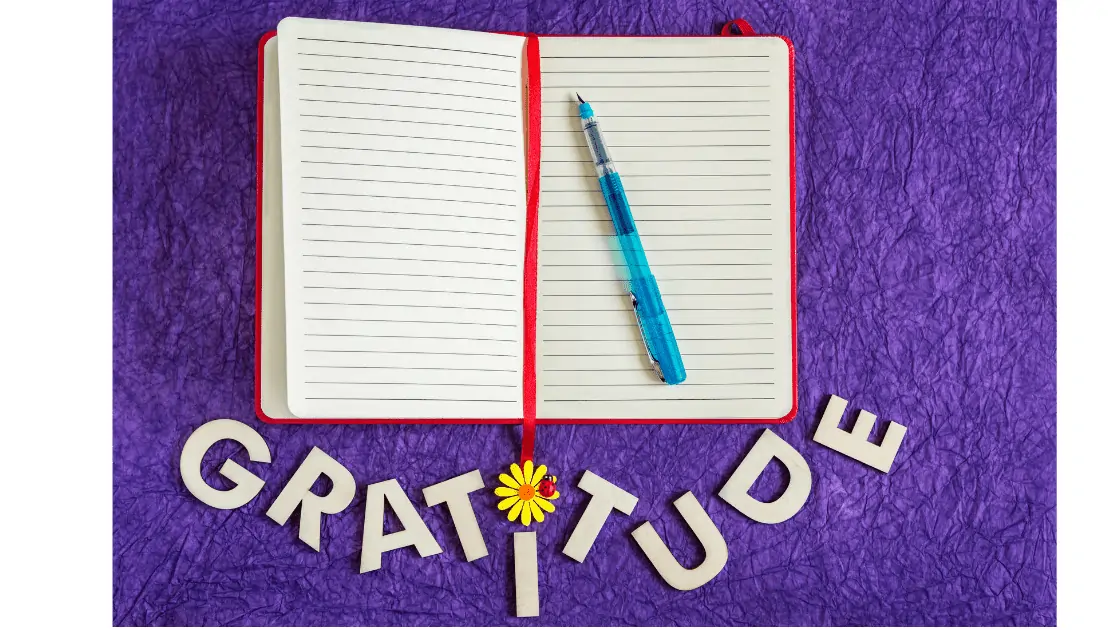 Valentine's Day Journal Prompts
How does being grateful make you feel?
Write a letter of thanks to your mom, dad, or someone in your family who does everything for you.
Reflect on a time when someone showed you love and kindness. How did it make you feel, and why do you think love and kindness are important in our lives?
Write about a time you felt loved.
Finish this sentence 10 different times, I love……..
Write about different types of love you experience in your life, such as the love you have for family, friends, pets, and even things you are passionate about. How do these different types of love make you feel?
Write a story about someone you love.
Think of five small acts of love and kindness you can do for others on Valentine's Day. Describe how you would carry out these acts and how you think they would make the recipients feel.
Is gratitude and love the same?
If you are looking for homeschool Valentine's Day ideas check out our latest post.
Easter Journal Ideas
What is your favorite Easter activity?
Write about a surprise you received during an Easter celebration that made you feel grateful for the thoughtfulness and effort someone put into making your day special.
How do you celebrate Easter?
Have you ever let someone down? Did you ask for forgiveness?
Do you have a nice Easter memory? What was it? (A fun Easter Egg hunt with family, or a vacation?)
Are you grateful for the Easter Bunny?
Write about your favorite Easter treat and explain why it makes you feel grateful and happy.
Write about a specific moment you shared with your family that made you feel grateful for their love and presence in your life.
For even more Easter writing prompts grab our free printable Easter pages.
Summer Gratitude Journal Prompts
Where was your favorite holiday destination?
Where would you like to go on your summer vacation and why?
How can you show gratitude in the summer months?
Now school is over, what was your favorite lesson last year?
Write a thank you card to your favorite teacher (or mom, if you are homeschooled!)
Write about your favorite thing in nature during the summer and explain why it brings you joy and gratitude.
Write a story about a magical summer adventure, including who you were with and what exciting things you did. Express your gratitude for the experience.
List five ways you can spread kindness during the summer months.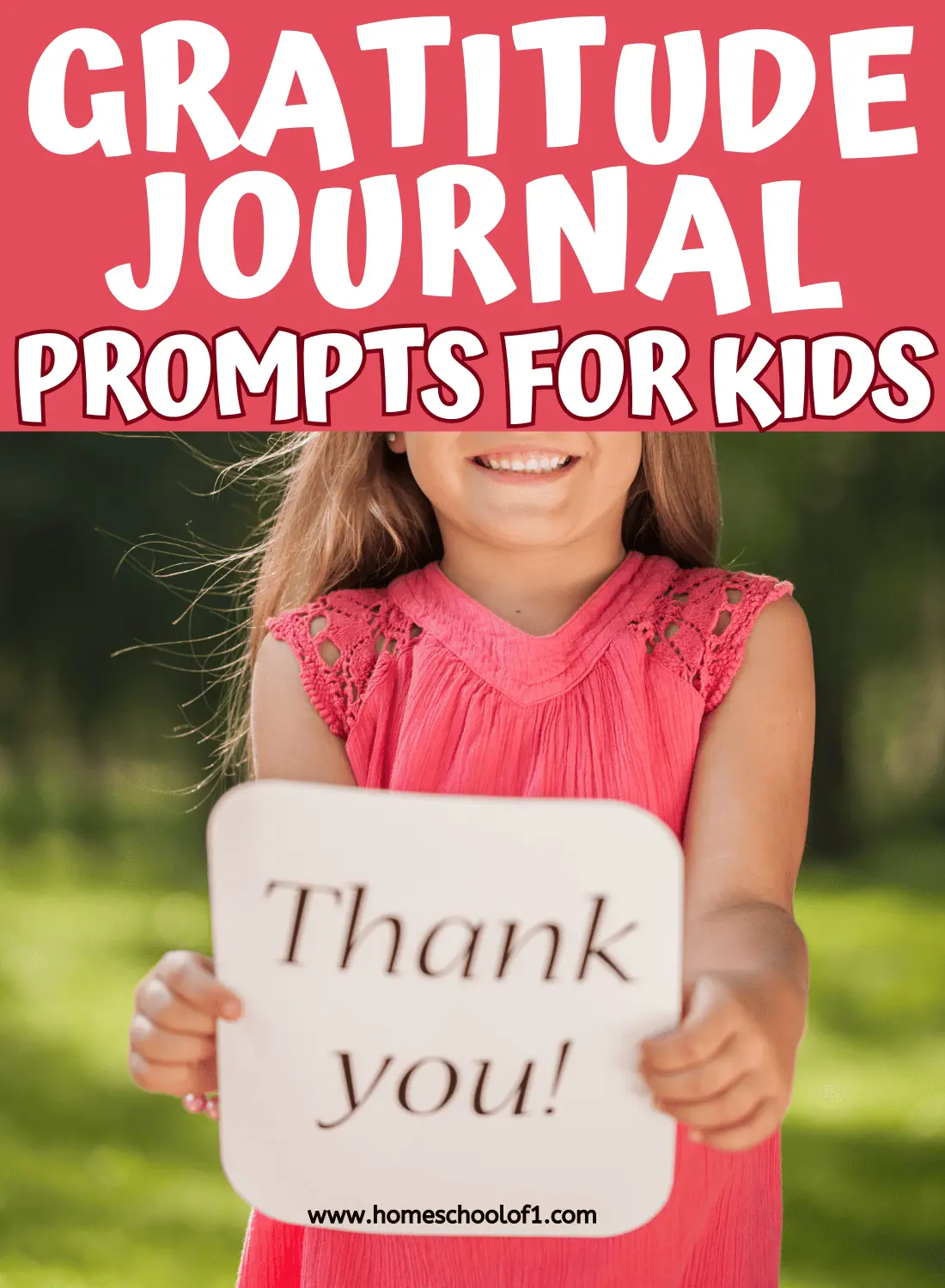 Other Gratitude Journal Prompts For Kids
Name a book where the character showed gratitude, how and why?
Choose a natural element like the sun, the wind, a tree, or a river. Write a letter of gratitude to this element, explaining why you appreciate its presence in your life and how it brings you joy.
Imagine you could have a conversation with a historical figure from the past. Write a dialogue where you express gratitude for something they contributed to the world. Explain why their actions or ideas make you thankful.
Name three ways to give thanks without saying "Thank You"
If you could invent a machine that helps people feel more grateful, what would it look like and how would it work? Write a short description of your invention and how it would inspire thankfulness in others.
Another great way to teach gratitude is by having a fun gratitude scavenger hunt.
Halloween Journal Prompts
What candy are you most grateful for?
Imagine you're a witch or wizard, and you've brewed a potion that embodies gratitude. Describe the ingredients and the effect this potion would have on people who drink it. How would it spread feelings of thankfulness?
If gratitude was a person what Halloween costume would they wear?
Imagine you found a mysterious, glowing pumpkin on Halloween night that grants you three wishes. Write about what you would wish for and why you're grateful for these wishes.
How do you feel when you think people are not being grateful? Do you think this is more noticeable on Halloween?
Would you give more or less candy to a neighbor if they were being grateful?
What is your favorite Halloween costume?
Think about a time when someone did something kind for you during Halloween, whether it was sharing candy or helping you with your costume. Write about how their actions made you feel grateful and how you can pass on kindness to others.
Check out our favorite homeschool Halloween activities here.
Thanksgiving gratitude prompts
Why is it important to have a Day of Thanks?
What is your favorite part of Thanksgiving Day?
Do you help cook the Thanksgiving meal?
How do you show gratitude at Thanksgiving?
What food are you most grateful for?
What is the number one thing you are thankful for? And why?
Write about a special tradition your family has during Thanksgiving. Explain why this tradition is meaningful to you and how it helps you express gratitude.
Imagine if expressing gratitude had a magical effect, like a domino chain reaction. Describe a situation where you expressed thanks and kindness to someone, and how it set off a chain reaction of positivity and kindness throughout the day.
Imagine you found a "Gratitude Turkey" with tail feathers that granted wishes related to gratitude. Each feather represents a different thing you're thankful for. Write about the wishes you would make and why they hold a special place in your heart.
What about doing a gratitude pumpkin with the kids?
Check out all of our favorite kids Thanksgiving homeschool activities here.
Christmas Gratitude Prompts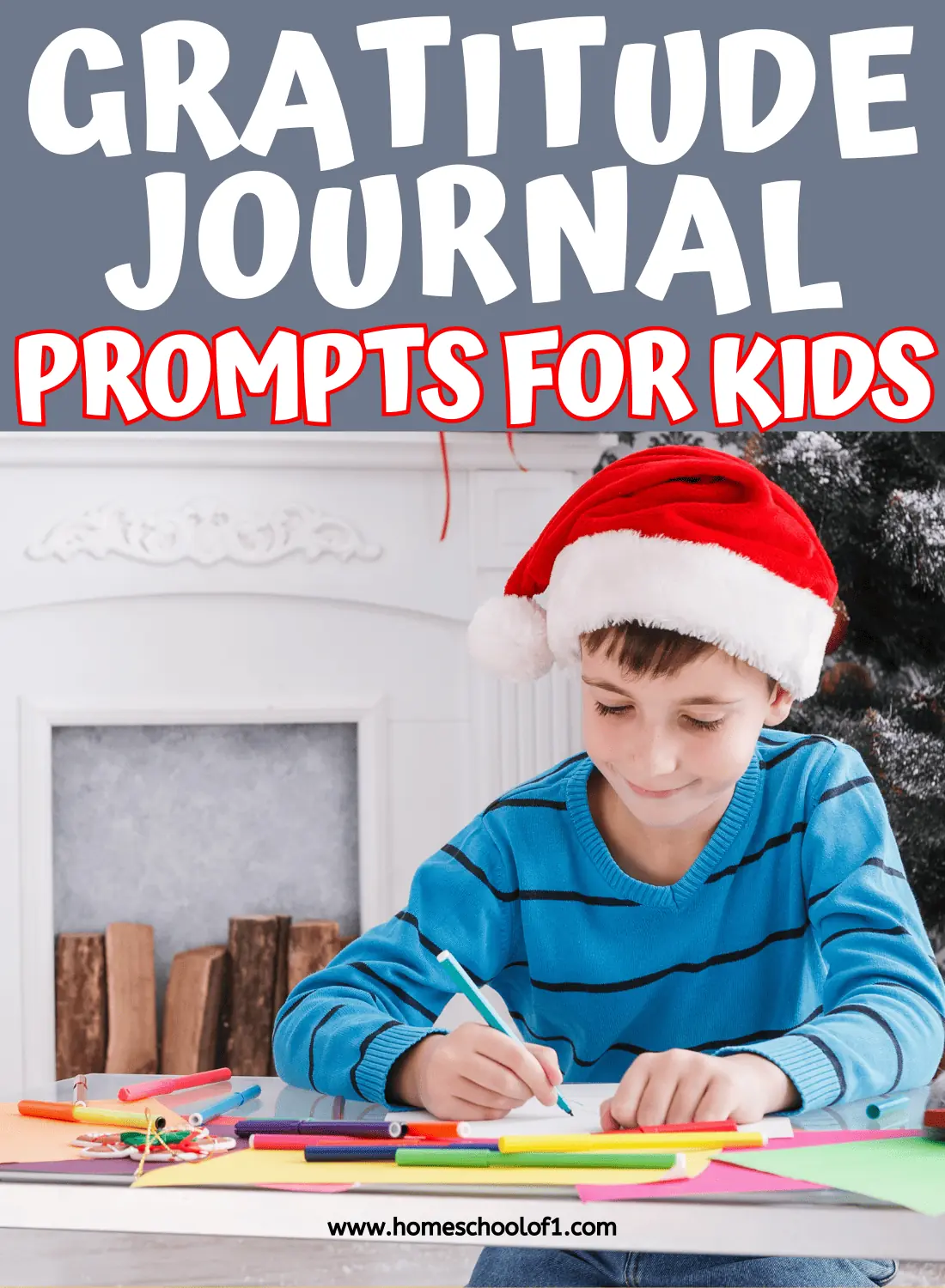 If you are thinking of sending thank you cards download our free printable Christmas thank you cards to color for that personal touch.
How do you feel when someone gives you a gift?
What is your favorite thing about Christmas?
What are your favorite Christmas songs?
Think about a time when you gave someone a gift during Christmas. Describe how it made you feel to see their reaction and express why giving gifts is an important part of the holiday season for you.
Do you prefer receiving or giving Christmas gifts?
How do you spread Christmas cheer?
Choose your favorite Christmas decoration, whether it's a twinkling ornament or a festive wreath. Write about why this decoration is special to you and how it adds to the joyful atmosphere of your home during the holidays.
What is your favorite Christmas movie?
Imagine you have an "Acts of Kindness Advent Calendar" where each day leading up to Christmas involves doing something kind for others. Write about a few acts of kindness you would include on this calendar and how each act would make someone's day brighter.
What do you love about your Christmas decorations? Do you have any family traditions?
If you are looking for even more Christmas writing prompts check out our recent post. Or check out all of our favorite educational Christmas activities here.
Last Updated on 8 November 2023 by homeschoolof1