Heron Books Review: Young Scientist Series
Find out in our Heron Books review how we enjoyed their young scientist series unit study.
We all have a subject we don't enjoy teaching, and I don't hide the fact that science is that subject! However, this year as my son keeps debating about whether to train as a doctor I thought we would focus on a homeschool biology curriculum this year.
We have used Heron books before and enjoyed their self-paced independent style, so I thought this would be a great place to start. Carry on reading for my Heron books review of their young scientist series.
If you dislike teaching homeschool science these Heron Books are the ones you need. There is literally no set-up, no preparation. Just give the kids the books and leave them to it.
My son works opposite me on the kitchen table most days. He has a very loose plan, certainly in the summer months when his public school friends are on break.
But at the very least he has to study math, English, science, history, government, and an elective of his choosing. He can do them in any order and I have noticed that he chooses his favorites to study first.
Science was always the one he left until the end of the day, hoping I will allow him to cut it short! But, this science Heron book was studied first nearly every time.
It took him about 2 weeks of an hour a day to complete this anatomy unit study, and he really enjoyed it.
Carry on reading for our Heron books review with an exclusive 30% coupon code that never expires and can be used on everything.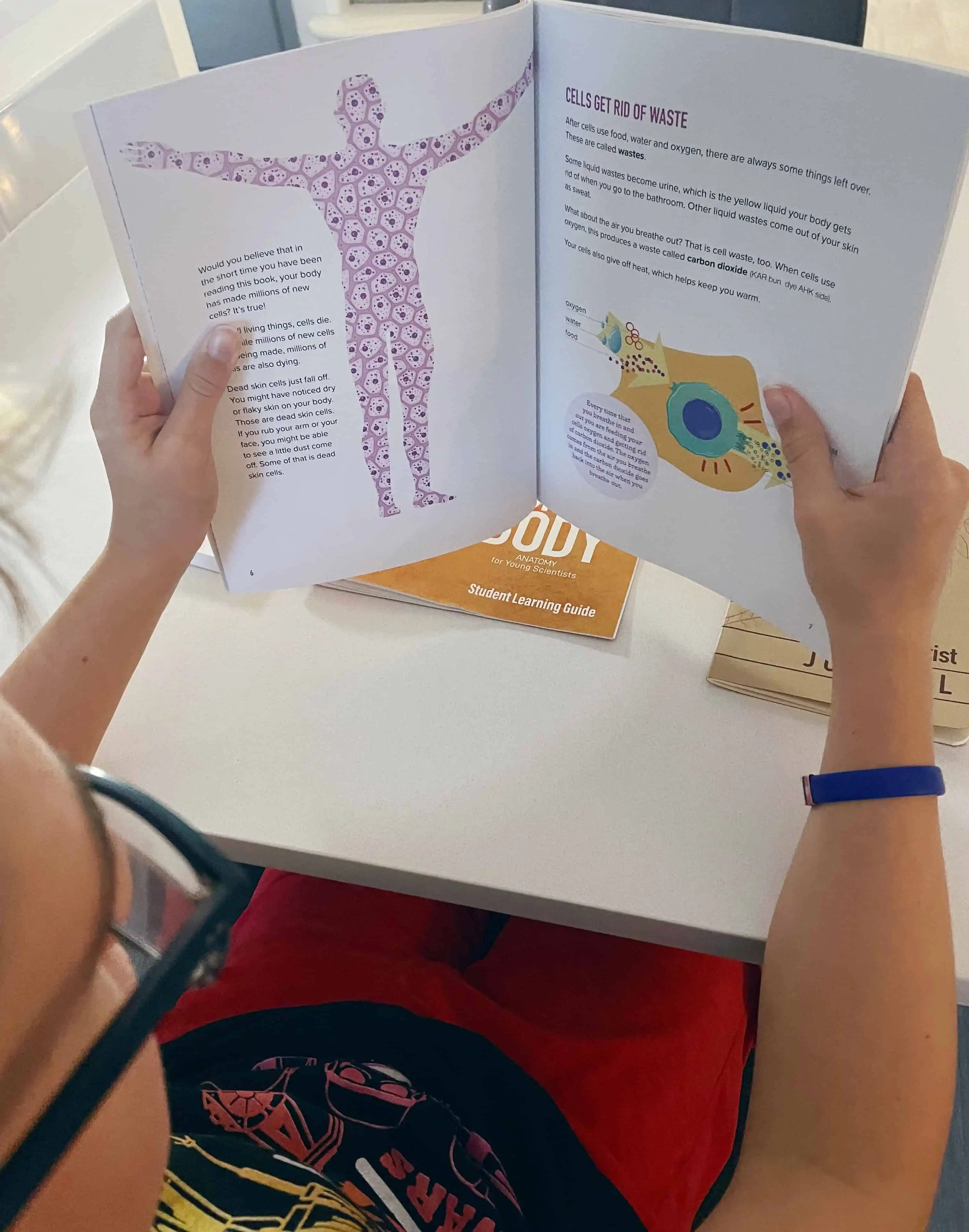 **Disclosure: I was compensated for my time to write this post. As always, all thoughts and opinions are my own. I only share resources that I would use with my own family and those that I believe other homeschool families will enjoy. There may be affiliate links in this post.**
Science Unit Study from Heron Books
There are currently 5 books in the young scientist series with 2 more to follow:
The fabulous human body (carry on reading for our review)
Light bulbs, switches, and batteries
World of plants
Take a look closer
Circulation of the blood
Let's find it (pre-release)
World of electricity (pre-release)
They are all aimed at students aged 9-12 (grades 4-6). Each course will take approximately 15 hours. So it is a perfect course to start in the summer.
What is great is you can try sample lessons absolutely free to see if it is a great fit for your family.
Check out the entire Young Scientist Series Package here, but make sure to use our exclusive 30% coupon code HomeSchool30.
The Fabulous Human Body
We are doing the anatomy for young scientists as that is what we are focussing on this year.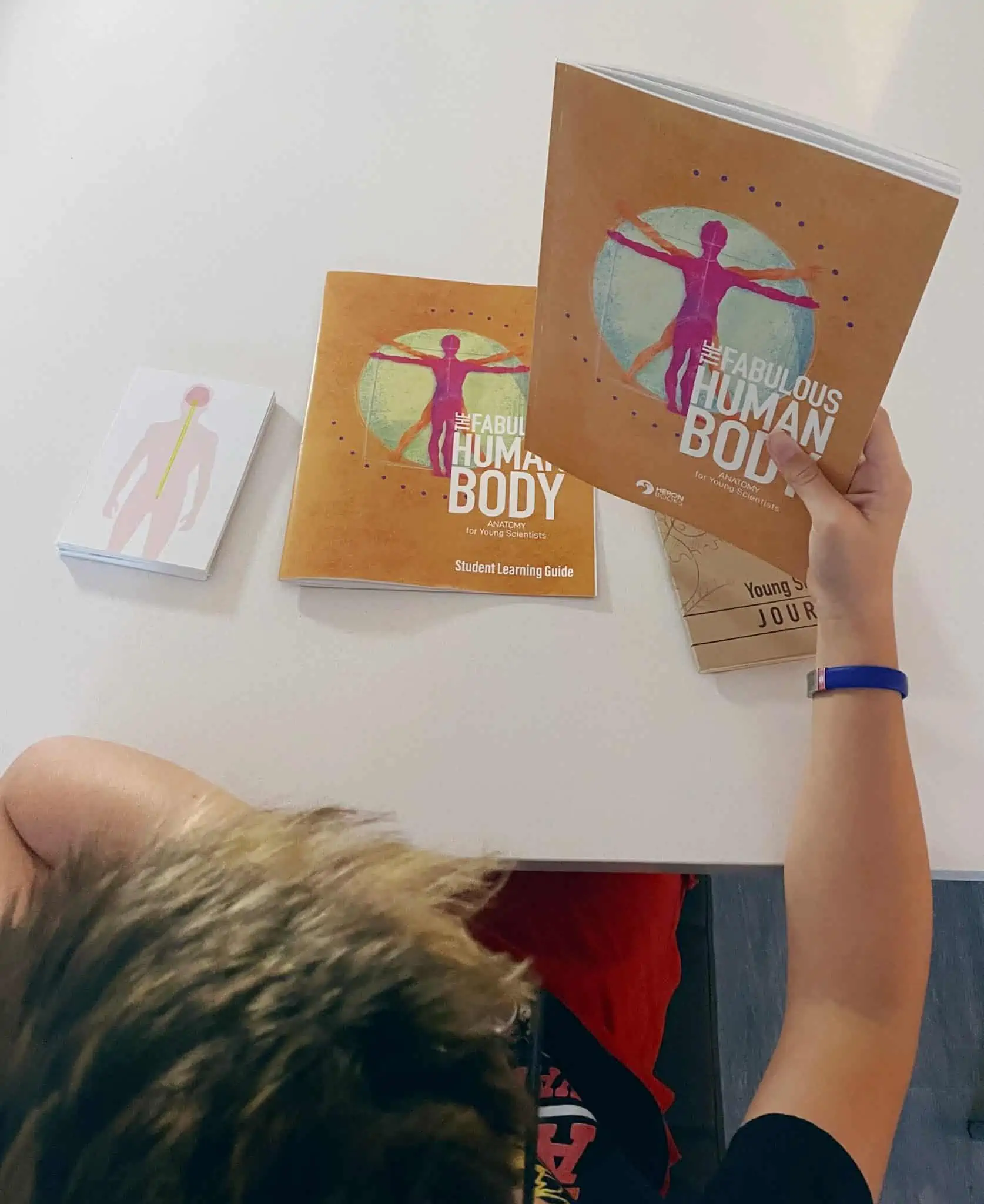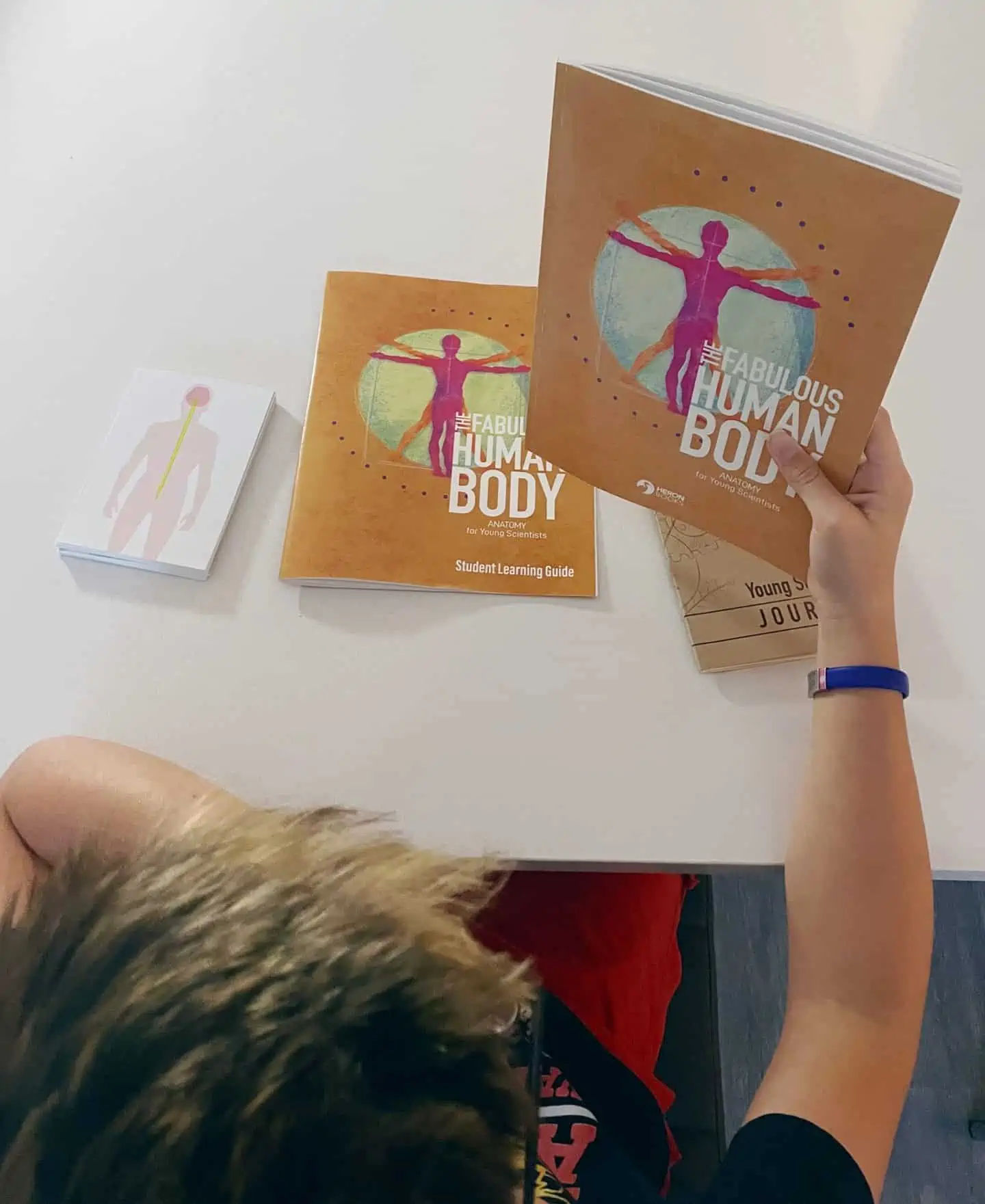 What you will receive:
Student learning guide
The fabulous human body book
Young scientist journal
39 cards showing illustrations of the parts of the body on the front, and the name and function of the part along with what system it is part of on the back.
End of unit exam (with answers in the teacher resources)
Certificate of achievement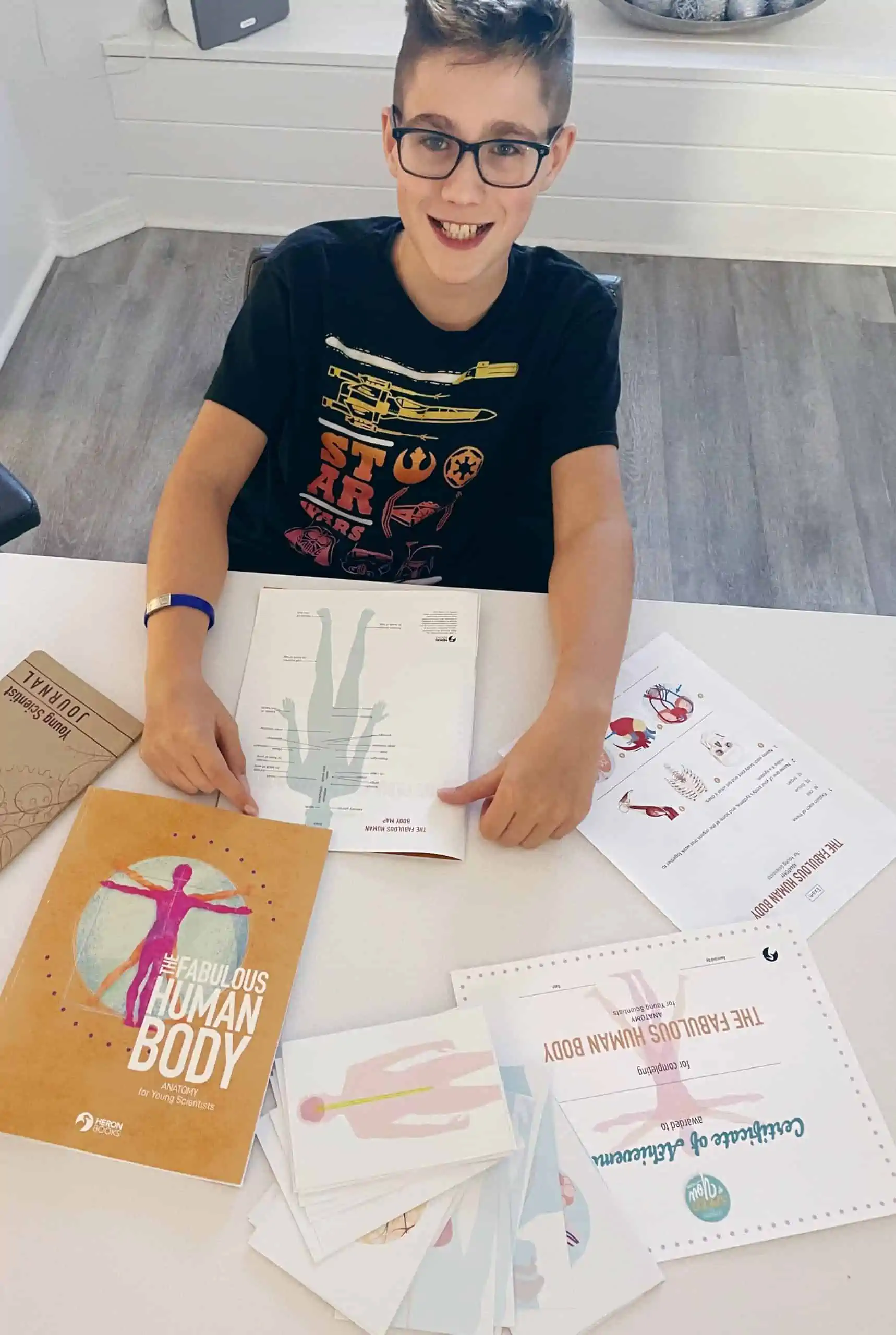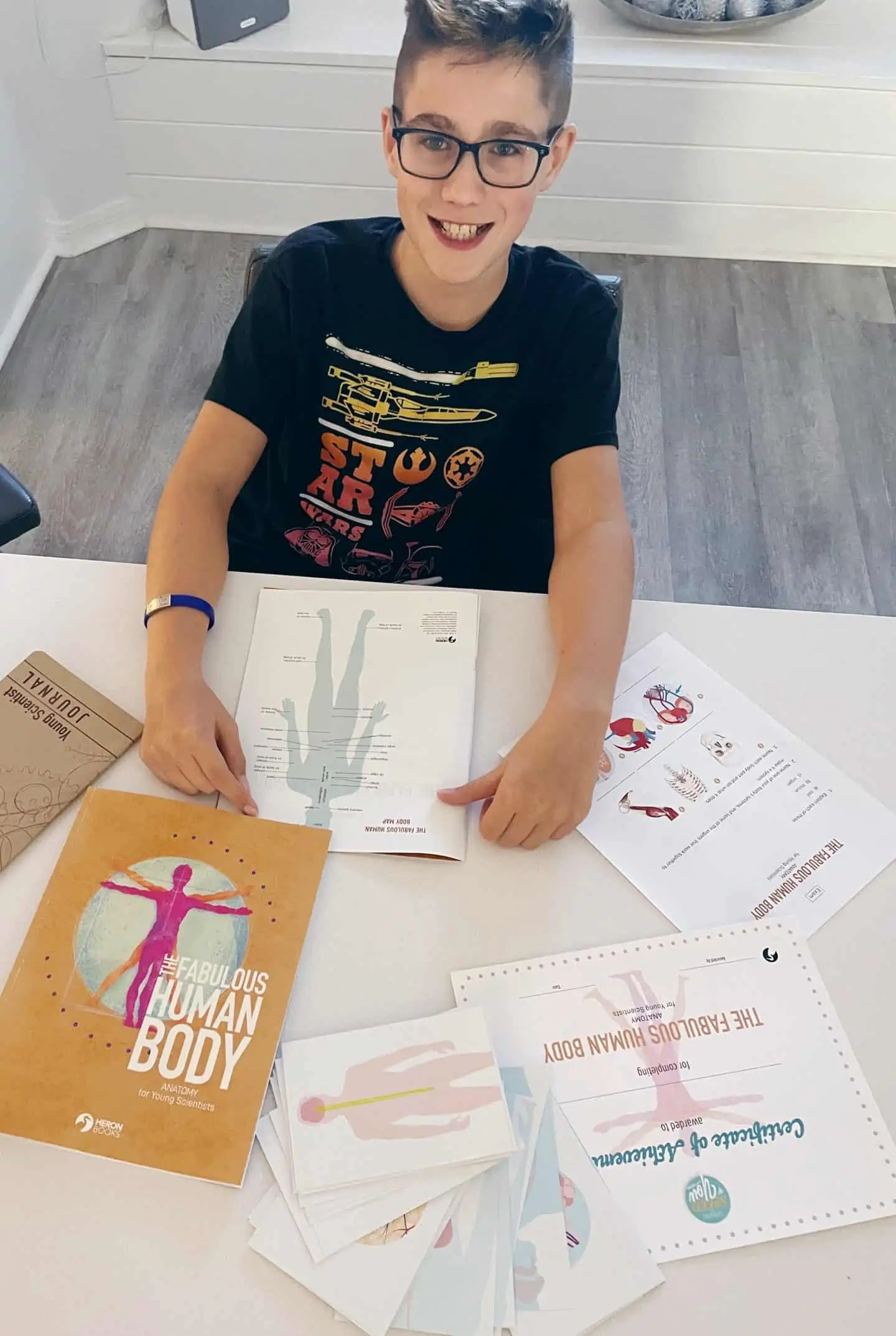 The Fabulous Human Body book is split into 13 chapters:
Your fabulous machine
Trillions of living things

The smallest part
Cells are alive
Cells get rid of waste
Little machine, big machine
Building blocks of life

Cells make tissues
Tissues make organs (you will also enjoy our human body organs worksheet)
Organs make systems
Stand up

Skeleton
Joints
Skull and teeth
Spine and ribs

Move!

Muscles
How muscles work
Connecting to bones

Thump thump!
Breathe!
Hungry?
Thirsty?
Moving messages
A Truly amazing machine
Check out the entire Young Scientist Series Package here, but remember to use our exclusive 30% coupon code HomeSchool30.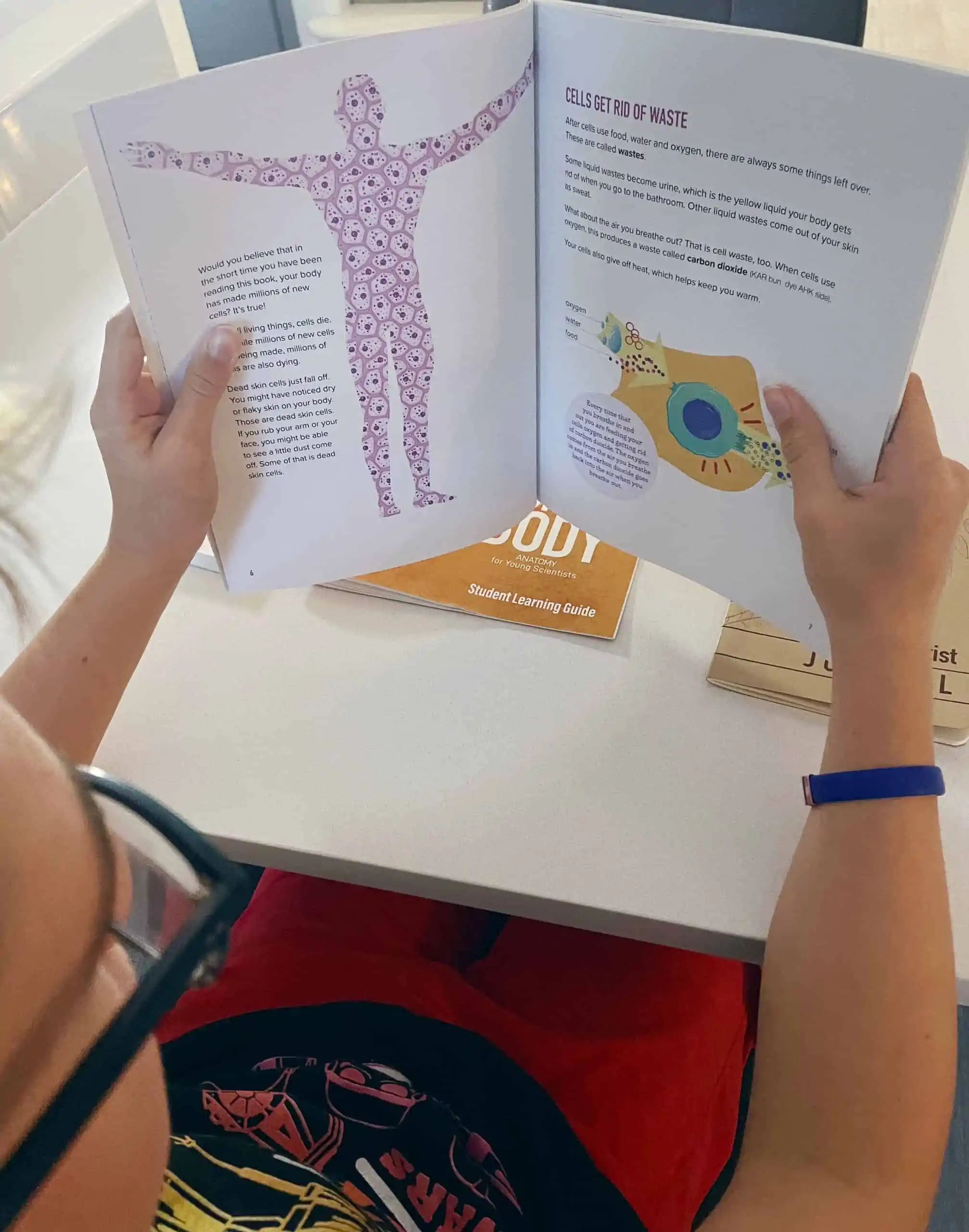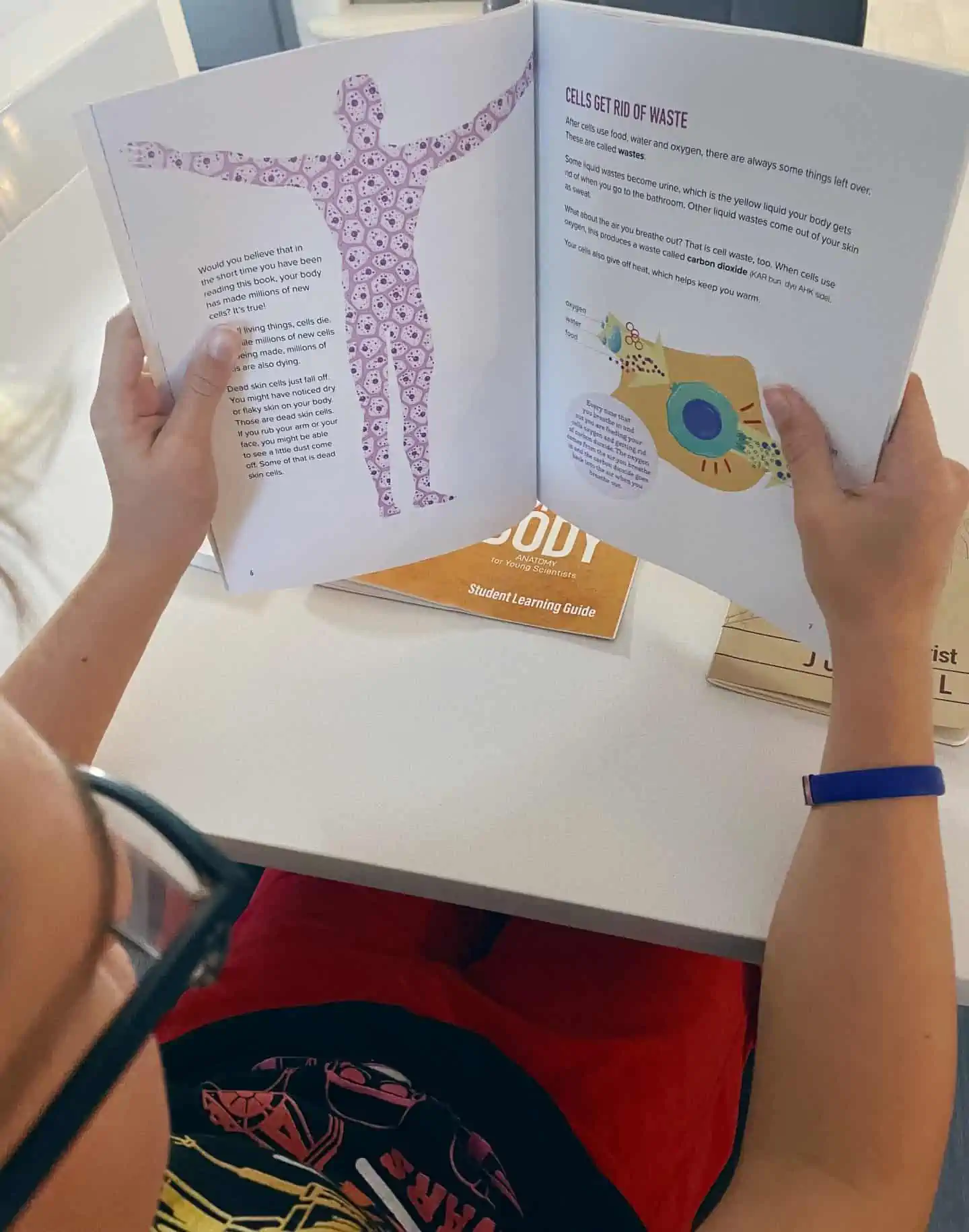 Heron Books Review
This is the second Heron book unit study we have completed, and I have to say I am impressed.
There is zero preparation. Sometimes it is nice for the kids to just pick up a book and not need 7 million items to complete it!
It is self-paced. As we have been doing The Fabulous Human Body study in the summer months, most of his friends are in public school and are on break. If he wants to go and play he can.
It is independent learning. We have started doing independent learning much more in the last year, and it is working so well for both of us. He can pick up the books, and go straight to the student learning guide and know what he has to do.
There is a small end-of-unit exam, so I can check to see what he has retained and then award him with the certificate of completion. We keep this in the homeschool portfolio, and he loves them!
It's reasonably priced. Especially with our exclusive 30% coupon code (HomeSchool30)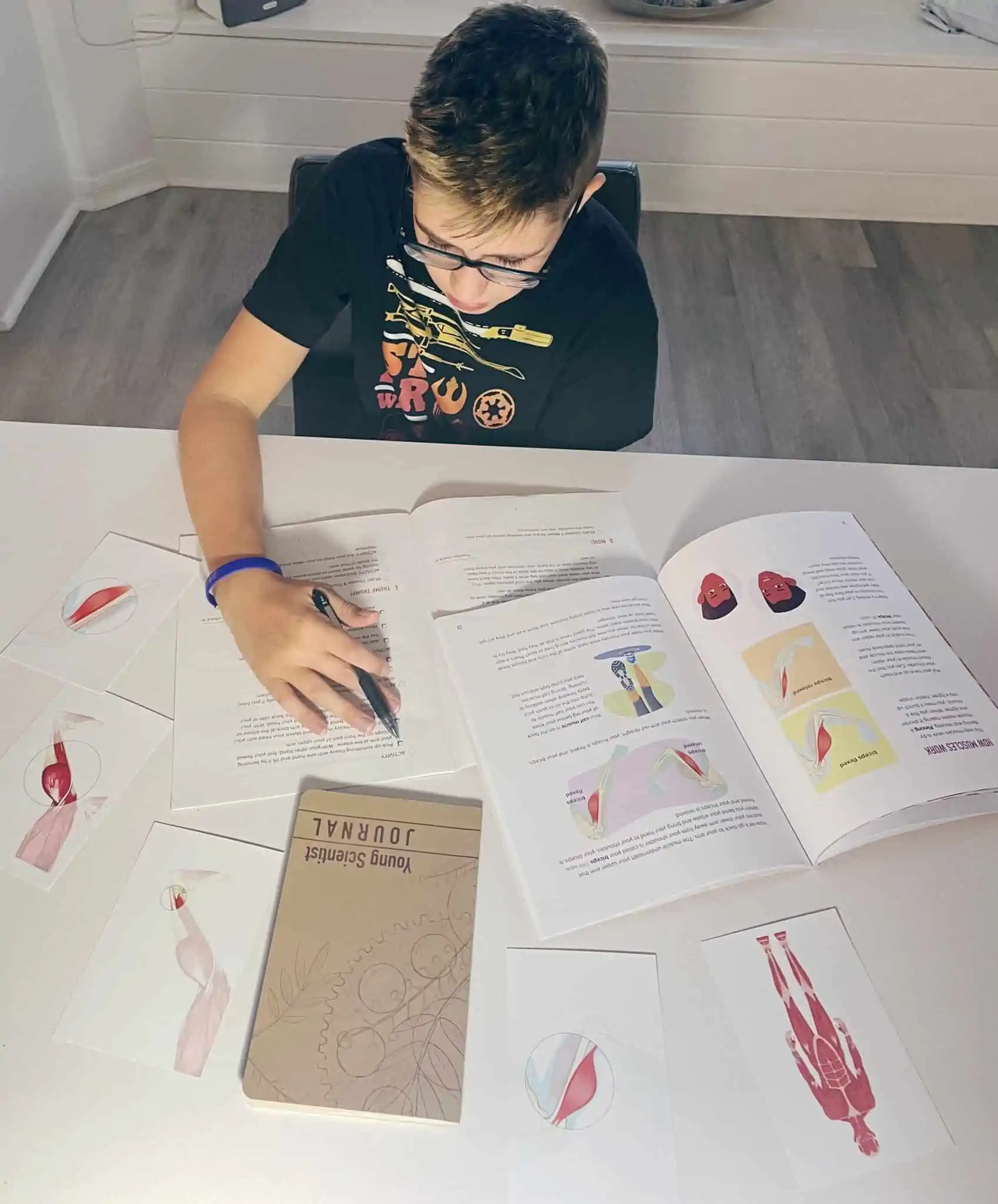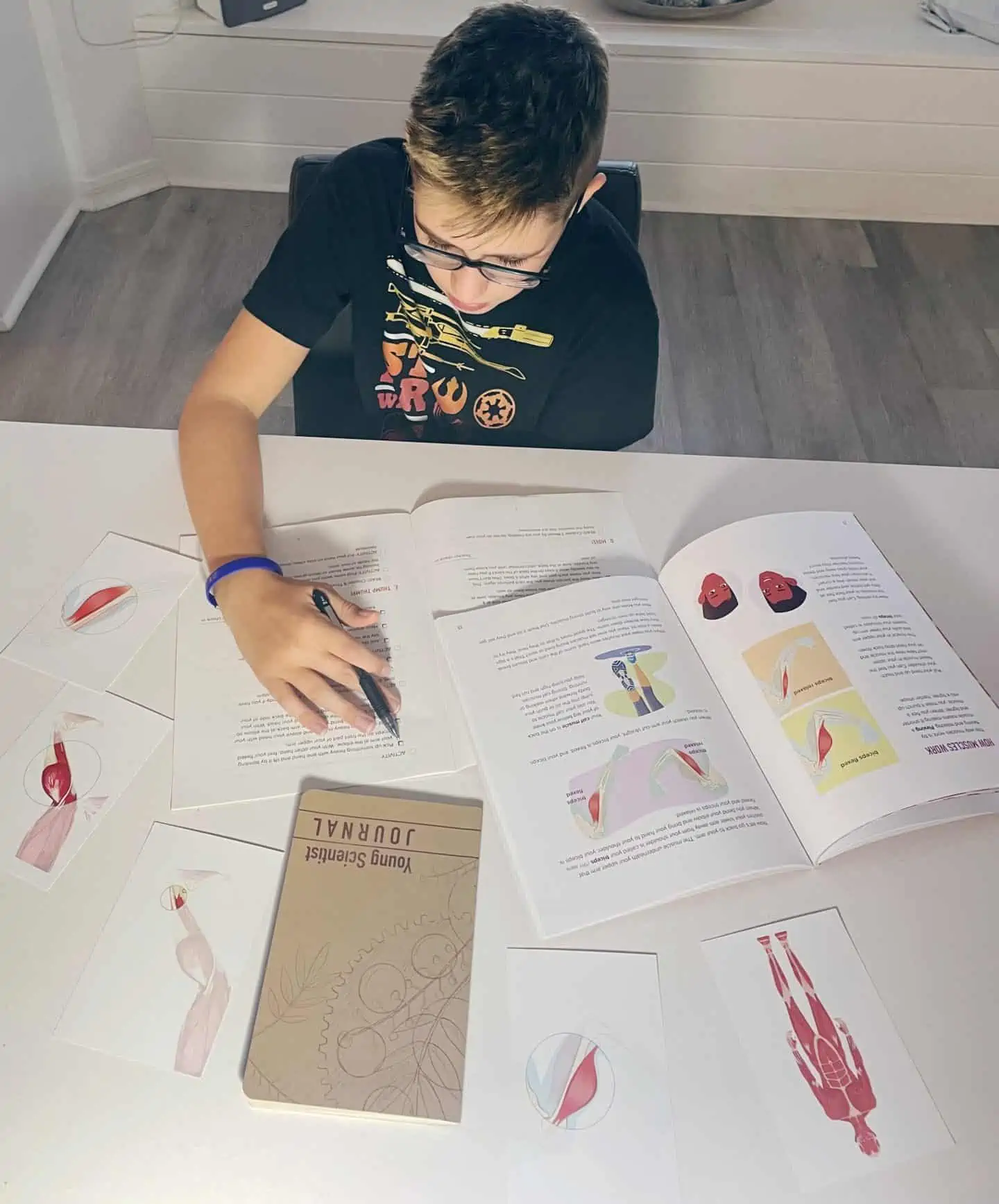 Student Heron Books Review
Ok, so from a mom's point of view you will love it. However, and arguably more importantly let's see what my son thought:
I have been studying anatomy for a couple of months with different programs and I still learned a lot of new facts. For example, my favorite fact was that the human body has about 210 bones, but a cat has 230. How is that even possible?
I like that I can study on my own, without my mom having to help. It is really easy to know what needs to be done from the student learning guide. It tells me what chapter to read, and then gives me activities to do. I have started working out more, and it was great to know what all the muscles in my arms are called.
I really enjoyed the anatomy cards, as I would test myself to see how many I knew. When I was sure I could do it and I had them all memorized, I asked my mom to test me. She was so impressed, I got an extra hour to play video games that week!
Heron Book Coupon Code
I have some exciting news to share, I have a 30% off coupon code. The coupon codes do not expire. The codes are valid for everything in the store and can be used multiple times. All you need is code HomeSchool30.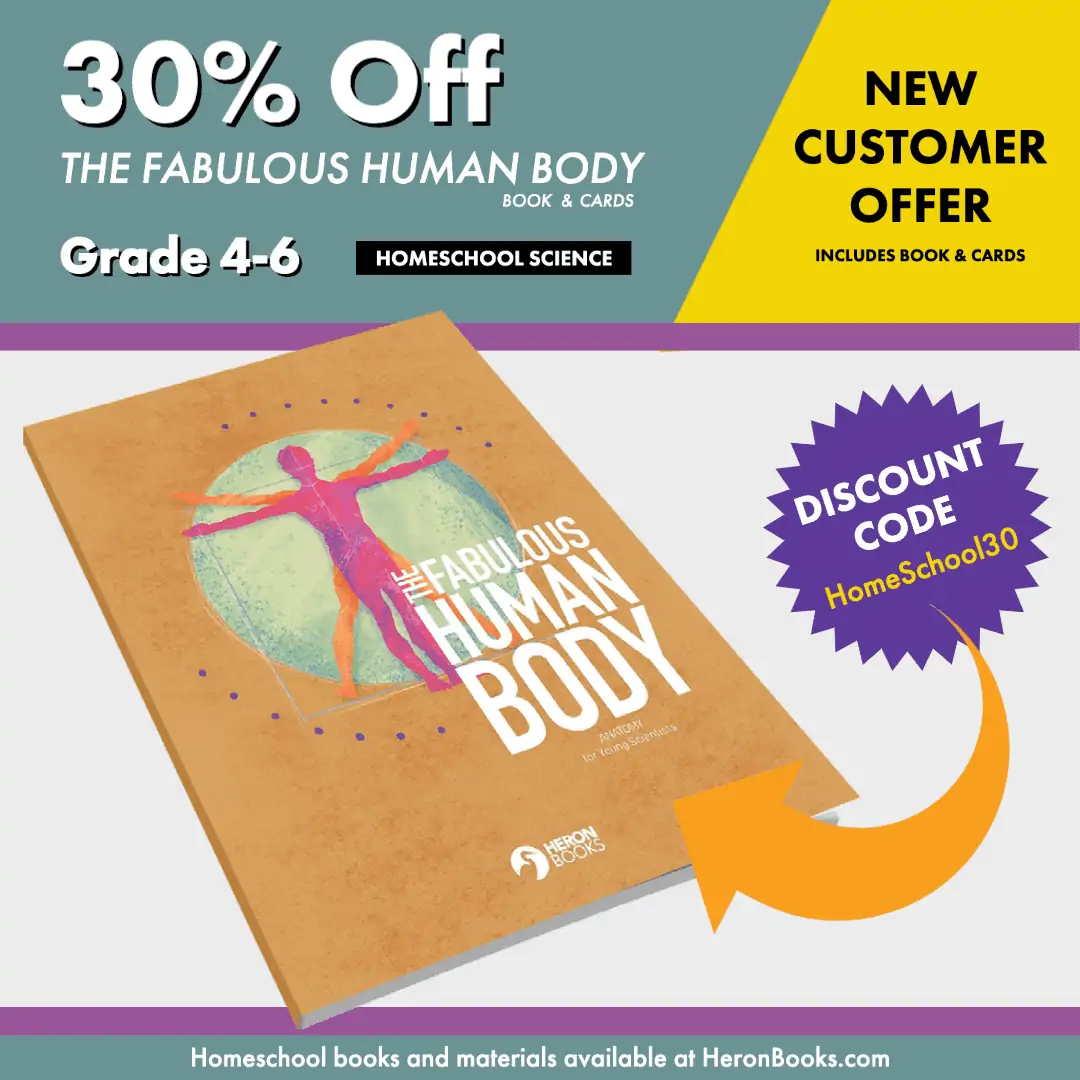 I think you will also enjoy:
Last Updated on 12 July 2023 by homeschoolof1