Why We Love History Odyssey from Pandia Press
History is one of our favorite subjects in our homeschool. We have recently started using History Odyssey from Pandia Press and we now love it even more.
Before I go on, I just want to let you know that History Odyssey is a secular homeschool curriculum. This was super important to us, but if you are looking for a religious curriculum this is not the one for you.
History Odyssey is aimed at middle grade students but could be adapted for younger or older students.
Carry on reading for our Middle Ages history curriculum review.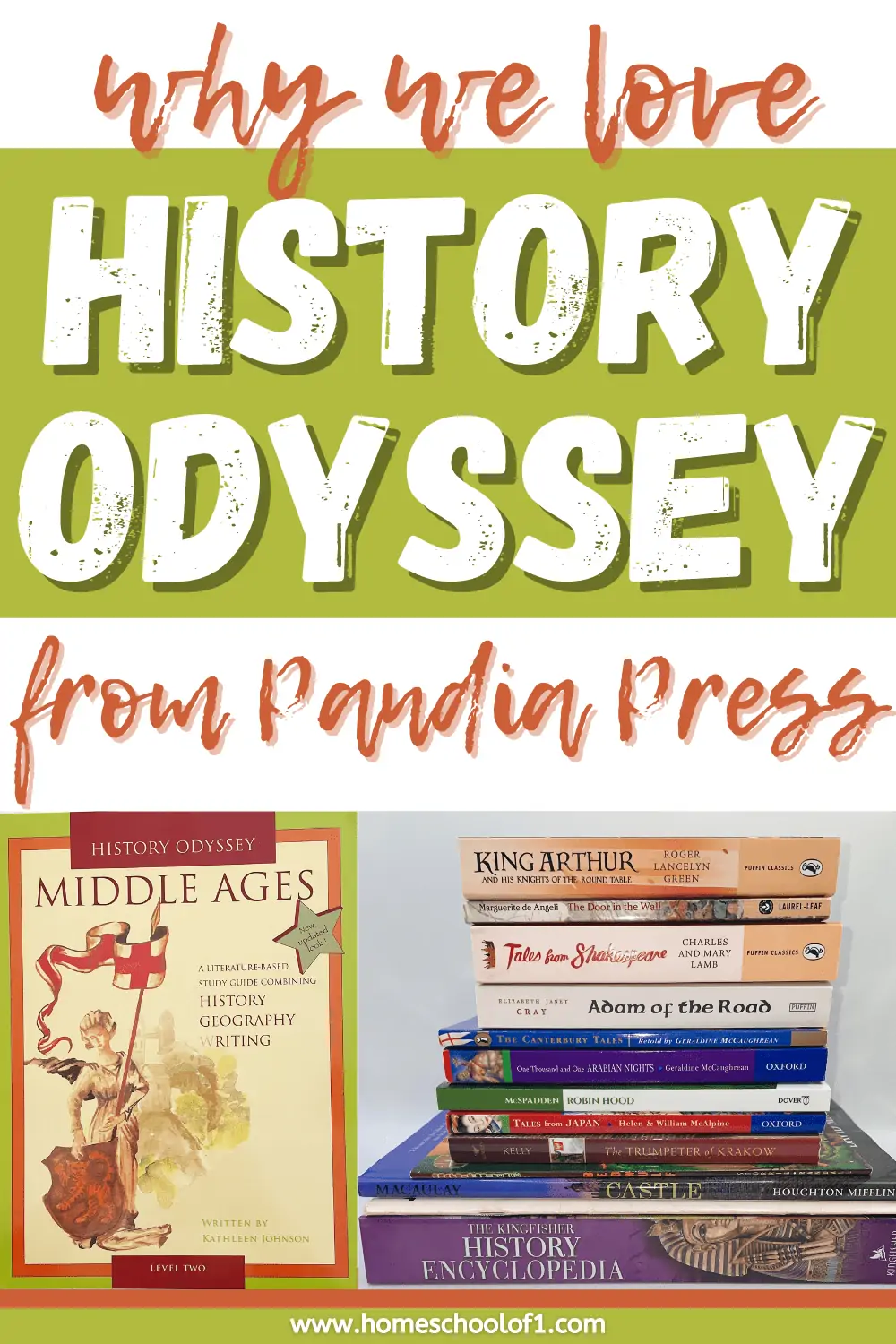 **There may be affiliate links in this post. You can read my full disclosure at the bottom of the page.**
The Middle Ages from History Odyssey
Pandia Press history odyssey curriculum is aimed at children in grades 6+.
We are using this as our history 7th grade homeschool curriculum, although we actually started with this about a month ago.
Our previous ad-hoc homeschool history curriculum worked really well for elementary grades but not so much for middle school.
We are using the Middle Ages history odyssey curriculum and we both love it.
The history curriculum is broken down into 5 parts:
Each subject is further broken down into sections:
Summaries
Men & Women
Wars & Conflict
Religion
Art & Inventions
Maps & Worksheets
Timelines (this is where we have added our DIY timeline, but if you order the one from Pandia Press you would add that here.
My absolute favorite part of this history curriculum is the 14 worksheets and the 29 maps that are included. This definitely breaks up the curriculum and makes it even more enjoyable.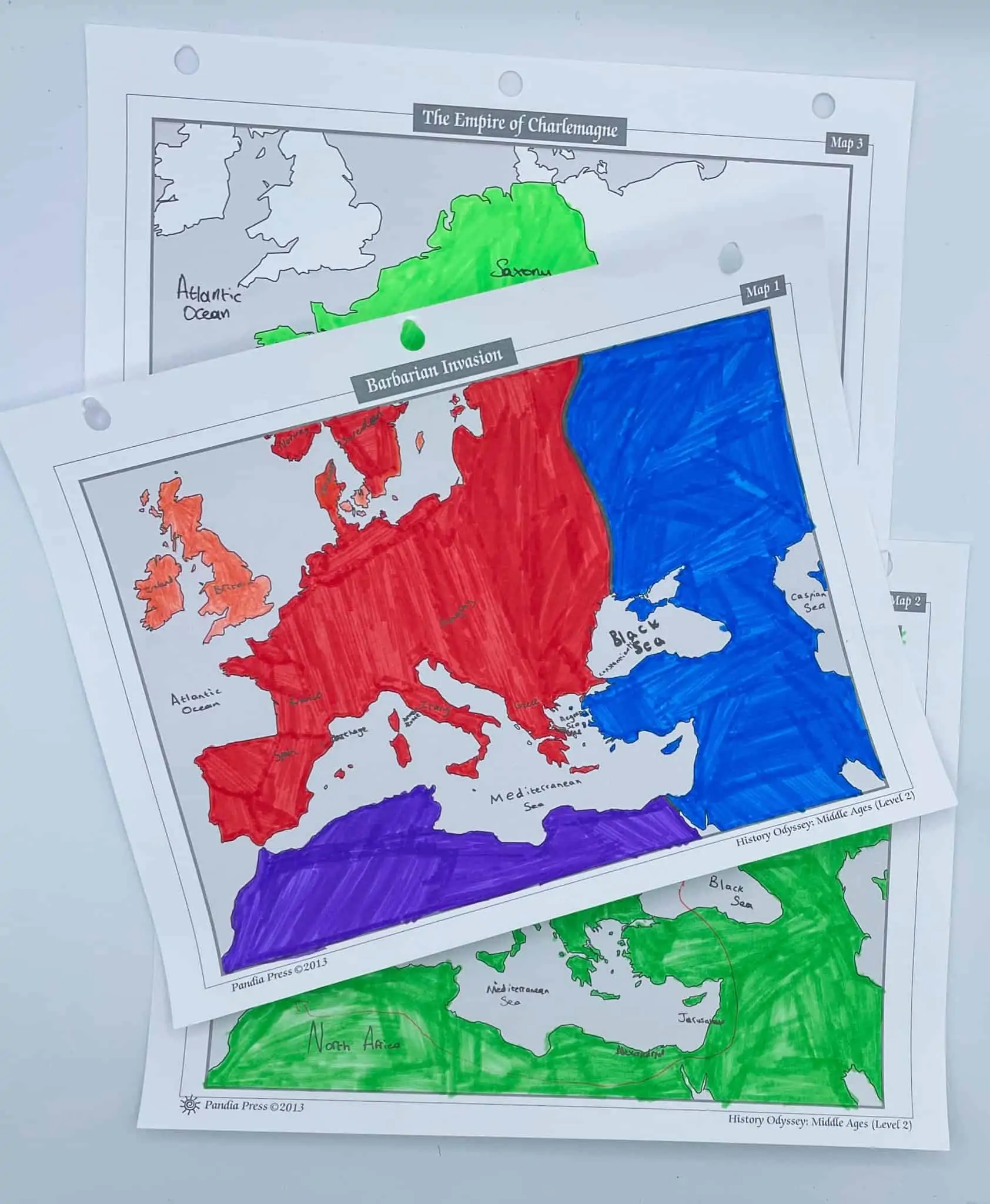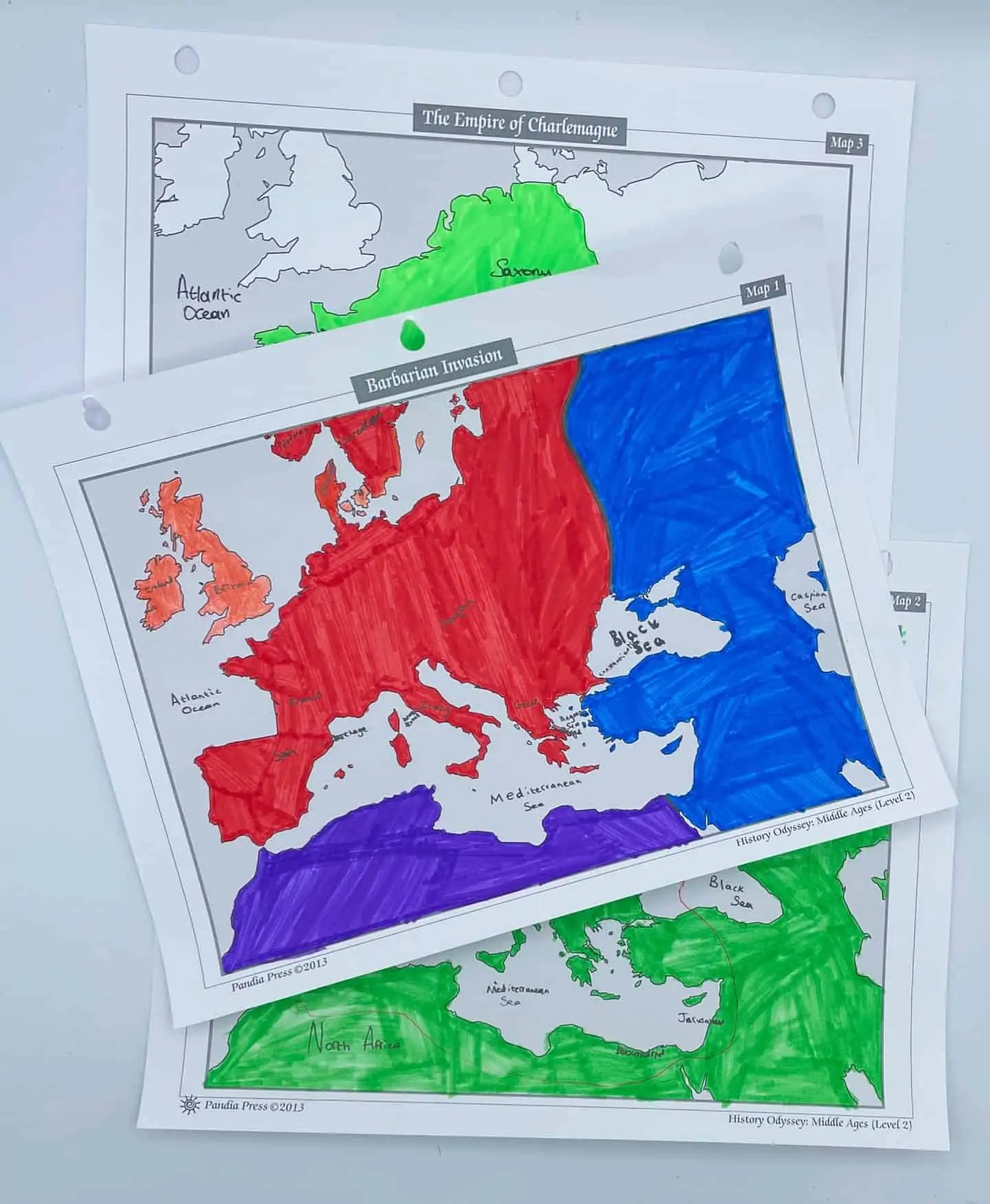 What are the required books for the Middle Ages Curriculum?
Although all of these books are required, the only one you need to buy is the first one. For the others, you could wait until you need it and check it out at the library.
We decided to buy them all as we LOVE books.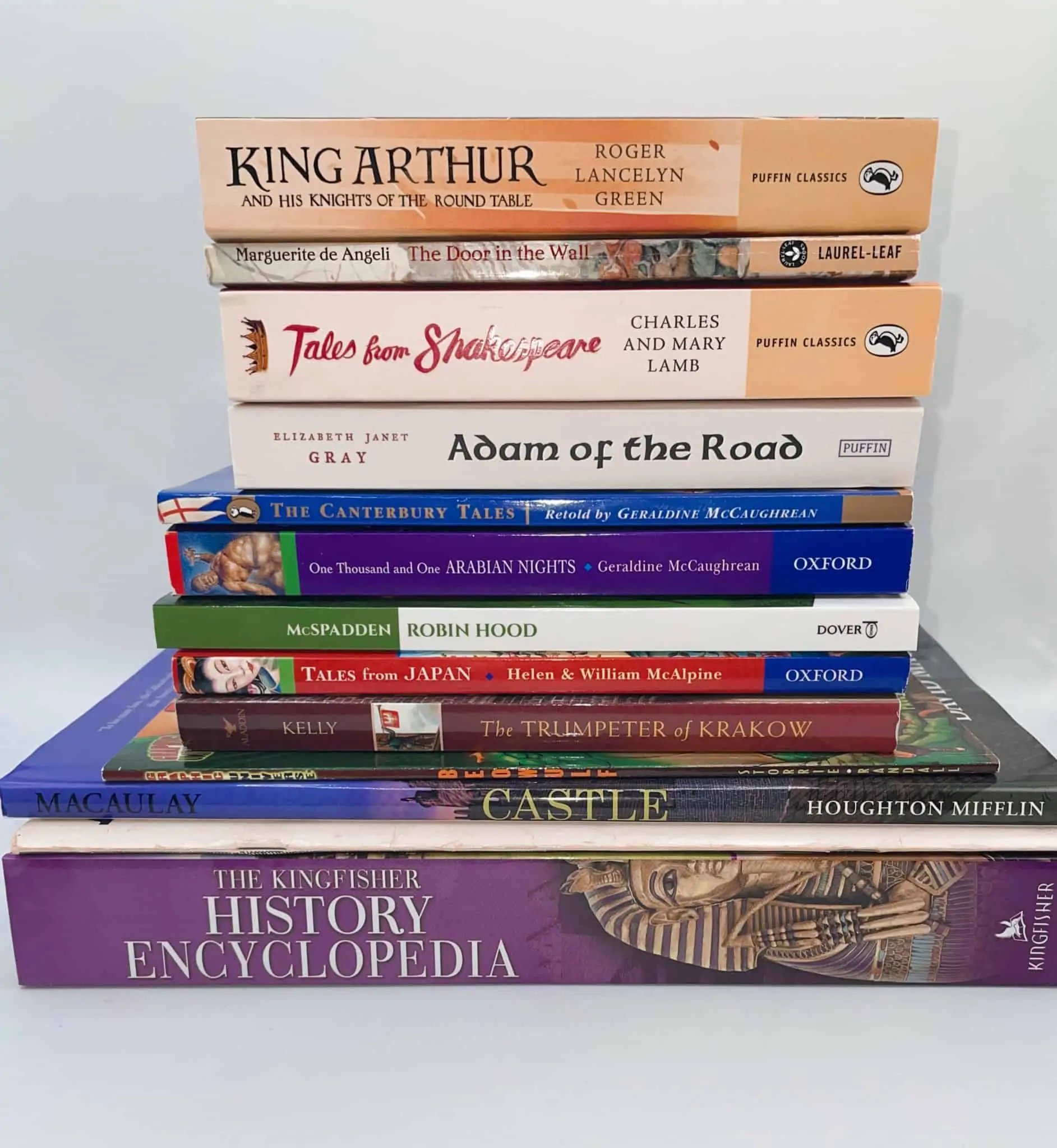 You can also purchase the history odyssey timeline, which I actually regret not buying. But we created our own instead and just added it to the binder.
You will also need a 3 ring 2-inch binder and some dividers with tabs, if you purchase the printable version of history odyssey it will come with 3 holes punched.
Our Honest History Odyssey Review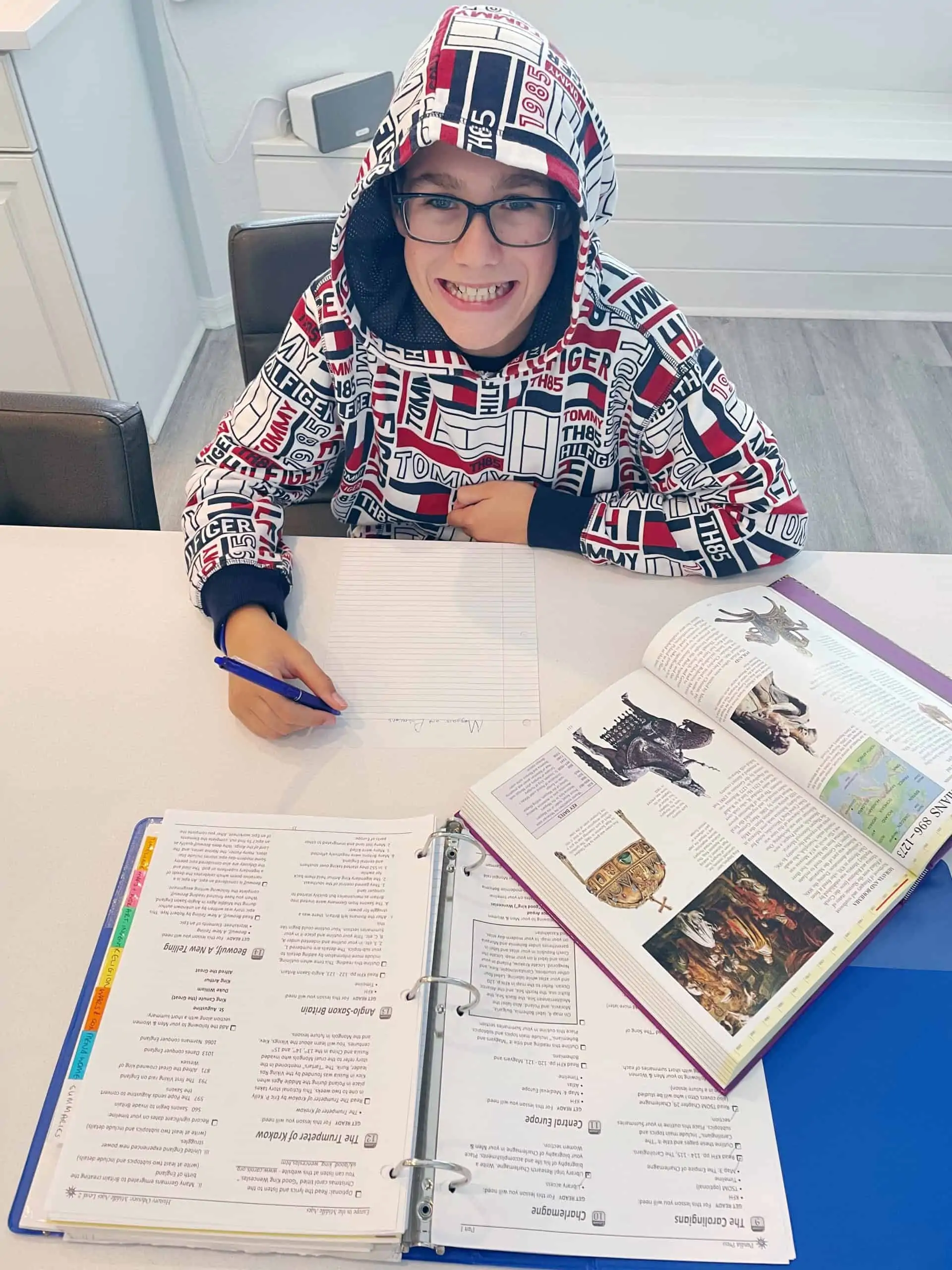 We are about 2 months in and we are loving History Odyssey, the books they have included as study books are real classics, and should be read by all children anyway.
As there is so much reading in this curriculum (which is perfect for a history curriculum) I am not sure it will only take a year.
At our current rate, we will probably take about 18 months to complete it, but that's ok with me.
We spend about 45 minutes per day on history, but within this time he reads the books too, so he might just have a week of reading.
The course is designed to use reading as a supplement, however, he has lots to read for English and free reading.
So that wasn't going to work for us. This is one of the many things I love about homeschooling! We decide what is going to work!
This is the second Pandia Press curriculum we have used. We have also used their science curriculum, check out our Real Science Odyssey review for more information.
History Odyssey is featured in our best homeschool curriculum for high school.
I highly recommend adding in movies and documentaries to keep their interest too (check out Curiosity Stream). We haven't got to it yet, but after reading Robin Hood for example he will watch the film.
If you are looking for even more homeschool curriculum reviews check out all of the others we have reviewed over the years.
What is the Cost of History Odyssey from Pandia Press?
The price of the curriculum itself is more than reasonable at only $39.99 for an ebook or $46.99 for the printable version which we choose to have.
Please remember to factor in all of the books you need to buy, or borrow from the library. I advise purchasing the Kingfisher History Encyclopedia as an absolute minimum though.
These are the four history odyssey curriculums you can order for grades 6-12.
What I also love about Pandia Press is you can try before you buy ALL of their history and science curricula. So you get to see firsthand if it will work for you.
I think you are also going to enjoy our top 10 homeschool history books.
Last Updated on 10 September 2023 by homeschoolof1