31 Best Homeschool Black Friday Deals For Kids (Updated 2023)
Black Friday is nearly here!! I am so excited, I tend to buy all of our homeschool curriculum and supplies either in June or in November. Mainly as I love the sales! Carry on reading for over 30 homeschool Black Friday deals for kids.
I have scoured the internet to find the BEST Homeschool Black Friday Deals I can so I can share them with you all.
This post will be updated regularly to bring you the best offers I can find. Make sure to subscribe to my newsletter and I will make sure to email you as soon as I add any new Black Friday deals for kids.
Most of the sales are automatic, but if you need a special promo code I have added it next to the company.
There are a lot of deals! I am so excited! If you have found something I have not listed please leave a link in the comments.
Remember that this year Black Friday is November 24th, 2023, and as you can see there is not long to go!!! A lot of the Black Friday deals for kids will start before the countdown hits zero though. So make sure you keep checking to avoid missing a bargain.
Black Friday begins in: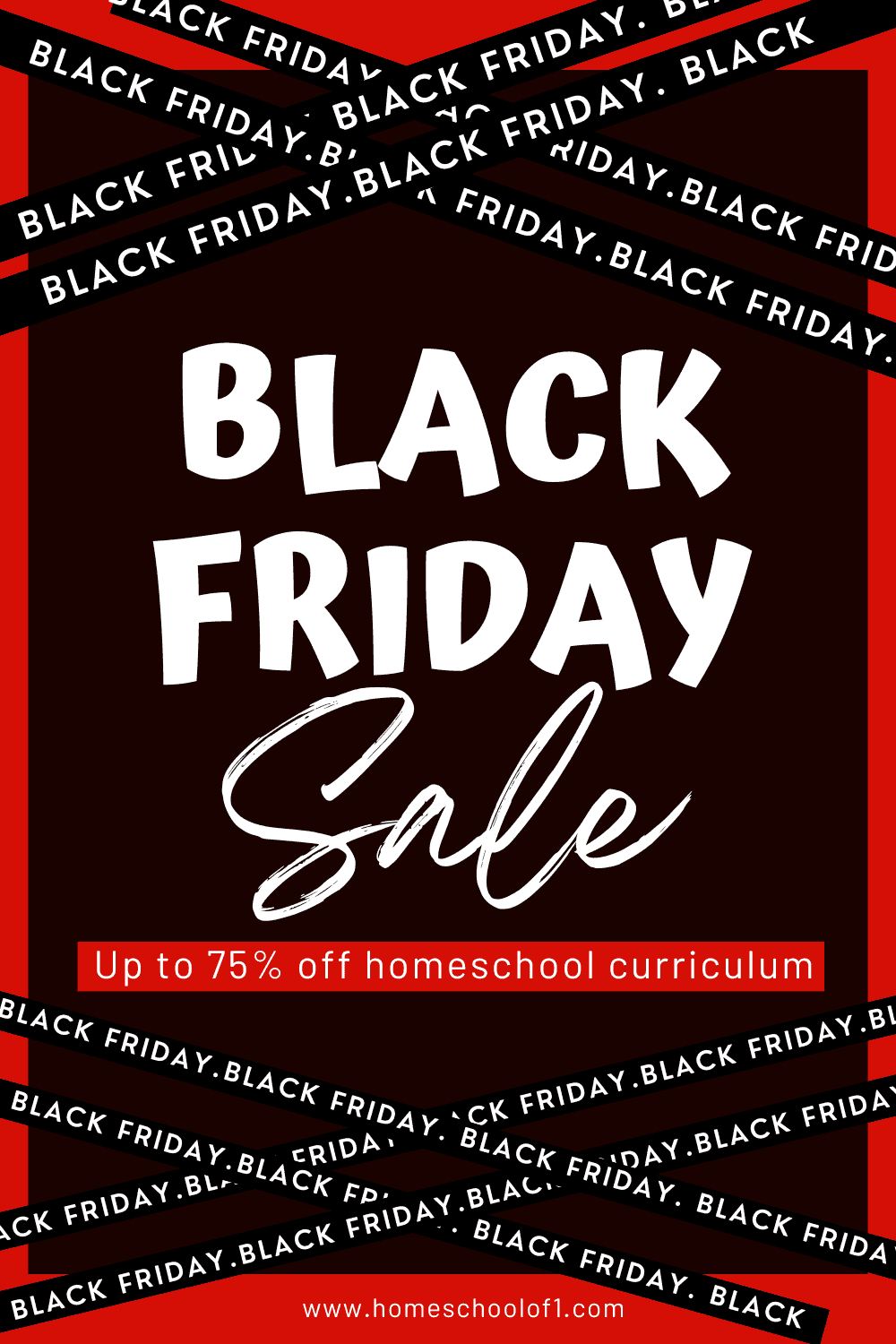 **There may be affiliate links in this post. You can read my full disclosure at the bottom of the page.**
Top 10 Black Friday Deals For Kids
Before I start listing all of the Black Friday homeschool deals I thought I would share the top 10 best just in case you are in a hurry!
Homeschool Discounts 2023
I have a massive 50% off all bundle printables, the discount is automatically applied and is live now until December 5th, 2022.
Night Zookeeper
Night Zookeeper. Save 55% on an annual subscription between 11/14/2022 – 11/27/2022.
Check out our Night Zookeeper review for more information, but this is the best writing "game" for elementary aged kids.
Music in our Homeschool
Music In Our Homeschool. This is our favorite homeschool music curriculum, and we have used them for non-music lessons too, including our favorite 10 weeks of Shakespeare course.
All courses are 30% off with code THANKS2022 between November 15th – 30th 2022. They have a number of Christmas unit studies that are awesome too!
SchoolhouseTeachers
SchoolhouseTeachers. Are bringing back the best deals of the year between the 17th – 30th of November.
Use code: MONTHLY22 to pay only $18.97/month for the lifetime of your membership, even when their rates increase.
Type in code: MAMABEAR22 at checkout to pay only $39.97/quarter. Looking for an annual membership?
Use code: FRESHSTART today to pay only $175.50/yr.
Want to gift yourself a free year of homeschooling curriculum? The Shark BOGO deal is also making a comeback! Code: BOGO22 gifts you a free year and a locked-in annual rate of $199.
CodeWizardsHQ
CodeWizardsHQ has a massive 74% off a coding class for kids and teens. The class includes one Scratch or Python complete project between 11/23/2022 – 11/29/2022.
BrainPOP
BrainPOP is a fantastic online curriculum for kids in grades K-8, check out our BrainPOP review for more information.
The BrainPOP Black Friday deal is a massive 50% off with code THANKS50.
Know Yourself
Know Yourself is offering 25% OFF on our favorite human anatomy books for kids with code FRIDAY25.
These are perfect for elementary aged students, although I have to admit I learned a lot too!
Compass Classroom
Compass Classroom has 20% off with code their compass classroom coupon code FALL20 including the Visual Latin courses.
Use code THANKS30 from Black Friday Cyber Monday deals for 30% off.
Adventure Academy
Adventure Academy, we play this in our homeschool and love it, there is currently over 70% off an annual membership, which makes it only $45 for the year (this is the lowest price they ever do) but only valid until the end of November.
Check out our Adventure Academy Reviews.
ABCMouse
ABCMouse is aimed at children aged 2-8, there is currently 70% off the annual price, which makes it only $45 for the year (this is the lowest price they ever do) but only valid until the end of November.
Check out our ABCMouse review.
Japanese from Zero!
This is the Japanese homeschool curriculum my son is using and as it is purchased from Amazon, I imagine this will also be included in their Black Friday sale. Check out the latest price now and see.
Generation Genius
We absolutely love Generation Genius (check out our Generation Genius review), and they have the most engaging math and science videos.
You can get access to 5 free videos, plus you can try their new science kit for free!
Real Science Odyssey
Real Science Odyssey. Get 30% off all science curriculum between November 21st – 28th, 2022. Before it goes live though, why not try it out for FREE to see if this will be a good fit?
This is the science curriculum we love and use, check out our Real Science Odyssey review.
Beautiful Feet
Beautiful Feet are offering FREE shipping with our exclusive promo code CB2023.
This is the history curriculum we love, check out our Beautiful Feet Books review.
History Odyssey & History Quest
History Odyssey and History Quest. Get 30% off all history curriculum between November 21st – 28th, 2022. Before it goes live though, why not try it out for FREE to see if this will be a good fit?
Check out our History Odyssey review.
Lego Black Friday Deals
We absolutely love Lego and my son builds challenging Lego sets all the time. Now is the time to buy too, this weekend 11/19-11/20 Lego is having its VIP weekend where you will get double points on all purchases which you can turn into cash rewards later.
This is when I always buy our Christmas Lego sets as my son always gets worried it will have gone out of stock! But if you are brave and can wait they also have Black Friday and Cyber Monday Lego deals that you don't want to miss.
IXL
IXL have 20% off for an annual subscription. We loved using IXL in elementary grades check out our IXL reviews for more information.
Christian Book Black Friday Deals
Despite being secular homeschoolers we use Christian books a lot, as they have some excellent deals already on their homeschool curriculum. Grab a huge bargain now with up to 88% off on toys, and books.
MoneyTime
MoneyTime – There is currently 25% off this amazing financial literacy course for upper elementary and middle schoolers.
Check out our MoneyTime review the best financial literacy curriculum for kids aged 10-14.
Let's Go Geography
Let's Go Geography is offering a completely free lesson on Alaska. Plus 20% off everything including curriculum and discovery packs. Just use code GiveThanks.
This curriculum is for grades K-5 and introduces kids to almost 30 countries every year.
Lingopie
Lingopie is a great way to learn Spanish by watching your favorite tv shows! Have fun while learning, my favorite thing! Check out our Lingopie review here.
There is a massive 58% sale on at the minute along with a FREE trial, so now is the perfect time to check it out.
Curiosity Stream
Curiosity Stream. Has 40% off making the annual subscription only $11.99! They are excellent for documentaries to watch in your homeschool.
Check out our Curiosity Stream review.
Evan Moor Workbooks
Evan Moor Workbooks. There is currently up to 75% off the best workbooks for kids in grades K-6. Their Black Friday offerings have not been announced but last year there was a 30% site-wide sale.
Check out all the books you like and add them to your basket so you are ready for the sale!
Reading Eggs
Reading Eggs 30-day free trial
Erin Condren Cyber Monday Deals on Homeschool Planners
Erin Condren. Treat yourself to the best homeschool planners with 30% off for Black Friday.
Black Friday Deals on Kid's Subscription Boxes
We absolutely love subscription boxes in our homeschool, and they make a wonderful supplement to our curriculum.
Check out our favorite subscription boxes for tweens I am sure some of these will be included in the Black Friday deals.
Mel Science
Mel Science. Get your first box for a massive 50% off with code HOMESCHOOLOF1 (check out our Mel Science review here.)
Or if you have an annual subscription with code 5BOXES you will get 12 months for the price of 7. Or use code YEAR50 for 50% off an annual subscription.
Or use code BOGO for one free subscription box with your first order!
KiwiCo
KiwiCo. Get a huge 50% off your first box with coupon code HOMESCHOOL, Get 20% off your entire order with code AWESOME ends 11/26/2022. Use code AWESOME on 11/25/2022 for $4.95 your first box.
We absolutely love KiwiCo crates and have reviewed the following: KiwiCo Eureka Crate review, KiwiCo Doodle Crate review, and the KiwiCo Maker Crate review, but if you want some tips on which KiwiCo crate to get your teens and tweens check out our latest post.
Cratejoy Black Friday
Cratejoy. With every subscription box ever made (for us moms too!), there is 25% off with code BF2022.
Cyber Monday use the code CM2022 to get 30% OFF.
Raddish Kids
Raddish Kids. Use code RADGIFT to save $20 off a 6 or $40 off a 12 Month Membership.
Little Passports
Little Passports. Get 20% off with code NOVEMBER20. Kids aged 3-12 can travel to a new place in the world each month from the comfort of their own home.
Black Friday Sales for Kids
I don't know about you, but I LOVE the Amazon Black Friday deals! As there are so many deals to be had, I have just included our top posts with Amazon links.
All of these gift lists will direct you straight to Amazon (check out my Amazon store for the most up-to-date deals), so if you are looking for a bargain this year go and have a look at what we recommend for the following age groups.
Advent Calendar Ideas. Have you left getting your advent calendar until the last minute? I can't guarantee they will all be included in the Black Friday Sale but I am certain some of them are! (Update, the Lego advent calendars have 20% off at the minute.) For older kids check out our favorite advent calendar for teen boys.
Black Friday Kids Gifts
Over 600 of the best Christmas gifts for boys. Most of these are already on offer, but keep checking back to see.
Over 100 Christmas gifts tween boys will love this year. The gaming chair is already 40% off, Lego is still 20% off, the gaming sign is 10% off plus lots more!!
Christmas gifts for 9 year old boys – the Osmo is 25% off. Botley Robot is 38% off, Fitbit Ace is 43% off plus lots more.
Christmas gifts for 10 year old boys – video games get 3 for the price of 2
Christmas gifts for 12 year old boys – gaming mouse 25% off, gaming table is 5% off, personalized Gatorade bottle is 25% off, and much more.
Best gifts for 13 year old boys
Stocking stuffers for boys – the fidget gifts are up to 35% off, electronic gifts are up to 15% off, educational gifts are up to 20% off plus lots more.
Over 20 of the best Christmas board games are all games from Amazon, so make sure you keep checking to see if they have been included in the Black Friday sale.
Over 40 educational board games are perfect not only for homeschool, but they will also make great Christmas presents. All links will take you to Amazon, so fingers crossed they are all included in the sale. I know a lot of them are!
Over 20 one player games will also make great gifts for only children.
Bonus Black Friday Deals for us moms!
Gifts for mom who doesn't want anything (go on treat yourself, I won't tell if you don't!!) the stocking stuffers are up to 10% off and more.
Gift ideas for the men who have everything! the car vacuum cleaner is currently 22% off, with an extra 20% off!
Rakuten if you are not already getting cashback with Rakuten they are offering $40 as a bonus when you spend $40. I just LOVE FREE MONEY!
TopCashback you will currently receive $10 as a bonus if you make qualifying purchases. I use both Topcashback and Rakuten and use whoever pays the highest cashback (but it is normally TopCashBack!)
Etsy has some awesome Black Friday deals for kids too, go and see if you can grab a bargain perfect for Christmas gifts.
If you are looking for summer homeschool deals check out our latest post.
Last Updated on 1 June 2023 by homeschoolof1